Industry Insights
[193+ Pages Report] According to a Facts and Factors market research study, the Vehicle Roadside Assistance market in the United States and Canada was registered at around USD 5,300.0 million in 2020, and is forecast to produce revenues worth around USD 6,232 million by the end of 2026, rising at a CAGR of around 3.66 percent between 2021 and 2026.
U.S. and Canada Vehicle Roadside Assistance Market: Overview
Automobile drivers are provided with roadside assistance if their car breaks down. Drivers may get onsite support from vehicle roadside assistance, such as minor upgrades, electrical repairs, and modifications, to get their vehicle back on the road. The number of aging vehicles is increasing, which is driving the growth of the vehicle roadside assistance market. As opposed to newer vehicles, vehicles older than ten years are twice as likely to become stuck on the road. When a car collapses or has a road accident, roadside assistance usually solves the issue on the spot. Roadside assistance for vehicles includes on-site small electrical and mechanical repairs, flat tire assistance, jump-start battery assistance, vehicle towing, lock-out and key replacement, and fuel delivery services for drivers. The labor and service charge rates, which are included in membership plans varies from roadside assistance services to services.
U.S. and Canada Vehicle Roadside Assistance Market: Growth Factors
U.S. and Canada vehicle roadside assistance market is expected to expand in the coming years. It is due to an increase in aging automobiles that are more likely to break down on the road. Older vehicles are more likely to experience any type of mechanical or electrical issues, and they require such service. Furthermore, using app-based services will result into faster response and a shorter response time for assistance. App-based services like these are expected to drive up demand for vehicle roadside assistance. Millions of drivers around the world are affected by extreme weather, especially cold weather, which triggers electrochemical reactions in vehicle batteries, draining battery power and necessitating battery jumpstarts. Furthermore, slippery and snowy terrain in many countries creates hazardous driving conditions and increases the risk of fatal road accidents, necessitating the use of vehicle roadside assistance. Increased car purchases and registrations have resulted in a rise in road deaths and vehicle breakdowns around the world. Vehicle sales and development are being driven by lower vehicle loan interest rates, easier access to financing through personalized financial schemes, and a rise in customer per capita income. As a result, the vehicle roadside assistance market is expected to grow during the forecast period.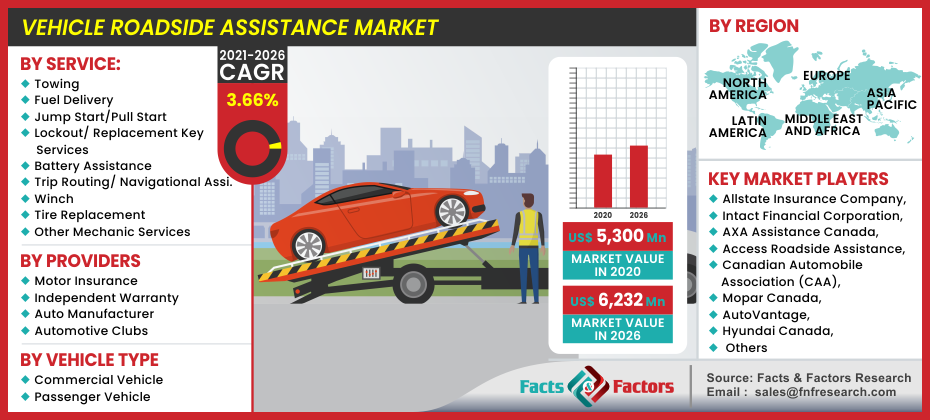 To know more about this report | Request Free Sample Copy
The high cost of such roadside assistance during the pay-per-use service is impeding the market growth. This is largely attributed to labor and service charge rates. These include subscription programs but not in pay-per-use services. All services are provided by the service provider as part of a loyalty package, which is relatively inexpensive since it is valid for one year or more. However, terms and conditions vary as per different vehicle roadside assistance service providers
U.S. and Canada Vehicle Roadside Assistance Market: Segmentation
The U.S. and Canada vehicle roadside assistance market is segregated into services, packaging type, distribution channel, and regions. Based on services, the market is categorized into towing, fuel delivery, jump start/pull-start, lockout/ replacement key services, battery assistance, trip routing/ navigational assistance, winch, tire replacement, and other mechanic services. In terms of revenue, the towing service segment accounted for more than 30% of the U.S. and Canada vehicle roadside assistance service market in the fiscal year 2020. The most basic request for emergency road assistance is towing due to a crash or breakdown. As a result, the towing category is dominating the market. The market is expected to grow at a CAGR rate of 3.66%. Vehicle roadside assistance facilities, such as tire repair due to burst, jump start/pull-start, puncture, or lack of inflation, lockdown/key replacement, and battery assistance, were also in high demand. The battery assistance category is expected to register the highest CAGR 4.29% from 2021 - 2026. Based on providers, the market has been bifurcated into Motor Insurance, Independent Warranty, Auto Manufacturer, and Automotive Clubs. The auto manufacturer segment accounted for around 40% of the U.S. and Canada vehicle roadside assistance service market in the fiscal year 2020. This segment is expected to register the highest CAGR of 3.69% during the forecast timeline. These services are catered to commercial and a passenger vehicles. The passenger vehicle segment holds more than 55% of the total market share. It is due to the rise in the number of production of passenger vehicles in recent years.
Based on packaging type, the market has been categorized into pump bottles and sachets, among others. In terms of distribution channels, the industry has been bifurcated into hypermarkets & supermarkets, drug stores, and online.
U.S. and Canada Vehicle Roadside Assistance Market: Regional Analysis
In North America, demand for roadside services is substantial, owing to adverse weather conditions in many regions, an increasing number of aging vehicles, and a preference for car manufacturers' roadside assistance. According to CNBC, 25% of vehicles in the United States are at least sixteen years old, indicating that vehicle age is at an all-time high. Citing an instance, in December 2020, Arcimoto, Inc., a manufacturer of affordable fully electric vehicles for daily commuters and fleets, announced that national roadside assistance for any Arcimoto vehicle will be available via Agero, one of the leading driver assistance services as it had entered into a partnership agreement for automotive manufacturers and insurance carriers in North America. While the vehicles are under warranty, owners of all Arcimoto vehicles, including the Deliverator, FUV, Cameo, Rapid Responder, and Roadster, will have access to Agero's national roadside assistance. In addition, the government is encouraging electrification through initiatives and incentives such as the Federal Transit Administration's Low or No-Emission Vehicle Program and Hybrid and Zero-Emission Truck and Bus Voucher Incentive Project (HVIP). Certain initiatives will propel the vehicle market and thereby, it will lead the vehicle road assistance market
U.S. and Canada Vehicle Roadside Assistance Market: Competitive Players
Some main participants of the U.S. and Canada vehicle roadside assistance market are Allstate Insurance Company, Intact Financial Corporation, AXA Assistance Canada, Access Roadside Assistance, Canadian Automobile Association (CAA), Mopar Canada, AutoVantage, American Automobile Association (AAA), Hyundai Canada, Better World Club, Encore Protectio, National Motor Club (NMC), Hagerty, BCAA, Lexus, Chubb Limited, Emirates Insurance Co., Arabian Automobile Association, Urgently Inc., TVS Auto Assist India Limited, Blink, Good Sam, Abrams Towing Services Canadian Tire, belairdirect, Assistance Services Group, a SYKES company, Desjardins Roadside Assistance, Paragom Motorclub, Best Roadside Service, Roadside Masters, Expedite Towing, Road America, Agero, HONK technologies, NationSafe Drivers, and Quest among Others.
Report Scope
| | |
| --- | --- |
| Report Attributes | Details |
| Market Size in 2020 | USD 5,300 Million |
| Projected Market Size in 2026 | USD 6,632 Million |
| Growth Rate | CAGR 3.66% |
| Base Year | 2019 |
| Forecast Years | 2020–2026 |
| Key Market Players | Allstate Insurance Company, Intact Financial Corporation, AXA Assistance Canada, Access Roadside Assistance, Canadian Automobile Association (CAA), Mopar Canada, AutoVantage, American Automobile Association (AAA), Hyundai Canada, Better World Club, Encore Protectio, National Motor Club (NMC), Hagerty, BCAA, Lexus, Chubb Limited, Emirates Insurance Co., Arabian Automobile Association, Urgently Inc., TVS Auto Assist India Limited, Blink, Good Sam, Abrams Towing Services Canadian Tire, belairdirect, Assistance Services Group, a SYKES company, Desjardins Roadside Assistance, Paragom Motorclub, Best Roadside Service, Roadside Masters, Expedite Towing, Road America, Agero, HONK technologies, NationSafe Drivers, and Quest among Others. |
| Key Segment | By Service, By Providers, By Vehicle Type, By Country |
| Major Regions Covered | North America, Europe, Asia Pacific, Latin America, and the Middle East & Africa |
| Purchase Options | Request customized purchase options to meet your research needs. Explore purchase options |
The US and Canada vehicle roadside assistance market is segmented as follows:
By Service:
Towing
Fuel Delivery
Jump Start/Pull Start
Lockout/ Replacement Key Services
Battery Assistance
Trip Routing/ Navigational Assistance
Winch
Tire Replacement
Other Mechanic Services
By Providers:
Motor Insurance
Independent Warranty
Auto Manufacturer
Automotive Clubs
By Vehicle Type:
Commercial Vehicle
Passenger Vehicle
By Country: