Industry Insights
[209 + Pages Report] According to Facts and Factors, the global 3D printing metals market size was worth around USD 699.2 million in 2021 and is predicted to grow to around USD 2034.4 million by 2028 with a compound annual growth rate (CAGR) of roughly 24.6% between 2022 and 2028. The report analyzes the global 3D printing metals market's drivers, restraints/challenges, and the effect they have on the demands during the projection period. In addition, the report explores emerging opportunities in the 3D printing metals market.
To know more about this report | Request Free Sample Copy
Market Overview
Metals may be printed in three dimensions to create solid objects. These substances are available as liquid, powders, and solids among other forms. Metals used for 3D printing are very popular on the international market because of their high density and efficiency. Aluminum, commercial cars, and various domestic objects all employ these materials. Since 3D printing offers on-demand manufacture, customization, and quick alterations to match the needs of diverse hospitals, doctors, and users of personal protection equipment, it is suited for closing the short-term supply gap. Mass customization is possible at the same or similar unit costs. Due to the high growth during the projection period, 3D printing is gaining popularity. Furthermore, one of the key factors boosting the growth of the global 3D printing metals market is the forward integration of significant polymer aluminizes.
Due to the simplicity with which bespoke items can be created, as well as favorable government investments making the growth of the global 3D printing metals market, the sector is anticipated to increase. Additionally, it is anticipated that growing demand from end-user industries like automotive, medical, aerospace, and defense will fuel demand. The recent advancements in additive manufacturing have given the automotive industry a wide range of possibilities. Shorter lead times and reduced prices have made it simpler to produce innovative, stronger, lighter, and safer components and parts. OEMs mostly used 3D printing for fast prototyping. As a result, the market expansion is likely to be fueled by increased product demand in the automotive industry.
Key Insights
As per the analysis shared by our research analyst, the global 3D printing metals market is estimated to grow annually at a CAGR of around 24.6% over the forecast period (2022-2028).
In terms of revenue, the global 3D printing metals market size was valued at around USD 699.2 million in 2021 and is projected to reach USD 2034.4 million, by 2028. Due to a variety of driving factors, the market is predicted to rise at a significant rate.
Based on metal type segmentation, titanium was predicted to show maximum market share in the year 2021
Based on form segmentation, powder was the leading revenue-generating applications in 2021.
Based on vertical segmentation, medical had the leading revenue-generating applications in 2021
On the basis of region, North America was the leading revenue generator in 2021.
Covid-19 Impact
The COVID-19 epidemic has had a severe impact on the 3D printing metals market. In essence, COVID-19 has had three negative effects on the global economy: unfavorably on production and consumption; badly on supply networks and sectors; and poorly on enterprise and financial markets. Raw material shipments have decreased, as has money generated. In addition, insufficient raw material supply would limit the manufacturing rate of 3D printing metals, affecting the supply chain management of 3D printing metals. Because of the outbreak, many market industries have been forced to suspend operations to follow government restrictions such as social distancing. As a result, the global 3D printing metals business environment is unstable. This tendency is predicted to reverse in the second part of the year, as consumers grow more concerned about smart automation, energy efficiency, and resource efficiency.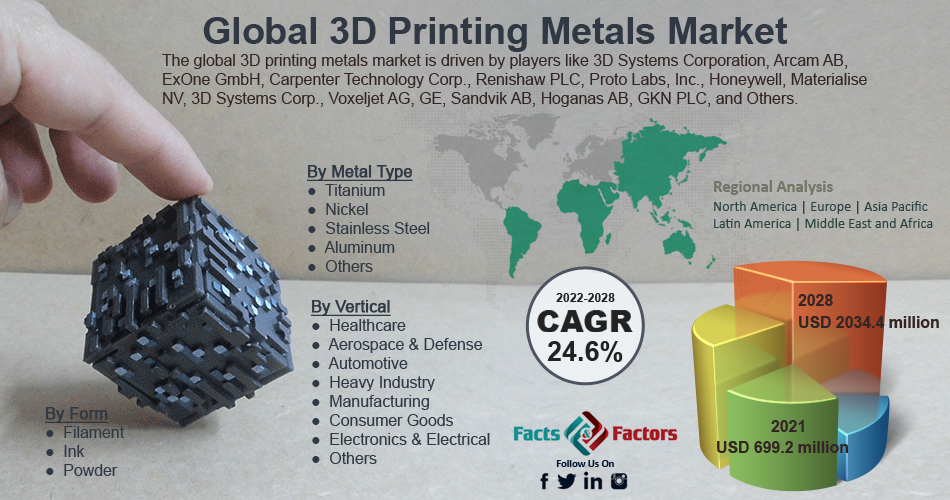 To know more about this report | Request Free Sample Copy
Growth Drivers
Applications such as A&D are Driving the Market Growth for 3D Printing Metals
The popularity of 3D printing metals could usher in a new age for the metal production sector. These items are appealing because of their complicated geometries and physicochemical characteristics. The demand for complicated, high-precision parts in the aerospace and defense industries has been a major factor in the market expansion for 3D-printed metals. Three factors influence the use of 3D-printed metals in sectors like the automotive, medicinal, and dental industries. A rise in the demand for implants and prosthetics will be seen, as well as increasing investment in new goods, new materials, and metals for prototyping. During the projection period, three-dimensional printing is anticipated to make substantial progress in the aircraft industry. The rising acceptance of metal 3D printing, which offers benefits like greater design stability, reduced waste, and more affordable price compared to traditional production methods, may be a significant industry driver.
Restraints
High technology costs to restrict the market growth
Commercializing 3D printed metals has been extremely challenging due to the end-use industry' vested interests. One of the obstacles to the technique's adoption by producers is its high cost. Even when producing very huge objects, the 3D printing method has its limitations. Using it for mass manufacturing at the moment seems quite improbable when compared to 3D printing.
Opportunities
The increasing exploitation of untapped market channels to create opportunities for key players
Over the past few years, the capability of printing 3D metals has dramatically improved and is now applicable to a variety of scientific fields. The development of technology that makes expensive advanced 3D printers possible may be a crucial factor in the global 3D printing metals market's predicted growth in the upcoming years.
Challenges
Residual stress on 3D printing metals to challenge the market expansion
The unifying elements of the metal AM methods include heating and subsequent cooling. However, residual stress can develop when a part is exposed to such drastic heat variations. A manufactured item might deform in a variety of ways due to residual stress, which is detrimental to the part's integrity. The area where the bottom of a printed object and a print bed come into contact is where residual stress is most heavily concentrated.
Segmentation Analysis
The global 3D printing metals market is segmented based on metal type, form, vertical, and region.
Based on metal type, the global market is segmented into titanium, nickel, stainless steel, aluminum & others. Due to the increasing use of titanium-based goods in many industries due to its flexible qualities such as lightweight, non-corrosion, high-strength, and toughness among others, the titanium sector has led the global 3D printing metals market in 2021.
Based on the form segment, the 3D printing metals market is categorized into filament, ink, and powder. In the global market for metals used in 3D printing, powder accounted for the greatest market share in 2021. This resulted from robust properties and an increase in demand across a wide range of application sectors, including food packaging, dinnerware, upholstery, and disposable clothing.
Furthermore, the ink segment is expected to witness robust growth because of ongoing research and development, as well as investments in the creation of smart ink. These inks enable the modification of the shape and color of 3D-printed structures, increasing their usefulness. Additionally, researchers are focusing their efforts on developing low-cost processes for producing essential components in industries like biomechanics and energy.
Based on the vertical segment, the global 3D printing metals market is categorized into healthcare, aerospace & defense, automotive, heavy industry, manufacturing, consumer goods, electronics & electrical, & others. Due to the product demand in medical applications being anticipated to be increased by improved technology, favorable government backing, and speedy product development, the healthcare segment held the largest market share in 2021. Additionally, the COVID-19 pandemic has increased the demand for medical supplies like face shields, mask clips, 3D-printed masks, and filter covers, as well as other supplies.
Recent Developments:
In November 2019, Renishaw plc collaborated with Sandvik Additive Manufacturing to qualify new additive manufacturing (AM) materials for production applications. These materials include a range of metal powders and new alloy compositions that can be optimized for the laser powder bed fusion (LPBF) process and have superior material properties. With this collaboration, Renishaw plc developed new metal materials for 3D printing.
In October 2019, GE Additive entered into a five-year cooperative research and development agreement (CRADA) with the US Department of Energy's Oak Ridge National Laboratory (ORNL). The agreement was focused on the processes, materials, and software to increase customer adaptability towards additive manufacturing from conventional manufacturing.
Report Scope
| | |
| --- | --- |
| Report Attribute | Details |
| Market Size in 2021 | USD 699.2 Million |
| Projected Market Size in 2028 | USD 2034.4 Million |
| CAGR Growth Rate | 24.6% CAGR |
| Base Year | 2021 |
| Forecast Years | 2022-2028 |
| Key Market Players | 3D Systems Corporation, Arcam AB, ExOne GmbH, Carpenter Technology Corp., Renishaw PLC, Proto Labs Inc., Honeywell, Materialise NV, 3D Systems Corp., Voxeljet AG, GE, Sandvik AB, Hoganas AB, GKN PLC, and others. |
| Key Segment | By Metal Type, Form, Vertical, and Region |
| Major Regions Covered | North America, Europe, Asia Pacific, Latin America, and the Middle East &, Africa |
| Purchase Options | Request customized purchase options to meet your research needs. Explore purchase options |
Regional Analysis
North America to lead the market growth during the projection period
The global 3D printing metals market is categorized into North America, Europe, Asia-Pacific, Latin America, Middle East & Africa. Due to the growing IoT applications, technical advancements, and presence of significant players, the North American region currently holds the largest market share of the worldwide 3D Printing Metals market. The goal of industry 4.0 is to boost the global market for metals used in 3D printing. Due to the country's rising senior population, the country's burgeoning medical end-use business is fueling demand for 3D printing plastics. The mechanical and chemical properties of 3D-printed plastics have resulted in a surge in demand for 3D-printed polymers in medical devices. Demand for products in the healthcare sector is anticipated to be driven by biocompatibility, optical clarity, and economical production techniques. The demand for 3D-printed metals across several verticals, however, is expected to expand in the Asia Pacific area during the upcoming years. For instance, the Japanese business Cyfuse is working on a 3D printer that can create 3D cellular products that may be used in real life.
Competitive Analysis
3D Systems Corporation
Arcam AB
ExOne GmbH
Carpenter Technology Corp.
Renishaw PLC
Proto Labs Inc.
Honeywell
Materialise NV
3D Systems Corp.
Voxeljet AG
GE
Sandvik AB
Hoganas AB
GKN PLC.
The global 3D printing metals market is segmented as follows:
By Metal Type
Titanium
Nickel
Stainless Steel
Aluminum
Others
By Form
By Vertical
Healthcare
Aerospace & Defense
Automotive
Heavy Industry
Manufacturing
Consumer Goods
Electronics & Electrical
Others
By Regional Segment Analysis
North America
Europe

France
The UK
Spain
Germany
Italy
Nordic Countries
Benelux Union

Belgium
The Netherlands
Luxembourg

Rest of Europe

Asia Pacific

China
Japan
India
Australia
South Korea
Southeast Asia

Indonesia
Thailand
Malaysia
Singapore
Rest of Southeast Asia

Rest of Asia Pacific

The Middle East & Africa

Saudi Arabia
UAE
Egypt
South Africa
Rest of the Middle East & Africa

Latin America

Brazil
Argentina
Rest of Latin America