Industry Insights
[223+ Pages Report] According to the report published by Facts and Factors, the global white oil market size was worth around USD 2.1 billion in 2022 and is predicted to grow to around USD 3.0 billion by 2030 with a compound annual growth rate (CAGR) of roughly 4.5% between 2023 and 2030. The report analyzes the global white oil market drivers, restraints/challenges, and the effect they have on the demands during the projection period. In addition, the report explores emerging opportunities in the white oil market.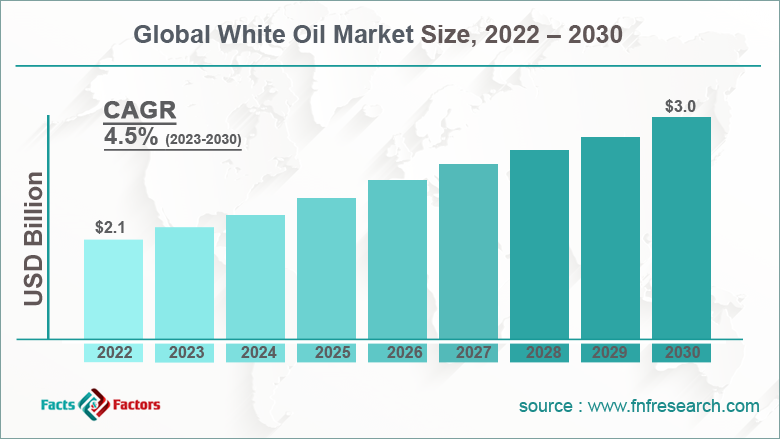 Market Overview
The highly refined mineral oil that is produced as a byproduct of sulfonate manufacturing is referred to as "white oil." It is created when sulfuric acid is applied to paraffinic or naphthenic basic oils and is also known as paraffinum perliquidum or liquid paraffin. The procedure eliminates unsaturated, hazardous, aromatic, and color-forming chemicals as well as natural oxidation inhibitors and impurities of nitrogen and sulphur. White oil is chemically inert, pure, steady, transparent, tasteless, and colorless. Additionally, it can be made from a broad range of feedstocks using procedures like the two-stage hydrotreating method.
Key Insights
As per the analysis shared by our research analyst, the global white oil market is estimated to grow annually at a CAGR of around 4.5% over the forecast period (2023-2030).
In terms of revenue, the global white oil market size was valued at around USD 2.1 billion in 2022 and is projected to reach USD 3.0 billion, by 2030.
The growing demand for white oil from various end-use industries is expected to drive the growth of the white oil industry during the forecast period.
Based on the product, the light paraffinic segment is expected to dominate the market over the forecast period.
Based on the grade, the 65/75 (ISO VG 10/15) segment is expected to grow at the highest CAGR over the forecast period.
Based on region, the Asia Pacific is expected to hold the largest revenue share during the forecast period.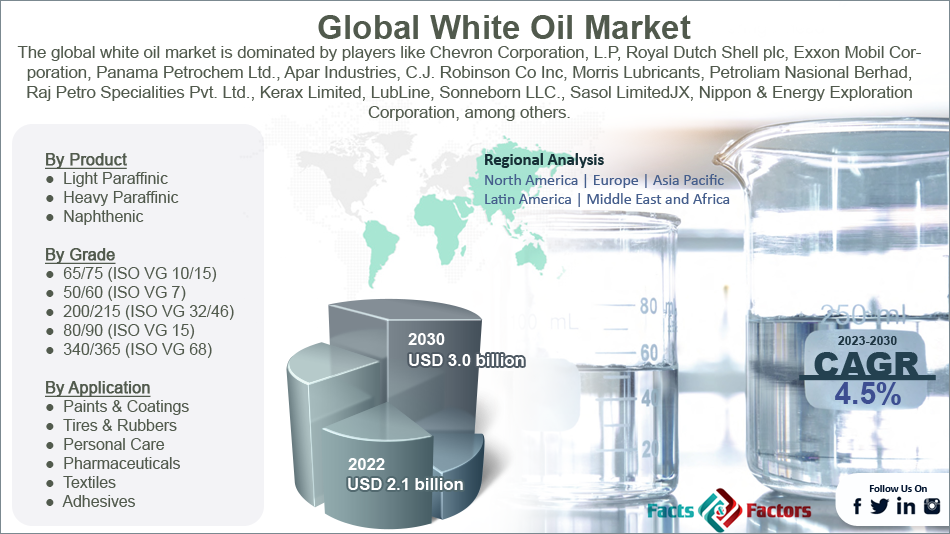 Growth Drivers
The growing personal care industry drives the market growth
It is expected that rising consumer demand for cosmetics and other personal care products will drive global revenue growth of the global white oil market. The demand for grooming products is expected to rise, and customer tastes for organic and natural products are predicted to change, leading to an expansion of the global market for personal care products. There should be a significant supply of white mineral oil as a consequence. Cosmetic businesses use this oil because of its resistance to moisture in personal care products. White oil is used as a moisturizer to treat small skin irritations such as rough, dry, scaly, itchy, and other skin conditions.
Restraints
Crude Oil Supply Shock by Russia-Ukraine Conflict acts as a major restraint
The disruption in the global crude oil supply caused by the Russia-Ukraine crisis had an effect on the production of white oil from different petroleum sources. The US and the UK among other countries restricted Russian energy exports. In a panic, a few other countries started to purchase, which caused the price of crude oil to soar on a worldwide scale. It is expected that the disruption of the global supply in several countries will restrict the market's use of white oil.
The proliferation of the white oil market's income is also constrained by the simple availability of numerous white oil substitutes. When applied directly, white oil can rarely result in stinging, burning, irritation, and redness. Mineral oils may rarely cause human cancer if left untreated or only lightly processed, which may limit the market growth.
Opportunities
Increasing application in the pharmaceutical industry provides a lucrative opportunity
White oil is mainly used in the pharmaceutical sector as the main lubricant in machinery and medical equipment. Aphids, scale, mealybugs, mites, citrus leaf miners, and smooth-skinned caterpillars are just a few of the pests and scale insects that can be used to control with chemical sprays. White oil is also used to make excipients, laxatives, pomades, and gelatin capsules, among other pharmaceutical products. White mineral oil demand may also be boosted by the pharmaceutical industry's continuing growth as a result of new product developments and technological advancements.
Due to its benefits in the treatment of skin damage, white oil is anticipated to be used more frequently in the production of ointments, leading to growth in the white oil industry. The production of medicines, tablets, syrups, ointments, and other products is continually being increased by large companies, which is likely to increase their market share. The increasing prevalence of health problems like osteoarthritis, aging skin, brittle and weak bones, and obesity would also increase the demand for gelatin capsules.
Challenges
Volatility in the raw material price poses a major challenge
Future supply and demand are anticipated to be impacted by volatile raw material prices as well as geophysical and political instability in important oil trading regions. Additionally, the white oil market expansion may be hampered by the limited quantity of raw materials and a decline in their price.
Segmentation Analysis
The global white oil industry is segmented based on product, grade, application, and region.
Based on the product, the global market is bifurcated into light paraffinic, heavy paraffinic, and naphthenic. The light paraffinic segment is expected to dominate the market over the forecast period. A combustible hydrocarbon that consumes as fuel is paraffin, also referred to as kerosene or liquid paraffin. Cyclic paraffin and alkanes, which are linked to petroleum jelly, make up this oil's chemical makeup. Due to the presence of these hydrocarbons, white oil is used in personal care products, particularly for skin softening in salons and for spa treatments on cuticles, hands, and feet. It also helps to relieve pain from sore muscles and joints.
On the other hand, the heavy paraffinic segment is expected to grow at a rapid rate over the forecast period. Heavy mineral oils and biologically stable materials are used to create highly defined, colorless, odorless paraffinic mineral oils. Given that pathogenic bacteria cannot survive in this state during the manufacturing process, it is used in pharmaceuticals. In addition, it helps to increase blood flow, relax muscles, and reduce joint stiffness, all of which are anticipated to lead to increased demand for heavy paraffinic, leading to the widespread use of white oil.
Based on the application, the white oil industry is bifurcated into paints & coatings, tires & rubbers, personal care, pharmaceuticals, textiles, adhesives, and others.
Based on the grade, the global white oil industry is segmented into 65/75 (ISO VG 10/15), 50/60 (ISO VG 7), 200/215 (ISO VG 32/46), 80/90 (ISO VG 15), and 340/365 (ISO VG 68). The 65/75 (ISO VG 10/15) segment is expected to grow at the highest CAGR over the forecast period. By its intended use, ISO-VG 10 is a lubricant used in manufacturing and industrial uses. This lubricant helps spindles in machine tools function well at both low and high speeds in commercial equipment. The demand for products in this grade is anticipated to rise across several sectors due to the widespread use of mineral oil in manufacturing.
Recent Developments:
In April 2022, the completion of the acquisition of Oxiteno SA was revealed by Indorama Ventures Public Company Limited (IVL). By acquiring the company, IVL expands its growth profile into lucrative markets in Latin America and the US, establishing itself as the continent's leading producer of surfactants with additional chances to advance in Europe and Asia.
In October 2022, the Saudi Arabian Oil Company's base oil company, Luberef, opened a new plant in Yanbu for producing transformer oil and white oil, which are used in the food, pharmaceutical, and energy industries. The facility will make it possible for the Kingdom to localize these specialized goods. Producers and operators of base oil-related businesses will be drawn to the venture.
In October 2022, the global brand platform for Brenntag Group business Raj Petro Specialities Pvt Ltd, "Everyday Forward," has been unveiled. It focuses on the value produced throughout the company's 80-year history and how it has affected millions of lives in more than 100 nations globally. Raj Petro has established reliable brands that offer top-notch goods and services and are adding value for significant high-growth industries. Raj Petro has also created a successful sustainable business.
In November 2022, Ensign Natural Resources' Eagle Ford properties will be acquired by Marathon Oil Corporation for a total cash consideration of $3 billion, according to an announcement made by the company.
Report Scope
| | |
| --- | --- |
| Report Attribute | Details |
| Market Size in 2022 | USD 2.1 Billion |
| Projected Market Size in 2030 | USD 3 Billion |
| CAGR Growth Rate | 4.5% CAGR |
| Base Year | 2022 |
| Forecast Years | 2023-2030 |
| Key Market Players | Chevron Corporation, Calumet Specialty Products Partners L.P, Royal Dutch Shell plc, Exxon Mobil Corporation, SEOJINCORP.CO.LTD., FUCHS, H&R GROUP, savita.com, Panama Petrochem Ltd., Apar Industries, C.J. Robinson Co Inc, Morris Lubricants, Petroliam Nasional Berhad, Raj Petro Specialities Pvt. Ltd., Kerax Limited, Petro-Canada Lubricants Inc., LubLine, Sonneborn LLC., Sasol LimitedJX, Nippon & Energy Exploration Corporation, and others. |
| Key Segment | By Product, Grade, Application, and Region |
| Major Regions Covered | North America, Europe, Asia Pacific, Latin America, and the Middle East &, Africa |
| Purchase Options | Request customized purchase options to meet your research needs. Explore purchase options |
Regional Analysis
The Asia Pacific is expected to hold the largest revenue share during the forecast period
The Asia Pacific is expected to hold the largest revenue share during the forecast period. This can be ascribed to the region's consumers' growing demand for pharmaceuticals, health care, and personal care products. Factors driving Asia Pacific market revenue growth to a significant extent include the region's numerous white oil makers' strong presence in nations like China and India and the fast expansion of several end-use industries. China is one of the world's top producers of cosmetics and skincare products, and over the next ten years, the personal care industry there is anticipated to experience one of the fastest rates of revenue growth, leading to a substantial increase in demand for white oil.
North America is expected to hold a significant market share over the forecast period. The demand for skin and hair care products for severe stress, fatigue, and aging is predicted to increase, which will fuel the development of the North American market's revenue. This trend is reflected among male consumers. Additionally, the region's cosmetics market is anticipated to grow in terms of revenue due to the significant presence of international cosmetic and personal care brands like Maybelline, Nivea, L'Oréal, and Garnier, as well as the introduction of new cosmetic products.
Europe is expected to grow at a steady rate over the forecast period. Consumer demand for white oil is anticipated to increase as product penetration improves. Demand is rising as a result of product application in different industries. Additionally, the product's extensive use in pharmaceuticals in European nations is encouraging its adoption in the region's nations. Additionally, high demand for personal care products is being generated by people's knowledge of personal hygiene and grooming, especially among teenagers, which is anticipated to fuel market revenue growth in this region.
Competitive Analysis
Chevron Corporation
Calumet Specialty Products Partners L.P
Royal Dutch Shell plc
Exxon Mobil Corporation
SEOJINCORP.CO.LTD.
FUCHS
H&R GROUP
savita.com
Panama Petrochem Ltd.
Apar Industries
C.J. Robinson Co Inc
Morris Lubricants
Petroliam Nasional Berhad
Raj Petro Specialities Pvt. Ltd.
Kerax Limited
Petro-Canada Lubricants Inc.
LubLine
Sonneborn LLC.
Sasol LimitedJX
Nippon & Energy Exploration Corporation
The global white oil market is segmented as follows:
By Product Segment Analysis
Light Paraffinic
Heavy Paraffinic
Naphthenic
By Grade Segment Analysis
65/75 (ISO VG 10/15)
50/60 (ISO VG 7)
200/215 (ISO VG 32/46)
80/90 (ISO VG 15)
340/365 (ISO VG 68)
By Application Segment Analysis
Paints & Coatings
Tires & Rubbers
Personal Care
Pharmaceuticals
Textiles
Adhesives
Others
By Regional Segment Analysis
North America
Europe

France
The UK
Spain
Germany
Italy
Nordic Countries
Benelux Union

Belgium
The Netherlands
Luxembourg

Rest of Europe

Asia Pacific

China
Japan
India
Australia
South Korea
Southeast Asia

Indonesia
Thailand
Malaysia
Singapore
Rest of Southeast Asia

Rest of Asia Pacific

The Middle East & Africa

Saudi Arabia
UAE
Egypt
South Africa
Rest of the Middle East & Africa

Latin America

Brazil
Argentina
Rest of Latin America