Industry Insights
[237+ Pages Report] According to the report published by Facts Factors, the global trailer stabilizer market size was worth around USD 9 billion in 2021 and is predicted to grow to around USD 13.29 billion by 2028 with a compound annual growth rate (CAGR) of roughly 3.9% between 2022 and 2028. The report analyzes the global trailer stabilizer market drivers, restraints/challenges, and the effect they have on the demands during the projection period. In addition, the report explores emerging opportunities in the trailer stabilizer market.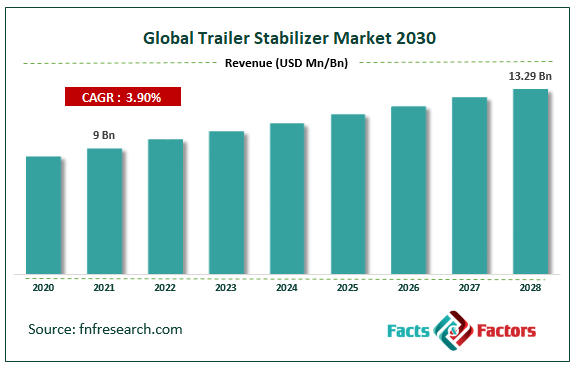 To know more about this report | Request Free Sample Copy
Market Overview
A trailer stabilizer is also known as trailer stability assist (TSA) and is mechanical equipment used to stabilize trailers when being towed or moved from one location to another while being pulled by another vehicle. Trailer stabilizers are an extremely crucial aspect of road safety as their design helps in controlling individual wheels during transport to avoid any unsafe wheel swing that can potentially lead to accidents. TSAs are different from Electronic Stability Control (ESC), as trailer stabilizers are designed to detect and make corrections to unwanted trailer swings which ESCs lack. Trailer stabilizers can detect any form of oscillation during towing and eliminate the risk through individual wheel braking or torque reduction mechanisms or a combination of both. With road transportation, an important and preferred mode of travel for many, trailer stabilizers are crucial and it is recommended to always upgrade these stabilizers and keep them in good condition to avoid any error while using them, because any error could lead to severe irreparable losses.
Key Insights
As per the analysis shared by our research analyst, the global trailer stabilizer market is estimated to grow annually at a CAGR of around 3.9% over the forecast period (2022-2028).
In terms of revenue, the global trailer stabilizer market size was valued at around USD 9 billion in 2021 and is projected to reach USD 13.29 billion, by 2028
Due to a variety of driving factors, the market is predicted to rise at a significant rate
Based on axle segmentation, tandem axle trailer stabilizer was predicted to show maximum market share in the year 2021
Based on application segmentation, heavy weight trailer was the leading application in 2021.
On the basis of region, Asia-Pacific was the leading revenue generator in 2021
Covid-19 Impact
The global cap is expected to have benefitted from the pandemic. By the end of 2020, the global market witnessed a rise in the number of caravans and luxury vehicles as people preferred to invest in more personal ways of travel as opposed to taking airways or other mediums of transportation. As per the report submitted by the European Caravan Federation, more than 2,35,000 leisure vehicles that included motorhomes and trailers were sold in Europe in 2020, a sales increase of 12% from the previous year.
Growth Drivers
Changing consumer preferences to propel market demand
The global trailer stabilizer market is projected to benefit from the growing consumer preference with aspects related to holidays, personal time off, and chosen modes of travel. This trend has become evident and popular post-Covid-19. Many people now prefer to travel in luxury trailers of private caravans that can be easily rented at affordable prices, at least when traveling domestically. Tourist places in Europe are popular for international travelers to undertake road trips using trailers. Such change in consumer choices is driven by the convenience offered by recreational vehicles with respect to the user being in charge of choices about the place of stay, the duration, and other aspects that are lost when traveling to another mode dependent on a guide of a third person. As per a recent survey by Nissan, a Japanese automobile manufacturer, more than 71% of the American population prefers to travel by personal vehicles rather than airways, owing to the comfort associated with non-commercial vehicles.
Restraints
Adherence failure to the provided guide may restrict the market growth
In most cases, trailer stabilizers have delivered the key essentials in keeping the trailers away from unwanted swinging. However, since the process of attaching the trailer to the towing vehicle has to be done manually, there is always a risk of human error resulting from ignoring the provided manual guiding the attaching process or any other negligence. This could potentially lead to the failure of the equipment in delivering what is expected resulting in serious consequences, thus restraining the global market size growth.
Opportunities
Advanced technology to provide market expansion opportunities
The global trailer stabilizer market cap may benefit from the increasing product innovation that can be witnessed at the domestic and international levels. Small-size companies producing trailer stabilizers have ramped up their research & development wing to tackle the problems that can arise while using the device. For instance, providing an in-built mechanism for instant detachment if the trailer loses control, which could be a life-saving move.
Challenges
Lack of specialized equipment to tow heavy loads is a major challenge for market growth
The global market growth trend may be affected due to the absence of a sufficient number of trailer stabilizers equipped with handling heavy loads. In most cases, towing heavy trailers is a joint effort of the driver's skills and the help provided by the mechanical device. This could potentially challenge the global market expansion in the coming years.
Segmentation Analysis
The global market is segmented based on application, product, axle type, industry type, and region.
Based on application, the global market segments are heavy-weight trailer and light-weight trailer, with the latter gaining more segmental revenue as they are more difficult to handle and require extra assistance when being towed. Heavy-weight trailers can weigh up to more than 5000 pounds.
Based on axle type, the global market is divided into multiple axle trailer stabilizers, tandem axle trailer stabilizer, and single axle trailer stabilizer, with tandem axle type leading the segmental revenue owing to its properties of providing stability at higher speeds, and a generally high safety index of tandem axle trailers at a reasonable price. For instance, the Landforce Tipping Trailers cost INR 15,000.
Based on industry type, the global market is segmented into commercial & recreational, with the highest growing segment for commercial purposes, as generally, companies dealing in trailers have a fleet of vehicles for renting. For example, the Utility Trailer Manufacturing company manufactured over 51000 trailers in 2019.
Recent Developments:
In September 2022, Tata Motors, an India-based multinational company leading the automotive sector, announced the launch of a truck with car-like advanced driver assistance systems called Singna which is a CNG-powered medium and heavy vehicle (M&HCV) and Prima. The automobiles are the first-of-its-kind in the Indian market
In July 2022, Ashok Leyland, a leading Indian multinational company competing in the automotive sector, became the first original equipment manufacturer (OEM) company in the Indian market with tractors 41.5T and 43.5T GCW to be offered in the country. Both vehicles come with a two-axle configuration.
Report Scope
| | |
| --- | --- |
| Report Attribute | Details |
| Market Size in 2021 | USD 9 Billion |
| Projected Market Size in 2028 | USD 13.29 Billion |
| CAGR Growth Rate | 3.9% CAGR |
| Base Year | 2021 |
| Forecast Years | 2022-2028 |
| Key Market Players | Aldon Company Inc, Futura Trailers, Robert Bosch GmbH, Continental AG, Ford Motor Company, and others. |
| Key Segment | By Application, Axle Type, Industry Type, and Region |
| Major Regions Covered | North America, Europe, Asia Pacific, Latin America, and the Middle East &, Africa |
| Purchase Options | Request customized purchase options to meet your research needs. Explore purchase options |
Regional Analysis
Asia-Pacific to generate the highest revenue during the forecast period
The global trailer stabilizer market is dominated by Asia-Pacific owing to the growing automotive sector in the country which is witnessing a surge in investment in research & development of automobile vehicles as well as consequential parts. India is home to some of the industry giants leading the automobile segment globally. On the other hand, China exported automobile parts worth more than USD 32 billion in 2020. The growing population in these regions is further expected to drive the demand for recreational vehicles owing to the preference of the newer generation. An increasing trend of travelers undertaking long road trips for mental and physical health can be witnessed across Asian countries. North America may also generate high revenue because of the prevalent trailer culture in the United States, where more people are choosing to live in trailer parks driven by multiple factors.
Competitive Analysis
Aldon Company Inc
Futura Trailers
Robert Bosch GmbH
Continental AG
Ford Motor Company
The global market is segmented as follows:
By Application
Heavy Weight Trailer
Light Weight Trailer
By Axle Type
Multiple Axle Trailer Stabilizer
Tandem Axle Trailer Stabilizer
Single Axle Trailer Stabilizer
By Industry Type
By Regional Segment Analysis
North America
Europe

France
The UK
Spain
Germany
Italy
Nordic Countries
Benelux Union

Belgium
The Netherlands
Luxembourg

Rest of Europe

Asia Pacific

China
Japan
India
Australia
South Korea
Southeast Asia

Indonesia
Thailand
Malaysia
Singapore
Rest of Southeast Asia

Rest of Asia Pacific

The Middle East & Africa

Saudi Arabia
UAE
Egypt
South Africa
Rest of the Middle East & Africa

Latin America

Brazil
Argentina
Rest of Latin America