Industry Insights
[220+ Pages Report] According to the report published by Facts and Factors, the global electric wheelchair market size was worth around USD 3.5 billion in 2022 and is predicted to grow to around USD 8.3 billion by 2030 with a compound annual growth rate (CAGR) of roughly 11.5% between 2023 and 2030. The report analyzes the global electric wheelchair market's drivers, restraints/challenges, and the effect they have on the demands during the projection period. In addition, the report explores emerging opportunities in the electric wheelchair market.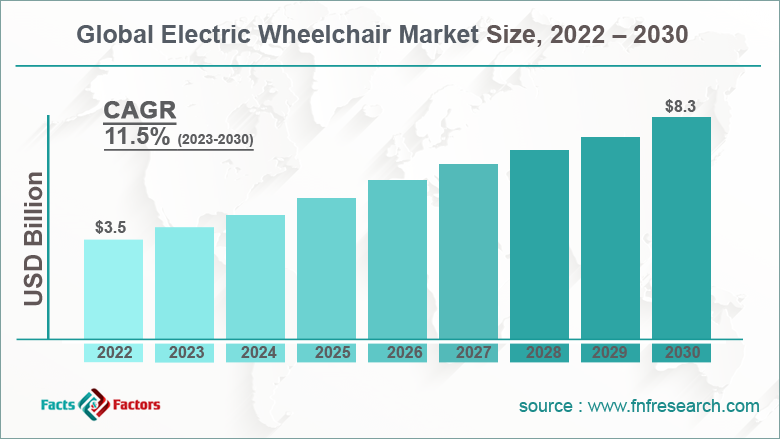 To know more about this report | Request Free Sample Copy
Market Overview
The term "electric wheelchair" can also refer to a mechanized wheelchair or a power chair. An electrically based power source, usually motors, and batteries, propels any seating surface with wheels attached to it. Using a joystick is necessary to steer the scooter. The base of the electric wheelchair, which offers flexibility, and the seating system, which provides postural support, is divided into two parts. Power tilt and recline systems and programmable performance settings were two of those mechanical and electrical developments. The most fundamental and common controls for electric wheelchairs are joysticks, which resemble the controllers for video game consoles.
Key Insights
As per the analysis shared by our research analyst, the global electric wheelchair market is estimated to grow annually at a CAGR of around 11.5% over the forecast period (2023-2030).
In terms of revenue, the global electric wheelchair market size was valued at around USD 3.5 billion in 2022 and is projected to reach USD 8.3 billion, by 2030.
One of the main drivers of market growth is the rising prevalence of neurological disorders in conjunction with the rising geriatric population, which is more prone to orthopedic conditions.
Based on the type, the center-wheel drive electric wheelchair segment accounted for the largest revenue share in 2022.
Based on the end user, the home segment is growing at the highest CAGR over the forecast period.
Based on region, North America is expected to dominate the market during the forecast period.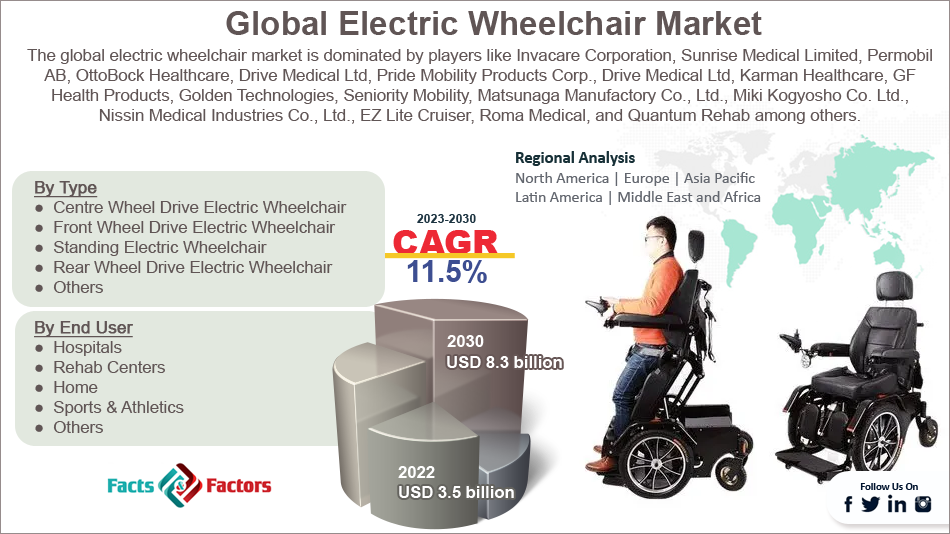 To know more about this report | Request Free Sample Copy
Growth Drivers
Growing sports market demand for advanced electric wheelchairs drives the market growth
Sports like power wheelchair hockey and football are played with the aid of electric wheelchairs. According to the Victorian Electric Wheel Chair Sports Association, Australia's soccer, hockey, and rugby teams competed in the Victorian Sports League (VPSL) in 2018. This league's primary goal is to increase the number of participants with disabilities who have access to recreational opportunities, which will encourage the use of electric wheelchairs in sporting events. The establishment of a disability sports center in India with a $24.7 million budget was authorized by the Indian Union government in 2019. More disabled people now have access to sports activities due to this facility, and the market for electric wheelchairs will likely grow due to athletes' acceptance of them.
Restraints
The high cost of electric wheelchairs is a major restraint to the market growth
In developing countries where healthcare expenditures are noticeably lower than in developed countries, the high cost of electric wheelchairs relative to manual wheelchairs is expected to pose a significant challenge to the electric wheelchairs market's development. But in addition to the original cost, there are additional expenses for maintaining electric mobility aids, such as battery upkeep, servicing, and other expenses for continuous operation. This makes it more difficult to use electric wheelchairs.
Opportunities
Increasing technological advancement provides a lucrative opportunity
In recent years, it has become popular to use artificial intelligence (AI) in the production of motorized wheelchairs. The eye monitoring system and LiDAR (Light Detection and Ranging) technology are combined in the AI-integrated electric wheelchair to create a 360-degree map of the user's surroundings.
The wheelchair's eye tracker will input eye movements to AI, which will define how the chair should travel and direct it to avoid obstacles. Wheelie 7 is a kit that can be installed onto electric wheelchairs to enable users to control it with their facial expressions. Intel collaborated with HOOBOX Robotics to create it in 2018. Customers have been drawn to Manufacturers' use of AI in the production of electric wheelchairs, and this trend is expected to propel the electric wheelchairs industry for these devices.
Challenges
Stringent regulations and standards pose a major challenge
The growing requirements for electric wheelchair quality assurance to ensure uncompromised operation and safety are also considered to be a market development barrier. The newly developed products or new competitors must adhere to the rules, for example, before they are released onto the market. This represents a major barrier to market expansion because the new products must adhere to several safety regulations, raising their cost and delaying their adoption.
Segmentation Analysis
The global electric wheelchair industry is segmented based on type, end-user, and region.
Based on the type, the global market is bifurcated into center wheel drive electric wheelchairs, front wheel drives electric wheelchairs, standing electric wheelchairs, rear wheel drives electric wheelchairs, and others. The center wheel drive electric wheelchair segment accounted for the largest revenue share in 2022 and is expected to continue the same pattern over the forecast period. These electric wheelchairs have small turning circles and a wheel drive that is positioned immediately below the user's center of gravity for improved movement inside. It also has six wheels, which improve stability on a variety of uneven areas, including slopes and difficult terrain. A center wheel drives an electric wheelchair making it much simpler to move in tight areas like doorways.
Based on the end-user, the global electric wheelchair industry is segmented into hospitals, rehab centers, homes, sports & athletics, and others. The home segment is growing at the highest CAGR over the forecast period. Because of their widespread use by the elderly and disabled populace, electric wheelchairs are becoming more common in residential settings. According to World Bank statistics, the number of people 65 and older worldwide rose from 609.17 million in 2015 to 678.69 million in 2018.
According to the University of New Hampshire Institute on Disability/UCED, from 2015 to 2018, the proportion of individuals with permanent disabilities rose from 13.1% to 13.7%. The use of electric wheelchairs is expected to rise as the aged and people with disabilities population grows. Compared to manual wheelchairs, electric wheelchairs can be driven more easily on sloping terrain, soft surfaces, grass, and uneven gravel.
Recent Developments:
In August 2022, the completion of two strategic acquisitions in Europe by Sunrise Medical was announced. The first acquisition is of the UK-based Helping Hand Company, which creates, produces, and sells pressure management seating and positioning products as well as the Symmetrikit 24-hour postural care line of products for independent living and environmental products. The second purchase involves the digital, software, and electronic engineering firm Now Tech in Hungary.
In April 2022, the United States-based subsidiary of Permobil AB, Permobil Inc., revealed plans to invest USD 15.5 million to increase production at its manufacturing facility in Lebanon, Tennessee.
In February 2022, to expand its line of children's products, OttoBock Healthcare GmbH purchased the Dutch business Veldink4kids, which makes customized wheelchairs for children.
In January 2022, the Invacare® AVIVA® STORM RXTM Narrow Base Power Wheelchair was unveiled by Invacare Company. Compared to its standard version, this model comes with several additional features.
Report Scope
| | |
| --- | --- |
| Report Attribute | Details |
| Market Size in 2022 | USD 3.5 Billion |
| Projected Market Size in 2030 | USD 8.3 Billion |
| CAGR Growth Rate | 11.5% CAGR |
| Base Year | 2022 |
| Forecast Years | 2023-2030 |
| Key Market Players | Invacare Corporation, Sunrise Medical Limited, Permobil AB, OttoBock Healthcare, Drive Medical Ltd, Pride Mobility Products Corp., Drive Medical Ltd, LEVO Ag, MEYRA GmbH, Karman Healthcare, GF Health Products, Golden Technologies, Seniority Mobility, Matsunaga Manufactory Co. Ltd., Miki Kogyosho Co. Ltd., Nissin Medical Industries Co. Ltd., EZ Lite Cruiser, Roma Medical, Quantum Rehab, and others. |
| Key Segment | By Type, End User, and Region |
| Major Regions Covered | North America, Europe, Asia Pacific, Latin America, and the Middle East &, Africa |
| Purchase Options | Request customized purchase options to meet your research needs. Explore purchase options |
Regional Analysis
North America is expected to dominate the market during the forecast period
North America is expected to dominate the global electric wheelchairs market during the forecast period. The growth in the region is attributed to the growing elderly population and the presence of advanced healthcare facilities. Statistics from the World Bank show that there were 58.12 million seniors in North America over the age of 65 in 2018 compared to 54.54 million in 2016. According to a survey by the Centers for Disease Control and Prevention in the United States, about 61 million people there (or 26%) live with a disability, of which 10.8% have severe neural and spinal cord problems and 13.7% have serious mobility problems.
According to the 2017 Canadian Survey on Disability, 1 in 5 Canadians (or 6.2 million people) between the ages of 15 and 17 have one or more impairments, of which 13% have severe mobility disorders. The demand for electric wheelchairs in the North American region is expected to be driven by advanced healthcare facilities and the high usage of electric wheelchairs by elderly and disabled people in the United States, Canada, and Mexico.
The Asia Pacific is expected to grow at the highest CAGR over the forecast period. The growth in the region is attributed to the increasing disability in the countries like India and China. The two most populous nations in the Asia-Pacific are China and India. China is regarded as an elderly economy because there are over 241 million people in China who are over 60. In addition, China manufactures approximately 75% of the world's electric wheelchairs due to its major players and hubs for the production of aluminum. India, with a total population of about 1.40 billion, is the second most populous nation in the globe.
About 30% of the population has a mobility impairment and requires help, making up about 2% of the total. When it involves road accidents, India tops all other nations. Data from the National Crime Records Bureau show that 422659 incidents took place in India in 2021, causing 155000 people dead and 371000 injured. Therefore, it is probable that the growing number of injuries brought on by increased road accidents will also fuel the expansion of the electric wheelchair market in India. Thus, the aforementioned facts support the industry's growth.
Competitive Analysis
Invacare Corporation
Sunrise Medical Limited
Permobil AB
OttoBock Healthcare
Drive Medical Ltd
Pride Mobility Products Corp.
Drive Medical Ltd
LEVO Ag
MEYRA GmbH
Karman Healthcare
GF Health Products
Golden Technologies
Seniority Mobility
Matsunaga Manufactory Co. Ltd.
Miki Kogyosho Co. Ltd.
Nissin Medical Industries Co. Ltd.
EZ Lite Cruiser
Roma Medical
Quantum Rehab
The global electric wheelchair market is segmented as follows:
By Type Segment Analysis
Centre Wheel Drive Electric Wheelchair
Front Wheel Drive Electric Wheelchair
Standing Electric Wheelchair
Rear Wheel Drive Electric Wheelchair
Others
By End User Segment Analysis
Hospitals
Rehab Centers
Home
Sports & Athletics
Others
By Regional Segment Analysis
North America
Europe

France
The UK
Spain
Germany
Italy
Nordic Countries
Benelux Union

Belgium
The Netherlands
Luxembourg

Rest of Europe

Asia Pacific

China
Japan
India
Australia
South Korea
Southeast Asia

Indonesia
Thailand
Malaysia
Singapore
Rest of Southeast Asia

Rest of Asia Pacific

The Middle East & Africa

Saudi Arabia
UAE
Egypt
South Africa
Rest of the Middle East & Africa

Latin America

Brazil
Argentina
Rest of Latin America