Industry Insights
[225+ Pages Report] Global 3D Cell Culture Market was projected to be around USD 1.45 Billion in 2019, with sales forecast to hit around USD 2.92 Billion by the end of 2026 to rise by around 10.5% at CAGR by 2020 to 2026.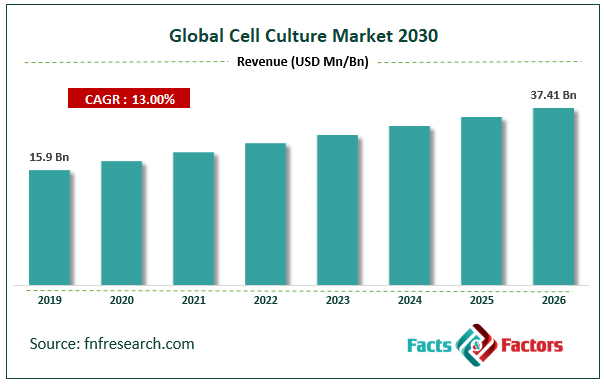 To know more about this report | Request Free Sample Copy
Market Overview
A 3D cell culture is an in-vitro technique in which cells mature in a developed artificial environment. These ecosystems closely mimic the original tissue's architecture and structure. 3D cell culture technology aims to facilitate the division, proliferation and migration of the cells by the interaction with their three-dimensional environments. As the shape, activity, and micro atmosphere of the tissue in vivo can be imitated in 3D cell cultures, this technique has a wide range of uses in the field of medicinal screening, regenerative medicine, stem cell treatments, and cancer research, and cell biology. Extracellular matrices in 3D cell cultures permit direct cell-cell communication by cytokines and trophic factors as in the in-vivo environment. In a 2D world, these factors can be altered and can greatly impact cell-cell connectivity, thereby altering cell morphology and proliferation. As the architecture and complex cellular matrices of 3D cultures cannot be recapitulated by 2D culture, this technique is gaining prominence in the health research sector. 3D cell cultures can also deliver efficient outcomes and reduce the total costs of research and development.
Industry Growth Factor
Due to the launch of new medicinal products and the availability of generic biopharmaceuticals or related products produced by various firms, the demand in 3-D cell culture increases. Along with the rapid growth of biofarm products, 3D cell culture over the projected timeframe is expected to experience substantial traction. The demand for biopharmaceutical products with 3D cell culture is expected to revolutionise the industry.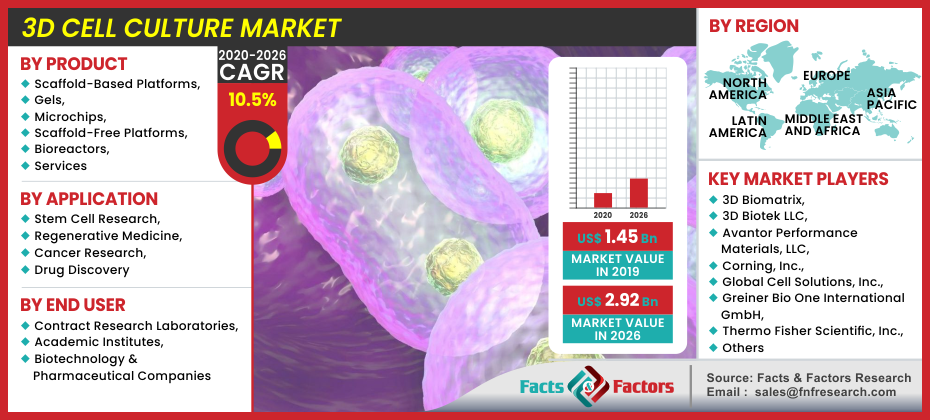 To know more about this report | Request Free Sample Copy
Animal testing and research application has brought ethical concerns underlined by organisations for animal rights. In 2019, 115 Billion animals have been used globally for animal experimentation last year, according to The Human Society International. The replacement of animals for laboratory research is expected by 3D cell culture. Government and non-profit bodies, such as the Environmental Protection Agency, the National Toxicology Program and the National Health Institutes initiated the ToxCast project for the replacement of 3D cell culture laboratory animals. These trends and increased visibility build opportunities in the near future to expand 3D cell culture.
Due to factors like use of 3D cell cultivation model as alternatives to in vivo research, automated large-scale cell culture systems production, as well as the increased demand for organ transplantation, the 3D cell culture market is growing steadily. In cell-based screening, 2D monolayer cell cultures were used as an effective means to discover new candidates for medicinal products. 2D cell cultures, however, have shortcomings such as lack of tissue specific architecture, mechanical and biochemical indications, and associations between cell-to-cell and cell-to-matrix, thereby rendering them comparatively weak models for predicting drug reagents for certain diseases.
A 3D cell culture is preferred to a 2D cell culture because it enables cells to expand, as they will in vivo, in any direction. Due to the benefits of 3D cell culture compared to alternative methods, researchers and drug creators have benefited from adoption. Because of these reasons, over the projected period, the market is expected to see steady growth.
Global 3D Cell Culture Market: Segmentation
Based on product segment the market is further sub segmented into scaffold-based platforms, gels, microchips, scaffold-free platforms, bioreactors, and services. Additionally based on application segment market is further categorized into stem cell research, regenerative medicine, cancer research, and drug discovery. Moreover, based on end user segment the market can be further classified into contract research laboratories, academic institutes, and biotechnology & pharmaceutical companies.
COVID-19 Impact on 3D Cell Culture Market
The pandemic COVID-19 has resulted in national lock-ups, affecting vertically all industries. Also, the pandemic is affecting the 3D cell culture industry. The 3D cell culture industry is facing new difficulties in addressing the demand and availability, due to the COVID-19 pandemic, in 3D cell culture components. Incongruous and disrupted supply chain operations are also likely to have an effect on business development, along with scarcity of human resources. In the other hand, the growth in clinical activities for the development of new COVID- 19 therapies offers main industry players a great opportunity. Research including stem and regenerative treatment has demonstrated successful outcomes for the treatment of COVID-19, thereby compensating for the worldwide deleterious effects of a lockout. The overall effect for COVID 19 in the 3D cell culture industry is therefore expected to remain modest for the leading players.
Global 3D Cell Culture Market: Regional Analysis
Based on regions, the global 3D cell culture market can be divided into five main regions.
The involvement of many pharmaceutical and biotechnological firms using 3D culture technologies in cooperation with research institutes and clinical laboratories to produce renewable medicines and drug discovery & production, is anticipated for North America to retain its supremacy during the forecast period. In addition, the demands on organ transplantation and the R&D activities are projected to encourage the implementation of 3D-cell culture practices in the field, based on technologically advanced approaches.
Additionally, the rise in cancer incidences prompted the state to increase cancer research and R&D subsidies which may have beneficial effects on the business development of 3D cell culture. In addition, the strategic expansion of biotechnological and pharmaceutical firms has led to the launch of innovative products which will, in the coming years, increase market demand.
Report Scope
| | |
| --- | --- |
| Report Attribute | Details |
| Market Size in 2019 | USD 1.45 Billion |
| Projected Market Size in 2026 | USD 2.92 Billion |
| Growth Rate | CAGR 10.5% |
| Base Year | 2019 |
| Forecast Years | 2020–2026 |
| Key Market Players | 3D Biomatrix, 3D Biotek LLC, Avantor Performance Materials, LLC, Corning, Inc., Global Cell Solutions, Inc., Greiner Bio One International GmbH, Thermo Fisher Scientific, Inc., Merck KGaA, PromoCell GmbH, Tecan Trading AG, Lonza, InSphero, and among others. |
| Key Segment | By Product, By Region |
| Major Regions Covered | North America, Europe, Asia Pacific, Latin America, and the Middle East & Africa |
| Purchase Options | Request customized purchase options to meet your research needs. Explore purchase options |
Global 3D Cell Culture Market: Competitive Players
Some of the key players in the market are
3D Biomatrix
3D Biotek LLC
Avantor Performance Materials LLC
Corning Inc.
Global Cell Solutions Inc.
Greiner Bio One International GmbH
Thermo Fisher Scientific Inc.
Merck KGaA
PromoCell GmbH
Tecan Trading AG
Lonza
InSphero
and among others.
Global 3D Cell Culture Market: Regional Segment Analysis
North America
Europe
The Asia Pacific
Latin America
The Middle East and Africa