Covid-19
Global Smart Parking Systems Market Size, Share
The pandemic continues to cause unprecedented disruption across industries worldwide.Get detailed insights regarding the impact of COVID-19 on the market. Request Sample
Industry Insights
[226+ Pages Report] According to facts and factors, the global smart parking systems market was valued at approximately USD 4.40 Billion in 2020 and is predicted to create revenue of roughly USD 14.15 Billion by the end of 2026, with a CAGR of approximately 21.5% between 2021 and 2026.
Market Overview
Smart parking itself is a parking system that assists drivers in locating safe parking spots. Only with the help of embedded sensors and software available in parking space is indicated via a sign or symbol. Due to proper vehicle management, the driver is correctly informed of the vacant space. This technology detects the presence or absence of vehicles by using various types of sensors as a hardware component in the parking slot. The smart parking technology gives real-time data on the availability of surrounding parking spaces and allows drivers to park in that slot without causing any other vehicles to interfere. Furthermore, a smart parking system is a parking strategy that combines human innovation and technology to use the least amount of resources feasible to accomplish faster, easier, and denser vehicle parking. Parking enforcement, revenue management, permit management, parking guidance, access control, automated valet parking, security & surveillance, and slot management are some of the solutions provided by smart parking systems. It enables parking site operators to provide a variety of parking advantages to their consumers including time-saving, cashless payment choices, parking spot pre-booking, and improved vehicle security. Smart parking systems are designed in such a way that drivers have easy access to parking facilities nearby their ultimate destination without having to seek them, and they can avoid extra costs and trip time risks.
Industry Growth Factors
During the forecasted period, rapid urbanization and a constant increase in the number of vehicles are expected to drive the smart parking system. Smart parking solutions will help to accelerate economic growth and improve the quality of public infrastructure in the future. A smart parking solution further eliminates the need for guards to assist in finding a parking spot and collect tickets. The parking experience is being transformed by robust innovations. Wireless sensor-based technology, dynamic messaging, parking sensors, and administrative capabilities for monitoring parking data, providing real-time parking data to citizens, and quick management of parking zones are some of the innovations.
SPSs are being implemented as a result of favorable regulations, government policies, and investments resulting in a seamless and user-friendly experience for both the drivers and operators. Furthermore, advanced features such as auto-payment choices and voice instruction via smartphone apps are expected to increase the demand for innovative solutions. To manage vehicles and access control systems efficiently several parking lots are incorporating Automatic Number Plate Recognition (ANPR) systems.
Covid-19 Analysis
People should drive alone in their cars rather than taking public transportation in the aftermath of the COVID 19 outbreak. This is predicted to cause traffic congestion in several subway cities around the world. Due to increased traffic congestion demand for smart parking solutions is expected to rise in the forecast period. Smart parking systems which assist local authorities to manage dispersed parking areas while also assisting drivers in discovering available parking spaces are predicted to experience increased demand. This drop will have a disadvantageous impact on the market in the country and around the world, at least for a short time.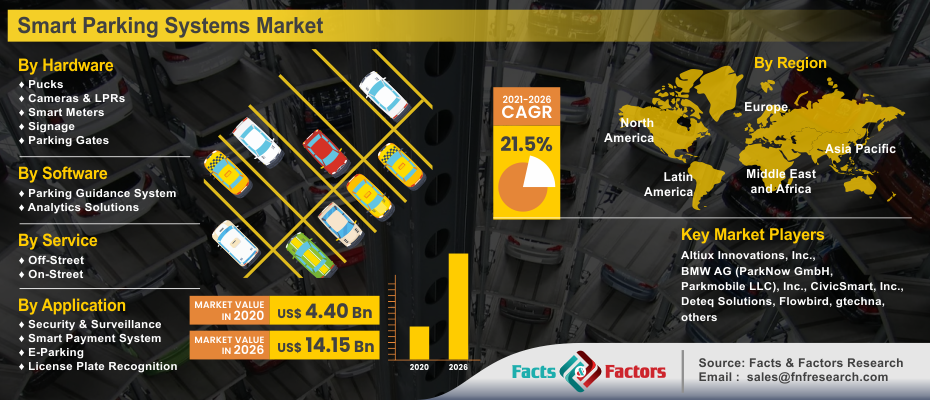 Segmentation Analysis
The smart parking systems market is segmented based on hardware, software, service, type, and application:
As per hardware smart parking systems market is segmented into (pucks, cameras & LPRs, smart, meters, signage, parking gates), by software (parking guidance system, analytics solutions) by service (consulting service, engineering service), by type (off-street, on-street), by application (security & surveillance, smart payment system, e-parking, license plate recognition).In 2020, the parking guidance system segment led and accounting for almost 75.0 percent of total revenue. These systems have gained popularity in the market because they assist drivers to save time by delivering information about vacant spaces, parking guidelines, the number of available spaces, and the duration of availability. These systems ensure a better driving experience for drivers by monitoring the status of numerous ultrasonic sensors and electrical signals and giving a user-friendly graphical interface.
Smart Parking Systems Market: Report Scope
| | |
| --- | --- |
| Report Attribute | Details |
| Market Size in 2020 | USD 4.40 Billion |
| Projected Market Size in 2026 | USD14.15 Billion |
| CAGR Growth Rate | 21.5% |
| Base Year | 2020 |
| Forecast Years | 2021-2026 |
| Key Market Players | Altiux Innovations, Inc., BMW AG (ParkNow GmbH, Parkmobile LLC), Inc., CivicSmart, Inc., Deteq Solutions, Flowbird, gtechna, and others |
| Key Segments | Hardware, Software, Service, Type, Application, and Region |
| Major Regions Covered | North America, Europe, Asia Pacific, Latin America, and Middle East & Africa |
| Purchase Options | Request customized purchase options to meet your research needs. Explore purchase options |
Regional Analysis
Due to an increase in consumer awareness regarding smart parking systems in the region, North America is expected to be the fastest-growing smart parking market for parking sensors. With a growth in the proportion of vehicles on the road and government initiatives, the region is anticipated to develop better traffic and parking management solutions. To guide the car to the appropriate parking place, parking management solutions incorporate parking sensors such as ultrasonic sensors and cameras within an infrastructure that may or may not integrate with in-vehicle parking sensors. The demand for parking sensors will rise as even more parking management solutions are implemented that reducing the time it takes to find a parking spot and easing traffic congestion.
Competitive Players
Some of the essential players operating in the smart parking systems market are Aisin Seiki Co., Ltd, Amano McGann, Amco S.A., Cisco Systems, Delphi Automotive PLC, Kapsch, Nedap N.V, Parkmobile, LLC, Skidata AG, Smart Parking Ltd., Swarco AG, Urbiotica, Xerox Corp, Continental AG and among others.
To maintain a competitive advantage leading companies are providing innovative solutions and hardware equipment. Smart parking market players are expanding their relationships with parking lot management corporations in response to the increasingly varying needs of parking lot management. For example, the Memphis Area Transit Authority (MATA) in the United States granted Amco S.A. a contract for an automated fare collection system in February 2020.
By Hardware
Pucks
Cameras & LPRs
Smart Meters
Signage
Parking Gates
By Software
Parking Guidance System
Analytics Solutions
By Service
Consulting Service
Engineering Service
By Type
By Application
Security & Surveillance
Smart Payment System
E-Parking
License Plate Recognition
By Region
North America
Europe

Germany
France
U.K.
Italy
Spain
Rest of Europe

Asia Pacific

China
Japan
India
South Korea
South-East Asia
Rest of Asia Pacific

Latin America

Brazil
Mexico
Rest of Latin America

The Middle-East and Africa

GCC Countries
South Africa
Rest of Middle-East Africa