Industry Insights
[195+ Pages Report] Global sleeping aids market was projected at USD 64.29 Billion in 2019 and is forecast to hit USD 101.7 Billion in 2026, with CAGR expected to rise by 6.7% between 2020 and 2026.
Market Overview
Sleep aids are medications or medical devices that help people who have sleep problems fall asleep. Medication, sleep labs, sleep apnea machines, and mattresses and pillows are all examples of sleep aids. During the study, increasing stress levels among people and changing lifestyles in countries such as China and India are projected to major driving factors for the growth of sleeping aid items.
Industry Growth Factors
In the coming years, the increasing prevalence of sleep disorders for example obstructive sleep apnea, chronic insomnia, and narcolepsy will drive the global sleep aids industry forward. According to the Centers for Disease Control and Prevention (CDC), some 50 million people in the United States are currently sleep-deprived. In addition, nearly 18 million people suffer from sleep deprivation, which affects their work efficiency. As a result of the increasing prevalence of sleep disorders, demand for preventive and curative medication will rise, propelling the sleeping aids market in the analysis period.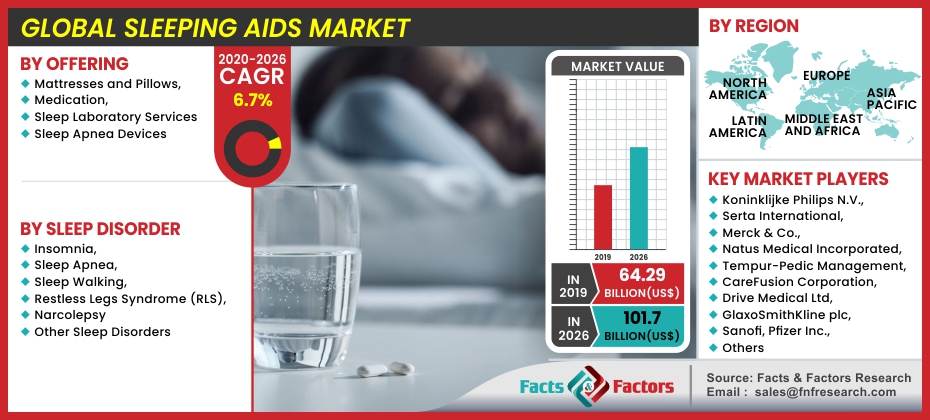 To know more about this report | Request Free Sample Copy
Over the forecast period, increasing disposable income among consumers, combined with increased public knowledge about the negative effects of sleep disorders, would boost the market size for sleep aids. In addition, sleep disturbances can have a detrimental effect on human health and lead to chronic diseases including cardiovascular disease and diabetes.
On the other hand, the negative effects of sleep medications on human health paired with high costs of sleep aids medical procedures could limit market development in near future.
Global Sleeping Aids Market: Segmentation
The global Sleeping Aids market can be segmented into offering, sleep disorders, and regions.
Based on the offering, the sleeping aids market is further classified as mattresses and pillows, medication, sleep laboratory services, and sleep apnea devices. Due to its comprehensive features such as usability, enforcement, availability of a variety of items, the mattresses, and pillows category will carry a substantial revenue size over the forecast years. Furthermore, increasing public awareness of the health benefits of good sleep among the growing population would push the sleep aids market in coming years.
In addition, insomnia, sleep apnea, sleepwalking, restless legs syndrome, narcolepsy, and other sleep disorders are the sleep disorder segments bifurcated in the research report.
Global Sleeping Aids Market: Regional Analysis
Based on regions, we have categorized the global sleeping aids market into five main regions.
Geographically, North America dominated the sleeping aids market, owing to citizens' higher stress levels, increased awareness of such products, and increased spending on healthcare. Europe and Asia-Pacific were the second and third largest markets for sleeping aids, respectively. Due to rapidly growing people living under stress due to changing lifestyles, increased spending, and increased awareness among the population in developing nations such as China and India in this area, Asia Pacific is expected to have the fastest growth in the analysis period.
Global Sleeping Aids Market: Competitive Players
Major players in the Sleeping Aids market are Koninklijke Philips N.V., Serta International, Merck & Co., Natus Medical Incorporated, Tempur-Pedic Management, CareFusion Corporation, Drive Medical Ltd, GlaxoSmithKline plc, Sanofi, Pfizer Inc., Takeda Pharmaceutical Company Limited, SleepMed Inc., Compumedics Limited, Teva Pharmaceutical Industries Ltd, Cadwell Laboratories Inc., and eVilbiss Healthcare LLC among others.
Global Sleeping Aids Market: Regional Segment Analysis
North America
Europe
The Asia Pacific
Latin America
The Middle East and Africa