Industry Insights
[206+ Pages Report] According to Facts and Factors, the global UHT milk market was valued at USD 121,396.3 Million in 2020 and is projected to make over USD 219,590 Million by 2026, with a CAGR of approximately 10.2% between 2021 and 2026.
Global UHT Milk Market: Overview
UHT milk is liquid milk that has been sterilised at an ultra-high temperature (UHT) to give it longer shelf life. Consumer desire for UHT milk is expanding due to its capacity to be held at room temperature for extended periods without needing to be refrigerated. For a few years, the worldwide milk market has seen a significant shift in consumer preference from regular milk to UHT milk. Drinking milk on the move has become a popularly rising trend in recent years, which is one of the main causes fueling global demand for UHT milk. People nowadays have incredibly hectic schedules, forcing them to seek better alternatives to traditional liquid milk, which requires refrigeration but has a short shelf life when it comes to safe milk consumption.
UHT milk is the most popular substitute for regular milk. It has a longer shelf life and doesn't need to be stored in a chilly environment. It can be stored at ambient temperature, which is another important feature that will continue to drive global demand. Whereas traditionally treated milk necessitates a mobile, high-efficiency cold storage chain, UHT milk eliminates this requirement to accommodate manufacturers and distributors, as well as customers who do not possess refrigerators.
In recent years, UHT milk has acquired popularity among the global population. The fact that it has a longer shelf life is thought to be the main reason for its tremendous appeal. UHT (ultra-high temperature) milk is made from fresh milk that has been processed at high temperatures. For a few years, China has been the largest user of UHT milk. Increased demand for this food item indicates that there are profitable opportunities in China for this sector. The efforts of key vendors to strengthen their position in the global UHT milk market are increasing. One of the initiatives to attract a large population from low economic status is the introduction of new items at cheaper pricing. This move creates new opportunities for market expansion.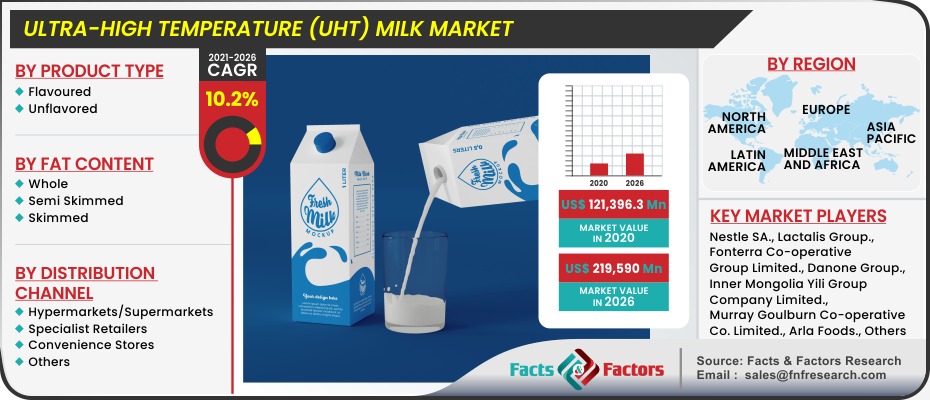 To know more about this report | Request Free Sample Copy
Global UHT Milk Market: Growth Factors
The market is predicted to grow the most in emerging countries, where a paucity of cold storage capacity has persisted over time. A growing number of sportsmen, weightlifters, and bodybuilders around the world eat milk regularly and even need to carry it at times, in addition to the higher birth rate in emerging nations. The worldwide UHT milk industry has a significant untapped opportunity here, which is expected to increase demand for UHT milk in personal storage packs.
People in urban areas are more likely to follow western culture than those in rural areas. In emerging countries, the urban population has exploded in recent years. As a result, many areas have begun to absorb western culture. As a result, demand for UHT milk is rapidly rising in emerging countries like China.
One of the major factors pushing the UHT milk market is poor cold chain maintenance in developing countries. Because this meal is prepared at a high temperature, it can be stored at room temperature without the risk of bacterial growth. As a result, UHT milk does not require clod chain maintenance. This fundamental feature is driving a large population of people from hostels and other areas without refrigeration to switch to UHT milk.
Food consumption outside of the home has become more popular in recent years. Milk consumption is increasing in schools, gymnasiums, and sports fields, for example. This expanding trend is paving the road for the UHT milk market to flourish. However, the higher price of UHT milk compared to ordinary milk, as well as the loss of nutritious value during processing, are stifling market expansion. Furthermore, the unorganised milk industry is one of the major stumbling blocks to the global UHT milk market's expansion.
Global UHT Milk Market: Segmentation
The UHT milk market is segmented based on product type, fat content and distribution channel:
As per product type (flavoured, unflavored), by fat content (whole, semi-skimmed, skimmed), by distribution channel (hypermarkets/supermarkets, specialist retailers, convenience stores, others). The implementation of new and advanced technologies, which has made them more multifunctional, has on condition that the industry with many worthwhile growth prospects in the coming years.
Global UHT Milk Market: Regional Analysis
In 2020, Europe dominated the market. Due to the significant growth of the dairy goods market in countries like Germany, Belgium, and Holland, demand for UHT milk is high in this region. Furthermore, per capita consumption of dairy products has increased significantly in the last five years, owing to the ease with which UHT milk can be produced and distributed compared to other conventional goods. A similar tendency has been found among Danish consumers when it comes to the consumption of pasteurised products like UHT milk regularly.
Because of the increasing consumption of dairy products in countries like India, China, and Japan, Asia Pacific is expected to grow at the fastest rate of 9.1% from 2019 to 2025. Furthermore, a major driver of the market is the rising demand for pasteurized dairy products. Furthermore, as compared to other conventional milk products, consumption of UHT milk products is high in nations like Vietnam, Thailand, and Taiwan. Due to increased consumption and growing demand for dairy products with ultra-high temperature effect, the market's main players are expanding their facilities in the Asia Pacific.
Report Scope
| | |
| --- | --- |
| Report Attributes | Details |
| Market Size in 2020 | USD 121,396.3 Million |
| Projected Market Size in 2026 | USD 219,590 Million |
| Growth Rate | CAGR 10.2% |
| Base Year | 2020 |
| Forecast Years | 2021 – 2026 |
| Key Market Players | Nestle SA., Lactalis Group., Fonterra Co-operative Group Limited., Danone Group., Inner Mongolia Yili Group Company Limited., Murray Goulburn Co-operative Co. Limited., Arla Foods., Sodiaal Group., Bongrain SA., Grupo Lala, S.A.B. de C.V., Candia., DMK Deutsches Milchkontor GmbH., Unternehmensgruppe Theo Müller GmbH & Co. KG., Parmalat S.p.A., Dairy Partners Americas Brasil Ltd. and among others. |
| Key Segment | By Product Type, By Fat Content, By Distribution Channel. and By Region |
| Major Regions Covered | North America, Europe, Asia Pacific, Latin America, and the Middle East & Africa |
| Purchase Options | Request customized purchase options to meet your research needs. Explore purchase options |
Global UHT Milk Market: Covid-19 Analysis
Lockdowns around the world in 2020, as well as continued limitations in 2021, interrupted the supply chain, causing issues for UHT milk manufacturers. Vendor profit margins will continue to be squeezed by fierce competition, price challenges, and altering consumer preferences.
Due to growing consumer awareness in food selection, the food business is expected to undergo certain changes in 2021. The market for these products and their constituents is being driven by a desire for sustainable, regenerative, plant-based diets, as well as a demand for foods and beverages containing immunity-boosting substances. The Do It Yourself (DIY) trend exploded during Corona's reign, and it's projected to continue in 2021.
Companies' ideas on growing beyond traditional markets are evolving in response to the continually changing business situation. Several foods and beverage companies are currently planning to capture domestic and worldwide markets, in addition to focusing on expanding applications and introducing new product portfolios.
Global UHT Milk Market: Competitive Players
Some of the essential players operating in the UHT milk market are
Nestle SA.
Lactalis Group.
Fonterra Co-operative Group Limited.
Danone Group.
Inner Mongolia Yili Group Company Limited.
Murray Goulburn Co-operative Co. Limited.
Arla Foods.
Sodiaal Group.
Bongrain SA.
Grupo Lala
S.A.B. de C.V.
Candia.
DMK Deutsches Milchkontor GmbH.
Unternehmensgruppe Theo Müller GmbH & Co. KG.
Parmalat S.p.A.
Dairy Partners Americas Brasil Ltd
The Global UHT Milk Market is segmented and classified as follows:
By Product Type:
• Flavoured
• Unflavored By Fat Content:
• Whole
• Semi Skimmed
• Skimmed By Distribution Channel:
• Hypermarkets/Supermarkets
• Specialist Retailers
• Convenience Stores
• Others By Region:
• North America
• Europe
UK
France
Germany
Italy
Spain
Rest of Europe
• Asia Pacific
China
Japan
India
South Korea
Southeast Asia
Rest of Asia Pacific
• Latin America
Brazil
Mexico
Rest of Latin America
• Middle East and Africa
GCC Countries
South Africa
Rest of MEA