Industry Insights
[205+ Pages Report] According to Facts and Factors, the global mental health software market size was worth USD 2,014 million in 2021 and is estimated to grow to USD 5,576 million by 2028, with a compound annual growth rate (CAGR) of approximately 18.50% over the forecast period. The report analyzes the Mental Health Software market's drivers, restraints/challenges, and the effect they have on the demands during the projection period. In addition, the report explores emerging opportunities in the Mental Health Software market.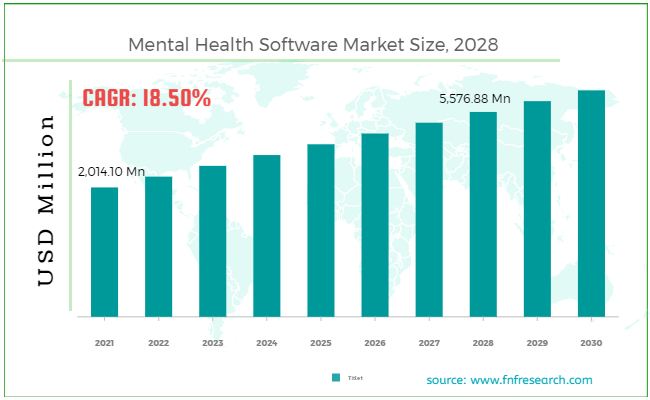 To know more about this report | Request Free Sample Copy
Market Overview
Psychiatrists all over the world utilize Behavioural/Mental Health Software (BMHS), a complex and specially designed piece of software, to analyze patient behavior patterns and suggest treatments for mental health issues like stress, anxiety, addiction, and depression. It can collect information from radiology, laboratories, and pharmacies about the patients who are receiving therapy. The app also offers a thorough report that looks at the demands of the specific patient. For example, 75% of individuals reported medium to high levels of stress in the previous months, and nearly half of them said their stress levels had increased recently, according to statistics published by the American Psychological Association in February 2019.
According to projections, rising health care costs and increased federal funding for software implementation in healthcare facilities will have an impact on the demand for mental health applications. By utilizing and putting software support services into practice, doctors provide patients with high-quality treatment all around the world. It is anticipated that one of the main drivers of patient flow management growth will continue to be the evolution of healthcare infrastructure in developing regions and the growing acceptance of such systems in industrialized nations.
However, lack of awareness of behavioral health software among physicians in emerging markets in the Asia Pacific and the Middle East and Africa, a lack of trained psychiatrists, privacy concerns, security breach worries, and data protection worries are likely to hinder the industry in the years to come.
COVID-19 Impact:
Globally, COVID-19 has had a significant impact on people's mental health. The pre-pandemic demand for mental health services has increased significantly as a result of COVID-19, according to the World Federation for Mental Health. In addition, the epidemic has increased the demand for digital intervention in addition to interfering with mental health therapy.
The demand for advanced behavioral health software to combat the pandemic's disturbances has increased as a result of these consequences. In addition, medical facilities heavily depended on EHR and telehealth tools to provide care remotely during the epidemic. As a result, the pandemic positively affected the mental health software market by creating a number of growth opportunities.
Key Insights
It is anticipated that the market statistics will increase due to the widespread use of mental health software in clinical, financial, and administrative practice.
The rise of the market is expected to be driven by benefits related to the administrative segment.
The rapidly modernizing healthcare systems in the Asia-Pacific region will open up attractive business prospects.
Growth Drivers
Increasing adoption of mental health software
Governments are especially concerned about the high healthcare expenditures for treating mental diseases or behavioral health-related issues. In the world, depression affects more than 264 million individuals of all ages, making it a common mental illness. In 2020, the cost of treating mental diseases on a global scale was 2.5 trillion USD. The requirement for and production of extensive documentation, which reduces clinician productivity, and poor revenue cycle management by mental health organizations are the main causes of high treatment costs. The need to address these problems has increased interest in and use of mental health software as a way to lower medication errors and paperwork, increase productivity by assuring quick patient data access, improve workflow effectiveness, and lower healthcare costs.
Restraints
The privacy of data is the primary worry for providers in mental or behavioral health. Providers of behavioral health services are not permitted to discuss patients with certain mental illnesses or substance misuse issues with anybody who is not involved in their care. However, any healthcare worker who is unrelated to that case can access the patient's data thanks to the integration of data using behavioral I.T. techniques. According to the HIPAA Journal's 2018 breach list, there were 365 healthcare data breaches in the U.S., up 68% from the total number of breaches monitored in 2012.
Opportunities
Players in the mental health software market, particularly those that are unable to meet the criteria set by the Federal Government in the U.S., are anticipated to benefit greatly from the emerging markets in the Asia Pacific, Latin America, the Middle East, and Africa. Healthcare providers in Australia will be encouraged to embrace EMR and EHR technologies by government attempts to set standards, legislation, and infrastructure. To decrease errors and boost efficiency, the Australian government has been implementing a number of programs to encourage the adoption of I.T. in healthcare.
Challenges
The main issue facing healthcare institutions, particularly in developing nations, is overcoming budgetary limitations. However, the volume of data that is kept proves to be so crucial that I.T. infrastructure has begun to take the place of the core of healthcare organizations. Software solutions for mental health are currently relatively expensive. Support and maintenance services, which include software upgrades in response to shifting customer needs, are recurrent costs that could account for close to 30% of the total cost of ownership. When behavioral health companies are focused on establishing EHRs and upgrading RCM systems, it becomes difficult for them to justify spending, at least in the short term.
Segmentation Analysis
The mental health software market is segregated based on component, delivery model, function, and end user.
By component, the market is bifurcated into software and support services. With an 83.0 percent share of the market in 2021, the software segment dominated. The segment is expanding as a result of an increase in the use of technological solutions for the management of the clinical, financial, and administrative operations of psychiatry offices. EHR systems include integrated billing and claims management capabilities that can handle intricate billing processes, and their mobile versions let patients access services while on the road. To simplify the claims process, the program offers revenue cycle management. With the help of these solutions, medical practitioners can create and pick the best treatment plan for a patient who is struggling with problems like depression, stress, anxiety, substance misuse, and addiction.
By end-use, the market has been segmented into community clinics, hospitals, and private practices. In 2021, providers held more than 52.1% of the market revenue share based on end-use. Providers, payers, and patients make up the three market segments for software and services related to mental health care. The demand for software providers grows as a result of the dearth of EHR companies that specialize in mental health. On the other hand, due to the better reimbursement picture, the payer's category is anticipated to experience the highest compound annual growth rate (CAGR) of 13.96 percent throughout the projected period. Telepsychiatry services are covered by Medicare insurance.
Report Scope
| | |
| --- | --- |
| Report Attribute | Details |
| Market Size in 2021 | USD 2,014.10 Million |
| Projected Market Size in 2028 | USD 5,576.88 Million |
| CAGR Growth Rate | 18.50% CAGR |
| Base Year | 2021 |
| Forecast Years | 2022-2028 |
| Key Market Players | Advanced Data Systems, AdvancedMD, Cerner, Compulink, Core Solutions, Credible Behavioral Health, Meditab Software, Mindlinc, Netsmart, Nextgen Healthcare, Qualifacts, The Echo Group, and Others |
| Key Segment | By Component, Function, Delivery Model, End-use, and Region |
| Major Regions Covered | North America, Europe, Asia Pacific, Latin America, and the Middle East & Africa |
| Purchase Options | Request customized purchase options to meet your research needs. Explore purchase options |
Recent Developments
In April 2022, NextGen Healthcare, a cloud-based healthcare technology firm, announced a new mental health technology suite built on the company's electronic health record (EHR) and practice management system.
In September 2021, Reliq Health Technologies Inc. announced that it had secured a new contract with digiiMED to supply its iUGO Care platform and Care Management Services to more than 1500 patients through local health clinics in the U.S. Virgin Islands.
Regional Landscape
Rising awareness of depression is likely to help North America dominate the global market
In terms of revenue, North America accounted for 41.8% of the market in 2021. The reimbursement scenario is favorable because Medicare in the U.S. pays for telepsychiatry services. In addition, Medicare policies continue to be improved as mental health software becomes more widely known. As an illustration, the Telemental Health Expansion Act (HR 5201) was presented in the U.S. Congress in November 2019 and sought to exempt the regional limitations in the standards for mental health treatments provided via telehealth.
On the other side, Asia Pacific is anticipated to experience the greatest CAGR throughout the projected period, at 13.38 percent. Regional expansion is predicted to be fueled by rising older populations in China and Japan, increasing smartphone and internet usage, and these factors combined. Numerous smartphone users in Asian nations like China and India present enormous industry growth prospects.
Competitive Landscape
Key players within the global Mental Health Software market include
Advanced Data Systems
AdvancedMD
Cerner
Compulink
Core Solutions
Credible Behavioral Health
Meditab Software
Mindlinc
Netsmart
Nextgen Healthcare
Qualifacts
The Echo Group
The Mental Health Software market is segmented as follows:
By Component Outlook
Software
Support Services
By Function Outlook
Clinical

EHRs
Clinical Decision Support
Care Plans
E-prescribing
Telehealth

Administrative

Patient/Client Scheduling
Document Management
Case Management
Workforce Management
Business Intelligence

Financial

Revenue Cycle Management
Managed Care
General Ledger
Payroll
By Delivery Model Outlook
By End-use Outlook
Providers

Hospitals & Clinics
Community Centers

Payers
Patients
By Regional Outlook
North America
Europe

France
The UK
Spain
Germany
Italy
Nordic Countries
Benelux Union

Belgium
The Netherlands
Luxembourg

Rest of Europe

Asia Pacific

China
Japan
India
Australia
South Korea
Southeast Asia

Indonesia
Thailand
Malaysia
Singapore
Rest of Southeast Asia

Rest of Asia Pacific

The Middle East & Africa

Saudi Arabia
UAE
Egypt
South Africa
Rest of the Middle East & Africa

Latin America

Brazil
Argentina
Rest of Latin America