Industry Insights
[225+ Pages Report] As per the market research report published by Facts and Factors, the global pulse oximeters market was valued at approximately USD 1,836.4 Million in 2019, and is expected to generate revenue of around USD 3,555.9 Million by end of 2026, growing at a CAGR of around 7.24% between 2020 and 2026.
Market Overview
Pulse oximeters have proven to be an effective tool for determining a patient's oxygen consumption status, and they are now widely used in a variety of departments and units in hospitals. Because of the various age populations of subjects admitted to hospitals as well as other settings, the demand for pulse oximeters is growing. Patients with respiratory arrest, multisystem injuries, apneic disorders, sickle-cell emergencies, and drowning events require pulse oximeters. Pulse oximeters are anticipated to be in high demand in the future due to their large range of applications.
Industry Growth Factors
Over the forecast period, new product availability and high unfulfilled demands in emerging and developing countries are expected to drive market growth. Over the forecast period, a major market driver is projected to be the increased incidence of target diseases like asthma, obesity, diabetes, ischemic disorders, cardiac arrhythmia, sleep apnea, and COPD. Pulse oximeters are also important in emergency medicine and first aid because of their ease of use and potential to provide consistent and instantaneous oxygen saturation values. Patients with heart issues, breathing issues, and cardiovascular disease may benefit from pulse oximeters.
Sleeping conditions such as hypopnea and apnea are diagnosed using pulse oximeters. Pilots flying in non-pressurized aircraft that need supplemental oxygen will benefit from the pulse oximeter with a portable battery. Mountaineers and athletes often use pulse oximeters because oxygen concentrations are poor at high altitudes or during strenuous exercise.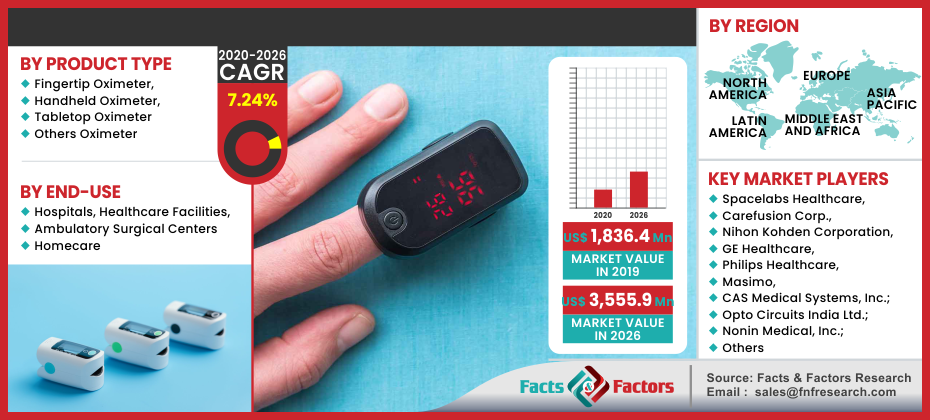 To know more about this report | Request Free Sample Copy
Segmentation Analysis
In 2020, the pulse oximeter market was dominated by the handheld segment, which accounted for more than 30% of total revenue. The fact that these oximeters are simple to use in case of an emergency is driving the market. The level of oxygen saturation in a patient's blood may have a significant impact on the treatment's outcome. Over the projected period, an increase in the number of stroke cases and surgeries is expected to fuel business growth.
The segment is predicted to be driven by technological advances in oximeters. Added features such as data transfer ease, large memory, alarm system, and Bluetooth improve product performance. To stay competitive in the market, industry players launch new products with additional features.
Owing to a rise in the number of operations and hospitalizations, the hospital facilities category led the pulse oximeter market and contributed to the largest revenue share of more than 80% in 2020. COVID-19 infections are common in long-term care facilities, and residents are constantly monitored for symptoms by checking critical respiratory parameters. During the COVID-19 pandemic, demand for pulse oximeters is expected to rise from home healthcare centers and long-term care centers.
Due to factors such as increased knowledge of the importance of controlling oxygen levels, the homecare segment is expected to develop significantly during the forecast period. In homecare, fingertip pulse oximeters are considered affordable and reliable because they can monitor and store a patient's oxygen level readings, reducing the risk of readmission to the hospital. Furthermore, spot-checking is an appropriate method for patients with COPD and CHD. Furthermore, self-monitoring allows patients to take an active role in their own health care. The prevalence of chronic pulmonary and cardiac disorders is projected to increase as the population ages. This is expected to increase the demand for home monitoring products such as pulse oximeters.
Regional Analysis
In 2018, the pulse oximeter market in North America was the biggest. In 2018, the United States had the highest market share in North America, with 80%, and is expected to grow at a significant CAGR over the projected period. Because of the increasing pool of elderly patients who are more susceptible to diseases and need pulse oximeters for routine monitoring of their condition, Asia Pacific is anticipated to witness the fastest growing market is predicted.
China is expected to be the fastest-growing market for pulse oximeters in the Asia Pacific region, with a market share of more than 30% by 2026. This is mostly due to the widespread use of new technologies and significant investment in research and development. The advances have resulted in the creation of compact, patient-friendly, interface pulse oximeters in China, which will fuel the pulse oximeter market's growth in the coming years. All medical device manufacturers are likely to be impacted by recent regulatory changes in Europe. While factors such as changes in labeling standards and improvements in rules and regulations governing the delivery of medical devices can decelerate the approval process, they may have long-term benefits for approved products, such as increased quality and fewer product recalls.
Competitive Players
Key participants in the pulse oximeters market are Spacelabs Healthcare, Carefusion Corp., Nihon Kohden Corporation, GE Healthcare, Philips Healthcare, Masimo, CAS Medical Systems, Inc.; Opto Circuits India Ltd.; Nonin Medical, Inc.; Medtronic (Covidien), Smiths Medical; Welch Allyn and Meditech Equipment Co., and others.
Pulse Oximeters Market: Regional Segment Analysis
North America
Europe

UK
France
Germany
Italy
Spain
Rest of Europe

Asia Pacific

China
Japan
India
South Korea
Southeast Asia
Rest of Asia Pacific

Latin America

Brazil
Mexico
Rest of Latin America

Middle East and Africa

GCC Countries
South Africa
Rest of MEA