Industry Insights
[213+ Pages Report] According to Facts and Factors, the global Precision Medicine Software market size was worth USD 14,194.50 million in 2021 and is estimated to grow to USD 25,840.07 million by 2028, with a compound annual growth rate (CAGR) of approximately 10.50% over the forecast period. The study examines the market drivers, challenges, and restraints for Precision Medicine Software in Europe and how they will affect demand over the forecasted period. The paper also looks into the new potential in the European market for Precision Medicine Software.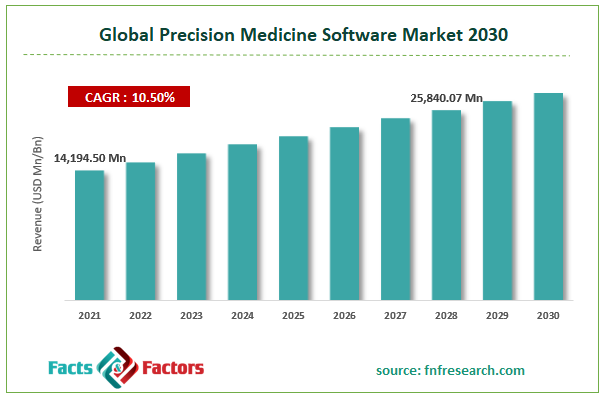 To know more about this report | Request Free Sample Copy
Market Overview
A medical approach known as precision medicine software promotes healthcare personalization by using drugs, medical opinions, goods, and practices that are specifically suited to each patient's healthcare requirements. The Precision Medicine Software concept uses diagnostic testing to choose the best course of treatment for a patient based on their genetic make-up or structure and cellular analysis. In Precision Medicine Software, various tools are used, including analytics, molecular diagnostics, and imaging techniques.
Precision drug delivery systems are projected to enhance patient outcomes across Europe. It is made up of financiers willing to pay for the medications' costs and healthcare organizations keen to create genetic testing and analytics software. Additionally, while companion diagnostics firms are focused on efficiently gathering data, European drug research centers are concentrating on creating unique, individualized ways of treatment. Analysis of patient clinical data is aided by genetic analytics as well.
COVID-19 Impact:
The healthcare sector, which is in crisis as a result of the pandemic, has been developing numerous anti-pandemic strategies. To enable a better knowledge of COVID-19 and to evaluate the impact caused by the virus in order to find new therapeutics, the healthcare sector is doing Precision Medicine Software research. Numerous governments have launched programmes to hasten the application of Precision Medicine Software to coronavirus. The San Antonio Partnership for Precision Therapeutics, for instance, announced financing for three joint COVID-19 research initiatives in San Antonio in July 2020. These initiatives will help San Antonio's groundbreaking COVID-19 research build a solid foundation.
The Cleveland Clinic also started genomic medicine research to pinpoint the genetic components that influence virus susceptibility and use these to create preventative and therapeutic measures. Researchers at Emory University are also looking at an antiviral substance that functions similarly to Remdesivir, which prevents virus reproduction.
Key Insights
• Due to the extensive use of pharmacogenomics in the development of biopharmaceuticals, the therapeutics segment is anticipated to have profitable growth throughout the forecast period.
• The therapeutics market for genomic medicine is anticipated to expand significantly over the course of the forecast period as a result of falling whole-genome sequencing costs.
• In 2020, North America accounted for the biggest revenue share. Due to extensive research being done to create novel treatments, the market in this area is expanding.
• The market in the Asia Pacific is anticipated to experience the quickest CAGR during the forecast period due to expanding PM startups and supportive government initiatives.
Growth Drivers
Precision Medicine Software market expansion is anticipated to be fuelled by growing big data analysis and I.T. sectors.
Due to the growing development of big data analysis and the I.T. industry, it is anticipated that the cost and time necessary for producing new precision medications will decrease. The creation of new, precise medications will make it easier to provide patients with the proper prescription to improve their health. Numerous genetic and diagnostic tests must be performed in order to give Precision Medicine software, and these tests generate a significant amount of usable data needed for personalized prescriptions. Because big data analysis and I.T. can process, analyze, and store essential data, doctors may practice Precision Medicine Software. The government provides funding to major market participants who are developing bioinformatics technology for use in Precision Medicine Software research.
Restraints
Rising healthcare costs and privacy concerns may hamper the global market growth
One of the barriers to the market for Precision Medicine Software in the European region is the region's rising healthcare expenditures, which will limit the use of the technology there. The expansion of the Precision Medicine Software sector in Europe is anticipated to be negatively impacted by worries about privacy and the protection of personal data.
Opportunities
Advancement in big data analytics to impel the market growth in Europe
Big data analytics technology advancements will help open up the new commercial potential for Precision Medicine Software. Companies that make diagnostic tools will also fuel demand for the local market for Precision Medicine Software. It is anticipated that Germany would have a significant share in the region due to the sheer amount of Precision Medicine Software products and treatments available.
Challenges
Precision Medicine Software technologies are still not well supported by clinical evidence, particularly by "real-world" data on a therapeutic value that is not model-based or acquired from selective studies. With pharmacogenomic tests, there is even more uncertainty because they don't directly affect patient outcomes because they don't treat patients; rather, they help clinicians make better treatment decisions.
Segmentation Analysis
The distribution method, application, and end-user are the three sectors that make up the Precision Medicine Software market.
The Precision Medicine Software market is primarily divided into cancer, pharmacogenomics, and other applications based on application. The oncology sector held the greatest market share for Precision Medicine Software in 2020. The significant share of this market is primarily attributable to the rising incidence of cancer, the move toward personalized medicine, the increase in funding for cancer research, the use of Precision Medicine Software in oncology research, and the increased investments made by governmental bodies in the field of Precision Medicine Software and related software.
The pharmaceutical and biotechnology industries, research and government organizations, and healthcare providers are the three segments of the worldwide Precision Medicine Software market based on end users. The market for Precision Medicine Software was dominated by the healthcare providers sector in 2020. The substantial proportion of this market is mainly related to the increase in tertiary/specialty care hospitals, the incidence of chronic diseases, the expansion of the healthcare infrastructure, the rise in demand for high-quality healthcare, and the transition to personalized/Precision Medicine Software.
Report Scope
| | |
| --- | --- |
| Report Attribute | Details |
| Market Size in 2021 | USD 14,194.50 Million |
| Projected Market Size in 2028 | USD 25,840.07 Million |
| CAGR Growth Rate | 10.50% CAGR |
| Base Year | 2021 |
| Forecast Years | 2022-2028 |
| Key Market Players | Syapse Inc. (U.S.), Fabric Genomics Inc. (U.S.), GenomOncology LLC (U.S.), SOPHiA GENETICS SA (Switzerland), Human Longevity Inc. (U.S.), Sunquest Information Systems Inc. (U.S.), LifeOmic Health, LLC (U.S.), Translational Software Inc. (U.S.), N-of-One (U.S.), PhenoTips (Canada), PierianDx (U.S.), Foundation Medicine Inc. (U.S.), 2bPrecise (U.S.), and Others |
| Key Segment | By Delivery Mode, Application, End User, and Region |
| Major Regions Covered | North America, Europe, Asia Pacific, Latin America, and the Middle East & Africa |
| Purchase Options | Request customized purchase options to meet your research needs. Explore purchase options |
Recent Developments
In Gig Harbor, Washington, Metagenics, Inc. launched The Personalized Lifestyle Medicine Center (PLMC), a patient clinic and clinical research centre, in January 2019. The Center will test precision lifestyle medicine by customizing each patient's care according to their unique needs.
In March 2019, Vitamin Packs, Inc. PERSONA nutrition announced new vitamin supplements for focused health. New vegan softgels, a programme designed specifically for bariatric patients, and a combo product that allows users to take fewer pills each day are some of the most recent supplements.
In July 2017, Invitrocue and ASTAR's Genome Institute of Singapore announced the creation of a collaborative laboratory to develop tumour models to support clinicians' decision-making and enable the adoption of personalised medications that will help patients manage their illnesses and lengthen survival.
Regional Landscape
Rising awareness of periodontal disorders is likely to help North America dominate the global market
Europe is leading the largest portion of the market. One of the things driving the market demand in the region is the region's ongoing economic expansion. Growing government initiatives in support of the end user are also accelerating market expansion. For instance, an International Consortium for Precision Medicine Software market was created in November 2016 by European and international members with policy-making organizing. The development of precise, accurate medicine is being accelerated by this endeavor.
The U.K. currently holds the greatest market share out of all the other countries. The market's growth rate is benefiting from the rising sales of research facilities and laboratories. Leveraging the market's growth pace in this nation is also increasing the expertise of professionals in genomic analysis. Precision Medicine Software is often prescribed by doctors in cancer cases when genomic medicine is used to comprehend tumour cells better. This is expected to accelerate the market's growth pace significantly. Big data is a brand-new technology that is helping the pharma and biotech industries meet the growing need for Precision Medicine Software. The U.K. is one of the countries with the fastest-growing markets for Precision Medicine Software. The advancement of Precision Medicine Software and genome sequencing has received 210 million pounds from the U.K. government. Through greater access to individualized treatment plans, patients with cancer will be able to receive a better diagnosis for rare diseases. Increased government and non-government organization support is a key element in boosting the market's growth pace.
Following the U.K. in commanding dominant market share in France. A new platform dubbed Human MEDicine (Hu-PreciMED), which featured over 45 enterprises from the digital and medical industries, was introduced by the French government. The companies involved in this project will work together to enhance the present therapy approach. The market's expansion is also attributed to an increase in COVID-19 cases.
Competitive Landscape
Key players within the global Precision Medicine Software market include
Syapse Inc. (U.S.)
Fabric Genomics Inc. (U.S.)
GenomOncology LLC (U.S.)
SOPHiA GENETICS SA (Switzerland)
Human Longevity Inc. (U.S.)
Sunquest Information Systems Inc. (U.S.)
LifeOmic Health
LLC (U.S.)
Translational Software Inc. (U.S.)
N-of-One (U.S.)
PhenoTips (Canada)
PierianDx (U.S.)
Foundation Medicine Inc. (U.S.)
2bPrecise (U.S.)
The Global Dental Periodontics market is segmented as follows:
By Delivery Mode
On-premise
Web & Cloud-based
By Application
Oncology
Pharmacogenomics
Other Applications
By End User
Healthcare Providers
Research & Government Institutes
Pharmaceutical & Biotechnology Companies
By Region
North America
Europe

France
The UK
Spain
Germany
Italy
Nordic Countries
Benelux Union

Belgium
The Netherlands
Luxembourg

Rest of Europe

Asia Pacific

China
Japan
India
Australia
South Korea
Southeast Asia

Indonesia
Thailand
Malaysia
Singapore
Rest of Southeast Asia

Rest of Asia Pacific

The Middle East & Africa

Saudi Arabia
UAE
Egypt
South Africa
Rest of the Middle East & Africa

Latin America

Brazil
Argentina
Rest of Latin America