Industry Insights
[229+ Pages Report] According to the report published by Facts and Factors, the global polyether ether ketone (PEEK) market size was worth around USD 0.8 billion in 2021 and is predicted to grow to around USD 1.3 billion by 2030 with a compound annual growth rate (CAGR) of roughly 6.83% between 2022 and 2030. The report analyzes the global polyether ether ketone (PEEK) market drivers, restraints/challenges, and the effect they have on the demands during the projection period. In addition, the report explores emerging opportunities in the polyether ether ketone (PEEK) market.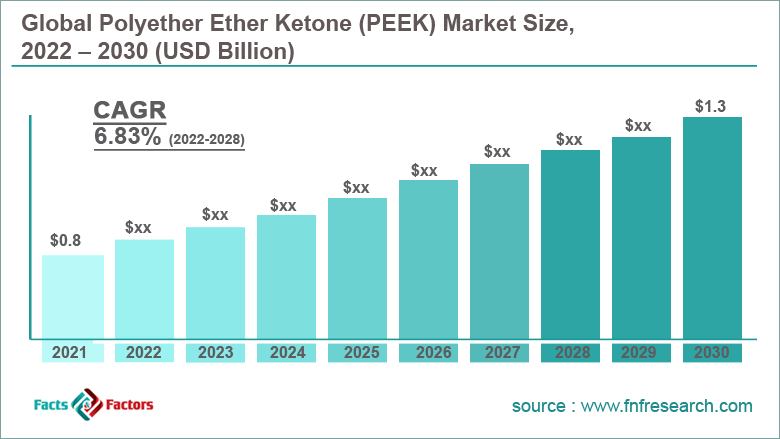 Market Overview
Polyether ether ketone is a highly regarded and exceptionally well-performing thermoplastic with wide engineering applications. It is characterized by different types of an unusual mixture of properties. These properties range from mechanical strength to high-temperature properties. PEEK also exhibits high resistance to other chemicals. It exists in semi-crystalline form and is a rigid but opaque material that limits fatigue, wears & tear, and creep when used in engineering applications at temperatures as high as 480°F. It belongs to the group of polyketone polymer family and amongst the other polymers in this segment, PEEK is the most widely accepted.
The melting point of PEEK is 341°C whereas the glass transition temperature is 143°C. Conventional methods can be used for the production of PEEK including extrusion, injection molding, compression molding, and others. Owing to these excellent properties, PEEK has found applications in the automotive, aerospace, biomedical, high-temperature electrical, and structural segments. The added value offered by polyether ether ketone is what makes it a highly sought-after polymer compared to other options. The commercial production of PEEK began in 1980.
Key Insights
As per the analysis shared by our research analyst, the global polyether ether ketone (PEEK) market is estimated to grow annually at a CAGR of around 6.83% over the forecast period (2022-2030)
In terms of revenue, the global polyether ether ketone (PEEK) market size was valued at around USD 0.8 billion in 2021 and is projected to reach USD 1.3 billion, by 2030.
The market is projected to grow at a significant rate due to growing applications in the rubber industry
Based on type segmentation, glass-filled was predicted to show maximum market share in the year 2021
Based on end-user segmentation, automotive was the leading user in 2021
On the basis of region, Asia Pacific was the leading revenue generator in 2021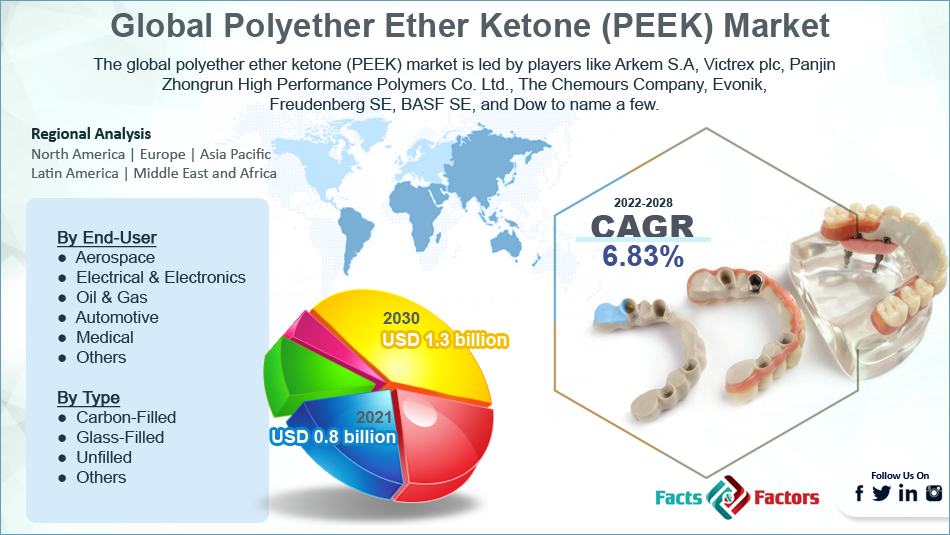 Growth Drivers
Low impact on the environment to help the demand for polymer grow
The global polyether ether ketone market is projected to grow owing to PEEK being a fully recyclable plastic, one of the rare polymers exhibiting the highly wanted quality in plastics. PEEK molecules are highly stable which means that they can be remelted and re-processed multiple times without any significant impact on the chemical and structural properties of the polymer. The use of PEEK can help companies and commercial institutes reduce their environmental footprint which is the need of the hour as various environment agencies along with local, regional, and government bodies have started raising concerns over it.
Using PEEK can help be beneficial for the overall economic growth of the organization. As industrialization is reaching its peak with constant innovation, product addition, and development, the impact of industrial operational activities can be witnessed across the globe. There is a direct correlation between the degree of industrial growth and the harmful impact on the environment.
Factors like toxic gas emissions and an increase in polluting material are major areas of concern. For instance, the automotive industry alone is responsible for the emission of over 25% of Nitrogen Oxide. As concerns over these factors grow, the global market players will be propelled to shift toward environment-friendly substitutes like PEEK polymers.
Restraints
High manufacturing cost to restrict market expansion
The global market is projected to face challenges owing to the high cost of polyether ether ketone and the associated manufacturing cost. Some factors apart from highly-priced raw materials that influence the rise in manufacturing expense are the length and the high engineering level required to create adequate and accurate amounts of PEEK. The recent fluctuations in the oil & gas prices due to various political and economical factors have led to a further increase in the total cost of production of PEEK.
Opportunities
Growing applications in biomedicine to provide expansion opportunities
There is a significant increase in the number of players observed globally due to the growing applications of PEEK in the biomedical segment. Different forms of polyether ether ketone have found use in various orthopedic surgeries, spine surgeries, and maxillo-facial operations.
The use of PEEK composites has helped the segment broadens the mechanical and physicochemical properties of PEEK materials. Growing interest and development in making use of PEEK in 3D printing processes may open more doors for revenue generation.
Challenges
Manufacturing complexities to challenge market growth
Producing and manufacturing PEEK is an extremely complex process purely due to the high degree of engineering involved in the process. Only experienced and well-informed professionals can handle the manufacturing process which demands businesses to hire niche professionals who have previously worked on such processes.
The main factor that should be considered while manufacturing PEEK is that it has a long elongation which means that if the drill is too deep, it can cause the plastic to crack. Hence it required special handling to avoid heat cracks or stress damage. In the same manner, the tool choice to work with PEEK has to be specific as it is recommended that the tool being used should not have been used on other metals.
Segmentation Analysis
The global polyether ether ketone (PEEK) market is segmented based on end-user, type, and region
Based on end-user, the global market divisions are aerospace, electrical & electronics, oil & gas, automotive, medical, and others. The global market witnessed the highest adoption in the automotive segment in 2021 because it acts as a solution for some of the main problems in the industry including noise reduction, and weight reduction alongside functional integration.
The outstanding mechanical performance delivered by PEEK is what makes it desirable amongst the producers of automobiles and automotive parts. In Japan, around 4448340 units of vehicles were sold in 2021 as per official data from the Japan Mini Vehicles Association and Japan Automobile Dealers Association.
Based on type, the global market divisions are carbon-filled, glass-filled, unfilled, and others. In 2021, the most dominating segment was the glass-filled segment owing to various advantages associated with this type. The compound mixture offers good resistance to abrasion. It also imparts excellent tensile and flexural characteristics while offering a low moisture absorption rate. The tensile strength of PEEK is around 170 Mega Pascal.
Recent Developments:
In January 2020, Victrex, a leading polymer solution supplier, announced a joint venture with Yingkou Xingfu Chemical Company and its subsidiary Victrex Hong Kong to set up a new PEEK manufacturing unit in China with Victrex being the majority stockholder.
In January 2022, Evonik, a specialty company developed a breakthrough PEEK compound that can reportedly replace metal gears. The new compounds are known to be high-performance and high-resistance material
Report Scope
| | |
| --- | --- |
| Report Attribute | Details |
| Market Size in 2021 | USD 0.8 Billion |
| Projected Market Size in 2030 | USD 1.3 Billion |
| CAGR Growth Rate | 6.83% CAGR |
| Base Year | 2021 |
| Forecast Years | 2022-2030 |
| Key Market Players | Arkem S.A, Victrex plc, Panjin Zhongrun High Performance Polymers Co. Ltd., The Chemours Company, Evonik, Freudenberg SE, BASF SE, Dow , and others. |
| Key Segment | By End-User, Type, and Region |
| Major Regions Covered | North America, Europe, Asia Pacific, Latin America, and the Middle East &, Africa |
| Purchase Options | Request customized purchase options to meet your research needs. Explore purchase options |
Regional Analysis
China to lead Asia-Pacific during the projection Period
The global polyether ether ketone (PEEK) market is projected to witness the highest growth in Asia-Pacific with China dominating the largest part of the regional market share. The growth can be attributed to the region's increasing investment in the development of its chemical sector, especially in the production of extremely rare and highly wanted chemical compounds or polymers. China may register a high CAGR owing to the growing automobile sector.
As the industry grows due to factors like increasing production of automobiles across price ranges and higher demand from end-consumers, the requirement for PEEK is likely to grow further. Contrary to popular belief, China probably is one of the few nations where local or domestic chemical product suppliers are registering higher growth than international players, however, the influx of foreign investment in China's chemical industry has grown tremendously in the last few years.
Competitive Analysis
Arkem S.A
Victrex plc
Panjin Zhongrun High Performance Polymers Co. Ltd.
The Chemours Company
Evonik
Freudenberg SE
BASF SE
Dow
The global polyether ether ketone (PEEK) market is segmented as follows:
By End-User Segment Analysis
Aerospace
Electrical & Electronics
Oil & Gas
Automotive
Medical
Others
By Type Segment Analysis
Carbon-Filled
Glass-Filled
Unfilled
Others
By Regional Segment Analysis
North America
Europe

France
The UK
Spain
Germany
Italy
Nordic Countries
Benelux Union

Belgium
The Netherlands
Luxembourg

Rest of Europe

Asia Pacific

China
Japan
India
Australia
South Korea
Southeast Asia

Indonesia
Thailand
Malaysia
Singapore
Rest of Southeast Asia

Rest of Asia Pacific

The Middle East & Africa

Saudi Arabia
UAE
Egypt
South Africa
Rest of the Middle East & Africa

Latin America

Brazil
Argentina
Rest of Latin America