Industry Insights
[230+ Pages Report] According to the report published by Facts and Factors, the global physiotherapy equipment market size was worth around USD 19.05 billion in 2021 and is predicted to grow to around USD 34 billion by 2030 with a compound annual growth rate (CAGR) of roughly 6.7% between 2022 and 2030. The report analyzes the global physiotherapy equipment market drivers, restraints/challenges, and the effect they have on the demands during the projection period. In addition, the report explores emerging opportunities in the physiotherapy equipment market.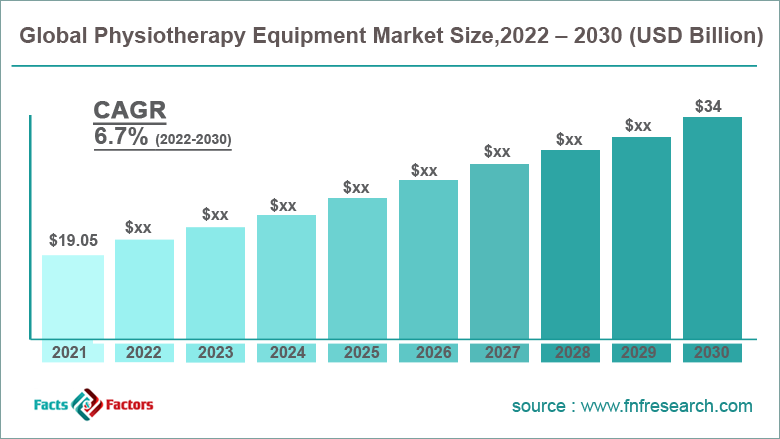 Market Overview
Physiotherapy is also known as physical therapy. It is an important part of allied health professions, the medical community which is different from dentistry, optometry, medicine, nursing, and pharmacy. Physiotherapy is given to patients by certified physical therapists who help in promoting, maintaining, or restoring the physical well-being of people with the help of physical examination followed by diagnosis and events like patient education, prognosis, rehabilitation, physical intervention, health promotion, and disease prevention.
Physiotherapy is more than clinical practice since it also involves conducting research, and consultation along with health administration. Apart from the in-depth knowledge that physiotherapists possess, they also make use of various tools or pieces of equipment that aid the quality of care given to the patients. The most common types of physiotherapy equipment that can be found at the clinic of all therapists include walking canes, crutches, and walkers.
Key Insights
As per the analysis shared by our research analyst, the global physiotherapy equipment market is estimated to grow annually at a CAGR of around 6.7% over the forecast period (2022-2030)
In terms of revenue, the global physiotherapy equipment size was valued at around USD 19.05 billion in 2021 and is projected to reach USD 34 billion, by 2030.
The market is projected to grow at a significant rate due to the growing number of patients seeking physiotherapy
Based on type segmentation, ultrasound was predicted to show maximum market share in the year 2021
Based on demographic segmentation, the non-geriatric population was the leading demographic in 2021
On the basis of region, North America was the leading revenue generator in 2021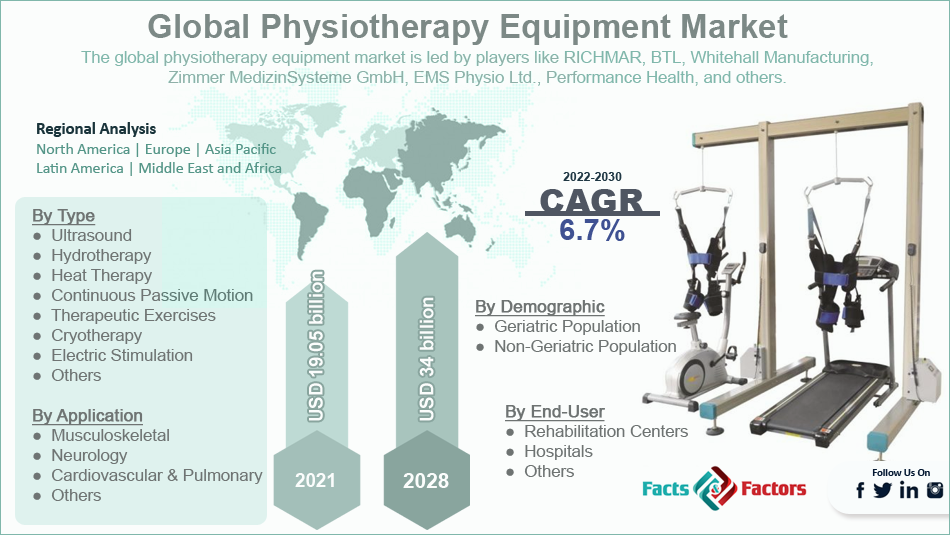 Growth Drivers
Growing number of patients undergoing physiotherapy to act as market drivers
The global physiotherapy equipment market is projected to grow owing to the increasing number of patients requiring physiotherapy as a means to gain complete control over mobility issues as well as a treatment measure for other kinds of diseases as well. Physiotherapy can help people who have been affected by injuries, or have a certain kind of disability or illness that restricts free movement in any part of the body. Contrary to popular belief, physiotherapy not only enlists slow movement-based exercise and it also covers advice and education along with manual therapy. Physiotherapists are known to encourage patients to use various ways to help them recover faster or function normally in their day-to-day lives while managing the movement restriction.
People suffering from conditions like lack of balance, uncontrollable urination, mobility issues, recurring pain, and experiencing pain while sitting at a desk are recommended to visit physiotherapists as soon as possible to avoid any serious or long-term impact. Even in cases where certain medications do not work to relieve pain, doctors refer the patients to a certified physiotherapist. A study paper published on ResearchGate assessing the effect of patients' adherence to [physiotherapy rehabilitation showed a success rate of 80% within the first 48 months of starting treatment.
Restraints
High cost to restrict market expansion
Physiotherapy, in general, is expensive and the cost is dependent on the seriousness of the injury. As per estimates, the average national cost of physiotherapy per person can range between USD 30 to USD 400. In India, one physical therapy session can cost up to a minimum of INR 800. The price changes depending on the experience level of the physiotherapist treating the patient. Hence a lot of people refrain from visiting physiotherapists and try to manage the condition without any external help. This is especially applicable to low to medium-income group families.
Opportunities
Increasing research and product innovation to provide growth opportunities
The global physiotherapy equipment market is projected to benefit from the growing technological advancement in the physiotherapy segment as the demand for medical assistance is growing tremendously. Various medical-technological companies have increased associated research activities to stay ahead in the game. For instance, Exogen, developed by Lila Movementechnology, is a popular wearable resistance technology that is designed to help movement and is developed by sports scientists. The technology has wide applications in sports activities and exercises.
Challenges
Lack of training infrastructure to challenge the market expansion
Physiotherapy sessions can only be conducted by certified or trained professionals. There is a general lack of training institutes which means that there is a significant gap in the supply and demand for professionals conducting these sessions. It becomes difficult for certified physiotherapists to constantly upgrade their knowledge because of the lack of necessary training infrastructure. For instance, in India, there are around 200 recognized physiotherapy institutes out of which almost 82% are private institutes with high fees.
Segmentation Analysis
The global physiotherapy equipment market is segmented based on type, application, demographic, end-user, and region.
Based on type, the global market segments are ultrasound, hydrotherapy, heat therapy, continuous passive motion, therapeutic exercises, cryotherapy, electric stimulation, and others. In 2021, the global market was dominated by the ultrasound segment with more than 41% of the global market revenue. Ultrasound therapy has been used in physiotherapy sessions for a long time and is mainly used due to its non-thermal effect using sound waves at a high frequency that cause movement and vibrations in cellular fluid. Ultrasound therapy can help increase blood flow and stimulate collagen production. Common injuries that can be treated with ultrasound are tendonitis, bursitis, tendon or ligament injuries, and osteoarthritis.
Based on demographic, the global market is segmented based on the geriatric population and non-geriatric population with the latter leading the global market growth in 2021 due to increased hospitalization of patients requiring physiotherapy sessions. The non-geriatric patient list consists of adults suffering from work-related or accidental injuries. The shift toward remote work culture, with long hours sitting on laptops or chairs, has resulted in many people visiting physiotherapists for work-related concerns. Carpal tunnel is a serious syndrome related to long hours of typing. It is estimated to affect around 1 to 5% of the adult population.
Recent Developments:
In August 2022, Assam Down Town University (AdtU), India launched a new physiotherapy program including Electromyography, Gait Lab, and a Pulmonary Function test lab equipped with a Spirometer. The highly advanced lab is expected to help cater to the requirement of new educational prospects
In April 2021, the US Food and Drugs Administration approved the marketing of the IpsiHand Upper Extremity Rehabilitation System (IpsiHand System), developed by Neurolutions which is created to help rehabilitation in stroke patients showing upper extremity disability
Report Scope
| | |
| --- | --- |
| Report Attribute | Details |
| Market Size in 2021 | USD 19.05 Billion |
| Projected Market Size in 2030 | USD 34 Billion |
| CAGR Growth Rate | 6.7% CAGR |
| Base Year | 2021 |
| Forecast Years | 2022-2030 |
| Key Market Players | RICHMAR, BTL, Whitehall Manufacturing, Zimmer MedizinSysteme GmbH, EMS Physio Ltd., Performance Health, and others. |
| Key Segment | By Type, Application, Demographic, End-User, and Region |
| Major Regions Covered | North America, Europe, Asia Pacific, Latin America, and the Middle East &, Africa |
| Purchase Options | Request customized purchase options to meet your research needs. Explore purchase options |
Regional Analysis
North America to lead with the highest market share
The global physiotherapy equipment market is projected to register the highest growth in North America driven by the high awareness rate about the benefits of physiotherapy which is further encouraged by the growing accessibility to quality physiotherapy care. The US is anticipated to lead the regional market revenue primarily due to the increasing application of physiotherapy equipment in the sports sector. Regular physical therapy sessions are a part of the exercise regimen followed by various sports personalities.
The region is also registering a surge in the number of sports physiotherapists as their demand is reaching new heights every year. The increasing number of FDA approvals for physiotherapy equipment along with growing investments in establishing training centers could further help the regional market generate more revenue. The growing elderly population which currently stands at 58 million people over the age of 65 years, is a major reason for the demand for physiotherapy equipment.
Competitive Analysis
RICHMAR
BTL
Whitehall Manufacturing
Zimmer MedizinSysteme GmbH
EMS Physio Ltd.
Performance Health
The global physiotherapy equipment market is segmented as follows:
By Type Segment Analysis
Ultrasound
Hydrotherapy
Heat Therapy
Continuous Passive Motion
Therapeutic Exercises
Cryotherapy
Electric Stimulation
Others
By Application Segment Analysis
Musculoskeletal
Neurology
Cardiovascular & Pulmonary
Others
By Demographic Segment Analysis
Geriatric Population
Non-Geriatric Population
By End-User Segment Analysis
Rehabilitation Centers
Hospitals
Others
By Regional Segment Analysis
North America
Europe

France
The UK
Spain
Germany
Italy
Nordic Countries
Benelux Union

Belgium
The Netherlands
Luxembourg

Rest of Europe

Asia Pacific

China
Japan
India
Australia
South Korea
Southeast Asia

Indonesia
Thailand
Malaysia
Singapore
Rest of Southeast Asia

Rest of Asia Pacific

The Middle East & Africa

Saudi Arabia
UAE
Egypt
South Africa
Rest of the Middle East & Africa

Latin America

Brazil
Argentina
Rest of Latin America