Industry Insights
[237+ Pages Report] According to Facts and Factors, the global oxygen therapy market size was worth around USD 16,294.10 million in 2021 and is estimated to grow to about USD 28,552.51 million by 2028, with a compound annual growth rate (CAGR) of approximately 9.80% over the forecast period. The report analyzes the oxygen therapy market's drivers, restraints/challenges, and their effect on the demands during the projection period. In addition, the report explores emerging opportunities in the oxygen therapy market.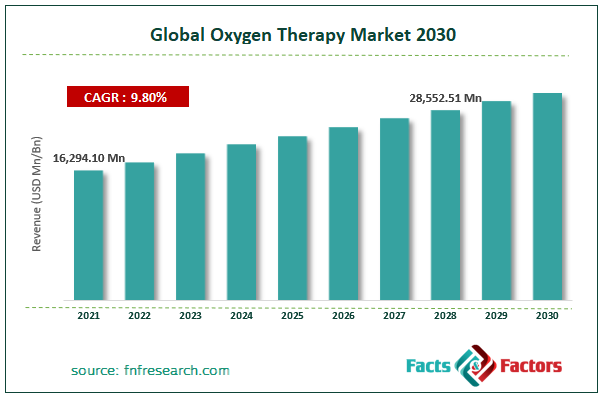 To know more about this report | Request Free Sample Copy
Market Overview
For those who need enough oxygen, oxygen therapy is a viable therapeutic choice. It is mainly used to treat patients who don't get enough oxygen, such as asthma, chronic obstructive pulmonary disease (COPD), sleep apnea, and others. Depending on their specific requirements, patients can choose from various oxygen therapy options, including oxygen concentrators, liquid oxygen, and hyperbaric oxygen therapy. Since oxygen is required for multiple cell metabolisms and tissue oxygenation is crucial for proper physiological function, oxygen therapy employs oxygen gas to treat acute or chronic patients. The market for oxygen therapy is expected to increase over the projected period. These improvements include sensors, flow regulators, and delivery devices coupled with pulse dosage meters.
O2 treatment is becoming more widely used due to its potential advantages, including regulated flow, effective dosage, quicker reaction times, and higher durability & dependability. The industry is anticipated to grow due to the technologically sophisticated oxygen source and delivery equipment that provide effective patient care. We expect the elements mentioned above to fuel industry development. The need is also anticipated to increase in the following years due to the growing acceptance and popularity of on-demand and continuous Portable Oxygen Concentrators (POC) in various applications, including emergency care.
COVID-19 Impact:
Patients with COVID-19 whose respiratory function has been damaged can benefit from oxygen therapy. After health care providers spent more money on the less costly stationary equipment in 2020, the overall transition from standalone to portable concentrators intensified. However, fewer consumers need mobility because of lockdown limitations everywhere. Despite the downturn, the mobile OTD market is anticipated to expand and have considerable development throughout the projected period.
Furthermore, the development of therapies that deliver a more significant flow of oxygen, such as high-flow nasal therapy, has been prompted by the prevalence of COPD, which is known to raise the chance of developing severe disease from COVID-19. Therefore, the abovementioned factors will propel the expansion of oxygen conserving devices over the projection period.
Key Insights
As per the analysis shared by our research analyst, the global oxygen therapy market value is expected to grow at a CAGR of 9.80 % over the forecast period.
In terms of revenue, the global oxygen therapy market size was valued at around USD 16,294.10 million in 2021 and is projected to reach USD 28,551.51 million by 2028.
The growing technological advancements in the healthcare industry and the ever-increasing need for cost-effective solutions across the globe are the major factors driving the market's growth.
By product, the oxygen source equipment category dominated the market in 2021.
By application, COPD (chronic obstructive pulmonary disease) dominated the market in 2021.
North America dominated the global oxygen therapy market in 2021.
Growth Drivers
Technological progress is increasing the market for oxygen therapy devices worldwide
The creation of independent and portable oxygen treatment equipment is an example of technological breakthroughs in this field. In general, oxygen is used to treat individuals who cannot breathe, usually enough to get enough oxygen, or who need more significant quantities of oxygen. Ultimately, cylinder-based oxygen transport techniques will be phased out in favor of portable oxygen concentrators. While oxygen cylinders rely on a finite supply of oxygen, portable oxygen concentrators filter the air in a room to produce therapeutic oxygen. The use of portable oxygen concentrators is thought to be the future of oxygen therapy and may help patients enjoy more satisfying lives.
Restraints
Oxygen concentrators are pricey and have frequent adverse effects on the global market.
The obstacles limiting market growth include, however, the high price of oxygen concentrators and their adverse effects, which include skin irritation and nasal dryness when used therapeutically. The market for oxygen treatment equipment will have difficulties due to the tight regulatory requirements that cause delays in product approval. Additionally, the availability of affordable substitutes made by regional manufacturers and Medicare reimbursement rate reductions for home oxygen treatment will serve as market restraints and slow the industry's development pace.
Opportunity
The market for oxygen therapy devices is expanding due to the prevalence of respiratory diseases.
The primary factor fueling the growth of the oxygen treatment equipment market is the rise in the prevalence of respiratory disorders. The growing number of older people is a crucial element contributing to the market's growth. Additionally, rising demand for home oxygen therapy and technological advancements are the main factors boosting market expansion. The market growth rate will be tempered by additional essential elements, such as an increase in the switch from conventional cylinders to portable concentrators. Additionally, the key factors that will further affect the growth rate of the oxygen treatment equipment market are the early detection of respiratory illnesses and the rising prevalence of cigarette use. Furthermore, the demand for oxygen treatment equipment will benefit from increased telemonitoring and telemedicine.
Challenges
Hospitalizations, respiratory conditions, and illnesses necessitating the use of oxygen concentrators
As the population ages and the frequency of chronic respiratory disorders grows, it is expected that the number of patients utilizing medical oxygen will increase consistently in some markets. The COVID-19 pandemic, the most recent in a line of respiratory illnesses, had an immediate and significant impact on unit sales. As a result, the expansion was fueled by an increase in hospitalizations, respiratory issues, and diseases requiring the use of oxygen concentrators.
Segmentation Analysis
The global oxygen therapy market is segregated based on product, application, end-user, and region.
The market is divided based on the application into COPD (chronic obstructive pulmonary disease), asthma, obstructive sleep apnea, RDS, cystic fibrosis, pneumonia, and others. Because of the increased prevalence of this condition and the increasing need for clinical urgency, the chronic obstructive pulmonary disease (COPD) segment will continue to dominate the oxygen treatment equipment market from 2022 to 2028. Chronic Obstructive Pulmonary Disorder (COPD) led the market with the most significant share because of the rising prevalence of COPD. Around 65 million people are estimated to have COPD, the fifth-leading cause of mortality. The clinical urgency for COPD therapy is increasing due to the rising prevalence of the disease, which is fueling business expansion.
The market is divided into the product's oxygen source equipment and delivery devices. Oxygen source equipment makes up a sizeable portion of the product sector due to its high availability. It is used in the form of O2 concentrators, compressed gas systems, cylinders, and liquid oxygen. Additionally, these devices are the primary source and first step in O2 treatment, significantly contributing to the sector's overall growth. The oxygen source equipment is divided into oxygen cylinders, oxygen concentrators, and liquid oxygen devices. Portable oxygen concentrators and stationary oxygen concentrators are additional categories of oxygen concentrators. Bag valve masks, non-rebreather masks, venturi masks, oxygen masks, nasal cannulas, and other devices are the different categories of oxygen delivery equipment.
The oxygen treatment equipment market is divided into hospitals, home care, and other end-users. Due to its advanced infrastructure, specialized medical staff, and increased admission of patients with chronic respiratory diseases, the hospital's sector dominates the market. The category for hospitals and clinics is anticipated to expand steadily throughout the projected period. Hospitals make substantial use of cutting-edge medical technology to enhance point-of-care services. Because hospitals employ O2 treatment equipment and other related supplies, it is launched that the hospital segment would expand steadily. In addition, hospital settings offer a variety of amenities combined with a regulated atmosphere, which is anticipated to increase patients with severe diseases choice for them and support the expansion of this market. These elements are expected to support consistent market expansion. In terms of revenue, home healthcare accounted for a sizeable portion of the end-user category.
Report Scope
| | |
| --- | --- |
| Report Attribute | Details |
| Market Size in 2021 | USD 16,294.10 Million |
| Projected Market Size in 2028 | USD 28,552.51 Million |
| CAGR Growth Rate | 9.80% CAGR |
| Base Year | 2021 |
| Forecast Years | 2022-2028 |
| Key Market Players | GE Healthcare, Invacare Corporation, CareFusion Corporation, Smiths Medical, HERSILL S.L., Fisher & Paykel Healthcare Limited, Philips Respironics Inc., DeVilbiss Healthcare, Tecno-Gaz Industries, Allied Healthcare Products Inc., Teleflex Incorporated, Chart Industries, MAQUET Medical Systems, and Others |
| Key Segment | By Product, Application, End-Use, and Region |
| Major Regions Covered | North America, Europe, Asia Pacific, Latin America, and the Middle East & Africa |
| Purchase Options | Request customized purchase options to meet your research needs. Explore purchase options |
Recent Developments
October 2021: In the US, Movair unveiled a cutting-edge ventilator. Patients with COVID-19, COPD, chronic bronchitis, or bronchiectasis may transition to home settings more quickly with the Movair Luisa ventilator, authorized for emergency use by the FDA.
July 2021: Belluscura (BELL) announced the signing of its first contract and third distribution agreement with a manufacturer of durable medical equipment for its line of portable oxygen concentrators called X-PLO2RTM. The durable medical equipment ("DME") is available online and at several retailers across several states. While this is happening, the third distributor has already placed its first order for the X-PLO2RTM portable oxygen concentrator, which should arrive in less than 90 days.
Regional Landscape
North America dominated the global market for oxygen therapy devices.
The oxygen treatment device market is divided into five geographic segments: North America, Europe, Asia-Pacific, Latin America, and the Middle East & Africa. The most significant demand for oxygen treatment equipment worldwide is in North America. With more than half of all sales, the United States is the market with the most important volume for oxygen treatment equipment. However, Europe is now overtaking North America as the second-largest market for oxygen treatment equipment. Additionally, it is anticipated that Asia-Pacific will have a sizable CAGR in the upcoming years, making it the fastest-growing market.
The most significant component of the global oxygen therapy market was in North America. For instance, in collaboration with North American Nocturnal Oxygen Therapy, the British Medical Research Council funded studies on the effectiveness of long-term O2 therapy. Demand for products is also being boosted by the rising use of hyperbaric oxygen treatment and topical wound oxygen therapy (TWO) in this region. Additionally, there is a high chance of developing respiratory illnesses in this area due to urbanization and workplace risks, which is anticipated to drive the market throughout the forecast period.
Competitive Landscape
Key players within global Oxygen Therapy market include
GE Healthcare
Invacare Corporation
CareFusion Corporation
Smiths Medical
HERSILL S.L.
Fisher & Paykel Healthcare Limited
Philips Respironics Inc.
DeVilbiss Healthcare
Tecno-Gaz Industries
Allied Healthcare Products Inc.
Teleflex Incorporated
Chart Industries
MAQUET Medical Systems
The global oxygen therapy market is segmented as follows:
By Product
Oxygen Source Equipment
Oxygen Delivery Devices
By Application
Chronic Obstructive Pulmonary Disease
Asthma
Obstructive Sleep Apnea
Respiratory Distress Syndrome
Cystic Fibrosis
Pneumonia
By End-Use
Hospitals
Home Healthcare
By Regional Segment Analysis
North America

Europe

France
The UK
Spain
Germany
Italy
Nordic Countries
Benelux Union

Belgium
The Netherlands
Luxembourg

Rest of Europe

Asia Pacific

China
Japan
India
Australia
South Korea
Southeast Asia

Indonesia
Thailand
Malaysia
Singapore
Rest of Southeast Asia

Rest of Asia Pacific

The Middle East & Africa

Saudi Arabia
UAE
Egypt
South Africa
Rest of the Middle East & Africa

Latin America

Brazil
Argentina
Rest of Latin America