Covid-19
Global Outdoor Power Equipment Market Size, Share
The pandemic continues to cause unprecedented disruption across industries worldwide.Get detailed insights regarding the impact of COVID-19 on the market. Request Sample
Industry Insights
[187+ Pages Report] According to Facts and Factors, the global outdoor power equipment market was valued at USD 23,014 Million in 2020 and is anticipated to make revenues of approximately USD 27,801 Million by 2026, with a CAGR of around 3.2% between 2021 and 2026.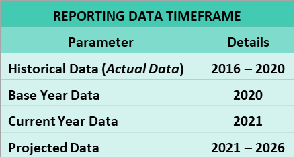 Market Overview
Outdoor power equipment is commonly utilized for tasks such as gardening, landscaping, and property maintenance. Because of its strong, effective, and dependable character, the equipment is frequently utilized. Furthermore, despite its high expenses, gardening's broad acceptance as a pastime, as well as its high advantages in preserving real-estate prices, are projected to fuel significant expansion in the near future. Some exciting prospects on the horizon include lawn motor innovation, such as more compact and durable applications, a wide range of tiny capacity motors, and renewable energy sources.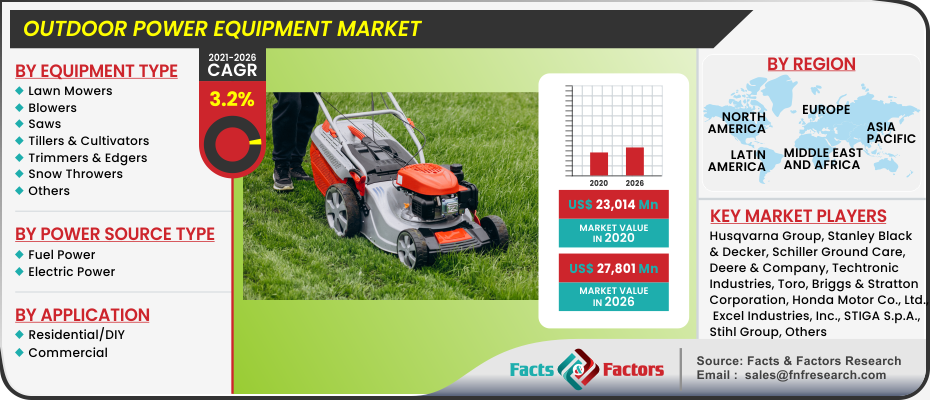 Industry Growth Factors
The popularity of do-it-yourself (DIY) projects, as well as increased home activities, are expected to boost sales of outdoor power equipment. Another key factor predicted to boost the market over the next few years is a continuous expansion in the building sector throughout the world. Furthermore, throughout the projected period, the newest technology and innovative product designs will have a beneficial impact on the industry. Huge expenditures in R&D for infrastructural projects in growing nations like China, India, and others have given the outdoor power equipment market a lot of room to grow. Furthermore, the expansion of the construction sector may be a factor in the expansion of the outdoor power equipment market. The massive building operations in these emerging nations attempting to establish smart cities that will attract visitors are expected to boost demand for outdoor power equipment. The market for outdoor power equipment is shifting toward sophisticated and innovative technology. The robotic lawn mower is a good example. The desire for alternate energy sources and more efficient equipment is gradually increasing. Electric lawnmowers and robotic outdoor power equipment are currently quite popular. While robotic lawn mowers are still in their infancy, electric lawn mowers have shown to be cost-effective and capable of providing the necessary torque for landscaping tasks. For both commercial and residential clients, manufacturers are concentrating on producing completely and semi-automatic lawn equipment. In the next years, growing demand for high-quality outdoor power equipment is projected to drive market expansion.
Segmentation Analysis
The global outdoor power equipment market is segregated based on equipment type, power source type, application, and region
The outdoor power equipment industry is divided into two categories: residential/DIY and commercial. In the worldwide outdoor power equipment market, the residential sector had a commanding position. The high proclivity of homeowners to modify their homes, especially their outside spaces, encourages the usage of outdoor power equipment in the residential sector. The outdoor power equipment market is divided into two categories based on the power source type, fuel power and electric power. The development of high-performance, long-lasting batteries, as well as public and private construction projects, have all contributed to the expansion of electric power. Furthermore, as consumers become more interested in green technology, demand for electric-powered equipment is projected to rise significantly. In terms of equipment type analysis, the market is segmented into lawnmowers, blowers, saws, tillers & cultivators, trimmers & edgers, snow throwers, and others. Over the projected period, the saws category is predicted to increase significantly. Because customers prefer cordless gadgets, manufacturers have introduced replaceable batteries and are selling two batteries so that one may be charged while the other is in use. As a result, cordless outdoor power equipment is projected to see a significant increase in demand.
Regional Analysis
During the projected period, the outdoor power equipment market in the Asia Pacific region is estimated to develop at the fastest CAGR. Increased investment in infrastructural projects is also anticipated to boost the construction industry, which will drive the use of outdoor power equipment in APAC. Yamaha, Honda, Fuji Heavy Industries, Yamabiko, and Kawasaki are some of the largest outdoor power equipment and small gas engine manufacturers in Japan. China is making significant investments in infrastructure development and urban planning. The construction industry's investment is the market's primary growth engine. With India's increasing urbanization, there has been a substantial increase in the need for outdoor power equipment to assist the construction sector for various urban development projects.
Competitive Players
Some main participants of the global outdoor power equipment market are Husqvarna Group, Stanley Black & Decker, Schiller Ground Care, Deere & Company, Techtronic Industries, Toro, Briggs & Stratton Corporation, Honda Motor Co., Ltd., Excel Industries, Inc., STIGA S.p.A., Stihl Group, AL-KO KOBER GROUP, CHERVON Group, MTD Products, Emak S.p.A., Ariens Company, Bosch, Jacobsen, Yamabiko Corporation and Makita amongst others.
The Global Outdoor Power Equipment Market is segmented as follows:
By Equipment Type:
Lawn Mowers
Blowers
Saws
Tillers & Cultivators
Trimmers & Edgers
Snow Throwers
Others
By Power Source Type:
Fuel Power
Electric Power
By Application:
Residential/DIY
Commercial
By Region:
North America
Europe

France
The UK
Spain
Germany
Italy
Rest of Europe

Asia Pacific

China
Japan
India
South Korea
Southeast Asia
Rest of Asia Pacific

Latin America

Brazil
Mexico
Rest of Latin America

Middle East & Africa

GCC Countries
South Africa
Rest of Middle East & Africa