Industry Insights
[219+ Pages Report] According to Facts and Factors, during the forecast period of 2022 to 2028, the global mosquito repellent market is estimated to develop at a compound annual growth rate (CAGR) of 5.8%. The global mosquito repellent market was valued at around USD 6.6 billion in 2021, and it is predicted to exceed approximately USD 9.7 billion by 2028. The study investigates several elements and their consequences on the growth of the global mosquito repellent market.
Market Overview
A mosquito repellent is a chemical that keeps mosquitoes away from humans, stopping them from biting and feasting on their blood. It usually contains an active chemical that repels mosquitoes as well as secondary substances that, among many other things, dissolve the active substance to a required concentration and aid in its release when needed. Mosquito repellents come in a variety of forms, including lotions, creams, oils, and sticks that can be applied directly to the skin. They're also available in aerosol and pump-spray forms for application on the skin and on garments. On the other hand, insecticides are used to kill insects, whilst mosquito repellents are intended to repel mosquitoes.
A mosquito repellent is made up of active and inactive chemicals. The active substance is solely accountable for the product's utility, as it successfully discourages mosquito bites on treated skin and/or clothing. Chemically, the inert components are inactive. They are included in the product to perform various functions. Fragrances, for example, make the product visually acceptable.
The active element in the most extensively used insect repellents is DEET. Each year, more than one-third of the U.S. population utilizes a DEET-based insect repellent, according to the Environmental Protection Agency (EPA). Similar items are used by over 250 million individuals globally.
Other repellent chemicals include the chemical dimethyl phthalate as well as plant-based repellents including lavender oil, citronella oil, peppermint oil, and lemongrass oil. It has been discovered that combinations of various repellent compounds are more efficient than anyone ingredient alone. The active chemicals in insect repellents typically account for 10 to 20% of the finished product.
The inert components used in a mosquito repellent are determined by the product's shape. Those sold as lotions or creams are basically skin products with a small amount of DEET added. Water, fatty alcohol, emollients (skin softeners), aroma, and surfactants are the key constituents. They serve as both a moisturizer and a repellent to the skin. They are, however, less effective than sprays or pumps since the active substance does not dissipate easily. The most prevalent form of mosquito repellent is aerosols or sprays, which contain a propellant, a solvent, and other chemicals.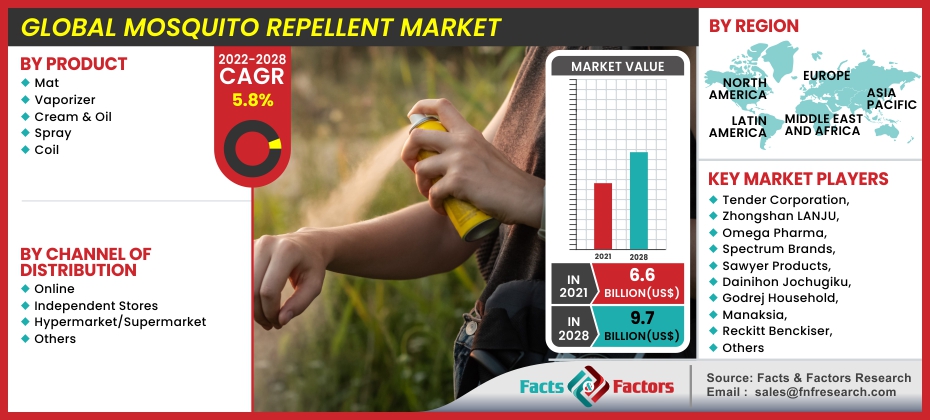 To know more about this report | Request Free Sample Copy
COVID-19 Impact:
Because it is considered a home cleanliness and home care product, COVID-19 has a positive effect on the mosquito repellent industry across the world. In addition, owing to rising consumer awareness in the aftermath of the COVID-19 pandemic, demand for home care goods and personal hygiene is expected to increase in the coming days. The pandemic and the risk of contracting numerous infectious diseases have made consumers all over the world more aware of the importance of maintaining personal and household hygiene. As a result, the demand for hygiene products like mosquito repellent is skyrocketing all across the world.
Growth Drivers
Increased mosquito-borne diseases are likely to drive market expansion
Mosquito bites kill more than one million people per year, according to the World Health Organization (WHO). Malaria is responsible for the majority of these deaths, with the WHO estimating that somewhere between 350 and 450 million cases of malaria develop each year. Dengue fever has also increased thirty-fold in the last 30 years, infecting as many as 350 million people each year, with a fifth of those infected requiring hospitalization. Dengue fever affects 40 percent of the world's population of around 3.3 billion people. According to the US Centers for Disease Control and Prevention (CDC), the number of severe West Nile virus infections in the United States increased by approximately 25% in 2018 compared to the average frequency from 2008 to 2017. Malaria is transmitted by the Anopheles gambiae mosquito, which affects over 250 million people in Sub-Saharan Africa each year and killed over 420,000 people in Sub-Saharan Africa in 2018. This clearly demonstrates the global prevalence of mosquito-borne diseases, as well as their continual increase. As a result, the global mosquito repellent market and the product demand & consumption are predicted to rise during the forecast period.
Restraints
Health problems linked with mosquito-controlling chemicals may hinder market growth
Some of the most commonly used insecticides in mosquito repellent products are permethrin, DEET, cyfluthrin, and pyrethroids. DEET, or N, N-Diethyl-meta-toluamide, is a highly powerful mosquito repellent that also repels parasites. Seizures, skin blisters, migraines, memory loss, shortness of breath, joint stiffness, and skin irritation have all been linked to high levels of DEET. DEET has also been associated with neurotoxicity, which can result in behavioral and physiological difficulties, most notably impaired motor ability, memory, and learning. DEET degrades slowly in soil and has the ability to pollute groundwater. Cyfluthrin has been associated with neurotoxicity, primarily interacting with potassium and sodium ion channels in neurons, resulting in loss of coordination, stiff muscles, and behavioral issues. Consumers are put off by the use of such chemicals in mosquito repellent products, and as a result, many choose products with slightly safer active ingredients, such as IR3535 or picaridin. As a result, the toxic qualities of pesticides used in mosquito repellent products act as a market limitation.
Opportunities
Improved possibilities to arise from increased demand for natural mosquito repellent goods
Plant-based repellents have been utilized as a personal protective measure against mosquitoes for generations in traditional practice. Traditional repellent plant knowledge gained via ethnobotanical studies is a great resource for the development of novel natural products. Most plants have chemicals that aid in the prevention of plant-eating insect attacks. Although the major role of these chemicals is to protect plants against plant-eating insects, several of them are also effective against mosquitoes. Plants in the Citronella genus (Poaceae) essential oils and extracts are commonly used as ingredients in plant-based mosquito repellents. Originally, citronella was extracted for use in perfumes. However, citronella is now one of the most frequently used natural repellents on the market, with doses ranging from 6 to 12%.
Challenges
Producing mosquito repellent products can sometimes be difficult due to stringent requirements
Mosquito repellents are insecticides in the United States, Japan, Europe, Indonesia, Australia, Korea, Malaysia, Vietnam, and many other countries. Mosquito repellents are classified as pesticides under the Rotterdam Convention, which was developed jointly by the Food and Agriculture Organization of the United Nations, the World Health Organization, and the United Nations Environment Program. Before mosquito repellents can be marketed in the United States, the US Environmental Protection Agency must register the majority of skin-applied repellents. Mosquito repellents are regulated by the Biocidal Products Regulation in the European Union. Under the Industries Act, the Central Insecticides Board (CIB) in India advises the Central Government and State Authorities on technical topics pertaining to the production of insecticides. Similarly, numerous countries around the world have their own rules governing the production, commercialization, and application of insect repellents. These regulations also require that items be tested within the country before they're even commercialized.
Segmentation Analysis
The global mosquito repellent market is segregated on the basis of product, channel of distribution, and region.
By product, the market is divided into the mat, vaporizer, cream & oil, spray, and coil. The spray segment is the market leader in mosquito repellents. Herbal sprays are currently popular on the market since they are skin-friendly, last longer than chemical-based sprays, and help to reduce the risk of adverse reactions.
By channel of distribution, the market is classified into online, independent stores, hypermarkets/supermarkets, and others. The hypermarkets/supermarkets sector controls the majority of the mosquito repellent market share. Increased urbanization, an increase in the working-age population, and fair pricing increase the popularity of hypermarkets/supermarkets in both established and emerging regions.
Report Scope
| | |
| --- | --- |
| Report Attribute | Details |
| Market Size in 2021 | USD 6.6 Billion |
| Projected Market Size in 2028 | USD 9.7 Billion |
| CAGR Growth Rate | 5.8% CAGR |
| Base Year | 2021 |
| Forecast Years | 2022-2028 |
| Key Market Players | Tender Corporation, Zhongshan LANJU, Omega Pharma, Spectrum Brands, Sawyer Products, Dainihon Jochugiku, Godrej Household, Manaksia, Reckitt Benckiser, Nice Group Co., Ltd, SC Johnson, Coleman, 3M, Konda, Cheerwin, Konda., and Others |
| Key Segment | By Product, Channel of distribution, and Region |
| Major Regions Covered | North America, Europe, Asia Pacific, Latin America, and the Middle East & Africa |
| Purchase Options | Request customized purchase options to meet your research needs. Explore purchase options |
Regional Landscape
North America is likely to dominate the mosquito repellent market
Because of increased investment, concerns about mosquito-borne diseases, and the presence of market competitors operating across the region, North America is likely to dominate the global mosquito repellent market with the greatest share. The existence of mosquito repellent players and increased health awareness are also aiding market expansion in this region.
Due to the increasing prevalence of mosquito-borne diseases like dengue fever, yellow fever, malaria, and the Zika virus in this region, Asia Pacific is predicted to be the fastest-growing region in the mosquito repellent market. According to the World Health Organization, on July 8th, 2021, a Zika virus (ZIKV) infection revealed four new instances in a citizen of Kerala state, south-west India. Furthermore, malaria is present in 90 countries, with 42 percent of the world's population at risk, according to the WHO. Aside from that, increased public awareness of personal hygiene, an increase in the number of government-supported activities to prevent disease & respond to outbreaks and the adoption of improved products in emerging markets like India, China, and Japan are all boosting the market growth.
Recent Developments
September 2020: PelGar International has introduced Cimetrol Super RFU, a water-based aerosol for the control of crawling and flying insects. It works well on solid, non-porous surfaces, crevices, cracks, and beds. Cimetrol Super RFU comprises pyriproxyfen and a synthetic, natural pyrethroid for use against fleas, ants, mites, bedbugs, wasps, flies, and mosquitoes. Cimetrol Super RFU is available in the UK and EU as a 300 ml bottled aerosol. The aerosol sprays a constant mist that distributes uniformly across the surface. Repeated actuation results in a continuous spray, allowing for extensive coverage. This initiative aims to strengthen the company's product portfolio in this highly regulated market.
January 2020: Natura & Co announced the all-share takeover of Avon Products, Inc., creating the world's fourth-largest beauty business. The combination of Natura, Avon, Aesop, and The Body Shop greatly expands Natura & Co's reach through its inter- and multi-brand product offerings. Natura & Co's purchase intends to dominate the consumer arena by offering beauty products to over 200 million people worldwide via different channels and devices.
Competitive Landscape
Some of the main competitors dominating the global mosquito repellent market are
Tender Corporation
Zhongshan LANJU
Omega Pharma
Spectrum Brands
Sawyer Products
Dainihon Jochugiku
Godrej Household
Manaksia
Reckitt Benckiser
Nice Group Co.Ltd
SC Johnson
Coleman
3M
Konda
Cheerwin
Konda.
The global mosquito repellent market is segmented as follows:
By Product Segment Analysis
Mat
Vaporizer
Cream & Oil
Spray
Coil
By Channel of distribution Segment Analysis
Online
Independent Stores
Hypermarket/Supermarket
Others
By Regional Segment Analysis
North America

The U.S.
Canada
Mexico
Rest of North America

Europe

France
The UK
Spain
Germany
Italy
Nordic countries

Denmark
Finland
Iceland
Sweden
Norway

Benelux Reunion

Belgium
The Netherlands
Luxembourg

Rest of Europe

Asia Pacific

China
Japan
India
New Zealand
Australia
South Korea
Southeast Asia

Indonesia
Thailand
Malaysia
Singapore
Rest of Southeast Asia

Rest of Southeast Asia

The Middle East & Africa

Saudi Arabia
UAE
Egypt
Kuwait
South Africa
Rest of the Middle East & Africa

Latin America

Brazil
Argentina
Rest of Latin America