Industry Insights
[216+ Pages Report] According to the report published by Facts Factors, the global laboratory glassware and plasticware market size was worth around USD 6.12 billion in 2021 and is predicted to grow to around USD 7.52 billion by 2030 with a compound annual growth rate (CAGR) of roughly 3.45% between 2022 and 2030. The report analyzes the global laboratory glassware and plasticware market drivers, restraints/challenges, and the effect they have on the demands during the projection period. In addition, the report explores emerging opportunities in the laboratory glassware and plasticware market.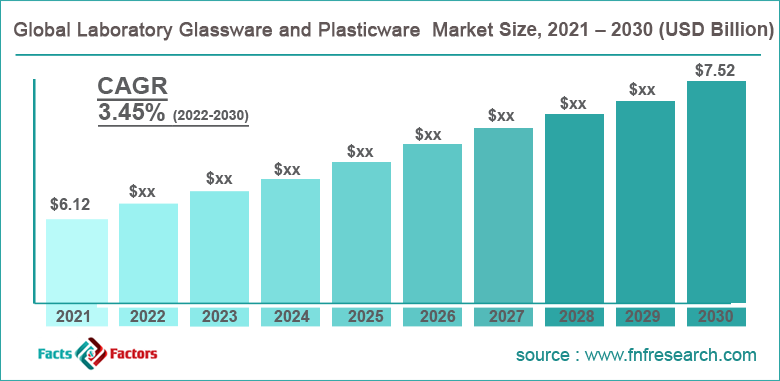 To know more about this report | Request Free Sample Copy
Market Overview
Laboratory glassware and plasticware equipment are essential parts of a fully functional and resourceful laboratory as research units may not be able to function without the use of these devices. Glassware items are found in abundance in laboratories and come in various shapes or sizes. Plasticware products are currently deemed as more cost-effective and sustainable substitutes for glassware as they are low in maintenance but certain experiments can still only be conducted using glassware. There are multiple reasons that support this statement. For instance, glass exhibits inert properties which means that it does not chemically react with the components in the glassware thus avoiding any selection in the final outcome of any chemical reaction conducted in laboratories.
Since glassware is transparent, the reactions, quantity, and other aspects of the solutions can be easily monitored and they are also protected from high heat as glassware in laboratories is relatively resistant to high temperatures. Different types of glassware are used in labs. Plasticware in such units refers to various devices made of different types of plastics and used extensively for research purposes. They are easy to clean and exhibit high endurance and do not break easily as compared to glassware making them an ideal choice for certain types of experiments.
Key Insights
As per the analysis shared by our research analyst, the global packaging machine market is estimated to grow annually at a CAGR of around 7.35% over the forecast period (2022-2030)
In terms of revenue, the global packaging machine market size was valued at around USD 47 billion in 2021 and is projected to reach USD 82.1 billion, by 2030.
The market is projected to grow at a significant rate due to growing research activities across industries
Based on product type channel segmentation, glassware was predicted to show maximum market share in the year 2021
Based on end-user segmentation, research centers were the leading user in 2021
On the basis of region, North America was the leading revenue generator in 2021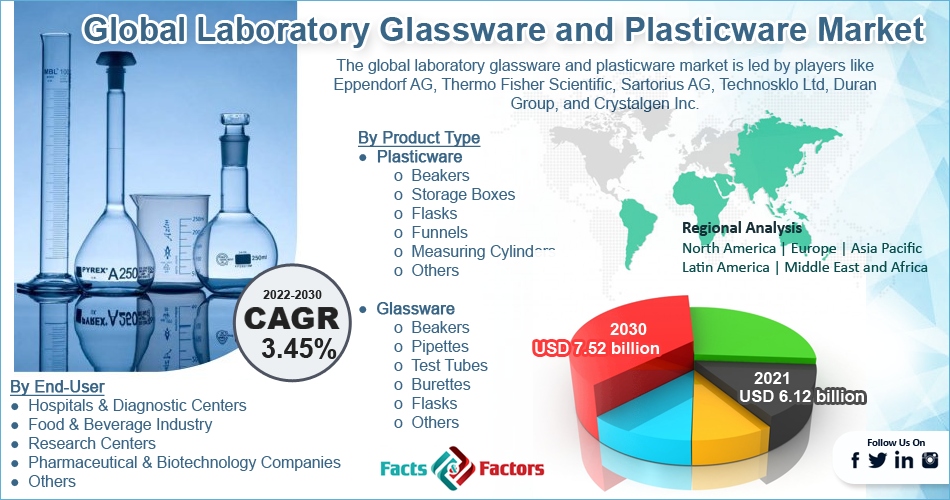 To know more about this report | Request Free Sample Copy
Growth Drivers
Growing investment in research to propel market growth
One of the most influential factors in the global laboratory glassware and plasticware market is the increasing research activities across industries. Research & innovation are critical to further development in the world as the absence of these two activities can bring the world to a standstill. Some of the major industries that invest a large number of resources in research are pharmaceutical, healthcare, and food & beverages (F&B). In the expanding cosmetics industry, it is impossible for a company to launch even a small product in the live market without conducting research and showcasing the result to regulatory bodies.
Only after the corporation has received the necessary approvals, the product can be sold to the end consumers. There is always a chance that the products can be recalled if even after becoming life, the regulatory bodies find evidence that the product is harmful to the users. For instance, in October 2022, Unilever recalled a popular range of its 19 dry shampoo products because of growing concern over the presence of elevated levels of a cancer-reinforcing agent called benzene. All the products produced before October 2021 have been stopped from being sold in the market.
Restraints
Growing plastic pollution to restrict market expansion
There is growing demand to shift from plastic-based products to more environmentally-friendly options. Even though the plastics used to create the equipment are of high quality and exhibit long shelf life, after a certain time, they have to be discarded to bring in new products. As per estimate laboratories are responsible for producing 15 times of plastic waste generated by one person and the sturdiness of the equipment that makes them desirable in laboratory settings becomes a major problem when dealing with disposing of the product. Since a sturdy plastic container can take more than 400 years to completely decompose.
Opportunities
Growing innovation in the F&B sector to provide market growth opportunities
The global laboratory glassware and plasticware market is anticipated to register a high CAGR driven by the increasing innovation activities in the F&B sector for which setting up laboratories is one of the primary tasks that have to be done before setting up manufacturing units. Food & beverages are highly regulated and every country has its own set of rules that define if the product is suitable for the regional market. In 2011, Nestle, one of the globe's largest food manufacturing companies bought Prometheus Laboratory at a cost of USD 567 million to help it develop food products for patients that have metabolic concerns.
Challenges
High cost of glassware to act as a challenge during the growth phase
The global market is anticipated to witness challenges in handling the increasing cost of laboratory glassware. These equipment are specially made with custom glass and undergo a long process to attain the right accuracy needed for laboratory settings. Due to this, the end cost of the products is really high making them a huge investment for small-sized laboratories.
Segmentation Analysis
The global laboratory glassware and plasticware market is segmented based on product type, end-user, and region
Based on product type, the global market is segmented as plasticware and glassware. The former segment is further divided into beakers, storage boxes, flasks, funnels, measuring cylinders, and others while the latter is divided into beakers, pipettes, test tubes, burettes, flasks, and others.
In 2021, the global market witnessed the highest growth in the glass segment due to high product penetration. Plasticware is slowly gaining more traction over glassware due to its cost-effectiveness. Borosilicate glasses are the most commonly used glasses for laboratories since they exhibit low expansion, however, they are expensive due to the production process involved. Glassware made of borosilicate can handle a temperature up to 400°C but for a short time.
Based on end-user, the global market divisions are hospitals & diagnostic centers, food & beverage industry, research centers, pharmaceutical & biotechnology companies, and others. The global market registered the highest growth in the research centers segment followed by pharmaceutical & biotechnology companies. For any research unit, equipment is the most important part of the inventory. As per the US Congressional Budget Office, more than USD 83 billion was allocated to the pharmaceutical industry for research & development.
Recent Developments:
In March 2022, Globe Scientific, a US-based company, unveiled new glassware for laboratories with superior-grade packaging designed to meet the requirements of professionals and suppliers
In November 2021, Tarsons, a laboratory plasticware maker, was anticipated to become India's first company to enter the global cell culture and polymerase chain reaction market
Report Scope
| | |
| --- | --- |
| Report Attribute | Details |
| Market Size in 2021 | USD 6.12 Billion |
| Projected Market Size in 2030 | USD 7.52 Billion |
| CAGR Growth Rate | 3.45% CAGR |
| Base Year | 2021 |
| Forecast Years | 2022-2030 |
| Key Market Players | Eppendorf AG, Thermo Fisher Scientific, Sartorius AG, Technosklo Ltd, Duran Group, Crystalgen Inc., and others. |
| Key Segment | By Product Type, End-User, and Region |
| Major Regions Covered | North America, Europe, Asia Pacific, Latin America, and the Middle East &, Africa |
| Purchase Options | Request customized purchase options to meet your research needs. Explore purchase options |
Regional Analysis
North America to register the highest growth during the projection period
The global laboratory glassware and plasticware market is projected to witness the highest CAGR in North America led by the growing food & beverages industry of the US and Canada due to the presence of the key market players, growing demand for consumer goods, and increasing innovation. As the market players spend on expanding global reach, more revenue is projected to be generated in the regional market.
For instance, in September 2022, Nestle announced that the company will set up a new manufacturing plant in India with an investment of INR 5000 crore. The company currently runs 9 plants in the country and employs over 600 people. Growth in Europe may be driven by the increasing number of suppliers of the product as well as the rising emphasis on research in countries like Germany and the United Kingdom.
Competitive Analysis
Eppendorf AG
Thermo Fisher Scientific
Sartorius AG
Technosklo Ltd
Duran Group
Crystalgen Inc.
The global laboratory glassware and plasticware market is segmented as follows
By Product Type Segment Analysis
Plasticware

Beakers
Storage Boxes
Flasks
Funnels
Measuring Cylinders
Others

Glassware

Beakers
Pipettes
Test Tubes
Burettes
Flasks
Others
By End-User Segment Analysis
Hospitals & Diagnostic Centers
Food & Beverage Industry
Research Centers
Pharmaceutical & Biotechnology Companies
Others
By Regional Segment Analysis
North America
Europe

France
The UK
Spain
Germany
Italy
Nordic Countries
Benelux Union

Belgium
The Netherlands
Luxembourg

Rest of Europe

Asia Pacific

China
Japan
India
Australia
South Korea
Southeast Asia

Indonesia
Thailand
Malaysia
Singapore
Rest of Southeast Asia

Rest of Asia Pacific

The Middle East & Africa

Saudi Arabia
UAE
Egypt
South Africa
Rest of the Middle East & Africa

Latin America

Brazil
Argentina
Rest of Latin America