Industry Insights
[232+ Pages Report] According to the report published by Facts and Factors, the global weight loss and weight management market size was worth around USD 224.27 billion in 2021 and is predicted to grow to around USD 405.4 billion by 2030 with a compound annual growth rate (CAGR) of roughly 6.84% between 2022 and 2030. The report analyzes the global Weight Loss and Weight Management market drivers, restraints/challenges, and the effect they have on the demands during the projection period. In addition, the report explores emerging opportunities in the Weight Loss and Weight Management market.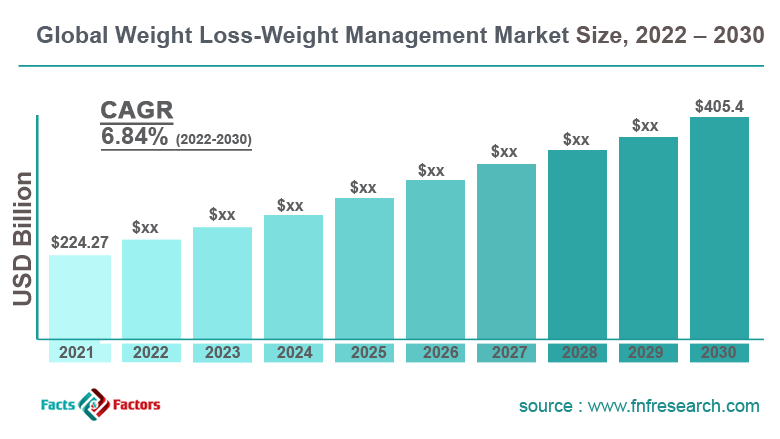 To know more about this report | Request Free Sample Copy
Market Overview
Obesity refers to the accumulation of excessive body fat and it is considered a complex medical condition since it is not merely a cosmetic concern. Obesity is linked to various medical issues and it increases the risk associated with other harmful problems which may, sometimes, become life-threatening such as high blood pressure, diabetes, and certain types of cancers. Obesity can be caused by multiple factors which make it difficult for people to lose weight.
The most common reasons for a person being overweight is linked to environmental factors, physiological issues or it may even be genetic. Lifestyle habits can cause obesity like lack of physical exercise, and poor and unhealthy eating habits. Even slight weight changes can show significant results in overall health conditions which may be a motivating factor for many people to lose excess weight.
Key Insights
As per the analysis shared by our research analyst, the global Weight Loss and Weight Management market is estimated to grow annually at a CAGR of around 6.84% over the forecast period (2022-2030)
In terms of revenue, the global Weight Loss and Weight Management size was valued at around USD 224.27 billion in 2021 and is projected to reach USD 405.4 billion, by 2030.
The market is projected to grow at a significant rate due to the growing obesity rate in the world
Based on diet segmentation, supplement was predicted to show maximum market share in the year 2021
Based on service segmentation, fitness centers were the leading service providers in 2021
On the basis of region, Europe was the leading revenue generator in 2021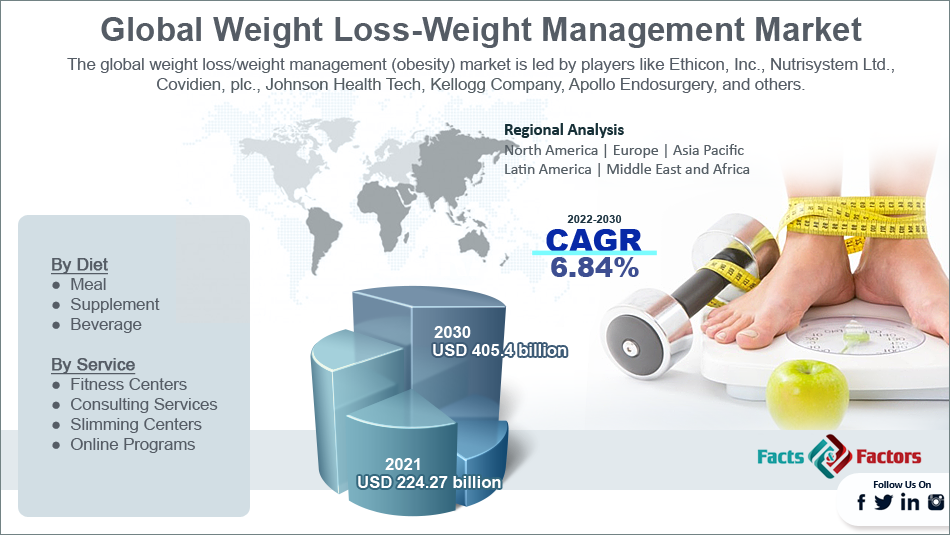 To know more about this report | Request Free Sample Copy
Growth Drivers
Growing obesity rate to propel market growth
The global Weight Loss and Weight Management market is projected to grow due to the surging rate of obesity index observed across the globe. A recent study posted on the National Library of Medicine website claimed that rising obesity is a matter of public concern and is not limited only to an individual or personal issue of the obese person. In 1995 the number of obese people was around 200 million whereas the number increased to 300 million by the end of 2000.
Obesity was initially highly relevant in the western parts of Europe but with time, issues surrounding obesity may become a common sight in different parts of the world. If obesity is not genetic, then the major reason for gaining excess fat than required is due to overeating and little physical movement. This is especially applicable to people who consume food that has high sugar or fat content regularly. Without any exercise to burn off the excess energy, it gets converted into fat leading to obesity. During the pandemic, many people were registered to overeat as an emotional coping mechanism.
Restraints
Denial among people to act as a major growth-restricting factor
The major issue with solving obesity is related to the state of denial most people live in and refuse to take action against their medical condition. There is a general lack of knowledge about physical health among people and there are various misconceptions associated with weight loss programs that further restrict people to undergo such sessions. Since weight gain is more than just excessive eating as it is connected to the emotional state of the person, it is harder to resolve.
Opportunities
Rise in online weight management programs to provide growth opportunities
One of the key factors that have the potential to change the world of weight loss or weight management is the growth in online exposure to means of reducing weight. Starting from the large segment of free or paid online exercise programs to the increase in the number of applications developed to help people manage food and exercise habits, these units combined have helped open new doors for growth in the last 2 years. Healthify, an Indian digital wellness, and health company, generated around INR 100 crore in revenue in the last year.
Challenges
Managing lost weight to act as a major challenge
It's relatively easy to lose weight but the main challenge lies in maintaining the weight loss in the long term since healthy living is not a temporary task but a lifestyle people have to choose willingly. As per official statistics, more than 90% of the people who lose weight are bound to regain the entire weight set at some point in their life, this is especially applicable to people who chose extreme forms of diet or exercise to get rid of the weight.
Segmentation Analysis
The global Weight Loss and Weight Management market is segmented based on diet, service, and region
Based on diet, the global market is segmented into meal, supplement, and beverage. In 2021, the global market registered the highest growth in the supplement segment due to higher demand for external sources of protein. The complex molecule is an essential ingredient for weight loss programs or management since it helps in repairing damaged cells and creating new cells. Proteins are important across gender and age groups. Medical professionals also recommend creating a healthy relationship with meals or diet programs that provide a sufficient quantity of good fats, carbohydrates, fiber, and proteins since all are critical for physical well-being. As per recommended measures, an individual should consume around 0.8 grams of protein per kilogram of body weight, daily.
Based on service, the global Weight Loss and Weight Management market divisions are fitness centers, consulting services, slimming centers, and online programs. 2021 was a recovery period for fitness centers as gymnasiums and facilities for outdoor sports slowly started opening up after temporary closure induced by the pandemic. The global market also registered a rise in the number of fitness centers as more units opened up due to growing demand. Online programs generated higher revenue and as per estimated around 83 million, people use fitness applications for weight management.
Recent Developments:
In June 2021, the US Food and Drugs Administration (FDA) provided approval to Wegovy, an injection for chronic weight management. The injection is supposed to be used in adults who are overweight and have at least one weight-related condition like type 2 diabetes or high blood pressure
In August 2022, Tirzepatide, manufactured by Lilly, showed promising results by helping up to 22.5% of weight loss in adults with obesity
Report Scope
| | |
| --- | --- |
| Report Attribute | Details |
| Market Size in 2021 | USD 224.27 Billion |
| Projected Market Size in 2030 | USD 405.4 Billion |
| CAGR Growth Rate | 6.84% CAGR |
| Base Year | 2021 |
| Forecast Years | 2022-2030 |
| Key Market Players | Ethicon Inc., Nutrisystem Ltd., Covidien plc., Johnson Health Tech, Kellogg Company, Apollo Endosurgery, and others. |
| Key Segment | By Diet, Service, and Region |
| Major Regions Covered | North America, Europe, Asia Pacific, Latin America, and the Middle East &, Africa |
| Purchase Options | Request customized purchase options to meet your research needs. Explore purchase options |
Regional Analysis
Europe to lead with highest CAGR
The global Weight Loss and Weight Management market is projected to register the highest growth in Europe due to the high obesity index in the region. As per the World Health Organization (WHO), obesity is prevalent in almost 60% of the European adult population and is as common as 1 in every 3 children. Recent reports also showcase that obesity is among the top 5 reasons for widespread non-communicable diseases. The main cause of regional growth in obesity is the high-sugar content food items which are further propelled by the strategic measures adopted by unhealthy food producers to market their products.
The European population is becoming more addicted to online video games which is a leading reason for the prevalence of the sedentary lifestyle. Official reports have concluded that around 52% of the people in Europe play video games. The regional market growth may be driven by the increasing awareness amongst the people to change lifestyle habits including a healthy diet and physical exercise.
Competitive Analysis
Ethicon Inc.
Nutrisystem Ltd.
Covidien plc.
Johnson Health Tech
Kellogg Company
Apollo Endosurgery.
The global Weight Loss and Weight Management market is segmented as follows:
By Diet Segment Analysis
By Service Segment Analysis
Fitness Centers
Consulting Services
Slimming Centers
Online Programs
By Regional Segment Analysis
North America
Europe

France
The UK
Spain
Germany
Italy
Nordic Countries
Benelux Union

Belgium
The Netherlands
Luxembourg

Rest of Europe

Asia Pacific

China
Japan
India
Australia
South Korea
Southeast Asia

Indonesia
Thailand
Malaysia
Singapore
Rest of Southeast Asia

Rest of Asia Pacific

The Middle East & Africa

Saudi Arabia
UAE
Egypt
South Africa
Rest of the Middle East & Africa

Latin America

Brazil
Argentina
Rest of Latin America