Industry Insights
[221+ Pages Report] According to Facts and Factors, the global robot as a service market was valued at roughly USD 14.5 billion in 2021 and is expected to rise to approximately USD 44 billion by 2028, with a compound annual growth rate (CAGR) of approximately 16.5% over the projection period. The report explores robot as a service market's drivers, restraints, and challenges and the effect they have on the demands during the projection period. Furthermore, the report explores upcoming opportunities in the robot as a service market.
Market Overview
Robot as a Service (RaaS) is a cloud services unit that enables the seamless integration of robots and embedded devices into online and cloud computing environments. Customers and robotic enterprises both gain from robots as a service. The deployment of a robot as a service in an organization is dependent on three factors: first, the use of proper tools to operate the robot as a service; second, determining the precise level of services needed by the company; and third, selecting a vendor to assist the robot as a service. The key advantage of employing this technology is that it reduces the need for manual IT support while increasing the efficiency of robotic procedures.
Robots as a Service enables businesses to reap the rewards of robotic process automation (RPA) by licensing robotic gear and utilizing a cloud-based subscription service. For instance, Honda, a Japanese automobile business, introduced a robot-as-a-service (RaaS) platform to provide SMEs and major enterprises with a varied variety of robots and cloud-based data services to allow data sharing, robotic cooperation, and communication.
Covid-19 Impact:
COVID-19 has had a substantial impact on practically every industry, including transportation, infrastructure, manufacturing, oil & gas, and others. To counteract the COVID-19 outbreak, most countries imposed a lockdown but are now lifting it phase-by-phase and industry-by-industry. This has had a tremendous impact on the manufacturing sector since companies around the world have been temporarily shut down. The COVID-19 crisis, on the other hand, has raised the need for medical robots in the healthcare business, which is boosting the global robot as a service market growth. These robots are employed in a wide range of medical applications, including diagnostics, surgery, mental and physical rehabilitation, and prosthetics.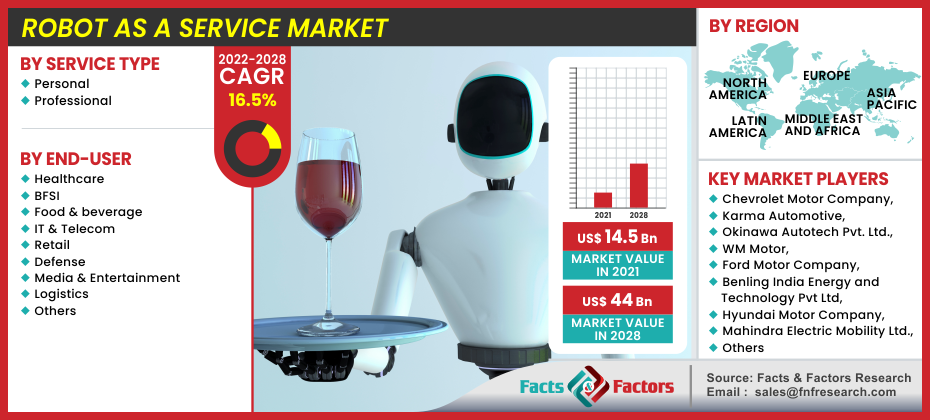 To know more about this report | Request Free Sample Copy
Growth Drivers
The increasing demand for professional robots in a variety of industries is likely to fuel market expansion
During the projected period, the growing demand for professional robots in a variety of industries is expected to fuel market expansion. This is due to the increased need for automated processes in a variety of professional sectors. RaaS professional applications include humanoid robots, laundry robots, inspection robots, autonomous underwater vehicles (AUVs), inspection robots, construction robots, unmanned surface vehicles (USVs), telepresence robots, agricultural robots, robotic kitchens, remotely operated vehicles (ROVs), and exoskeletons. For instance, according to the IFR (International Federation of Robotics), a non-profit organization based in Germany, sales of professional service robots reached USD 5,200 million in 2017.
These robots are outfitted with cutting-edge technologies like artificial intelligence to improve their abilities in the defense and logistics domains. Such service robots are employed in the logistics sector for a variety of tasks, including handling, transportation, sorting, packaging, and delivery. All of these factors are expected to drive the market growth substantially during the forecast period.
Restraints
Massive investments and expensive maintenance costs may limit the market's growth
The initial capital cost necessary for purchasing, integrating, coding, accessorizing, and other duties can be a major roadblock for the expansion of the robot as a service market. According to the Robotic Industries Association (RIA), the annual maintenance cost of service robots is between USD 2,50,000 and USD 10,000. This limits the ability of businesses, particularly small and medium-sized businesses, to invest. Due to inadequate production and a slow return on investment (ROI), these businesses frequently struggle to create huge sums of money. Aside from that, the hefty maintenance costs are another factor pulling the market down. The expense of software upgrades, sensor replacements, and other device replacements raises the cost of ownership, reducing the global robot as a service market growth.
Opportunities
The growing demand for robots as a service in a variety of industries is likely to create attractive growth opportunities
Due to the expansion of the logistics industry, the increased application of robots in the industry is likely to create attractive market possibilities for industry players. For example, in October 2021, Geek+, a global AMR marketer, announced the debut of the RoboShuttle RS8-DA, an 8-meter long flex arm robot. The new robot, which has the largest capacity in the business, will allow consumers to make the best use of their facilities.
The increasing use of modern technologies such as artificial intelligence, automation, and advanced analytics to reduce costs is predicted to provide market opportunities. According to the National Library of Medicine, AI technologies might save the United States USD 150 billion in healthcare expenses by 2026. The market for AI-related healthcare is predicted to expand fast and hit USD 6.5 billion by 2022.
Challenges
Insufficient mobility: The tendency for robots to move around or traverse an environment automatically is a significant difference between robots of the present and the future. This will be critical for service robots to completely serve clients and will have an instant influence on impressions of dependability. Mobility makes networking difficult, especially for outdoor-deployed robots. Connectivity seems to be either prohibitively expensive, intermittent, has insufficient coverage, or all of the above. Because many robots need connectivity to function, mobile robots in remote regions will have a difficult product development path. Mobility is both a logistical and an engineering challenge. As previously stated, service robots require solid network coverage to enable their movement; if connectivity is delayed or fails, the robot will be unable to execute activities as intended.
Furthermore, this level of mobility will necessitate a long-lasting power supply; being on the move and constantly linked would quickly drain the battery, necessitating repeated recharging wherever feasible. This presents a huge challenge for businesses that deploy service robots worldwide.
Poor Cybersecurity: Robots pose a very significant cybersecurity challenge. This is a big problem in the robotics and IoT industries, as both rely on trusted devices to collect and communicate sensitive data. Robots deployed in public places are considerably more vulnerable since they are physically available to attackers and hackers.
The network to which robots are connected is a weak point in their security. Poor network security can open the door to cyber-attacks, and insufficiency of privacy exposes data to penetration.
Hackers can not only steal sensitive information from robots but can also seize command of a robot's capabilities in some cases. This type of breach can result in a significant and potentially deadly issue, undermining customer confidence in service robotics and jeopardizing the device's capacity to transfer files as intended.
Questionable Performance: Robots must be able to accomplish operations promptly and consistently, or they will refuse to create long-term betrothals in the market. However, establishing high reliability in robots can be difficult due to other variables that are beyond the operator's authority.
However, establishing high reliability in robots can be difficult due to other variables that are beyond the operator's authority. Connectivity, location, weather, external interference, and human errors are some of the elements that are absolutely uncertain. All of these elements combine to make continuous performance in robotics a big problem—one that can only be addressed after extensive testing both inside and outside of the research lab.
Segmentation Analysis
The global robot as a service market is segregated on the basis of service type, end-user, and region.
By service type, the market is divided into personal and professional. The professional robots category has a bigger market share and is predicted to increase at an exponential rate throughout the forecast period. This is mostly due to increased demand for service robots in areas such as defense, construction, medical, logistics, and others.
By end-user, the market is classified into healthcare, BFSI, food & beverage, IT & telecom, retail, defense, media & entertainment, logistics, and others. Because of the automation brought by the act of moving and storing goods, the logistics segment has the largest stake. In addition, there is a growing need for service robots in order to streamline supply chain procedures across sectors. Medical service robots are expected to develop significantly as people turn toward incorporating robotic solutions for important medical procedures and with the advent of high-tech research facilities.
Report Scope
| | |
| --- | --- |
| Report Attribute | Details |
| Market Size in 2021 | USD 14.5 Billion |
| Projected Market Size in 2028 | USD 44 Billion |
| CAGR Growth Rate | 16.5% CAGR |
| Base Year | 2021 |
| Forecast Years | 2022-2028 |
| Key Market Players | KUKA AG, Parrot SA, Lely International, DJI, Northrop Grumman, Intuitive Surgical, Inc., Aethon Inc., Kongberg Maritime AS, Honda Motor Co. Ltd., and iRobot Corporation., among others |
| Key Segment | By Service Type, By End-User, and By Region |
| Major Regions Covered | North America, Europe, Asia Pacific, Latin America, and the Middle East & Africa |
| Purchase Options | Request customized purchase options to meet your research needs. Explore purchase options |
Regional Landscape
Europe dominates the global robot as a service market, owing to increased demand for personal and professional robots in numerous nations throughout the region. According to the International Federation of Robotics, Europe has the highest concentration of manufacturers, at approximately 44 percent, due to rising demand from industries such as defense, medical, logistics, and retail. Furthermore, with the increasing acceptance of robotics solutions in these regions, countries such as Italy, France, Germany, and the United Kingdom are expected to develop significantly in this market throughout the projection period.
Also, Asia Pacific held the second-largest share and is expected to grow at the fastest rate. This is primarily due to increased R&D activity in the industrial robot industry, as well as increased government funding in robotics, automation, artificial intelligence, and other technologies. India, China, South Korea, and Japan are expected to be the primary regions with the highest growth rates. Industrialization, globalization, and the increasing demand for automation in developing nations like India and China will boost the robot as a service market in the region even further. According to World Robotics 2018, over 35% of service robot manufacturers are present in North America, raising the potential growth of the market.
Recent Developments
July 2021: ABB purchased the ASTI Mobile Robotics Group in order to accelerate the development of flexible automation employing mobility devices. The acquisition strengthens the company's Robotics and Machine Automation solutions, enabling it to offer a unique automation portfolio and expand into new business areas.
April 2021: Panasonic Corporation has released a systematic model of their Walk Training Robot, which is intended to provide effective and safe walking training for older people. In addition, the company provides a robot-assisted solution to hospitals, institutions, and other organizations.
Competitive Landscape
Some of the main competitors dominating the global robot as a service market are
KUKA AG
Parrot SA
Lely International
DJI
Northrop Grumman
Intuitive Surgical Inc.
Aethon Inc.
Kongberg Maritime AS
Honda Motor Co. Ltd.
iRobot Corporation.
The global robot as a service market is segmented as follows:
By Service Type
By End-User
Healthcare
BFSI
Food & beverage
IT & Telecom
Retail
Defense
Media & Entertainment
Logistics
Others
By Region
North America

The U.S.
Canada
Mexico
Rest of North America

Europe

France
The UK
Spain
Germany
Italy
Nordic countries

Denmark
Finland
Iceland
Sweden
Norway

Benelux Reunion

Belgium
The Netherlands
Luxembourg

Rest of Europe

Asia Pacific

China
Japan
India
New Zealand
Australia
South Korea
Southeast Asia

Indonesia
Thailand
Malaysia
Singapore
Rest of Southeast Asia

Rest of Southeast Asia

The Middle East & Africa

Saudi Arabia
UAE
Egypt
Kuwait
South Africa
Rest of Middle East & Africa

Latin America

Brazil
Argentina
Rest of Latin America