Industry Insights
[228+ Pages Report] According to the report published by Facts Factors, the global refurbished and used mobile phones market size was worth around USD 64.15 billion in 2022 and is predicted to grow to around USD 152.86 billion by 2030 with a compound annual growth rate (CAGR) of roughly 11.46% between 2023 and 2030. The report analyzes the global refurbished and used mobile phones market drivers, restraints/challenges, and the effect they have on the demands during the projection period. In addition, the report explores emerging opportunities in the refurbished and used mobile phones market.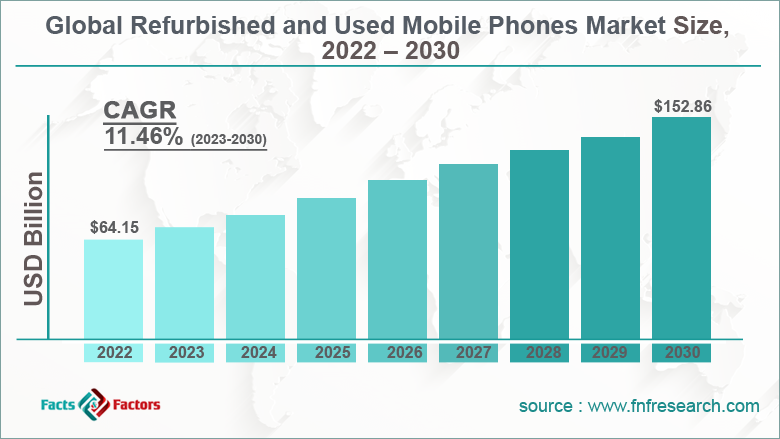 To know more about this report | Request Free Sample Copy
Market Overview
The industry comprises interactions that deal with the buying and selling of mobile phones that have been previously owned by the customer and have been returned to the seller or the manufacturer due to a variety of reasons. These phones are resold only after undergoing thorough inspection for any defects or defects and in case there are concerns, it is the liability of the seller or the manufacturer to get it restored and repaired before being brought back to the commercial market for selling purposes. The main difference between refurbished phones and used phones is that the former is officially restored to new condition by the manufacturer and in most cases, is backed by a warranty just like the ones that come along with new phones.
Key Insights
As per the analysis shared by our research analyst, the global refurbished and used mobile phones market is estimated to grow annually at a CAGR of around 11.46% over the forecast period (2022-2030)
In terms of revenue, the global refurbished and used mobile phones market size was valued at around USD 64.15 billion in 2022 and is projected to reach USD 152.86 billion, by 2030.
The market is projected to grow at a significant rate due to the better affordability feature of the product
Based on price range segmentation, mid-priced was predicted to show maximum market share in the year 2022
Based on Sales channel segmentation, online sales were the leading type in 2022
On the basis of region, Asia-Pacific was the leading revenue generator in 2022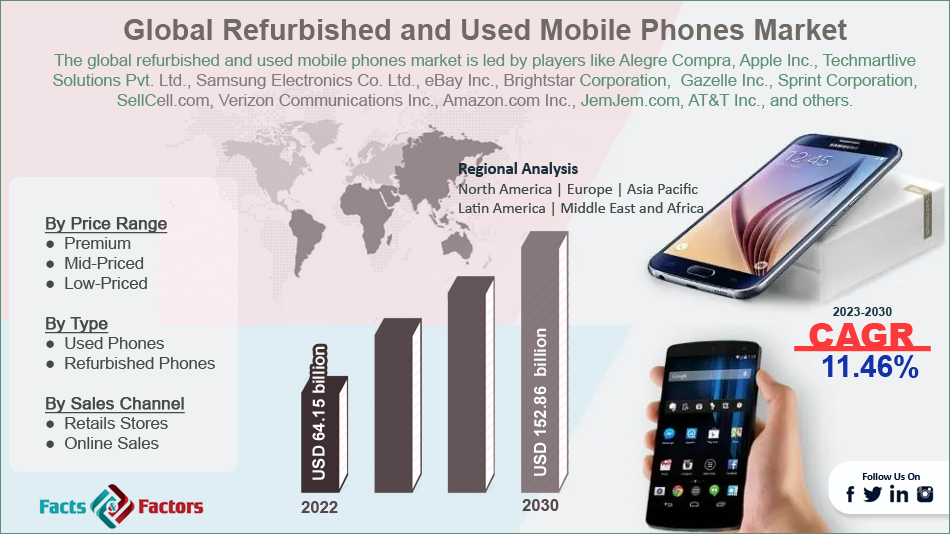 To know more about this report | Request Free Sample Copy
Growth Drivers
Better affordability to drive market demand
The global refurbished and used mobile phones market is projected to grow owing to the higher affordability offered by the devices as compared to brand-new smartphones that are registering a constant increase in final selling prices. For instance, iPhone 13 Pro Max, which was launched in September 2021, was highly priced in the first year of its launch. The 128 GB version was initially sold at USD 1,099 in the US.
Although there is a large segment of existing consumers, the product remains out of reach for the majority of low or medium-income families who may desire to own one of the premium versions of the latest smartphones but may not have the necessary financial backing. In such cases, the used phones market is highly lucrative since these phones are priced at a lower cost thus leading to a better affordability index.
Restraints
Lack of consumer awareness to restrict market expansion
Refurbished or previously owned phones have several advantages over new mobile phones. However, there is an evident lack of knowledge amongst the consumer group about these benefits. Market adoption is further limited by the presence of inaccurate information related to the quality of used phones which is one of the major drawbacks that pull down global industry expansion. There is a general perception amongst many people that used phones lack the quality that new phones may provide or refurbished phones are pieces with defects. This could lead to a loss of revenue in the coming years.
Opportunities
Emerging markets to provide excellent growth opportunities
The global industry can expect higher growth opportunities in emerging markets that are opening up to the adoption of newer technologies due to the influence of western culture. Furthermore, increasing disposable income and growing access to used or refurbished phones can further lead to higher growth in developing countries where the demand for the high and latest technology is rising rapidly.
Challenges
Quality control poses a challenge during further expansion
One of the key challenges that consumers and providers in the industry face are the absence of regulatory measures that can ensure the quality of refurbished and used phones. There are several sellers in the commercial market that sell products that are of poor quality and since there are no laws in place against such events, these sellers cannot be held accountable. This is especially applicable in countries that do not have proper law and order.
Segmentation Analysis
The global refurbished and used mobiles phone market is segmented based on price range, type, sales channel, and region
Based on price range, the global market is segmented into premium, mid-priced, and low-priced.
The market generated significant revenue in the mid-priced segment in 2020 since these devices are most popular in terms of used phones
They are generally priced between USD 100 to USD 400 and since it offers an accurate balance between performance and affordability, the segment generates the highest revenue for the industry
In addition to this, low-priced products that range below USD 100 are also significant contributors since they are the best options for people looking for a smartphone with basic features
Premium products are priced over USD 400 and although it has a significant growth rate, it is relatively less than the other two segments
Based on type, the global market divisions are used phones and refurbished phones.
Based on the sales channel, the global market is divided into retail stores and online sales.
Although both segments are important for overall market growth, in recent years, online sales have increased rapidly
This is due to the convenience and ease of operations provided by online channels
Furthermore, consumers can choose services from a range pool of options available online whereas retail stores have limited flexibility in terms of price and product
However, they are still popular in emerging economies where consumers generally tend to not have more confidence in online portals
For instance, in 2020, Amazon spent more than USD 1.6 billion on fraud prevention
Recent Developments:
In February 2023, MODMOBILE, part of Modish Group, announced its entry into the Indian market. The company will soon open around 100 stores within 1 year in which they will sell a range of refurbished car accessories, laptops, mobile phones, and other devices. The country is registering high growth in the refurbished segment thus attracting international companies for expansion
In March 2021, Cashify, a growing company in the global market, raided around USD 15 million in funds. The new investment will be directed toward further expansion in India for the second-hand smartphone business. The investment was made by New York-based Olympus Capital Asia
In March 2022, Smartphone giant Apple began the sale of the refurbished iPhone 12 and iPhone 12 Pro range in the US. This was the first sale in this segment since the launch of the product in 2020
Report Scope
| | |
| --- | --- |
| Report Attribute | Details |
| Market Size in 2022 | USD 64.15 Billion |
| Projected Market Size in 2030 | USD 152.86 Billion |
| CAGR Growth Rate | 11.46% CAGR |
| Base Year | 2022 |
| Forecast Years | 2023-2030 |
| Key Market Players | Alegre Compra, Apple Inc., Techmartlive Solutions Pvt. Ltd., Samsung Electronics Co. Ltd., eBay Inc., Brightstar Corporation, Togofogo.com, Gazelle Inc., Sprint Corporation, SellCell.com, Reebelo Pte Ltd., Verizon Communications Inc., Amazon.com Inc., JemJem.com, AT&T Inc., and others. |
| Key Segment | By Price Range, Type, Sales Channel, and Region |
| Major Regions Covered | North America, Europe, Asia Pacific, Latin America, and the Middle East &, Africa |
| Purchase Options | Request customized purchase options to meet your research needs. Explore purchase options |
Regional Analysis
Asia-Pacific to witness the highest growth
The global refurbished and used mobile phones market is dominated by Asia-Pacific and it is projected to continue with its dominance during the projection period. The high CAGR is a result of growing consumers of used and refurbished phones. Emerging economies like India and China along with other nations like Japan and South Korea are registering a growing number of younger generations that are inclined toward the use of smart gadgets that are generally trending in western countries.
However, since the products are highly-priced, it leads to higher opportunities for the resale sector. Furthermore, the regional market is also witnessing increasing entry for foreign players trying to tap into the emerging market while also exploring the previously unexplored segment which may work in the favor of higher growth. North America may act as a significant contributor over the coming years due to the presence of a large number of users.
Competitive Analysis
Alegre Compra
Apple Inc.
Techmartlive Solutions Pvt. Ltd.
Samsung Electronics Co. Ltd.
eBay Inc.
Brightstar Corporation
Togofogo.com
Gazelle Inc.
Sprint Corporation
SellCell.com
Reebelo Pte Ltd.
Verizon Communications Inc.
Amazon.com Inc.
JemJem.com
AT&T Inc.
The global refurbished and used mobiles phone market is segmented as follows:
By Price Range Segment Analysis
Premium
Mid-Priced
Low-Priced
By Type Segment Analysis
Used Phones
Refurbished Phones
By Sales Channel Segment Analysis
Retails Stores
Online Sales
By Regional Segment Analysis
North America
Europe

France
The UK
Spain
Germany
Italy
Nordic Countries
Benelux Union

Belgium
The Netherlands
Luxembourg

Rest of Europe

Asia Pacific

China
Japan
India
Australia
South Korea
Southeast Asia

Indonesia
Thailand
Malaysia
Singapore
Rest of Southeast Asia

Rest of Asia Pacific

The Middle East & Africa

Saudi Arabia
UAE
Egypt
South Africa
Rest of the Middle East & Africa

Latin America

Brazil
Argentina
Rest of Latin America