Industry Insights
[215+ Pages Report] According to Facts and Factors, the global private hospital market was worth around USD 820 billion in 2021 and is estimated to grow to about USD 2000 billion by 2028, with a compound annual growth rate (CAGR) of approximately 12.5% over the forecast period. The report analyzes the private hospital market's drivers, restraints/challenges, and the effect they have on the demands during the projection period. In addition, the report explores emerging opportunities in the private hospital market.
Market Overview
An individual or a group of people manages and funds private hospitals. The owner(s) is in charge of the day-to-day operations of the hospital, including maintaining compliance, managing funds, human resources, and hospital equipment. Private hospitals, although expensive, have gained appeal in the past due to the high level of services they provide, such as shorter wait times and specialized treatment. Because of the high cost of the services they provide, these hospitals often attract affluent patients.
Private hospitals are privately sponsored healthcare facilities. Private medical insurance, intensive medical treatment, mental care, long-term care, and primary care are all services provided by private hospitals. Private healthcare is funded through private medical insurance policies and out-of-pocket expenses.
In different countries, the private hospital market differs in size and responsibility. The private hospital market is severely fragmented in many regions. Many small practices owned by healthcare professionals exist in the private hospital market. Furthermore, the private hospital market is growing more commercial.
COVID-19 Impact:
The COVID-19 pandemic is anticipated to notably widen the increase in the global private hospital market. With the upward push in the number of COVID-19 patients, an increase in the wide variety of diagnostics and remedies for COVID-19 is predicted, which in turn is expected to bring about the production of large quantities of clinical waste. Furthermore, the management of in-patient and out-patient services in the course of a pandemic is of utmost importance, given social distancing. Moreover, hygiene care is crucial in combating COVID-19 conditions. As a result of COVID-19, healthcare facilities must provide care in the safest possible method for patients and healthcare professionals, according to the Centers for Disease Control and Prevention (CDC).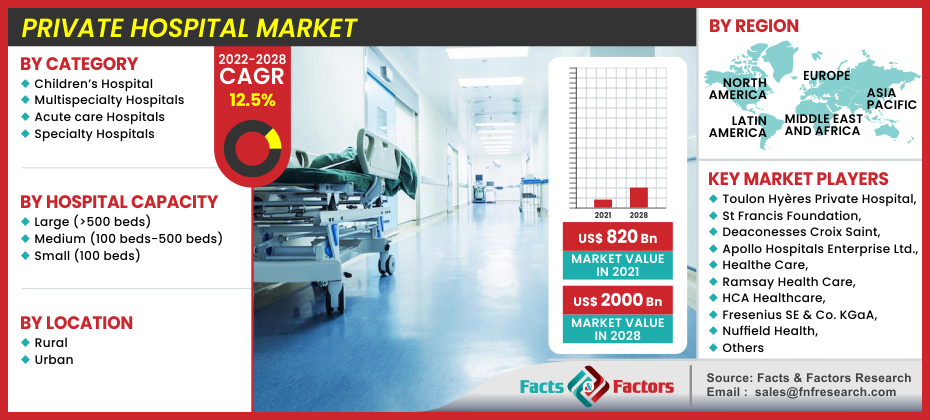 To know more about this report | Request Free Sample Copy
The second wave of COVID-19, on the other hand, had an impact on the private hospital market because patient visitation, both domestic and international, had dropped. Hospitals were forced to halt non-emergency, outdoor patient department (OPD), and indoor patient department (IPD) services due to high infection rates and lockdowns. As a result of travel restrictions, medical tourism had also declined.
Despite the initial drop in visitation, signs of patient recovery and modified lockdown regulations resulted in a rise in hospital occupancy rates.
Growth Drivers
Increasing demand for medical services to drive global market growth
Recently, as demand for medical services has increased, the utilization of private medical services is also increasing. The growing elderly population enhanced reimbursement policies, and rising rates of chronic diseases are among the important aspects for the growth of the global private hospital market. Large-scale outsourcing of National Health Services and the advent of advanced medical technology & treatments are propelling the global private hospital market growth forward. Additionally, the increasing incidence of ongoing infections and enhanced repayment methods are also likely to drive the growth of the global private healthcare market during the forecast period.
Restraints
High service & treatment charges in private hospitals to hamper the market growth
The charges connected with private hospitals are a major factor limiting their growth. This is mostly due to high operational costs and service charges. Technology is always improving, which has an impact on the cost of treatment at private hospitals because they must keep up with the latest equipment and technologies in order to maintain a competitive advantage.
Opportunities
Emerging scenario for medical tourism to bring growth opportunities for the global market
The global private hospital market would benefit from more medical tourism and shorter treatment wait times. The need for diagnostic therapy and care is on the rise in the global market. Further, the global players are getting into mergers & acquisitions that are either assisting them to expand their reach or enter the market. Also, the advent and implementation of budding technologies like using AI (Artificial Intelligence) in radiology for computer-aided diagnosis or using nuclear medicine for treating neurological diseases & oncology will further pave way for growth opportunities in the global market.
Challenges
Diversity & complexity of the private hospital market may give rise to challenges for its growth
In terms of the private hospital market and universal health coverage, countries face significant challenges. Given the wide variety of private sector organizations, some problems may be different depending on whether the focus is on a for-profit or non-profit organizations, while others may be universal to all private service providers.
Despite the fact that many of the issues regarding conflicts of interest are universal, there are no standardized solutions due to country differences. For instance, six of the twenty-seven high-income countries have majority public ownership of the primary care sector, whereas primary care is primarily owned by the private hospital market in twenty-one of them.
Another significant challenge is the diversity and complexity of the private hospital market in health systems. Because the private hospital market is so diverse, it necessitates unique policy measures to manage and engage it. Understanding the many distinct market players who operate in primary care and their characteristics is necessary for the selection and implementation of these techniques. These characteristics include, whether they are for-profit or not, their social aims, domestic or international ties, social & ethical behavior, and capacity.
Furthermore, there is a lack of conceptual clarity regarding the private hospital market's role in healthcare systems. Varying players working to engage the private healthcare sector have different understandings of crucial phrases and concepts, such as "the private sector" and "private sector engagement." As a result, stakeholders lack the basic vocabulary necessary for research, analysis, policy discourse, and decision-making to develop practical strategies to harness the private hospital market.
Segmentation Analysis
The global private hospital market is segregated based on category, hospital capacity, location, and region.
By category, the market is classified into children's hospitals, multispecialty hospitals, acute care hospitals, and specialty hospitals. By 2028, the acute care hospital segment is expected to generate over USD 950 billion in revenue. The existence of a large number of acute care hospitals in both urban and rural locations is credited with the segment's rise. Aside from that, the rising prevalence of contagious diseases would fuel the segment's growth over the forecast period.
By hospital capacity, the market is divided into large (>500 beds), medium (100 beds-500 beds), and small (100 beds). The presence of a large number of private hospitals and clinics with medium bed size availability is attributed to the segment's rise. The segment is likely to generate almost USD 1,200 billion in revenue during the forecast period.
By location, the private hospital market is segmented into rural and urban. The rise in disposable income seen across urban areas, as well as the strong presence of specialized hospitals in these areas, are driving the segment's expansion.
Report Scope
| | |
| --- | --- |
| Report Attribute | Details |
| Market Size in 2021 | USD 820 Billion |
| Projected Market Size in 2028 | USD 2000 Billion |
| CAGR Growth Rate | 12.5% CAGR |
| Base Year | 2021 |
| Forecast Years | 2022-2028 |
| Key Market Players | Toulon Hyères Private Hospital, St Francis Foundation, Deaconesses Croix Saint, Apollo Hospitals Enterprise Ltd., Healthe Care, Ramsay Health Care, HCA Healthcare, Fresenius SE & Co. KGaA, Nuffield Health, Fortis Healthcare Limited, London Bridge Healthcare, Life Healthcare, Spire Healthcare Group Plc., MEOCLINIC Gmbh, IASIS Healthcare, and Care UK., among others |
| Key Segment | By Category, By Hospital Capacity, By Location, and By Region |
| Major Regions Covered | North America, Europe, Asia Pacific, Latin America, and the Middle East & Africa |
| Purchase Options | Request customized purchase options to meet your research needs. Explore purchase options |
Regional Landscape
North America leads the global private hospital market because of its vast aging population and rising rates of lifestyle-related disorders. During the forecast period, the global private hospital market is predicted to rise at a rapid pace, with Asia leading the way, followed by Europe.
India and China are predicted to be the Asia Pacific region's fastest-expanding private hospital markets. Large patient pools, increased healthcare knowledge, and increased healthcare costs are some of the primary driving reasons for the private hospital market in emerging countries. Furthermore, in developing countries, the government is unable to address healthcare needs due to a lack of resources.
Recent Developments
September 2021 - With the opening of the first-of-its-kind specialized Bone Marrow Unit in Central Mumbai, Fortis Hospital, the renowned multi-specialty tertiary care hospital, is ready to shape the future in bone marrow transplants.
November 2021 - Quirónsalud, one of the largest private hospital firms in Spain and a subsidiary of Fresenius Helios, has agreed to acquire Clínica Clofán, and Centro Oncológico de Antioquia (COA), strengthening the company's position in Colombia.
Competitive Landscape
Some of the main competitors dominating the global private hospital market include -
Toulon Hyères Private Hospital
St Francis Foundation
Deaconesses Croix Saint
Apollo Hospitals Enterprise Ltd.
Healthe Care
Ramsay Health Care
HCA Healthcare
Fresenius SE & Co. KGaA
Nuffield Health
Fortis Healthcare Limited
London Bridge Healthcare
Life Healthcare
Spire Healthcare Group Plc.
MEOCLINIC Gmbh
IASIS Healthcare
Care UK.
The global private hospital market is segmented as follows:
By Category Segment Analysis
Children's Hospital
Multispecialty Hospitals
Acute care Hospitals
Specialty Hospitals
By Hospital Capacity Segment Analysis
Large (>500 beds)
Medium (100 beds-500 beds)
Small (100 beds)
By Location Segment Analysis
By Regional Segment Analysis
North America

The U.S.
Canada
Mexico
Rest of North America

Europe

France
The UK
Spain
Germany
Italy
Nordic countries

Denmark
Finland
Iceland
Sweden
Norway

Benelux Reunion

Belgium
The Netherlands
Luxembourg

Rest of Europe

Asia Pacific

China
Japan
India
New Zealand
Australia
South Korea
Southeast Asia

Indonesia
Thailand
Malaysia
Singapore
Rest of Southeast Asia

Rest of Southeast Asia

The Middle East & Africa

Saudi Arabia
UAE
Egypt
Kuwait
South Africa
Rest of the Middle East & Africa

Latin America

Brazil
Argentina
Rest of Latin America