Industry Insights
[223+ Pages Report] According to the report published by Facts and Factors, the global lithium-ion battery market size was worth around USD 49.67 billion in 2021 and is predicted to grow to around USD 165.65 billion by 2030 with a compound annual growth rate (CAGR) of roughly 16.32% between 2022 and 2030. The report analyzes the global lithium-ion battery market drivers, restraints/challenges, and the effect they have on the demands during the projection period. In addition, the report explores emerging opportunities in the lithium-ion battery market.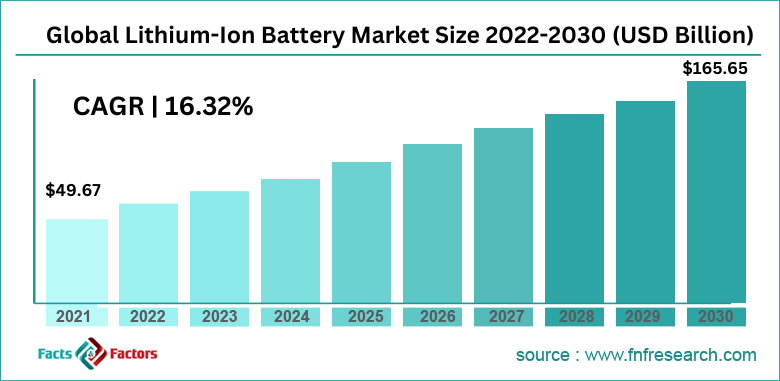 To know more about this report | Request Free Sample Copy
Market Overview
A lithium-ion battery, also known as a Li-ion battery is an energy storage method that works on the property of lithium-ions to reduce reversibly. It is a rechargeable battery making it more cost-effective. Li-ion batteries are used extensively in electric vehicles and consumer electronic products however the applications also extend to aerospace and grid-scale energy storage. Li-ion batteries are more popular because they have low self-discharge, energy densities, and zero to minimal memory effect also known as the lazy battery effect which is generally observed in nickel-cadmium rechargeable batteries resulting in a lesser hold on the charge. In the majority of lithium-ion batteries, the positive electrode is made of a metal oxide whereas the negative electrode is typically carbon-made graphite.
Key Insights
As per the analysis shared by our research analyst, the global lithium-ion battery market is estimated to grow annually at a CAGR of around 16.32% over the forecast period (2022-2030)
In terms of revenue, the global lithium-ion battery market size was valued at around USD 49.67 billion in 2021 and is projected to reach USD 165.65 billion, by 2030.
The lithium-ion battery industry is projected to grow at a significant rate due to the growing research on improving overall battery efficiency
Based on application segmentation, consumer electronics was predicted to show maximum market share in the year 2021
Based on type segmentation, 3,001 - 10,000 mAh was the leading type in 2021
On the basis of region, Asia-Pacific was the leading revenue generator in 2021
Growth Drivers
Growing research on improving overall battery efficiency to drive market demand
The global lithium-ion battery market is projected to benefit from the rising research activities and growing investments in the development of technically enhanced batteries that can outperform all their predecessors and pave a way for a li-ion battery range that has a highly optimized performance outcome. Some of the advancements include research on changing the components used to manufacture anode or cathode.
For instance, Sila Nanotechnologies, a company working in the engineered material segment, is working toward soon replacing graphite anode, which causes the overall weight of the battery to increase by almost 15% and forms a significant amount of the bulk, with an in-house developed silicon. The company claims that this change will also assist in increasing battery efficiency from 20% to 40% while also making the charging process quicker. Furthermore, research directed toward improving safety concerns, extended lifetime, and cost-reduction is projected to act as growth-propelling factors.
Restraints
Incidences of safety hazards to restrict market expansion
Lithium-ion batteries can sometimes become a safety hazard which is generally introduced due to the error in the manufacturing process. Many cases of lithium-ion batteries exploding have been reported worldwide. It is caused due to an event called thermal runaway during which there is an excess of heat that is generated in the battery while the dispersion rate is really low. Factors like avoiding overcharging, storing them at high temperatures, or all lithium-ion powered products together are some of the ways that can protect li-ion batteries from exploding. The safety concerns around the batteries are expected to act as major lithium-ion battery industry growth restraints.
Opportunities
Growing population and unexplored market to act as growth opportunities
The global lithium-ion battery market is projected to grow further during the forecast period owing to the rising population which means that there will be a larger consumer database during the growth period as demand for lithium-ion-powered products may increase. There are more expansion opportunities for the global market in the unexplored regions as well including underdeveloped nations that are currently moving toward economic growth. The rising emphasis on low-cost generation by integrating li-ion batteries with power grid structures by replacing diesel used in generators is a prime example of how developing economies could offer lucrative positive opportunities.
Challenges
High-temperature sensitivity to challenge the market expansion
Li-ion batteries are inherently sensitive to high temperatures making them highly flammable if not stored in the right condition. This means that products that use li-ion batteries as power sources cannot be placed under high temperatures or the makers of the products have to invest in high technologies that can help li-ion batteries better manage incidences where they are subjected to increased temperatures like power grids. It currently poses a major challenge for the lithium-ion battery industry players as not only is it a safety hazard but also adds to the overall cost of the product.
Segmentation Analysis
The global lithium-ion battery market is segmented based on application, type, capacity, and region
Based on application, the global market is divided into automotive, consumer electronics, aerospace & defense, telecom, medical, and others
In 2021, the global market registered highest growth in the consumer electronics segment dominating more than 39.9% of the segmental share
Lithium-ion batteries are the preferred choices amongst electronics goods manufacturers like mobile phones, digital cameras, laptops since they are currently the most effective batteries in terms of charging period, battery longevity, and power density
The automotives segment is expected to be propelled by the growing use of li-ion battery packs in electric vehicles (EVs) which is a fast emerging market
Based on type, the global market is divided into NCA, Li-NMC, LCO, LFP, and LMO. Lithium Nickel-Cobalt-Aluminum Oxide (NCA), Lithium nickel manganese cobalt oxides (Li-NM), Lithium cobalt battery (LCO), Lithium iron phosphate battery (LFP), and Lithium-ion manganese oxide battery (LMO) are the various battery types that function using lithium ions.
Based on capacity, the global market is segmented into more than 60,000 mAh, 10,001 - 60,000 mAh, 3,001 - 10,000 mAh, and 0-3,000 mAh
In 2021, the global market registered the highest revenue in the 10,001 - 60,000 mAh and 3,001 - 10,000 mAh segments due to the higher applications of these products across multiple sectors like aerospace, consumer electronics, power tools, and electric vehicles
For many final uses, the batteries are grouped together to create effective modules that can cater to the requirements of heavy loads
It may take around 14 hours to fully charge a 60,000 mAh battery
Recent Developments:
In November 2022, Renon, an Indian energy storage company, launched Banner for high-performance electric three-wheelers which is a smart larger capacity battery platform. It is a safe, smart, and connected Lithium Iron Phosphate (LFP) pack that can be used in e-rickshaws, e-loaders, and electric autos
In December 2023, Ola Electric, an electric vehicles company operating in the Indian market, announced its plan to start domestic manufacturing of lithium-ion cells by year-end 2023. The new product will target a 5 gigawatt plant capacity. The company also recorded that it intends to enter the European market in the first quarter of 2023
Report Scope
| | |
| --- | --- |
| Report Attribute | Details |
| Market Size in 2021 | USD 49.67 Billion |
| Projected Market Size in 2030 | USD 165.65 Billion |
| CAGR Growth Rate | 16.32% CAGR |
| Base Year | 2021 |
| Forecast Years | 2022-2030 |
| Key Market Players | Johnson Controls, BYD Company Ltd., TOSHIBA CORPORATION, Renault Group, Duracell Inc., Samsung SDI Co. Ltd., Panasonic Corporation, Automotive Energy Supply Corporation, LITEC Co. Ltd., LG Chem Power (LGCPI), Hitachi Chemical Co. Ltd., A123 Systems LLC., GS Yuasa International Ltd., China BAK Battery Co. Ltd., LG, and others. |
| Key Segment | By Application, Type, Capacity, and Region |
| Major Regions Covered | North America, Europe, Asia Pacific, Latin America, and the Middle East &, Africa |
| Purchase Options | Request customized purchase options to meet your research needs. Explore purchase options |
Regional Analysis
Asia-Pacific to lead with the highest growth
The global lithium-ion battery market is projected to witness the highest growth in Asia-Pacific. In 2021, the regional market dominated more than 41.1% of the global market share. The growth is expected to be led by countries like China and India which are registering a high population growth rate coupled with increasing disposable income leading to the expansion of the consumer goods sector further encouraged by the growing additions of new market players offering products across price range and accommodating the requirements of the population from every income segment.
Additionally, the rise in the number of players manufacturing or selling li-ion batteries has increased considerably in the last few years with China becoming the leading producer of lithium-ion batteries in 2021. The country's production capacity has increased tremendously allowing it to dominate not only the regional market but the global segment as well.
Competitive Analysis
Johnson Controls
BYD Company Ltd.
TOSHIBA CORPORATION
Renault Group
Duracell Inc.
Samsung SDI Co. Ltd.
Panasonic Corporation
Automotive Energy Supply Corporation
LITEC Co. Ltd.
LG Chem Power (LGCPI)
Hitachi Chemical Co. Ltd.
A123 Systems LLC.
GS Yuasa International Ltd.
China BAK Battery Co. Ltd.
LG Chem
The global lithium-ion battery market is segmented as follows:
By Application Segment Analysis
Automotives
Consumer Electronics
Aerospace & Defense
Telecom
Medical
Others
By Type Segment Analysis
By Capacity Segment Analysis
More than 60,000 mAh
10,001 - 60,000 mAh
3,001 - 10,000 mAh
0-3,000 mAh
By Regional Segment Analysis
North America
Europe

France
The UK
Spain
Germany
Italy
Nordic Countries
Benelux Union

Belgium
The Netherlands
Luxembourg

Rest of Europe

Asia Pacific

China
Japan
India
Australia
South Korea
Southeast Asia

Indonesia
Thailand
Malaysia
Singapore
Rest of Southeast Asia

Rest of Asia Pacific

The Middle East & Africa

Saudi Arabia
UAE
Egypt
South Africa
Rest of the Middle East & Africa

Latin America

Brazil
Argentina
Rest of Latin America