Industry Insights
[225+ Pages Report] According to the report published by Facts and Factors, the global Cold Chain Equipment market was valued at approximately USD 8.4 Billion in 2019, and is expected to generate revenue of around USD 33.5 Billion by end of 2026, growing at a CAGR of around 22 % between 2020 and 2026.
Market Overview
A Cold chain is transportation of temperature sensitive product through the supply chain with help of temperature sensitive packaging materials and with the assistance of planning to ensure the integrity of the shipment. The agriculture and food sector is confronted with a number of challenges that make it difficult to meet the high demand from both domestic and foreign consumers. The single most significant bottleneck confronting the sector is a long and fragmented supply chain. Furthermore, a lack of knowledge of proper harvesting methods, a lack of post-harvest infrastructure, a complex distribution chain, a lack of adequate packaging technology, and a lack of coordination between different stakeholders make the supply chain inefficient. Comprehensive supply chain strategies are needed to achieve the world's food processing sector's long-term growth. Refrigerated transport ensures that the produce is shipped in the proper conditions. Unfortunately, as highlighted in the FICCI study, Most of the developing countries lack a robust cold-chain network. More than half of all produce is shipped in bullock carts or trucks with no wrapping or in gunny sacks. In addition, the majority of transportation is performed in free, non-refrigerated vehicles. Farmers turn to this method at a high percentage loss, most likely because the price they receive from wholesalers barely covers the expense of refrigerated transport. The rising demand of organised retail, as well as customer understanding of the importance of reducing food waste, is driving the demand for cold chain. With the advent of emerging technology, the use of cold chains in the food & beverage industry aids in the prevention of food quality deterioration.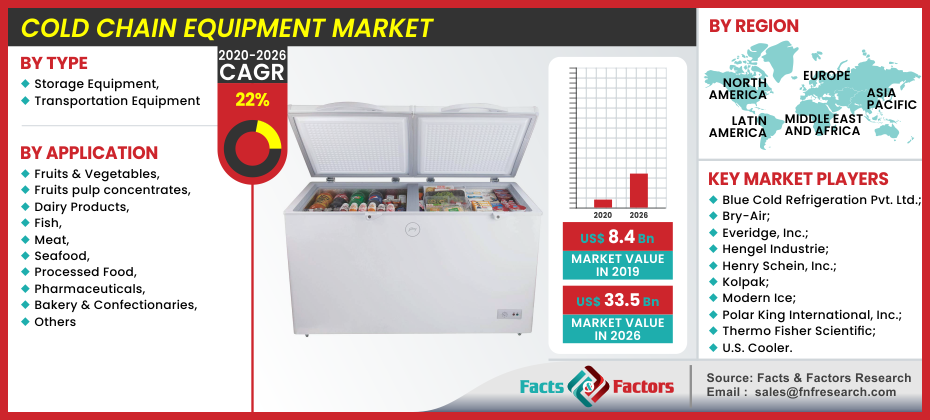 To know more about this report | Request Free Sample Copy
Industry Growth Factors
Dozens of warehouses with cold chain systems are being built to ensure the best storage and shipping conditions for temperature-sensitive goods. Several export industries depend on the essential links provided by the cold chain solutions system. Businesses invest millions of dollars in cold chain operations in order to establish an accurate, safe, and dependable process because end-to-end cold chain security is the weak link in the system. A single failure in the logistics chain will result in catastrophic product and capital losses. Furthermore, online grocers are increasing their demand for cold storage. The cold chain ensures that perishable goods are healthy and of high quality when they arrive at their destination. Textural deterioration, discoloration, bruising, and microbial growth may occur if products are not kept at the proper temperatures. Furthermore, a high-quality product results in a happier consumer, increased demand, and overall public health security. Cold chain suppliers also make significant contributions to the economy and labour force.
Pharmaceutical manufacturers are primarily concerned with product safety and sensitivity. As more critical biological-based drugs are developed, transportation of hormone therapies, vaccines, and critical amino acids that require cold chain refinements must be shipped at a regulated temperature, which can be accomplished by cold chain logistics. The transportation and distribution of temperature-controlled pharmaceutical products and medical devices is growing rapidly in the healthcare logistics industry as a whole. The cold chain logistics sector will need to adapt quickly to the increasing sensitivity, volume, and quality requirements of products, as well as the ever-increasing regulatory burden. Biopharmaceutical items have developed at a lot quicker speed than other drugs (otherwise called synthetic medications), and the ascent of antibodies is the motivation behind why the general market shipments of temperature-controlled drug items is developing at double the pace of the worldwide pharma industry all in all. Worldwide market of biotechnology drugs and natural items is required to be worth more than $300 billion out of 2018. These high-esteem drug items are essentially conveyed through the virus chain across the whole worldwide dissemination organization. Thus, drug development is relied upon to drive the size of the virus chain coordinations industry.
Segmentation Analysis
The global Cold Chain Equipment market is segmented on the basis of type as Storage Equipment, Transportation Equipment. The market is broadly divided into storage and transportation hardware based on equipment type. In 2019, the storage equipment segment accounted for more than 70.0 percent of the overall market. The business is further subdivided into on-framework and off-network segments. Walk-in coolers, walk-in coolers, ice-lined fridges, and profound coolers are additionally needed for the on-framework segment. While the on-framework segment accounted for more than 80% of total sales in 2019, cold chain hardware producers are also making an early entry into off-matrix stockpiling equipment. By application the market is divided into Fruits & Vegetables, Fruits pulp concentrates, Dairy Products, Fish, Meat, & Seafood, Processed Food, Pharmaceuticals, Bakery & Confectionaries, Others. In 2019, the fish, meat, and seafood application led the industry, accounting for more than 20.0 percent of global revenue. This is due to increased exports of meat products, such as chicken and beef, from the United States and Brazil. Meat products must be maintained at an appropriate frozen temperature range during transit and storage because they are subject to normal, constant, and irreversible bio-physiochemical changes. As a result, there is a strong demand for cold chain storage and transportation equipment in the fish, meat, and seafood applications.
Report Scope
| | |
| --- | --- |
| Report Attribute | Details |
| Market Size in 2019 | USD 8.4 Billion |
| Projected Market Size in 2026 | USD 33.5 Billion |
| CAGR Growth Rate | 22% CAGR |
| Base Year | 2019 |
| Forecast Years | 2020-2026 |
| Key Market Players | Blue Cold Refrigeration Pvt. Ltd., Bry-Air, Everidge, Inc., Hengel Industrie, Henry Schein, Inc., Kolpak, Modern Ice, Polar King International, Inc., Thermo Fisher Scientific, and U.S. Cooler. |
| Key Segment | By Type, Application, and Region |
| Major Regions Covered | North America, Europe, Asia Pacific, Latin America, and the Middle East & Africa |
| Purchase Options | Request customized purchase options to meet your research needs. Explore purchase options |
Regional Analysis
North America dominated the industry in 2019, accounting for highest of global sales, and is expected to retain its lead over the projected period. This is due to North America's major fragmentation of cold storage and cold chain equipment firms. Furthermore, growing disposable income, rising population, and regulatory measures to ensure food safety during storage and transportation are expected to drive the demand during the forecast era. Increased demand for fresh meat, fish, and vegetables is expected to drive regional market development. From 2020 to 2027, Asia Pacific is projected to develop at at maximum CAGR. This is due to increased movement of temperature-sensitive pharmaceutical products and medications into and out of the area as a result of the COVID-19 pandemic. Furthermore, the region's food industry expansion is expected to accelerate demand growth. Following Asia Pacific, various developing countries in South America, the Middle East, and Africa have strong demand for off-grid storage equipment. As a result, these regional markets are projected to expand the most from 2020 to 2027.
Competitive Players
Major players in the market are :
Blue Cold Refrigeration Pvt. Ltd.
Bry-Air
Everidge Inc.
Hengel Industrie
Henry Schein Inc.
Kolpak
Modern Ice
Polar King International Inc.
Thermo Fisher Scientific
U.S. Cooler
.Global Cold Chain Equipment Market: Regional Segment Analysis
North America
Europe

UK
France
Germany
Italy
Spain
Rest of Europe

Asia Pacific

China
Japan
India
South Korea
Southeast Asia
Rest of Asia Pacific

Latin America

Brazil
Mexico
Rest of Latin America

Middle East and Africa

GCC Countries
South Africa
Rest of MEA