Industry Insights
[164+ Pages Report] According to Facts and Factors, the global chocolate confectionery market was registered at USD 135.8 Billion in the year 2020 and is anticipated to reach a valuation of USD 161.1 Billion by the end of 2026, with a CAGR of around 3.0% between 2021 and 2026.
Market Overview
Chocolate is widely consumed in certain regions around the world and is an important part of the worldwide confectionery business. Cocoa and confectioneries are governed by the Codex Alimentarius series of standards at the international level. In the worldwide commerce of food and agricultural products, this attempts at trying to guarantee a high level of consumer protections and fair wages. The chocolate sector confronts considerable problems in terms of sustaining its proportion of supermarket spending from the consumer's perspective. The chocolate industry is anticipated to maintain its dominance even in the international confectionery business, at least in terms of value. The market for chocolate confectionery is one such category that is open to people of all ages. For the vast majority of the world's population, age has never been a deterrent to indulging in chocolates to please their taste senses. For the past decade, the industry has been developing steadily, and new flavors and textures are contributing to the sector's rise. Furthermore, the growing number of consumers interested in outlandish trends like organic chocolate and chocolates with no added sugar are supporting such trials, boosting the chocolate confectionery sector.
Industry Growth Factors
Organic cocoa, which went from a trendy trend to the mainstream during the last few years, has been a booming area. There is numerous potential for the confectionery sector, as consumer interest in organic products continues to expand. As a result, prominent brands, boutiques, and independent producers are launching more opulent organic goods. In fact, when it comes to new confectionary launches, organic has been one of the most essential claims. The intricacy of the organic claim and the range of notions linked with it is one of the key reasons for organic products' adoption. The phrase "organic" usually refers to other qualities that buyers seek in products. People are looking for organic products in particular because they identify them with sustainability and fair work claims, leading them to believe they are making an ethical choice. Second, people frequently consider organic items to be more natural and healthier. Furthermore, the organic claim is linked to the ongoing free-from trend, which further satisfies consumers' need for a healthier diet.
The increased interest in specialized chocolate and the growing desire for authentic taste has prompted an increasing number of companies to investigate the possibility of creating artisan sweets. They place a greater emphasis on the origins of the raw materials and produce confectionery that is free of artificial preservatives, colors, and tastes. Younger generations, according to industry experts, desire delicious and authentic confectionery items with a short, simple ingredient list. The number of boutique chocolate companies has risen dramatically in recent years as people's palates have become more sophisticated.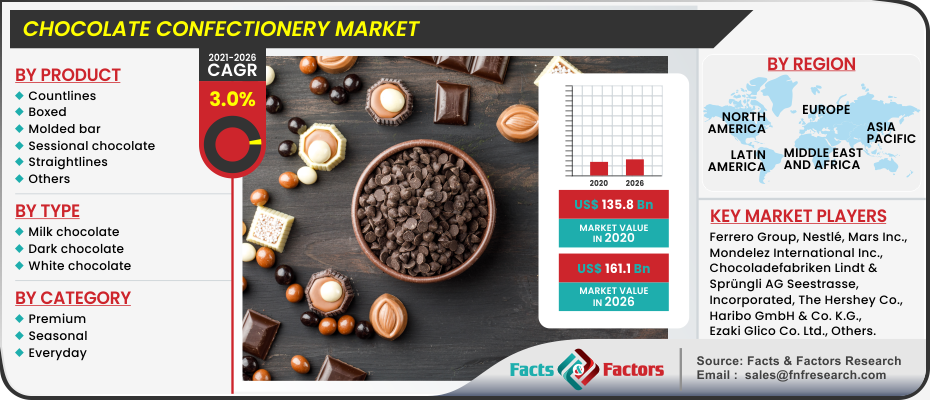 To know more about this report | Request Free Sample Copy
Segmentation Analysis
The chocolate confectionery market is segmented based on product, type, and category:
As per product (countlines, boxed, molded bar, sessional chocolate, straight lines, others), by type (milk chocolate, dark chocolate, white chocolate), by category (premium, seasonal, every day). Chocolate confectionery items are popular gifting options especially during holiday seasons and festivals such as Christmas and Easter. This contributes to the robust growth rate of the seasonal chocolate segment. The adoption of new and advanced technologies, which has made them more multifunctional, has provided the industry with many lucrative growth opportunities in the coming years.
Regional Analysis
Because people are progressively incorporating chocolates into their daily routine, North America will continue to dominate the chocolate confectionery market in the projected period of 2020 to 2026. Consumers have a deep emotional attachment to chocolate confectionery products because they are ingrained in family traditions and seasonal celebrations. Because of rising per capita consumption among consumers in recent years, Asia-Pacific is predicted to rise quickly. Individual market affecting elements and changes in market regulation that affect present and future market trends are also provided in the nation section of the chocolate confectionery market. Consuming amounts, production sites and volumes, international trading research, price market analysis, cost of production, and downstream and upstream supply-chain assessment are among the primary pointers being used to forecast the market scenario for different countries.
Covid-19 Analysis
The COVID-19 pandemic has had a significant impact on confectionery firms. Even during the course of 2020, the strict rules and lockdown had repercussions in the confectionery industry, causing differential impacts on raw material supply (agricultural produce, food products, and transitional food products), keep trading & logistic support, demand volatility uncertain consumer demand, and workforce at the industrial level. Due to the outbreak of the Covid-19 pandemic, chocolate output and sales have witnessed a sharp drop. Consumer panic buying of food supplies during the early days of the lockdown resulted in a dramatic increase in the sales of mainstream chocolates through retail channels as a source of enjoyment and consolation. During the epidemic, however, there is a rapid drop in demand for luxury chocolates, as premium and specialty chocolate goods are utilized seasonally and primarily as giving items during travel and holiday festivities. In the coming years, the trend of eating healthy foods to maintain general health is predicted to provide tremendous prospects for dark and organic chocolate confectionery. Sales declines as a result of diminished gifting and impulse spending among customers around the world were one of the primary issues affecting the confectionery business during the shutdown.
Report Scope
| | |
| --- | --- |
| Report Attribute | Details |
| Market Size in 2020 | USD 135.8 Billion |
| Projected Market Size in 2026 | USD 161.1 Billion |
| CAGR Growth Rate | 3.0% CAGR |
| Base Year | 2020 |
| Forecast Years | 2021-2026 |
| Key Market Players | Ferrero Group, Nestlé, Mars Inc., Mondelez International Inc., Chocoladefabriken Lindt & Sprüngli AG Seestrasse, Incorporated, The Hershey Company, Haribo GmbH & Co. K.G., Ezaki Glico Co. Ltd., Lindt & Sprungli AG, Pladis, Meiji Co. Ltd. and among others. |
| Key Segment | By Product, By Type, By Category, and By Region |
| Major Regions Covered | North America, Europe, Asia Pacific, Latin America, and the Middle East & Africa |
| Purchase Options | Request customized purchase options to meet your research needs. Explore purchase options |
Competitive Players
Some of the essential players operating in the chocolate confectionery market are :
Ferrero Group
Nestlé
Mars Inc.
Mondelez International Inc.
Chocoladefabriken Lindt & Sprüngli AG Seestrasse
Incorporated
The Hershey Company
Haribo GmbH & Co. K.G.
Ezaki Glico Co. Ltd.
Lindt & Sprungli AG
Pladis
Meiji Co. Ltd.
By Product
Countlines
Boxed
Molded bar
Sessional chocolate
Straightlines
Others
By Type
Milk chocolate
Dark chocolate
White chocolate
By Category
Premium
Seasonal
Everyday
By Region
France
UK
Germany
Italy
Spain
Rest of Europe
China
India
Japan
South Korea
Southeast Asia
Rest of Asia Pacific
Brazil
Mexico
Rest of Latin America
GCC
South Africa
Rest of Middle East & Africa