Industry Insights
[232+ Pages Report] According to Facts and Factors, the global industrial hemp market was valued at roughly USD 4.5 billion in 2021 and is predicted to grow to about USD 17.24 billion by 2030, with a compound annual growth rate (CAGR) of approximately 16.9% over the projection period. The report analyzes the industrial hemp market's drivers, restraints, opportunities, and challenges and the impact they have on consumption during the projection period.
Market Overview
Industrial hemp is a cultivar of the plant Cannabis sativa that is utilized for a range of industrial and personal purposes. Hemp fiber, hemp oil, and hemp seeds are some of its by-products. Because of their high nutritional content, antioxidant, and anti-microbial qualities, these biodegradable compounds are widely employed in a variety of industries, including personal care products, textiles, animal feed, and others. Industrial hemp, as a fast-growing plant, provides a sustainable and renewable raw material for the manufacture of a variety of products, including fuel, plastic, and paper.
Industrial hemp is a hardy, long-lasting natural fiber with low flexibility. Hemp fiber has the highest heat capacity to weight ratio of any natural fiber and provides excellent heat insulation. This cloth, like any other natural fabric, is extremely durable while also providing warmth and comfort. Furthermore, the fabric is very breathable and biodegradable, which boosts product demand. Hemp fabric is very hydrophobic, mold-resistant, insulating, and resistant to ultraviolet (UV) radiation. It delivers long-lasting products with consistent quality and softness when combined with fabrics such as linen, silk, and cotton.
Hemp seeds are mostly used in foods and dietary supplements like raw seeds, hemp milk, and hemp protein. Hemp is trypsin inhibitor-free, GMO-free, gluten-free, and contains very little residue of chemicals. Hemp protein is very nutritious, easily digestible, and contains a high concentration of amino acids, which are required by the human body to meet its protein requirements.
Hemp oil is frequently utilized in medicinal goods due to its pain-relieving and anti-inflammatory characteristics, as well as its ability for treating tumors, lower the risk of diabetes, and ease stiffness & discomfort, particularly chronic pain.
COVID-19 Impact:
The COVID-19 pandemic had a tremendous influence on brick-and-mortar enterprises, compelling them to relocate to digital platforms, resulting in a significant supply and demand imbalance for hemp-based items. However, rising consumer awareness of hemp's therapeutic properties has bolstered market growth in recent times. Furthermore, expanded legalization legislation in key nations fueled the global industrial hemp market expansion throughout the epidemic.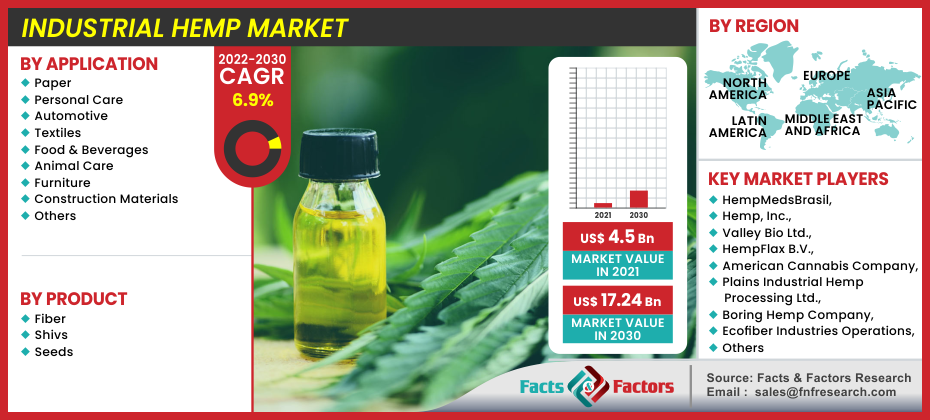 Growth Drivers
Functional characteristics of hemp seed & hemp oil and their expanding use in various applications are factors driving the market's growth
Hemp's excellent nutritional value, as well as its healthy fatty acid and protein composition, is boosting demand for hemp supplements. Hemp fiber's high absorbency makes it useful for animal bedding, personal hygiene, and oil & gas clean-up uses. Furthermore, rising product demand from the paper, textile, and building materials markets due to good aesthetic and acoustic features will drive the industrial hemp market expansion. Hemp-based products are environmentally friendly, renewable, and connected with less toxic ways of production. Paper made from hemp fiber requires fewer chemicals to be processed than paper made from wood pulp. As a result, increased consumer knowledge of product benefits is expected to boost global industrial hemp market growth.
Restraints
A complex regulatory framework may hinder the market's growth
Businesses that offer hemp and hemp-derived goods must follow various regulatory rules around the world. While countries around the world have varying degrees of legality for different forms of hemp, the tight regulatory requirements governing the cultivation and sale of industrial hemp across many states within the same country may be difficult for producers and consumers to comply with. Furthermore, the legislation governing hemp possessing tetrahydrocannabinol (THC) and cannabidiol (CBD) varies greatly, adding to the complexity associated with the commodity's trading.
Opportunities
Industrial hemp is being used to develop new products that have the potential to provide considerable growth opportunities
As hemp farming becomes more legal, corporations and research institutions are being compelled to create innovative products with industrial hemp. One such application is biofuel, which is predicted to have huge potential to grow in the coming years. With rising oil prices (diesel and gasoline), as well as increased concerns about global warming, biofuels are gaining appeal. Hemp seed extracts are being used to make hemp biodiesel, which may be used in any diesel vehicle. Additionally, hemp can be used to produce ethanol, which is currently being produced from food crops such as wheat and corn. This would result in greater food production efficiency.
Challenges
Lack of processing facilities, as well as planting and harvesting equipment, is a significant challenge
Following the legalization of industrial hemp, for example, in the United States, the country's industrial hemp business has grown fast, as it is one of the largest users of hemp-derived products. However, there has been a dearth of suitable harvesting and planting equipment. Due to the fragility of air seeders used for crop planting, they must be used with low air volume in the case of hemp speed.
Furthermore, industry analysts have claimed that the US lacks commercial-scale processing facilities, which is one of the greatest impediments to the expansion of the country's industrial hemp market.
Segmentation Analysis
The global industrial hemp market is segregated on the basis of application prospects, product prospects, and region.
By application prospects, the market is divided into paper, personal care, automotive, textiles, food & beverages, animal care, furniture, construction materials, and others. Personal care products have the highest market share and are predicted to increase at a rapid CAGR over the forecast period.
By product prospects, the market is divided into fiber, shivs, and seeds. The fiber segment is expected to increase at the fastest CAGR during the forecast period.
Report Scope
| | |
| --- | --- |
| Report Attribute | Details |
| Market Size in 2021 | USD 4.5 Billion |
| Projected Market Size in 2030 | USD 17.24 Billion |
| CAGR Growth Rate | 16.9% CAGR |
| Base Year | 2021 |
| Forecast Years | 2022-2030 |
| Key Market Players | HempMedsBrasil, Hemp, Inc., Valley Bio Ltd., HempFlax B.V., American Cannabis Company, Plains Industrial Hemp Processing Ltd., Boring Hemp Company, Ecofiber Industries Operations, Marijuana Company of America, Inc., Terra Tech Corp., CBD Biotechnology Co., American Hemp, Botanical Genetics, LLC, Industrial Hemp Manufacturing, LLC, and Parkland Industrial Hemp Growers Cooperative Ltd., among others |
| Key Segment | By Application Prospects, By Product Prospects, and By Region |
| Major Regions Covered | North America, Europe, Asia Pacific, Latin America, and the Middle East & Africa |
| Purchase Options | Request customized purchase options to meet your research needs. Explore purchase options |
Regional Landscape
Asia Pacific region is expected to be fastest-growing market during the forecast period
Asia Pacific region leads the industrial hemp industry, contributing to more than 33% of global sales. India, China, Japan, Australia, Korea, Thailand, and New Zealand are all heavily involved in the use and production of industrial hemp and its byproducts, including seeds, fiber, oil, and hurds. Growing global sales, as well as technological and innovation improvements, are allowing harvesting simpler for planters and thus changing the face of hemp production in the region. The regional industrial hemp market is prone to be affected by the growing demand for hemp-based food and supplements in developing nations with an aging population over the forecast period.
North America is one of the largest consumers in the global industrial hemp market due to the existence of multiple application areas. Furthermore, rising consumer spending power, a rising elderly group, and heightened concerns about skin disorders & UV protection are projected to fuel demand for hemp oil in the personal care industry in the region. In Europe, the product is mostly employed in the form of fibers in construction materials, automotive parts, fabrics, and textiles. The hemp seed market, on the other hand, is expected to be driven by the growing market for hemp oil in the personal care, food & supplements, and cosmetics markets throughout the projected period.
Recent Developments
October 2020: Diamonds is a new CBD product from Hemp Inc. that is produced from golden-hued high CBD and gives the same results as 92 percent and 98.7 percent pure CBD.
May 2019: Atalo Holdings (US) and GenCanna have formed a strategic alliance to construct a fully integrated hemp production and handling facility in Kentucky, US.
Competitive Landscape
Some of the main competitors dominating the global industrial hemp market are HempMedsBrasil, Hemp, Inc., Valley Bio Ltd., HempFlax B.V., American Cannabis Company, Plains Industrial Hemp Processing Ltd., Boring Hemp Company, Ecofiber Industries Operations, Marijuana Company of America, Inc., Terra Tech Corp., CBD Biotechnology Co., American Hemp, Botanical Genetics, LLC, Industrial Hemp Manufacturing, LLC, and Parkland Industrial Hemp Growers Cooperative Ltd.
The global industrial hemp market is segmented as follows:
By Application Prospects
Paper
Personal Care
Automotive
Textiles
Food & Beverages
Animal Care
Furniture
Construction Materials
Others
By Product Prospects
By Region
North America

The U.S.
Canada
Mexico
Rest of North America

Europe

France
The UK
Spain
Germany
Italy
Nordic countries

Denmark
Finland
Iceland
Sweden
Norway

Benelux Reunion

Belgium
The Netherlands
Luxembourg

Rest of Europe

Asia Pacific

China
Japan
India
New Zealand
Australia
South Korea
Southeast Asia

Indonesia
Thailand
Malaysia
Singapore
Rest of Southeast Asia

Rest of Southeast Asia

The Middle East & Africa

Saudi Arabia
UAE
Egypt
Kuwait
South Africa
Rest of Middle East & Africa

Latin America

Brazil
Argentina
Rest of Latin America