Industry Insights
[197+ Pages Report] We at Facts & Factors have recently published an analytical study titled "Global Hand Sanitizer Market" that captures the market in terms of applications, uses, and a regional overlook. We estimate that the total global Hand Sanitizer Market revenue for the projected forecast will fall at USD 17 Billion in 2026 from an initial value of USD 8 Billion from 2020 with a CAGR growth rate of 31% during the forecast period 2021-2026.
Market Overview
Hand sanitizers or hand disinfectants are designed to eliminate a wide variety of viruses/bacteria/microorganisms that can prove harmful to the human anatomy. While hand sanitizers can eliminate germs on a physical scale than standard practices, it is highly effective at removing germs that cannot be subdued by the latter. Moreover, hand sanitizers are often highly effective in eliminating germs of the norovirus and clostridium difficult family. Hand sanitizers are often utilized in processes that require a clean form of surface transmissive applications such as operation theatres.
Industry Growth Factors
The major driving forces behind the growth of the global hand sanitizer market can be contributed to the advent of COVID-19 at the beginning of the forecast period coupled with increasing consumer preferences such as a higher degree of personal hygiene. Furthermore, the rapid availability among brick and mortar stores across the globe and the increasing footprint of e-commerce will further propel the growth of the market during the forecast.
Moreover, the novel advantage of hand sanitizers of cleanability without any use of water makes it a highly viable solution for a long list of applications where water scarcity is present. Promotional campaigns by the government and the ability of hand sanitizers to be transported at a mobile pace will further propel the growth of the market. Rising advertisement efforts and the rising influence of online and social media measures will open new revenue streams over the advent of the forecast. Added benefits of hand sanitizers such as decreasing dryness of skin, minimized risk of gastrointestinal and respiratory infection among disease-bound patients will further propel the growth of the market.
Latest product innovations and new product development at a constant rate will increase the consumer base for the global hand sanitizer market in terms of global volumetric sales. Furthermore, additional factors such as improvements in health standards, rising healthcare infrastructure, rising awareness among hand hygiene practices, and support from global organizations such as WHO and FDA for extended use cases will drive the global hand sanitizers market over the forecast period. However, factors pertaining to the use of chemical ingredients among manufacturers are expected to hamper the growth of the market to a certain extent.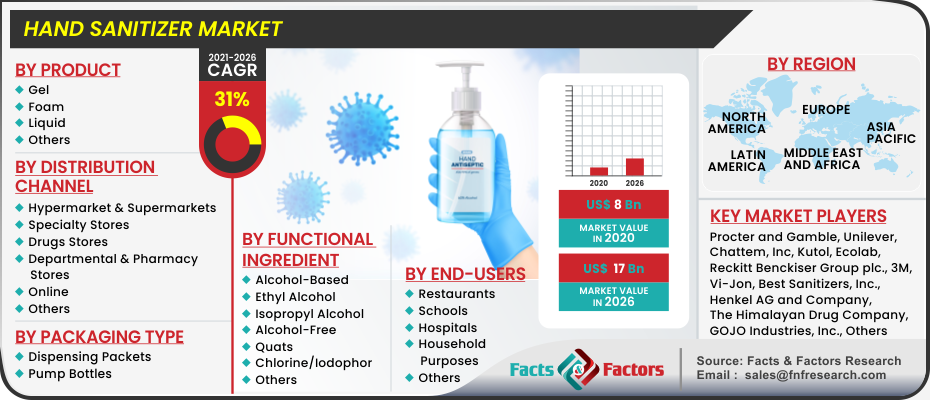 To know more about this report | Request Free Sample Copy
Segmentation Analysis
The global hand sanitizer market can be segmented on the basis of product, distribution channel, functional ingredient, packaging type, end-users, and regions.
The global hand sanitizer market can be divided into gel, foam, liquid, and others. The gel segment is expected to witness the largest market share with current trends predicting a market share of over 45% across the forecast period. The factors responsible for the dominant position in the market can be credited to the easy availability and wider access of products. Additional factors include a wider range of flavors affecting fragrance and decreased microbial population upon usage. The foam-based segment will account for the second-largest market share owing to its ability to penetrate the skin and initialize for a longer period of time.
The global hand sanitizer market can be broken down into hypermarket and supermarkets, specialty stores, drugs stores, departmental & pharmacy stores, online, and others. Hypermarkets and supermarkets are expected to witness the largest market share during the advent of the forecast owing to a wider range of availability of products in a higher volume means. Moreover, this distribution channel boasts a quicker delivery time and pickup services compared to the online mode of distribution.
By functional ingredients, the market can be segregated into alcohol-free and alcohol-based. The alcohol-free category is expected to grow at a faster rate owing to its low effect on the skin. Furthermore, the quaternary ammonium compounds and water content helps lower microbial load and also moisturize skin. Based on packaging type, the hand sanitizer market is categorized into dispensing packets and pump bottles.
The global hand sanitizer market can be fragmented into restaurants, schools, hospitals, household purposes, and others on the basis of end-users. Hospitals are expected to witness the largest market share during the forecast in terms of global revenue collection. Risks of infections among hospital settings and the need for sanitization for a wide variety of applications and medical procedures will boost the market value for the latter. However, with the advent of COVID-19, the segment pertaining to household purposes will witness the fastest growing CAGR during the advent of the forecast.
Regional Analysis
North America is expected to witness the largest market share during the advent of the forecast period in terms of global revenue collection. The region is expected to contribute over 30% of total revenue pertaining to factors such as wider availability of products coupled with increased online penetration. Moreover, the presence of offline modes of distribution and the presence of key players in the region will boost the growth of the hand sanitizer market in the region. The region is also expected to play a key role in the hand sanitizer market owing to the largest consumer base focused on personal care and hygiene products. Asia-Pacific is expected to witness the fastest growing CAGR during the forecast period owing to increasing awareness of personal hygiene among consumers and an increase in the latest product innovation and product development in the region.
Report Scope
| | |
| --- | --- |
| Report Attribute | Details |
| Market Size in 2020 | USD 8 Billion |
| Projected Market Size in 2026 | USD 17 Billion |
| CAGR Growth Rate | 31% CAGR |
| Base Year | 2020 |
| Forecast Years | 2021-2026 |
| Key Market Players | Procter and Gamble, Unilever, Chattem, Inc, Kutol, Reckitt Benckiser Group plc., Vi-Jon, Best Sanitizers, Inc., Henkel AG and Company, GOJO Industries, Inc., The Himalayan Drug Company, 3M, Certus Medical, Ecolab, and Colgate-Palmolive Company, among others. |
| Key Segment | By Product Type, By Distribution Channel, By Functional Ingredient, By Packaging Type, By End-User, and By Region |
| Major Regions Covered | North America, Europe, Asia Pacific, Latin America, and the Middle East & Africa |
| Purchase Options | Request customized purchase options to meet your research needs. Explore purchase options |
Global Hand Sanitizers Market: Key Players
The key participants in the global hand sanitizer market are :
Procter and Gamble
Unilever
Chattem Inc
Kutol, Reckitt Benckiser Group plc.
Vi-Jon
Best Sanitizers Inc.
Henkel AG and Company
GOJO Industries Inc.
The Himalayan Drug Company
3M
Certus Medical
Ecolab
Colgate-Palmolive Company
By Product Segment Analysis
By Distribution Channel Segment Analysis
Hypermarket & Supermarkets
Specialty Stores
Drugs Stores
Departmental & Pharmacy Stores
Online
Others
By Functional Ingredient Segment Analysis
Alcohol-Based
Ethyl Alcohol
Isopropyl Alcohol
Alcohol-Free
Quats
Chlorine/Iodophor
Others
By Packaging Type Segment Analysis
Dispensing Packets
Pump Bottles
By End-Users Segment Analysis
Restaurants
Schools
Hospitals
Household Purposes
Others
By Regional Segment Analysis
North America
Europe

UK
France
Germany
Italy
Spain
Rest of Europe

Asia Pacific

China
Japan
India
South Korea
Southeast Asia
Rest of Asia Pacific

Latin America

Brazil
Mexico
Rest of Latin America

Middle East and Africa

GCC Countries
South Africa
Rest of MEA
KEY REPORT POINTERS & HIGHLIGHTS
Statistically Validated Analysis of Historical, Current, and Projected Industry Trends with Authenticated Market Sizes Information and Data in terms of Value and Volume, wherever applicable
Direct and Indirect Factors that Impacted the Industry as well Projected Rationales expected to affect the industry going forward
Micro, Meso, Macro, and In-Depth Analysis of Technically relevant and Commercially viable Segments and Sub-segments of the Market
Historical and Projected Company / Vendor / OEM / Supplier Market Shares, Competitive Landscape, and Player Positioning Data
Historical and Current Demand (Consumption) and Supply (Production) Scenarios as well as Projected Supply-Demand Scenario Analysis
Detailed List of Key Buyers and End-Users (Consumers) analyzed as per Regions and Applications
Value Chain and Supply Chain Analysis along with Horizontal and Vertical Integration Scenarios
Manufacturing and Production Cost Structure Analysis including Labor Cost, Raw Material Expenses, and Other Manufacturing Expenses, wherever relevant
Overview of Key Marketing Strategies and Key Sales Channels Adopted in the Market
Market Attractiveness Analysis and Key Investment Opportunity Analysis in the Market going forward
Technological Roadmap, Patents Analysis, Potential Substitutes, and Technical Analysis
The professionally substantiated market research report study is calculated, constructed, and assembled by implementing a Robust Research Methodology. The Triangular Process comprises a buoyant mix of Exhaustive Primary Research (focused interviews, questionnaires, and ad-hoc surveys) and Extended Secondary Research (paid external databases, proprietary in-house database, and publically-available validated sources), where it is finally triangulated and validated through in-house industry experts, industry leaders, and independent consultants through a tri-level quality check practice.