Industry Insights
[195+ Pages Report] Global HADOOP-AS-A-SERVICE (HAAS) market was valued at approximately USD 7.35 billion in 2019 and is expected to generate revenue of around USD 74.84 billion by end of 2026, growing at a CAGR of around 39.3% between 2020 and 2026.
Market Overview
Hadoop is a major big data analytics tool. Companies that need real-time analytics from data such as video, audio, email, data from a multitude of sensors, and data from external sources such as social media and the internet use Hadoop-based applications. Hadoop as a service allows organization technical specialists to perform a variety of activities including Big Data Management, Big Data Analytics, and Big Data Storage in a cloud. The HAAS platform allows companies to make highly cost-effective and minimum time-consuming use of Hadoop technology.
Hadoop as a service is widely recognized in a variety of sectors, including manufacturing, information technology and banking, and telecommunications. One of the emergent trends is the increased acceptance by small and medium-sized enterprises of HaaS. Indeed, SMEs were among the first to use cloud computing technology since this end-user segment already knows about the benefits of cloud computing. As a result, HaaS providers are looking at taking advantage of the increased demand from the SME segment for this technology.
Industry Growth Factors
The increasing demand for cost-efficient solutions for the management of big data is one of the key factors driving the global hadoop-as-a-service market. Hadoop's ability, together with the cost-effective cloud computing technology, to analyze, and handle large volumes of data efficiently allows firms to manage big data of small and large size economically. The market is now pushing down prices of cloud-based services, increasing demand for HaaS from SMEs, agility, and versatility for companies. In addition, market growth is boosted by the need to minimize complexity and increase technical expertise.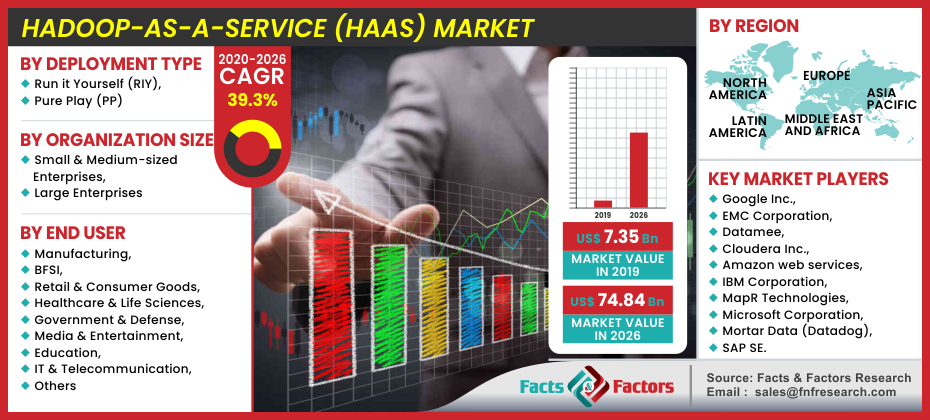 Global HADOOP-AS-A-SERVICE (HAAS) Market: Segmentation
The worldwide HAAS market can be divided on the basis of deployment type, application, and enterprise size. Further, deployment mode is segmented into run-it-yourself and pure play. Additionally, on an application basis, the worldwide market can be categorized into retail & consumer goods, media & entertainment, manufacturing, it & telecommunication, healthcare & life sciences, government & defense, education, BFSI, and others. Moreover on an organization size basis market is further divided into SMEs and large enterprises.
Global HADOOP-AS-A-SERVICE (HAAS) Market: Regional Analysis
North America dominated the global market in the year 2019 and is also anticipated to have a major market share in the near future. In North America, there is expected to be an increasing demand for some SMEs as well as a range of cost-effective cloud services. Moreover, it offers opportunities for market development to offer flexibility and agility for companies. During the prediction era, the prevalence of many Hadoop providers and technology suppliers in North America is predicted to boost the regional market growth. APAC is expected to grow at the highest CAGR over the time frame owing to the increasing technological expenditure in developing economies like India & China.
Global HADOOP-AS-A-SERVICE (HAAS) Market: Competitive Players
Some of the key players in the HADOOP-AS-A-SERVICE (HAAS) Market are Google Inc., EMC Corporation, Datamee, Cloudera Inc., Amazon web services, IBM Corporation, MapR Technologies, Microsoft Corporation, Mortar Data (Datadog), and SAP SE among Others.
Global HADOOP-AS-A-SERVICE (HAAS) Market: Regional Segment Analysis
North America
Europe
The Asia Pacific
Latin America
The Middle East and Africa