Covid-19
Global Hacksaw Blades Market Size, Share
The pandemic continues to cause unprecedented disruption across industries worldwide.Get detailed insights regarding the impact of COVID-19 on the market. Request Sample
Industry Insights
[195+ Pages Report] According to the report published by Facts and Factors, the global hacksaw blade market was valued at approximately USD 914.36 Million in 2019 and is expected to generate revenue of around USD 1,209 Million by end of 2026, growing at a CAGR of around 4.5% between 2020 and 2026.
Global Hacksaw Blade Market: Overview
Hacksaw Blade is a tool that is mostly used to cut metals. It is designed with features such as a fine-toothed saw for sharp cutting of the hard metals. It is mostly used in the manufacturing and construction industry where cutting and joining of the metal often takes place. Based on the requirement and usage, hacksaw blades are available in different sizes and designs to fit the requirement. As the construction and manufacturing industry grows the demand for hacksaw blades is scalable.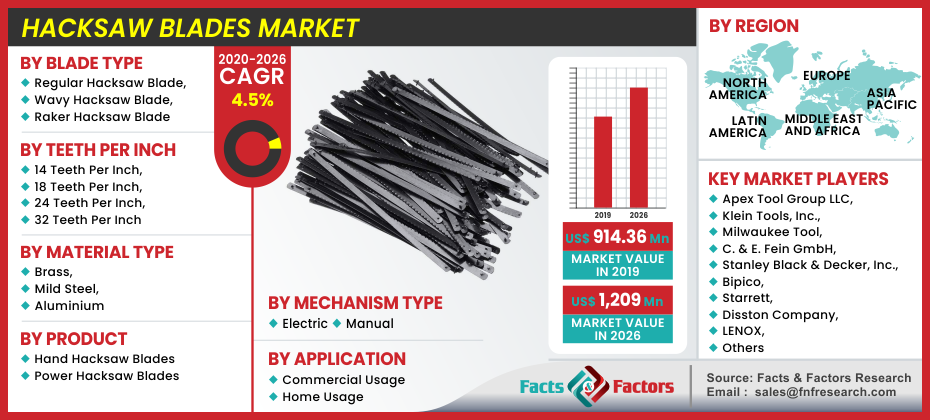 Global Hacksaw Blade Market: Growth Factors
Growing urbanization is one of the major propellants which are driving the market of hacksaw blade. Rising urbanization has led to huge demand in the construction industry for residential and commercial projects. These industries require a high number of tools and a hacksaw blade is the important one. It is required in cutting small metal parts, cutting PVC pipe for water and electrical installations. Commercial projects in cities need robust electrical systems and water supply systems, it requires cutting of PVC pipe of varying lengths. Thus, the demand for hacksaw blades is high in urban areas. Similarly, improvements in technology like electric hacksaw blades have increased the utility of the tool and hence the demand for the tool has increased in the manufacturing and construction industry. Bimetal hacksaw blade which has variable teeth per inch has maximum uses in the residential sector. In an urban area as the service of the providers is becoming costly, consumers are inclined to have a well-equipped toolbox at the home, and a hacksaw blade especially a bimetal hacksaw blade is one of the important components of the toolbox.
Global Hacksaw Blade Market: Segmentation
The global Hacksaw Blade market is segmented on the basis of types as a regular hacksaw blade, wavy hacksaw blade, and a raker hacksaw blade. On the basis of teeth per inch, the global market is categorized as 14 teeth per inch, 18 teeth per inch, 24 teeth per inch, and 32 teeth per inch. By material, the market is classified into brass, mild steel, and aluminum and it is estimated that demand for mild steel hacksaw blade will be maximum owing to its metallic property of strength. By product, the market is divided into hand hacksaw blades and power hacksaw blades. By mechanism, the market is divided into electric and manual, and electric-driven blade usage is growing faster due to its increased utility. Furthermore, the Hacksaw Blade market is divided on the basis of application as commercial and residential and. commercial segment is likely to grow with high CAGR
Global Hacksaw Blade Market: Regional Analysis
Geographically, the APAC region is likely to spearhead the global hacksaw blade market. The high growth of rate of the construction industry and manufacturing sector in this region is driving the market. An international agreement such as RCEP has further liberalized the market unlocking the potential of the market further. North America and Europe are also showing the positive market trend as residential usage due to DIY and renewed interest in the home activities.
Global Hacksaw Blade Market: Competitive Players
Some of the major players contributing their efforts in terms of products and services include Apex Tool Group LLC, Klein Tools, Inc., Milwaukee Tool, C. & E. Fein GmbH, Stanley Black & Decker, Inc., Bipico, Starrett, Disston Company, LENOX, Snap-on Inc., and Techtronic Industries Co. Ltd.
Global Hacksaw Blade Market: Regional Segment Analysis
North America
Europe

UK
France
Germany
Italy
Spain
Rest of Europe

Asia Pacific

China
Japan
India
South Korea
Southeast Asia
Rest of Asia Pacific

Latin America

Brazil
Mexico
Rest of Latin America

Middle East and Africa

GCC Countries
South Africa
Rest of MEA