Covid-19
Global Flexible Display Market Size, Share
The pandemic continues to cause unprecedented disruption across industries worldwide.Get detailed insights regarding the impact of COVID-19 on the market. Request Sample
Industry Insights
[221+ Pages Report] According to a report issued by Facts and Factors, the global flexible displays market was registered at about USD 12.4 billion in 2020, and is expected to reach USD 73 billion by the end of 2026, growing at a approximate CAGR of 34.4% between 2021 and 2026.
REPORTING DATA TIMEFRAME

Parameter

Details

Historical Data (Actual Data)

2016 - 2020

Base Year Data

2020

Current Year Data

2021

Projected Data

2021 - 2026
Market Overview
Flexible displays are lightweight, indestructible, and adaptable. Active-matrix displays, such as thin-film transistors on a plastic substrate, are used in this technology. Flexible displays provide numerous advantages such as bendable, lightweight, shatter-proof, portable, unbreakable, ultra-thin, and consuming minimal energy.
Industry Growth Factors
The flexible display market is being driven by rising consumer electronics usage and a thriving smart wearable devices industry. These displays and lighting panels are being used by device manufacturers to provide flexibility, durability, lightweight structure, and bendability in their products. Mobile phone displays, wearable electronics, TV panels, tablet displays, and notebooks are all using them. Citing an instance, Samsung Display, provides a flexible and unbreakable OLED screen with a clear plastic cover for consumer gadgets, giving the sector a boost. The flexible display industry is being driven by rising demand for energy-efficient and low-power devices. For instance, Apple's iPhone X has an integrated OLED display that demonstrates this characteristic, enhancing gadget longevity and performance. The flexible display market's expansion is being hampered by technical issues with these components. Because OLEDs use chemically reactive electrodes, which deteriorate the layer when they come into touch with moisture, the materials utilized in these devices have been discovered to be sensitive to air or moisture. To address these issues, a thin film encapsulation is placed in OLED panels, such as OLED, which protects devices from damage while also allowing for higher and more flexible image quality.
Segmentation Analysis
The global flexible display market is segregated into type, material type, technology, and application. The types are LCD, OLED, Electronic Paper Display (EPD), and LED. In terms of material type, the market has been classified into glass, plastic, and others. Based on technology, the industry has been bifurcated into emissive, and non-emissive. The application of the market is bifurcated into smartphones & tablets, smart wearables, televisions & digital signage systems, personal computers and laptops, e-reader, vehicles & public transports, and smart home appliances.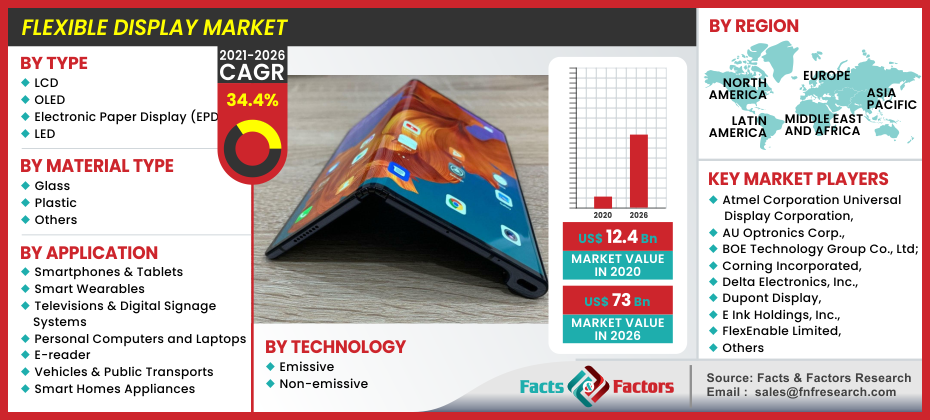 Regional Analysis
North America is expected to grow owing to the increasing need for energy-efficient gadgets. Due to the high demand for flexible displays in the automobile industry, Europe is likely to develop significantly in the future years. The Asia-Pacific area is rapidly establishing itself as a critical hub for the development of flexible displays, notably in the consumer electronics sector. Most countries in the region, notably those in East Asia, have had sustained growth mostly due to flexible displays in Japan, China, South Korea, Taiwan, and Singapore.
Competitive Players
Some main participants of the global flexible display market are Atmel Corporation Universal Display Corporation, AU Optronics Corp., BOE Technology Group Co., Ltd., Corning Incorporated, Delta Electronics, Inc., Dupont Display, E Ink Holdings, Inc., FlexEnable Limited, Hewlett-Packard Company, Innolux Corp., Japan Display Inc., Kent Displays, Inc., LG Display Co., Ltd., Koninklijke Philips N.V., Materion Corporation, Nanolumens, Novaled AG, Panasonic Corporation, ROYOLE Corporation, Samsung Electronics Co., Ltd., Sharp Corporation, Tianma, Viewpointec, and OSRAM Automotive among others.
The global flexible display market is segmented as follows:
By Type:
LCD
OLED
Electronic Paper Display (EPD)
LED
By Material Type:
By Technology:
By Application:
Smartphones & Tablets
Smart Wearables
Televisions & Digital Signage Systems
Personal Computers and Laptops
E-reader
Vehicles & Public Transports
Smart Homes Appliances
Flexible Display Market: Regional Segment Analysis
North America
Europe

UK
France
Germany
Italy
Spain
Rest of Europe

Asia Pacific

China
Japan
India
South Korea
Southeast Asia
Rest of Asia Pacific

Latin America

Brazil
Mexico
Rest of Latin America

Middle East and Africa

GCC Countries
South Africa
Rest of MEA