Industry Insights
[235+ Pages Report] According to Facts and Factors, the global firefighting foam market size was worth around USD 5.51 billion in 2022 and is predicted to grow to around USD 6.72 billion by 2030 with a compound annual growth rate (CAGR) of roughly 3.81% between 2023 and 2030. The report analyzes the global firefighting foam market drivers, restraints/challenges, and the effect they have on the demands during the projection period. In addition, the report explores emerging opportunities in the firefighting foam market.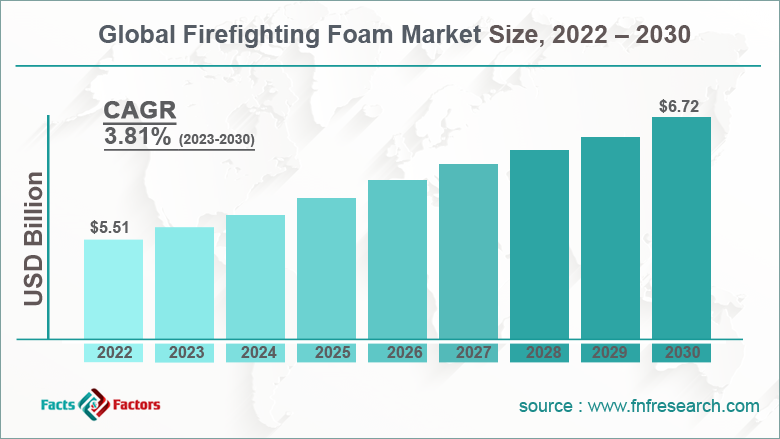 To know more about this report | Request Free Sample Copy
Market Overview
It is a global industry responsible for the production and sales of foam-based products that are useful during firefighting activities. During such events, foam-based products are useful in extinguishing fires, especially in cases when they are caused by flammable gasses or liquids. The application of the foam allows for the creation of a covering agent over the fire which assists in preventing oxygen from further fueling the fire, thus helping in controlling fire spread.
The fraternity includes sales and production of different types of foam including alcohol-resistant aqueous film-forming foam (AR-AFFF), film-forming foam (AFFF), and protein foam amongst many others. They are used in various end-user verticals, especially in sectors that work around or with flammable substances like aviation, oil and gas, firefighting, and marine services. The market is run by producers, suppliers, manufacturers, and raw material providers for creating firefighting foam. The demand in the industry is expected to grow steadily during the coming years.
Key Insights
As per the analysis shared by our research analyst, the global firefighting foam market is estimated to grow annually at a CAGR of around 3.81% over the forecast period (2022-2030)
In terms of revenue, the global firefighting foam market size was valued at around USD 5.51 billion in 2022 and is projected to reach USD 6.72 billion, by 2030.
The market is projected to grow at a significant rate due to the growing demand in end-user verticals
Based on end-user segmentation, oil & gas was predicted to show maximum market share in the year 2022
Based on fire type segmentation, class B was the leading type in 2022
On the basis of region, North America was the leading revenue generator in 2022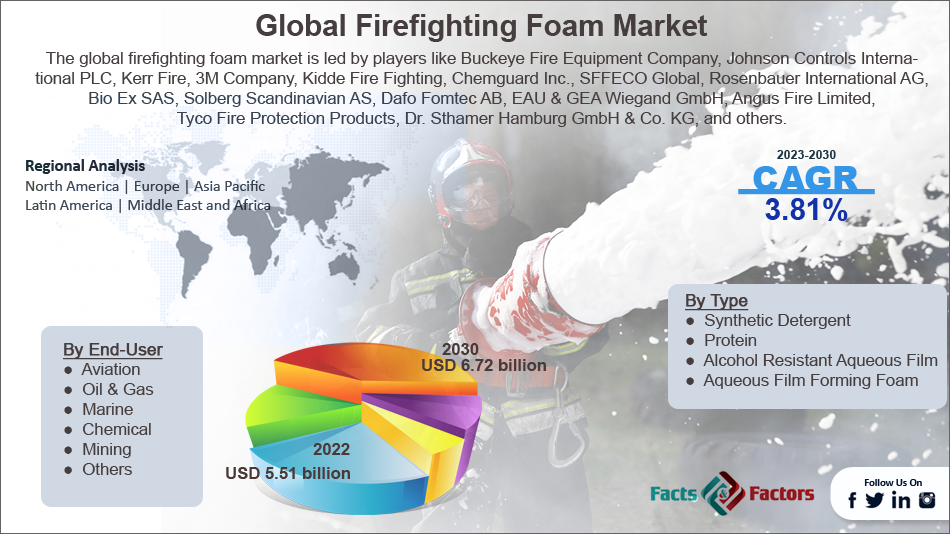 To know more about this report | Request Free Sample Copy
Growth Drivers
Growing demand in end-user verticals to propel market growth
The global firefighting foam market is projected to grow owing to the increasing demand in the end-user verticals. Products that deal with fire safety are regarded as essential kits and in certain sectors, there are mandatory regulatory procedures surrounding the use of firefighting products. As the demand in the end-user verticals is growing with the rapid expansion of oil & gas, marine, and aerospace sectors, firefighting foams are gaining more requests. These industries are a few of the largest consumers of the products but they are used in other sectors as well due to their application in controlling fire hazards. Furthermore, the growing grip of government regulations over the use of products that provide safety against fire in small, medium, or large establishments could act in the favor of the industry.
Restraints
Environment concerns to restrict market expansion
Firefighting foam is known to have a significant impact on the environment since they generally contain harmful chemicals that persist in the ecosystem for a long duration. For instance, most of the products contain some amount of poly-fluoroalkyl substances (PFAS) that are known to be harmful to humans and wildlife. Research studies have concluded that these products become a part of the food chain over time thus creating a global impact on the ecosystem.
Opportunities
Development of eco-friendly products to provide growth opportunities
The global sales volume may gain higher momentum due to the growing importance of the development of eco-friendly firefighting foam. End-users are demanding products that have little to no impact on the environment and suppliers are working consistently toward the development of eco-friendly products that do not contain harmful chemicals but perform equally well or better than contemporary products.
Additionally, the growing importance of training and education in the use of the products during firefighting activities could create higher revenue.
Challenges
Lack of awareness to challenge market growth
Although fire safety is important and the rate of awareness regarding measures companies or industries can adopt in case of fire hazard is growing, the number is significantly less. Furthermore, certain countries do not have strict action plans in place for situations where regulatory measures are avoided by businesses. These factors are significant challenges working against global industry expansion.
Segmentation Analysis
The global firefighting foam market is segmented based on end-user, type, fire type, and region.
Based on end-user, the global market segments are aviation, oil & gas, marine, chemical, mining, and others.
Oil and gas is the largest contributor in the industry and it is mainly because the sector is extremely risk-prone since it deals with hazardous and flammable substances
The industry utilizes firefighting foam to suppress explosions and fires that may occur during various operational activities like the transportation of oil & gas, refining, or drilling
For instance, the International Association of Oil & Gas Producers (IOGP) reported around 11 fire accidents on oil rigs in 2019
Other important industries chemical, mining, and aviation that are also high-risk sector
Based on type, the global market divisions are synthetic detergent, protein, alcohol-resistant aqueous film (AR-AFFF), and aqueous film forming foam (AFFF).
Based on fire type, the global market segments are class A, class B, and class C.
The industry registered the highest growth in the class B segment in 2022. This type of fire is caused by flammable liquids like oil, propane, and gasoline
Firefighting foam is highly effective in managing class B type of fire since it acts as a blanket over it and prevents re-ignition. Furthermore, it also acts as a cooling agent thus disabling fire spread
Class A is another significant contributor and this type is caused by ordinary combustibles but in such cases, the most preferred for preventing or controlling the fire is water
As a thumb rule, in the case of class B fire, 0.16 liter of foam is required per square meter
Recent Developments:
In January 2023, The Pentagon, the headquarter of the defense department of the United States, released a new set of requirements for the firefighting foam that is used by the country's military. As per the new requirements, the Pentagon is expected to stop using PFAS-based foams by October 1 and is applied to land-based liquid fires. This comes in as a response to the environmental pollution caused by firefighting foams
In January 2022, the state of Indiana, US has launched a new program toward regulating the use of certain chemicals in firefighting foam which is known to be toxic. The chemicals in the foam have largely polluted the state's public water supply
In May 2022, Shabondama Soap, a company based out of Fukuoka and responsible for manufacturing additive-free soap, announced the development of an eco-friendly firefighting foam agent that can be used during forest fires
Report Scope
| | |
| --- | --- |
| Report Attribute | Details |
| Market Size in 2022 | USD 5.51 Billion |
| Projected Market Size in 2030 | USD 6.72 Billion |
| CAGR Growth Rate | 3.81% CAGR |
| Base Year | 2022 |
| Forecast Years | 2023-2030 |
| Key Market Players | Buckeye Fire Equipment Company, Johnson Controls International PLC, Kerr Fire, 3M Company, Kidde Fire Fighting, Chemguard Inc., SFFECO Global, Rosenbauer International AG, Bio Ex SAS, Solberg Scandinavian AS, Dafo Fomtec AB, EAU & GEA Wiegand GmbH, Angus Fire Limited, Tyco Fire Protection Products, Dr. Sthamer Hamburg GmbH & Co. KG., and others. |
| Key Segment | By End-User, Type, Fire Type, and Region |
| Major Regions Covered | North America, Europe, Asia Pacific, Latin America, and the Middle East &, Africa |
| Purchase Options | Request customized purchase options to meet your research needs. Explore purchase options |
Regional Analysis
North America to register high growth
The global firefighting foam market is anticipated to witness the highest growth in North America during the projection period mainly due to the already existing extensive use of these foams during all types of fires. Furthermore, the region is one of the most heavily regulated areas in terms of environmental and industrial safety which leads to high adoption of fire safety measures by all companies including large-scale and small or medium-sized. In addition to this, the high awareness rate amongst the population regarding fire hazards along with the presence of well-established firefighting agents could act as leading growth propellers.
However, it is essential to note that there are growing concerns over the large-scale environmental impact of chemical-based firefighting foam as the level of water pollution has increased tremendously over the last couple of years. The government is undertaking measures to get rid of harsh chemical pollutants contained in these foams.
Competitive Analysis
Buckeye Fire Equipment Company
Johnson Controls International PLC
Kerr Fire
3M Company
Kidde Fire Fighting
Chemguard Inc.
SFFECO Global
Rosenbauer International AG
Bio Ex SAS
Solberg Scandinavian AS
Dafo Fomtec AB
EAU & GEA Wiegand GmbH
Angus Fire Limited
Tyco Fire Protection Products
Dr. Sthamer Hamburg GmbH & Co. KG.
The global firefighting foam market is segmented as follows:
By End-User Segment Analysis
Aviation
Oil & Gas
Marine
Chemical
Mining
Others
By Type Segment Analysis
Synthetic Detergent
Protein
Alcohol Resistant Aqueous Film (AR-AFFF)
Aqueous Film Forming Foam (AFFF)
By Fire Type Segment Analysis
By Regional Segment Analysis
North America
Europe

France
The UK
Spain
Germany
Italy
Nordic Countries
Benelux Union

Belgium
The Netherlands
Luxembourg

Rest of Europe

Asia Pacific

China
Japan
India
Australia
South Korea
Southeast Asia

Indonesia
Thailand
Malaysia
Singapore
Rest of Southeast Asia

Rest of Asia Pacific

The Middle East & Africa

Saudi Arabia
UAE
Egypt
South Africa
Rest of the Middle East & Africa

Latin America

Brazil
Argentina
Rest of Latin America