Industry Insights
[218+ Pages Report] According to Facts and Factors, the global Fiber Bragg Grating (FBG) Market size was valued at USD 1428.4 million in 2021 and is predicted to increase at a CAGR of 23.9% to USD 5167.4 million by 2028. The study examines the market in terms of revenue in each of the major regions, which are classified into countries.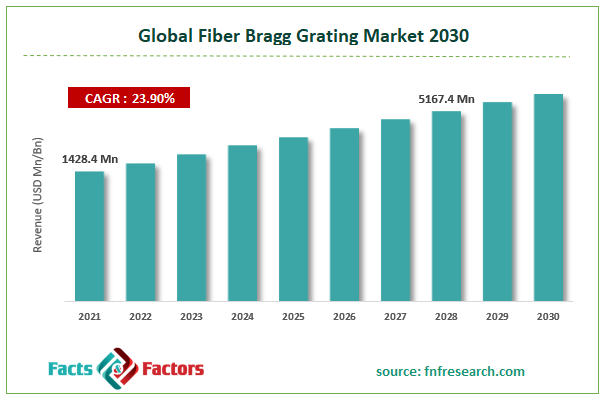 To know more about this report | Request Free Sample Copy
Market Overview
A fiber bragg grating (FBG) is a sort of distributed Bragg reflector that is built in a short segment of optical fiber and capable of reflecting specific wavelengths while transmitting the rest. They're being employed as temperature and strain direct sensing elements. They can also be employed as a transducer, translating the output of another sensor that produces a strain or temperature change in the measurement. They have a stable structure, making them appropriate for telecommunications applications such as add/drop, filters, dense wavelength division multiplexing, mux/demux, and lasers. Fiber bragg grating sensors are being used to detect vibration, temperature, and sound fluctuations in aircraft and their components. FGBs are currently being used as sensors as a result of ongoing technological advancements and lower telecommunications device and equipment prices.
When a fiber bragg grating is combined with a high-power tunable laser, measurements can be made over great distances with little or no signal degradation. In addition, unlike electrical sensing systems, each optical channel can measure thousands of fiber bragg grating sensors. As a result, measurement systems become smaller, more complicated, and lighter. Fiber bragg gratings are also employed in medical, aerospace, research & development, industrial, and telecommunication applications because they provide direct absolute measurement compared to old, standard electric & alternative fiber sensors. As a result of the benefits of fiber bragg grating, adoption is rapidly increasing, which is another driving force for the fiber bragg market.
Impact of COVID-19
The COVID-19 epidemic has wreaked havoc on a number of sectors. The virus's rapid spread has prompted governments around the world to put stringent restrictions on vehicle and person movement. The epidemic has impacted economies and multiple businesses in various countries as a result of travel bans, mass lockdowns, and business closures. The installation of the lockdown has resulted in a reduction in the production of commodities, goods, and services. Due to the temporary halt of activity, manufacturing, automotive, semiconductor and electronics, oil and gas, mining, aviation, and other industries have seen a drop in their operations. Because the manufacturing facilities had a limited workforce, the FBG market players also saw a drop in volume. The market has suffered as a result of this.
The complete research study looks at both the qualitative and quantitative aspects of the Fiber Bragg Grating (FBG) Market. Both the demand and supply sides of the market have been investigated. The demand side study examines market income in various regions before comparing it to all of the major countries. The supply side research examines the industry's top rivals, as well as their regional and global presence and strategies. Each major country in North America, Europe, Asia Pacific, the Middle East and Africa, and Latin America is thoroughly investigated.
Segmentation Analysis
The global Fiber Bragg Grating (FBG) Market is segregated based on type, application, and industry.
The global market is segmented by type into FBG Sensors, FBG Filter, and others. Sensors have changed the supply chain in a multitude of industries, as the technology has significantly reduced human labor, improved accuracy, and saved time. Furthermore, technical improvements made it possible for automation to take place. Electric sensors, for example, require electricity and are vulnerable to electromagnetic waves, which can cause the sensor to fail. A certain wavelength of light is reflected by the distributed bragg reflector architecture of fiber bragg grating sensors. These sensors can detect differences in temperature, stress, and pressure.
Telecommunication, Aerospace, Energy and Utilities, Transportation, and Others are the different types of worldwide applications. The Aerospace Industry is Set to Expand Significantly. Because the aircraft industry is recognized for its harsh and complicated operating environment, choosing a sensor that can withstand such conditions while also delivering the required accuracy, reliability, precision, and repeatability is crucial. Furthermore, fiber optic technology allows aircraft makers to install more dependable and lower-weight solutions in order to measure and monitor the temperature along the aircraft bleed air ducts, control valves, and in vital regions of the plane.
Report Scope
| | |
| --- | --- |
| Report Attribute | Details |
| Market Size in 2021 | USD 1428.4 Million |
| Projected Market Size in 2028 | USD 5167.4 Million |
| CAGR Growth Rate | 23.9% CAGR |
| Base Year | 2021 |
| Forecast Years | 2022-2028 |
| Key Market Players | AOS GmbH, Alnair Labs Corporation, FBGS Technologies GmbH, HBM Fibersensing S.A., ITF Technologies, Ixblue Photonics, Micron Optics, Proximion AB, Technica, TeraXion, and Others |
| Key Segment | By Type, Application, Industry, and Region |
| Major Regions Covered | North America, Europe, Asia Pacific, Latin America, and the Middle East & Africa |
| Purchase Options | Request customized purchase options to meet your research needs. Explore purchase options |
Regional Landscape
North America is anticipated to experience substantial growth. Stringent regulatory restrictions regarding passenger safety, as well as the region's fast-growing aerospace sector, are driving the market for fiber Bragg grating sensors in North America. The Asia Pacific region increased at the fastest rate during the projection period, owing to expanding economies. China holds a lot of promise for fiber bragg grating because of its inexpensive raw material costs and big manufacturing capabilities. The region's supremacy is attributed to increased internet usage in nations such as Japan, South Korea, China, and India. Furthermore, the rise of the fiber bragg grating sector is being fueled by the region's increasing industrialization.
List of Key Players in the Global Fiber Bragg Grating (FBG) Market:
AOS GmbH
Alnair Labs Corporation
FBGS Technologies GmbH
HBM Fibersensing S.A.
ITF Technologies
Ixblue Photonics
Micron Optics
Proximion AB
Technica
TeraXion
The Global Fiber Bragg Grating (FBG) Market is segmented as follows:
By Type
FBG Sensor
FBG Filter and others
By Application
Sensing
Measuring
Monitoring and others
By Industry
Telecommunication
Aerospace
Energy and Utilities
Transportation
Others
By Region
North America
Europe

France
The UK
Spain
Germany
Italy
Nordic Countries
Benelux Union

Belgium
The Netherlands
Luxembourg

Rest of Europe

Asia Pacific

China
Japan
India
Australia
South Korea
Southeast Asia

Indonesia
Thailand
Malaysia
Singapore
Rest of Southeast Asia

Rest of Asia Pacific

The Middle East & Africa

Saudi Arabia
UAE
Egypt
South Africa
Rest of the Middle East & Africa

Latin America

Brazil
Argentina
Rest of Latin America