Industry Insights
[225+ Pages Report] According to the report published by Facts and Factors, the global Fabric Steamer market was valued at approximately USD 2.45 Billion in 2019 and is expected to generate revenue of around USD 3.7 Billion by end of 2026, growing at a CAGR of around 6 % between 2020 and 2026.
Market Overview
A Fabric steamer, also known as a clothing steamer or simply a steamer, is a system that uses high-temperature steam to remove wrinkles from garments and fabrics. The working method of the streamer is by heating water until it turns into steam and then directing the steam toward a wrinkled fabric to loosen its fibers and remove wrinkles. Its water tank is filled with cool water, double-check that all of the machine's parts are attached and in place, plug it in, and simply wait for it to heat. When it's hot, the streamer is ready to start steaming. By pressing the steamer's activation button, one can ensure that it is ready. If steam comes out of the nozzle, it means it is easy to work. The easiest approach to keep the steamer in good working order is to only use distilled water. By taking this precaution it is ensured that no dangerous minerals or bacteria enter the machine's tank or steam outlets. To keep it free from minerals, tap water should be avoided else regular cleaning is required which is a tedious job. There are mainly three basic types of Fabric steamers: industrial floor models used in large manufacturing plants and dry cleaners, mid-sized models for small businesses such as small tailors, and the most recent evolution in the steamer industry, handheld mini steamers used in the home or while traveling. Steamers soften fabrics rather than flattening them, as conventional ironing does; this method is gentler on fabric and avoids scorching. As a result, a clothes steamer may be used to extract wrinkles from delicate fabrics like silk. Market attractiveness of fabric steamers increased as it comes in a variety of sizes, price ranges, and features. They are lightweight and simple to use and are built to handle a variety of fabrics and garments such as bedsheets, daily clothes etc. Fabric steamers may also be used to extract wrinkles from delicate fabrics like silk. These steamers can be equipped with a rust-proof water tank, which is usually made of stainless steel. During the forecast era, both of these features are expected to increase the market attractiveness of fabric steamers. By product, the market is divided into handheld and standalone. Travel clothes steamers are another name for handheld fabric steamers. Handheld fabric steamers are less efficient than standing fabric steamers.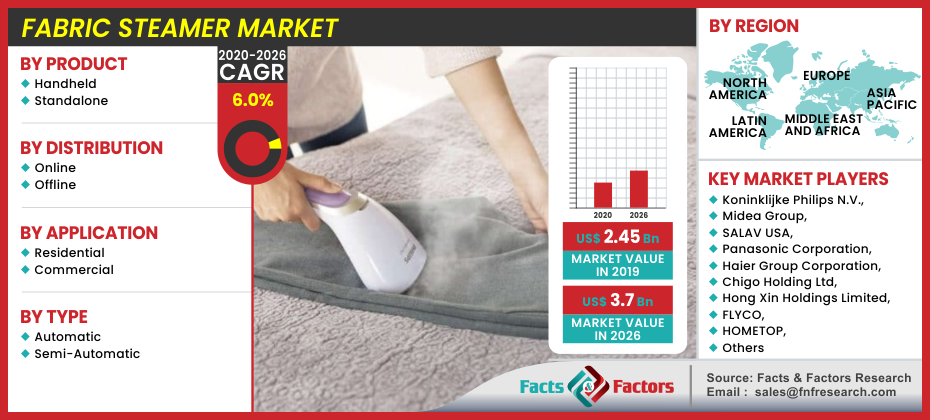 To know more about this report | Request Free Sample Copy
Industry Growth Factors
While the middle class in developed markets tends to feel squeezed, the middle class in Asia not only grows but also earns substantial income gains. This is great news for consumer-focused businesses, as the lifestyle and tastes of the region's new middle class are increasingly evolving as a result of global influence, creating opportunities for more luxury goods and services. There were 679 million middle-class households in emerging markets by the end of 2018 and this number is forecast to rise by 2.7% over the period through to 2030. In comparison, the number of middle-class households in developed countries stood at 176 million in 2018 and is forecast to rise by 6.3% in the period to 2030. This high number of the aspirational middle class has high disposable income and quest for a higher standard of living, thus the demand for fabric steamer is likely to increase with the higher presence of the middle class. Similarly, increasing the labor force participation rate of women will further increase the demand for consumer apparel and fashion business which will also induce the increase in the sale of fabric steamer.
Segmentation Analysis
The global Fabric Steamer market is segmented based on type as automatic and semi-automatic. It is believed that the growth of automatic steamer will increase immensely in the forecast period due to high improvements in the technology and high competition in the automatic segment will compel a manufacturer to introduce new products to attract consumer demand and this would propel the market demand. By distribution, the market is divided into online and offline. In 2018, the offline channel accounted for the greatest share of the market. The offline channel segment is being driven by the availability of some brands and a range of items in specialty shops, grocery stores, hypermarkets, and supermarkets. Offline stores provide convenient access to a variety of items, which contributes to segment growth. The expansion of the aforementioned networks, along with product variations in content, contributes to a rise in market revenue. Furthermore, the longer delivery time associated with online retailers' fuels development for the offline channel. However, the online segment is estimated to grow at the fastest rate during the forecast period due to an increase in the number of e-commerce websites offering a wide range of items, such as Walmart, Ali express, amazon etc. Such portals' door-to-door delivery and discounts also contribute to the segment's growth. By product, the market is divided into handheld and standalone. Travel clothes steamers are another name for handheld fabric steamers. Handheld fabric steamers are less efficient than standing fabric steamers. By application, the market is divided into commercial and residential.
Report Scope
| | |
| --- | --- |
| Report Attribute | Details |
| Market Size in 2019 | USD 2.45 Billion |
| Projected Market Size in 2026 | USD 3.7 Billion |
| CAGR Growth Rate | 6% CAGR |
| Base Year | 2019 |
| Forecast Years | 2020-2026 |
| Key Market Players | ABB, AlphaSense Inc., City Technology Ltd., Dynament, Figaro Engineering Inc., Membrapor, Nemoto & Co. Ltd., Robert Bosch LLC, Siemens, GfG Gas Detection UK Ltd., FLIR Systems, Inc., and Others |
| Key Segment | By Product, Distribution, Application, Type, and Region |
| Major Regions Covered | North America, Europe, Asia Pacific, Latin America, and the Middle East & Africa |
| Purchase Options | Request customized purchase options to meet your research needs.Explore purchase options |
Regional Analysis
Europe, led by the United Kingdom, has the largest share of the global market due to the increasing demand for advanced home appliances in countries such as Germany, the United Kingdom, and France. In Germany, for example, the household appliances market was priced at 3.9 billion euros in 2018. The Asia Pacific area, on the other hand, is projected to develop at the fastest rate of 7.31 percent during the forecast period. This expansion can be attributed to the growing demand for fabric care appliances in emerging markets like China and India. The consumer appliances industry in India is expected to develop at a rapid pace during the forecast period. Furthermore, the regional market will be driven by rising buying power and demand for productive and premium goods. Besides, a large number of manufacturers are attempting to reach the area due to the region's high growth potential, which will push the demand even further.
Competitive Players
Major players in the market are Koninklijke Philips N.V., Midea Group, SALAV USA, Panasonic Corporation, Haier Group Corporation, Chigo Holding Ltd, Hong Xin Holdings Limited, FLYCO, HOMETOP, GOODWAY, Conair Corporation, Jiffy Steamer, Reliable Corp, FRIDJA LIMITED., LG Electronics., Epica, Godrej & Boyce Mfg Co Ltd, IFB Industries Ltd, Samsung Electronics, Electrolux AB, GE Appliances, and others.
.Global Fabric Steamer Market: Regional Segment Analysis
North America
Europe

UK
France
Germany
Italy
Spain
Rest of Europe

Asia Pacific

China
Japan
India
South Korea
Southeast Asia
Rest of Asia Pacific

Latin America

Brazil
Mexico
Rest of Latin America

Middle East and Africa

GCC Countries
South Africa
Rest of MEA