Industry Insights
[220+ Pages Report] As per the market research report published by Facts and Factors, the global digital remittance market was worth around USD 15.27 billion in 2021 and is estimated to grow to about USD 36.54 billion by 2028, with a compound annual growth rate (CAGR) of approximately 14.6% over the forecast period. The report analyzes the digital remittance market's drivers, restraints/challenges, and the effect they have on the demands during the projection period. In addition, the report explores emerging opportunities in the digital remittance market.
Market Overview
Remittances are characterized as monetary support sent home by migrants. On the other hand, digital remittances are all the cross-border money transactions carried out via the internet by a migrant community. Fund transfers between residents and non-residents, as well as wages transferred from short-term workers in other nations to their home country, are examples of remittances. It now plays a significant role in the financial ecosystem. Even while overall remittances fell in 2020, digital remittances grew rapidly and continue to provide significant benefits to those who can make use of them. In that there appears to be no need for an in-person visit to a store or office to initiate a transfer, digital remittances are analogous to a person-to-person version of e-commerce.
Transferring a digital remittance necessitates the use of an app or a web browser, as well as a computer, mobile phone, or tablet. A digital finance system is also required. Furthermore, in recent years, digital remittances have benefited from the introduction of digital-first money transfer organizations (MTOs), and existing MTOs have responded by quickly adopting digital initiation and funding capabilities.
COVID-19 Impact:
The COVID-19 outbreak is known to be beneficial to businesses. The COVID-19 pandemic prompted people to rethink how they worked, lived, and interacted. As a result of global movement constraints, the global digital remittance market is likely to develop considerably during the forecast period. Customers are also resorting to digital wallets as the most efficient, quick, and simple option to transmit money abroad since the shutdown began.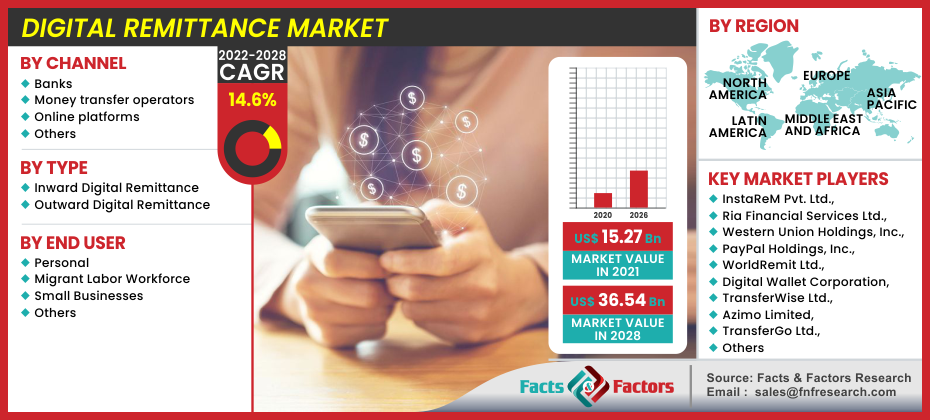 To know more about this report | Request Free Sample Copy
Growth Drivers
Rising digitalization & its adoption likely to pave way for global market growth
Digitalization and payment automation are likely to drive corporate growth. Many technology-savvy consumers throughout the globe are adopting digital remittances, which is moving the market forward. These clients prefer digital remittances due to the shorter transfer time. Industrialization and urbanization are attracting residents from countless rural and semi-rural areas to urban areas. Several people are relocating to different regions in pursuit of jobs or education. As a result, the number of cross-border transactions increases, thereby driving market growth.
Restraints
Rising number of frauds globally may hamper the global market growth
Financial crimes, such as terrorist funding, and money laundering pose security challenges for the remittance market, and all of these actions have severe consequences. The realization of these operations harms the reputation of firms and causes them to fall behind their competitors. As a result, these realities may constrain the expansion of the global digital remittance market.
Opportunities
Rising security demand among customers brings up several growth opportunities
Digital remittance services provide consumers with a high level of protection and anonymity. As more financial institutions and banks throughout the world choose to operate in a data-driven and open environment, these services are projected to become the preferred means of remitting money. Several banks and financial organizations throughout the world are focusing on expanding their business networks so that their financial and banking services are available to everyone. Customers frequently prefer these services because of the inexpensive remittance fees. Customer demand is predicted to determine the market's speedy growth over the forecast period.
Challenges
The high cost of remittances continues to be a global challenge: Remittances are low-value transactions that are typically sent on a routine basis by migrants to their families back home. The payments are mostly used for basic necessities, including food, health care, bills, housing, and education. However, because of the high cost of remittances, beneficiaries may not get as much as they could.
Transferring money in cash is difficult: This is primarily due to the manual nature of the process—the sender goes to an agent and passes over cash, the agent handles it, and the identical actions occur on the receiving side. And bank transfers can be highly expensive; in some situations, the combination of bank fees and the interbank exchange rate used results in a costly transaction.
De-risking has unexpected effects in the remittance market, which include, but are not limited to, jeopardizing progress toward financial intermediation, reversing progress toward lower remittance prices & fees, denying humanitarian organizations access to banking services, and having to push higher risk transactions out of the regulated system and into more ambiguous informal channels. As a result, the market becomes more volatile.
Scarcity of consistent and reliable data on remittances: Despite the fact that several nations have considerably improved their data in recent years, with the frequent publication of important data, data is still inadequate, particularly data that would be useful to remittance service providers and, in some cases, remitters. Information on remittance outflows and inflows, mode of sending or receiving, characteristics (including age, gender, and region), and so on would be extremely beneficial. Accurate data is essential for comprehending the significance of remittances to a respective country.
Segmentation Analysis
The global digital remittance market is segregated on the basis of channel, type, end-use, and region.
By channel, the market is divided into banks, money transfer operators, online platforms, and others. Among these, the money transfer operators segment dominates the market, accounting for more than 45 percent of global sales.
By type, the market is classified into inward digital remittance and outward digital remittance. Over the forecast period, the inward digital remittance market is expected to develop at the fastest rate.
By end-use, the market is classified into personal, migrant labor workforce, small businesses, and others. The personal segment dominates the market, accounting for more than 40 percent of global revenue.
Report Scope
| | |
| --- | --- |
| Report Attribute | Details |
| Market Size in 2021 | USD 15.27 Billion |
| Projected Market Size in 2028 | USD 36.54 Billion |
| CAGR Growth Rate | 14.6% CAGR |
| Base Year | 2021 |
| Forecast Years | 2022-2028 |
| Key Market Players | InstaReM Pvt. Ltd., Ria Financial Services Ltd., Western Union Holdings, Inc., PayPal Holdings, Inc., WorldRemit Ltd., Digital Wallet Corporation, TransferWise Ltd., Azimo Limited, TransferGo Ltd., and MoneyGram. |
| Key Segment | By Channel, By Type, By End-Use, and By Region |
| Major Regions Covered | North America, Europe, Asia Pacific, Latin America, and the Middle East & Africa |
| Purchase Options | Request customized purchase options to meet your research needs. Explore purchase options |
Regional Landscape
Rising immigrant population likely to help North America dominate the global market
North America dominates the global digital remittance market and accounts for more than 25 percent of the global revenue. Continental Exchange Solutions, Inc., Western Union Holdings, Inc., and MoneyGram are among the region's notable financial service and communication organizations. Many people come to North America in quest of higher education and work possibilities, as well as for business opportunities. The region's growing immigrant population is likely to generate new opportunities for digital remittance service providers. Furthermore, with the advent of multiple payment applications in the North American region, the trend of speedier money transmission has gained traction.
Over the forecast period, Asia Pacific regional market is expected to be the fastest-growing regional market. Every year, thousands of trillions of dollars in remittances are sent by Asia Pacific citizens to colleagues, business partners, and families in other nations. Growth in the region's adoption of banking and financial services is likely to drive regional market growth over the forecast period. China and India are focusing heavily on the implementation of cashless payments, mobile banking, and mobile-based payment solutions, which is contributing to regional market growth. Also, the rise in competition from new entrants, combined with customer base growth, is likely to generate growth prospects for the regional market throughout the forecast period.
Recent Developments
May 2021 - Western Union, a world leader in cross-currency money movement & payments, cross-border, and Google have collaborated to give consumers in the United States access to Western Union's best acclaimed digital money movement experience through the Google Pay app.
August 2021 - Sable, a large shipping fintech system that enables a one-stop store for checking and credit to global citizens without credit history or an SSN, launched a new integration with Wise that allows customers to transfer money worldwide directly through Sable, which is faster and cheaper than alternatives.
Competitive Landscape
Some of the main competitors dominating the global digital remittance market include -
InstaReM Pvt. Ltd.
Ria Financial Services Ltd.
Western Union Holdings Inc.
PayPal Holdings Inc.
WorldRemit Ltd.
Digital Wallet Corporation
TransferWise Ltd.
Azimo Limited
TransferGo Ltd.
MoneyGram
The global digital remittance market is segmented as follows:
By Channel Segment Analysis
Banks
Money transfer operators
Online platforms
Others
By Type Segment Analysis
Inward Digital Remittance
Outward Digital Remittance
By End-Use Segment Analysis
Personal
Migrant Labor Workforce
Small Businesses
Others
By Regional Segment Analysis
North America

The U.S.
Canada
Mexico
Rest of North America

Europe

France
The UK
Spain
Germany
Italy
Nordic countries

Denmark
Finland
Iceland
Sweden
Norway

Benelux Reunion

Belgium
The Netherlands
Luxembourg

Rest of Europe

Asia Pacific

China
Japan
India
New Zealand
Australia
South Korea
Southeast Asia

Indonesia
Thailand
Malaysia
Singapore
Rest of Southeast Asia

Rest of Southeast Asia

The Middle East & Africa

Saudi Arabia
UAE
Egypt
Kuwait
South Africa
Rest of the Middle East & Africa

Latin America

Brazil
Argentina
Rest of Latin America