Covid-19
Global Diaper Market Size, Share
The pandemic continues to cause unprecedented disruption across industries worldwide.Get detailed insights regarding the impact of COVID-19 on the market. Request Sample
Industry Insights
[197+ Pages Report] According to Facts and Factors, the global diaper market was worth approximately USD 68.46 billion in 2020 and is expected to grow to approximately USD 100 billion by 2028, with a compound annual growth rate (CAGR) of approximately 5.8% over the forecast period. The report explores the diaper market's drivers & restraints and the impact they have on the demand during the projection period. In addition, the report analyses emerging opportunities in the diaper market.
Diaper Market: Overview
A diaper is a thick layer of soft paper or cloth that is wrapped around the waist and attached like underwear. Diapers enable the wearer to urinate or excrete without using a toilet by absorbing or retaining waste products, thus preventing the soiling of outer garments or the external environment. Diapers can provide a variety of important benefits, including comfort, safety, quick changes, improved sanitation, and reduced irritation, among others. Diapers are more comfortable to use because they are widely available in numerous specialist stores and can already be purchased online through several convenient e-commerce websites. Another significant advantage of its use is that it can be easily replaced after being used for a short time, regardless of the location or conditions. Diapers are particularly hypoallergenic, hence protecting against irritations caused by allergies, chemicals, and other factors.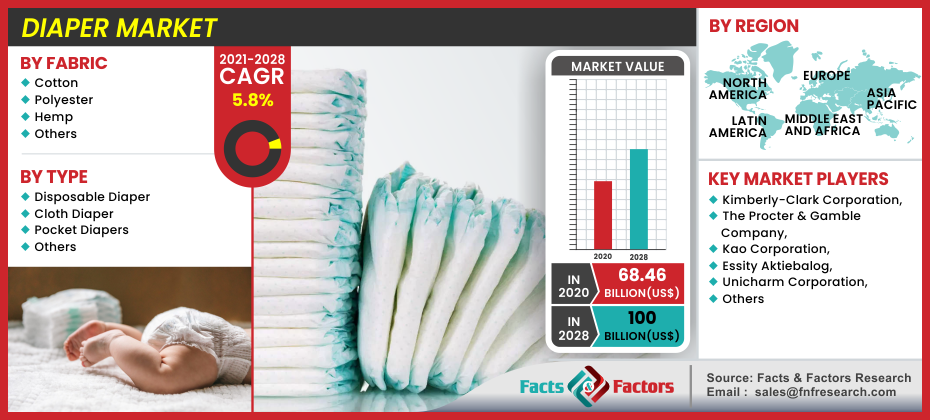 Disposable diapers, cloth diapers, reusable diapers, and recyclable diapers are among the many varieties of diapers available on the market. Disposable diapers are intended to be discarded after a single-use. This could result in better sanitation and reduced irritation. Disposable diapers allow newborns to sleep peacefully without arousing them due to the dampness of the night before. Adult diapers are also offered for adult incontinence. Adult diapers relieve older people of the concern of bladder leakage, allowing them to focus on what is most important in their everyday lives. Similarly, these are excellent absorbent goods that give adult consumers the courage to reconnect with life. These, as a requirement of their existence, support the customers' health and lifespan.
Diaper Market: Growth Drivers
The growing adult population and rising hygiene awareness drive the global diaper market's expansion. In addition to an increase in the older population, there is a significant prevalence of urine incontinence among adults, which drives the market for adult diapers. The aging population is contributing to an increase in the prevalence of incontinence illness among adults. Urinary incontinence worsens with age and is assessed based on its frequency, severity, and predictability. It is most commonly caused by urinary tract infections, chronic coughs, pregnancy, prostate surgery, and neurological trauma in both men and women.
This raises consumer demand for the use of adult diapers, which in turn promotes the expansion of the diaper market. Another important driver for the global diaper (baby and adult diaper) market is the rising demand for environmentally biodegradable diapers. Babies often use 2,000 to 3,000 disposable diapers in their first year of life, leaving a significant impact on the environment. Furthermore, the increased demand for natural and sanitary products is prompting manufacturers to produce organic disposable diapers, which is expected to drive market demand.
Consumers and parents are becoming increasingly aware of the harmful effects of chemicals in diapers such as tributyl-tin, dioxins, sodium polyacrylate, volatile organic compounds, scents, dyes, and others on their newborns and the environment. Diaper rash, skin irritation, candida infections, and food sensitivities that seem to be related to diaper allergies are among the side effects. Furthermore, because newborn diapers contain a lot of moisture, bacteria, and warmth, they can cause dangerous urinary infections in babies. Globally, developed nations are familiar with diapers and their advantages, but developing countries continue to follow customary practices. As a result, such nations' government agencies and other regulatory authorities are working to raise public awareness. This help in boosting the market growth during the coming period.
Segmentation Analysis
The global diaper market is segmented based on fabric, type, and region.
By fabric, the market is classified into cotton, polyester, hemp, and others. Cotton is the most popular among these. Cloth diaper companies are increasingly using organic cotton. Cotton diapers also have the advantage of being comfy, soft, and made of natural materials, which are readily available.
By type, the global diaper market is divided into the disposable diaper, cloth diaper, pocket diaper, and others. Disposable diapers for babies account for almost two-thirds of the entire sale. Disposable diapers are easy to use and absorb well without causing irritation to the baby's skin.
Report Scope
| | |
| --- | --- |
| Report Attribute | Details |
| Market Size in 2020 | USD 68.46 Billion |
| Projected Market Size in 2028 | USD 100 Billion |
| CAGR Growth Rate | 5.8% CAGR |
| Base Year | 2020 |
| Forecast Years | 2021-2028 |
| Key Market Players | Kimberly-Clark Corporation, The Procter & Gamble Company, Kao Corporation, Essity Aktiebalog, Unicharm Corporation, among others |
| Key Segment | By Fabric, By Type, and By Region |
| Major Regions Covered | North America, Europe, Asia Pacific, Latin America, and the Middle East & Africa |
| Purchase Options | Request customized purchase options to meet your research needs. Explore purchase options |
Regional Landscape
Asia Pacific region is expected to be the dominant region during the forecast period owing to rapid urbanization and population growth in the region. There is also a growing demand for adult diapers in the region. Further, emerging trends in online purchasing and e-commerce are boosting target market growth in the Asia Pacific area. Moreover, countries such as China, India, Thailand, Vietnam, and Indonesia are significantly contributing to the growth of the regional diaper market.
Every year, around 18 million babies are born in China, and the country accounts for the largest share of the global baby diaper market. Furthermore, a larger distribution network and the simple availability of multiple brands in local marketplaces prompted the leading companies to expand their sales to inland markets. Rising demand in urban markets for high-priced, high-value-added items has resulted in the launch of various quality disposable baby diapers to supplement their existing line of basic and economic products in the region.
Recent Development
In 2020, Procter & Gamble Co. unveiled a new product called the Lumi by Pampers at the Consumer Electronics Show (CES) in Las Vegas. The device uses Pampers sensor technology to notify you when a diaper is dirty.
Competitive Landscape
Some of the key operators in the global diaper market are Kimberly-Clark Corporation, The Procter & Gamble Company, Kao Corporation, Essity Aktiebalog, and Unicharm Corporation.
The global diaper market is segmented as follows:
By Fabric Segment Analysis
Cotton
Polyester
Hemp
Others
By Type Segment Analysis
Disposable Diaper
Cloth Diaper
Pocket Diapers
Others
By Regional Segment Analysis
North America

The U.S.
Canada
Mexico
Rest of North America

Europe

France
The UK
Spain
Germany
Italy
Nordic countries

Denmark
Finland
Iceland
Sweden
Norway

Benelux Reunion

Belgium
The Netherlands
Luxembourg

Rest of Europe

Asia Pacific

China
Japan
India
New Zealand
Australia
South Korea
Southeast Asia

Indonesia
Thailand
Malaysia
Singapore
Rest of Southeast Asia

Rest of Southeast Asia

The Middle East & Africa

Saudi Arabia
UAE
Egypt
Kuwait
South Africa
Rest of the Middle East & Africa

Latin America

Brazil
Argentina
Rest of Latin America