Covid-19
Global Adult Day Care Services Market Size, Share
The pandemic continues to cause unprecedented disruption across industries worldwide.Get detailed insights regarding the impact of COVID-19 on the market. Request Sample
Industry Insights
[195+ Pages Report] The latest published report by Facts and Factors states that the global adult day care services market stood at USD 842 Billion in 2019 and is anticipated to generate the approximate value of around USD 1,755 Billion by end of 2026, growing at a CAGR of around 8.5% between 2020 and 2026.
Market Overview
Adult day care services, also known as adult day care centers, are a form of program that includes non-resident assistance and services such as nutrition, housing, and social support. Adults and the elderly benefit from these programs, which are delivered by a strong network of professionals and nursing workers. Transitional treatment and recovery services are often sought following hospital release, and adult day care services play an important role in this. Day care centers typically run for 10-12 hours a day and offer a variety of social resources to the adult community, such as meals, medicine, general observation, and emotional and psychological assistance. Many adult day care centers focus on a specific illness and provide programs related to that disease, such as cardiovascular disease therapy and services for medically or mentally impaired people. In addition to providing assistance, several adult day care centers have taken the opportunity to provide a screening and recovery facility for the patients who visit them. These diagnostic facilities are critical in the case of seriously sick patients, such as those with Alzheimer's syndrome, those in a coma, among others. Hospitalization rates have declined in recent years as a result of adequate service of adult day care centers.
Industry Growth Factors
The demand is projected to expand owing to the elderly people, which are at high risk of chronic diseases such as diabetes, heart disorders, arthritis, and respiratory disorders that need constant supervision. According to World Growth Prospects, the global population over 60 years old was 962 million in 2017, with 2.1 billion anticipated by 2050. The population of people aged 60 and over is growing at a higher rate than that of other age classes around the world. Furthermore, this demographic group has a greater prevalence of age-related illnesses such as renal insufficiency and arthritis, physiological changes, Parkinson's disease, organ defects, and nervous disorders. Furthermore, the adult day care services industry is expected to rise due to an expanding spectrum of services provided by elderly care centers and growing demand for care services over the projected era. These providers assist patients in selecting the most suitable health plans and their specific conditions. Counseling and guidance, crisis planning, decisions on suitable accommodation choices, financial management, and personal care assistance are all available to the adult care managers. LivHome, Inc., for example, tackles safety concerns, promotes social interaction, and provides drug assistance. For patients in need, the organization has LivHome Connect senior care technology, which provides 24-hour direct remote care (ARC) from in-house registered nurses. A significant industry impediment would be the high cost of adult day care facilities. In addition, the shortage of adequate adult care facilities in developed countries would stymie long-term business expansion. Nevertheless, the advancement of educational programs for people who want to work in this industry, as well as the development of high-quality facilities and an environment in which to increase sales and employee productivity, are both major growth opportunities.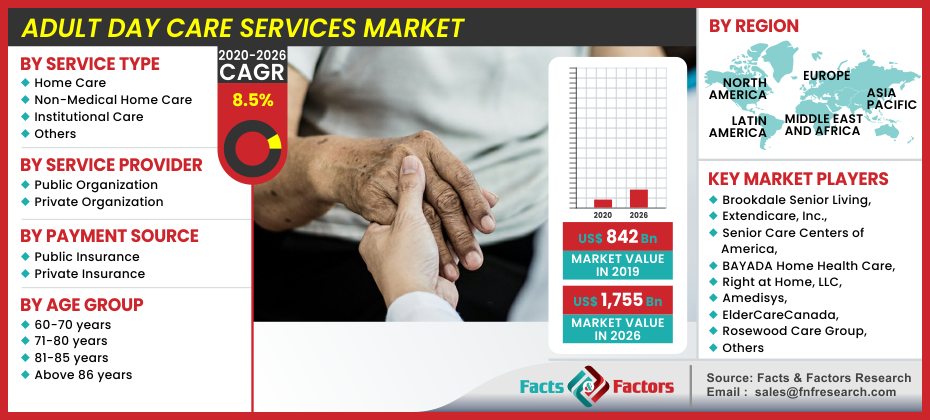 Segmentation Analysis
Based on service type, the market is divided into home care, non-medical home care, institutional care, and others. The institutional care type is anticipated to hold the largest market share as Nursing homes and daycare providers, for example, offer far more adaptable services to older patients who are not bound by strict timetables, boosting the market segment's expansion. On the basis of service provider type, the market is segmented into public organizations and private organizations. The public organization holds the maximum share as this category of healthcare service provider provides high-quality patient care to all, regardless of their financial situation. Through negotiating and regulating the price of the prescription, care, and medical facilities, the government reduces the operating costs of working with various private health insurers, thus driving the business growth sector. Based on payment source, the market is bifurcated into public insurance and private insurance out of which public insurance holds the largest market share it provides much more reliable health care for uninsured people who are either unable to afford or refused by private health insurers.
Regional Analysis
North America led the overall industry in terms of sales share, accounting for more than 40% of the total. The continuous evolution of payment programs, as well as the presence of a vast variety of long-term care facilities across the United States, are key factors contributing to its high share. Furthermore, the region's accelerated growth can be attributed to an increasing geriatric demographic with long-term medical needs, raising discretionary income, and increased knowledge of these healthcare services, to name a few reasons. Over the projected period, industry penetration rates are predicted to rise due to a growth in the number of geriatric care service providers and supportive government policies in these markets, such as the availability of reliable and sustainable social care facilities to the elderly. According to the Centers for Disease Control and Prevention (CDC), the population of Americans aged 65 and up is projected to reach 72 million by 2030, accounting for about 20% of the total population of the United States.
Competitive Players
The major players dominating the global adult day care services market in terms of revenue and development are Brookdale Senior Living, Extendicare, Inc., Senior Care Centers of America, BAYADA Home Health Care, Right at Home, LLC, Amedisys, ElderCareCanada, Rosewood Care Group, Kindred Healthcare Inc., United Medicare Pte Ltd., St Luke's Eldercare Ltd., Living Assistance Services, Inc., and Others.
This report segments the adult day care services market as follows:
Global Adult Day Care Services Market: By Service Type Segmentation Analysis:
Home Care
Non-Medical Home Care
Institutional Care
Others
Global Adult Day Care Services Market: By Service Provider Type Segmentation Analysis
Public Organization
Private Organization
Global Adult Day Care Services Market: By Payment Source Segmentation Analysis
Public Insurance
Private Insurance
Global Adult Day Care Services Market: By Age Group Segmentation Analysis
60-70 years
71-80 years
81-85 years
Above 86 years
Adult Day Care Services Market: Regional Segment Analysis
North America
Europe

U.K.
France
Germany
Rest of Europe

Asia Pacific

China
Japan
India
South Korea
Rest of Asia Pacific

Latin America

Brazil
Rest of Latin America

The Middle East and Africa

GCC Countries
South Africa
Rest of MEA