Industry Insights
[197+ Pages Report] According to Facts and Factors, the global car care products market was valued at around USD 9.2 billion in 2020 and is expected to increase to about USD 13.7 billion by 2028, with a compound annual growth rate (CAGR) of around 5.8%. The report explores the car care products market's drivers and restraints, as well as the impact they have on need during the projection period. In addition, the report analyses emerging opportunities in the car care products market.
Car Care Products Market: Overview
Car care products are high-quality chemicals that are used to improve the durability, shine, and gloss of vehicles. The chemicals are regulated and help automobiles preserve their visual appearance. There are various sorts of automobile chemicals present in the market, such as paint cleaning, protection, tire shine, wheel care, glass cleaner, interior-exterior care, paint restoration, and others. Car care products & equipment such as car waxes, shiny wheels, polishes, towels, shining trim, cleaners, buffer, sealants, and sand produce the perfect shine.
Cleaning an automobile safely and without scratches is a skilled process. However, their application is required in conjunction with the use of the best car care products. High-performance car care products are chemicals that are used to improve the shine, gloss, and other accessories reused in vehicle maintenance.
Car Care Products Market: Growth Drivers
Car care products protect the vehicle against unintentional accidents, extend the durability & basic quality of the vehicle, and hence boost its resale value. Vehicle aging and a declining trend toward vehicle replacement have also shifted the scales in favor of the car care products market. Newer car care products designed to meet the needs of the most recent vehicles will be in high demand as the younger generation loves polishing their vehicles. Consumers with more disposable income require cars, and the demand to maintain them grows in parallel with their increasing value. As a result, vehicle production is directly proportionate to the emerging market of car care products.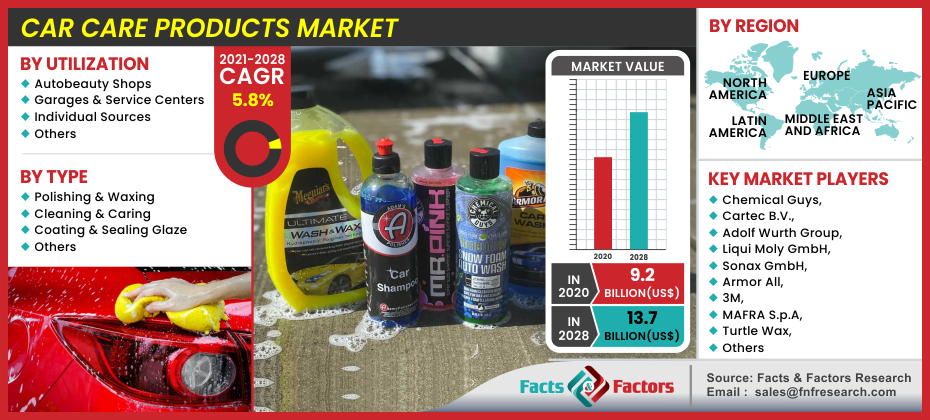 To know more about this report | Request Free Sample Copy
There are however some disadvantages to using particular car care products. Excessive beautifying may potentially ruin the car's exterior. Dents could be caused by using spray nozzles on the car's surface. All of these factors are likely to have a profound impact on the growth of the global car care products market. Chemicals used in car care products are frequently found to be dangerous in nature. As a result, certain government actions may impede the demand and supply for car care products.
The global car care products market is a subset of the automotive aftermarket that provides after-purchase options. With an increasing number of brands and innovations in automobiles, the car care products market will be replenished in the future years. Even if the economy suffers, resulting in fewer vehicle manufacturing and purchase, car care products will still be required to protect older or existing vehicles. While the company that comes from OEM-specific auto service centers is larger than that of the company that currently comes from independent stores, the current players are quite hopeful about future growth.
Recent advancements like bio-based car wash products such as detergents and soaps have generated an influential pattern that shapes manufacturers' product development measures. The ease of use and relatively low price point continue to influence the potential of the global car care products market. With the latest automotive releases, it is expected that the network development of the car care products market will build an expanding footprint with the huge size of new approaching car dealerships.
Segmentation Analysis
The global car care products market is segmented based on utilization, type, and region.
By utilization, the market is classified into autobeauty shops, garages & service centres, individual sources, and others. The garages & service centres category is likely to dominate the market in terms of use. The garages & service shops are well equipped to provide cleaning, visual modifications, tire & battery services, lubrication, and so on. The garages & service centres are outfitted with a variety of fixtures, jigs, and equipment as well as a variety of vehicle aesthetic enhancement supplies for polishing & waxing, cleaning & caring, and sealing.
By type, the global car care market is divided into polishing & waxing, cleaning & caring, coating & sealing glaze, and others. The cleaning & caring segment is predicted to dominate the global market in terms of type. The cleaning & caring chemicals aid in the removal of mud, bird droppings, dirt, hard dust, oil, and grease from exterior vehicle painted surfaces without causing damage to the surface. Car care entails cleaning the outside and inside of a vehicle using cleaning & care solutions, care sprays, and washing tools.
Report Scope
| | |
| --- | --- |
| Report Attribute | Details |
| Market Size in 2020 | USD 9.2 Billion |
| Projected Market Size in 2028 | USD 13.7 Billion |
| CAGR Growth Rate | 5.8% CAGR |
| Base Year | 2020 |
| Forecast Years | 2021-2028 |
| Key Market Players | Chemical Guys, Cartec B.V., Adolf Wurth Group, Liqui Moly GmbH, Sonax GmbH, Armor All, 3M, MAFRA S.p.A, Turtle Wax, Tetrosyl Ltd., and Others |
| Key Segment | By Utilization, By Type, and By Region |
| Major Regions Covered | North America, Europe, Asia Pacific, Latin America, and the Middle East & Africa |
| Purchase Options | Request customized purchase options to meet your research needs. Explore purchase options |
Regional Landscape
North America dominates the global car care products market, accounting for around 38.0 percent. This is due to rising car sales in the region as well as increased awareness about vehicle care. Furthermore, the rising popularity of compact cars as family vehicles and the rising demand for luxury cars is expected to expand the regional car care products market.
The growth of the car care products market in Europe is predicted to rise throughout the projection period as the region's automotive industry expands rapidly. Countries such as Germany, France, and Italy have made substantial contributions to the region's automobile sector expansion. The growing trend of restoring vintage automobiles and maintaining new ones on a regular basis is expected to boost the growth of the global car care products market.
The car care products market in the Asia Pacific region is predicted to grow at the quickest CAGR of 4.8 percent, owing to the region's significant growth in the automobile sector attributed to the presence of several large manufacturers, including Tata, Suzuki, Honda, Toyota, and Subaru. Furthermore, factors such as increased disposable income and growing population in developing nations such as South Korea and India are predicted to fuel the automobile industry, consequently raising the car care products market.
Recent Development
November 2021 - Turtle Wax, a car care company established in the United States, stated that e-commerce and conventional retail are reviving, which is fueling its business.
Competitive Landscape
Key players make large investments in R&D to enhance their production capacities and hence maintain their market positions. Some of the key competitors in the global car care products market are :
Chemical Guys
Cartec B.V.
Adolf Wurth Group
Liqui Moly GmbH
Sonax GmbH
Armor All
3M
MAFRA S.p.A
Turtle Wax
Tetrosyl Ltd.
By Utilization Segment Analysis
Autobeauty Shops
Garages & Service Centers
Individual Sources
Others
By Type Segment Analysis
Polishing & Waxing
Cleaning & Caring
Coating & Sealing Glaze
Others
By Regional Segment Analysis
North America

The U.S.
Canada
Mexico
Rest of North America

Europe

France
The UK
Spain
Germany
Italy
Nordic countries

Denmark
Finland
Iceland
Sweden
Norway

Benelux Reunion

Belgium
The Netherlands
Luxembourg

Rest of Europe

Asia Pacific

China
Japan
India
New Zealand
Australia
South Korea
Southeast Asia

Indonesia
Thailand
Malaysia
Singapore
Rest of Southeast Asia

Rest of Southeast Asia

The Middle East & Africa

Saudi Arabia
UAE
Egypt
Kuwait
South Africa
Rest of Middle East & Africa

Latin America

Brazil
Argentina
Rest of Latin America