Covid-19
Global Cable Cars and Ropeways Market Size, Share
The pandemic continues to cause unprecedented disruption across industries worldwide.Get detailed insights regarding the impact of COVID-19 on the market. Request Sample
Industry Insights
[169+ Pages Report] As per the latest research and survey report issued by Facts and Factors, the global cable car and ropeways market was valued at USD 4011.70 Million in 2020 and is expected to register revenues worth USD 7,876 Million by the end of 2026, growing at an exceptional CAGR of approximately 11.4% between 2021 and 2026.
Market Overview
A cable car or a ropeway is a mechanical vehicle that rests between two pillar supports. Two stationary ropes are cast between the supports as a third rope is used for driving purposes. Cable cars are installed between places that are usually based on an inclined slope. An electric motor drives the mechanism that tugs and pulls the cable car from one point to another. Cable cars and ropeways are usually used as a mode of transport in the e-tourism industry or highly inaccessible forms of terrain. However, their main use of applications is in resorts as a form of leisurely based attraction, ski sports, and man or material handling.
Industry Growth Factors
A growing preference for an urban mode of transport in the form of cable cars and ropeways as well as increased government focus in terms of investing in optimal forms of transport drives the growth of the market in terms of revenue. Although there are various modes of transport that can be construed as more efficient, the high costs tagging along with them make cable cars the viable choice. This gives incentive for governments around the world to invest more in cable propelled transit (CPT) for a smoother flow of traffic. Additionally, the stringent conditions and regulations over safety concerns and measure further enable manufacturers to scale their operation to cover longer distances which further boosts the growth of the cable car and ropeways market.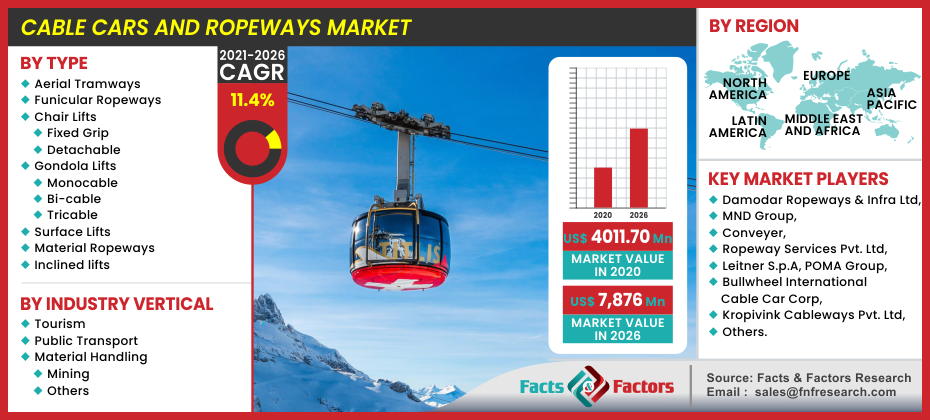 With improvement in technology, manufacturers are constantly looking to upgrade their equipment in order to cover a longer distance which makes cable cars applicable for the mining, transportation, and logistic industry. These factors further make the footprint of the cable car and ropeways market considerably stronger. However, extended periods of time for installation and safe operations and complicated structural technology required for easy functionality can hamper the growth of the market to a greater extent. Furthermore, the high costs for the initial installation can hurt the growth of the market as well.
Segmentation Analysis
The global cable cars and ropeways market can be segmented on the basis of type, industry verticals, and regions.
On the basis of type, the global cable cars and ropeways market can be divided among aerial tramways, chair lifts, gondola lifts, surface lifts, funicular ropeways, material ropeways, & inclined lifts. The gandola lifts are expected to witness the highest growth market share in terms of revenue generation in the segment. The gondola segment can be further broken down into monocable, bi-cable, and tricable. Additionally, the gondola cable cars possess certain factors such as increased passenger capabilities coupled with a high-speed operation. Furthermore, gondola carrier devices with glass cabin functions are the preferred mode of transport as they provide an all-around view that attracts tourists for leisureliness. This gives manufacturers a reason to produce a higher consumer base in the segment. On the basis of industry-verticals the market of global cable cars and ropeways can be divided among tourism, public transport, and material handling. The tourism category is expected to witness the highest growth CAGR during the forecast period owing to an increasing adaption of the technology and use case applications.
Regional Analysis
The regions of Europe and Latin America are expected to witness the highest growth CAGR on a global scale during the forecast period. Factors pertaining to a larger part of the geography of these regions being covered in mountainous terrains provide a big boost for the basic functionality of cable cars and ropeways. In North America, the increasing use of cable cars is estimated to be anticipated. Factors such as the improvement of urban transportation will play a big role in the growth of cable cars and ropeways in the region.
Competitive Players
Some of the major participants in the global cable cars and ropeways market are Damodar Ropeways & Infra Ltd, MND Group, Conveyer, and Ropeway Services Pvt. Ltd, Leitner S.p.A, POMA Group, Bullwheel International Cable Car Corp, and Kropivink Cableways Pvt. Ltd, among others.
By Type Segment Analysis
Aerial Tramways
Funicular Ropeways
Chair Lifts
Gondola Lifts

Monocable
Bi-cable
Tricable

Surface Lifts
Material Ropeways
Inclined lifts
By Industry Vertical Segment Analysis
Tourism
Public Transport
Material Handling
By Regional Segment Analysis
North America
Europe

UK
France
Germany
Italy
Spain
Rest of Europe

Asia Pacific

China
Japan
India
South Korea
Southeast Asia
Rest of Asia Pacific

Latin America

Brazil
Mexico
Rest of Latin America

Middle East and Africa

GCC Countries
South Africa
Rest of MEA