Covid-19
Breast Coil Market
The pandemic continues to cause unprecedented disruption across industries worldwide.Get detailed insights regarding the impact of COVID-19 on the market. Request Sample
Industry Insights
[195+ Pages Report] Facts & Factors published a report on Global Breast Coil Market that offers a complete market overview. In the report, the breast coil market witnessed a market value of USD XX in 2020 and with a growth of X% is expected to reach USD XX by 2026.
Market Overview
Women at a higher risk of developing breast cancer are generally advised to undergo breast MRI screening. The American Cancer Society thus recommends women have a breast MRI and mammogram every year. For speeding up the process, the breast coil was developed. The magnetic field intensity of the surface coil coupled with a stronger signal-to-noise ratio of the MRI system is expected to enhance the breast coil. This coil captures images of breasts at the time of biopsy or MRI imaging procedures.
The use of a number of channels and low motion artifacts helps breast coil offer unilateral biopsy, diagnostic imaging, and bilateral biopsy. The breast coil is easily adjustable owing to variable coil geometry. It is thus beneficial in providing interventional access and help in medical imaging.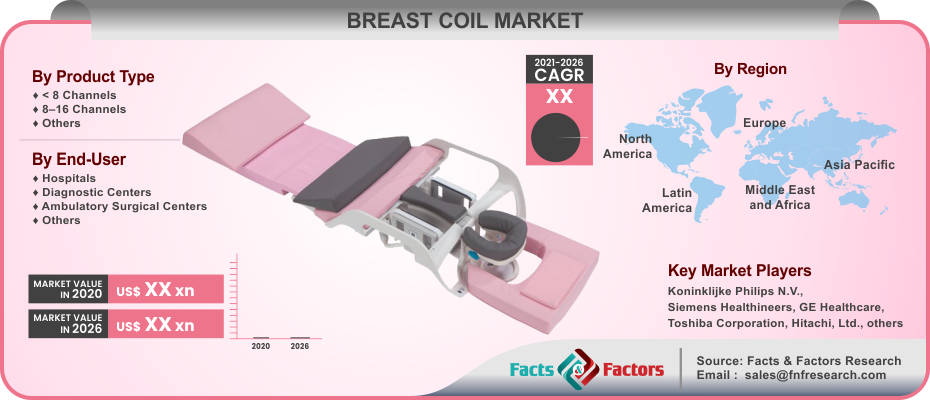 Industry Growth Factors
The rising prevalence of breast cancer followed by the growing demand for MRI procedures used for diagnostic breast MR imaging and biopsy guidance are the factors driving the growth of the breast coil market. In the U.S. in 2018, there were around 266,120 cases of invasive breast cancer. Furthermore, the advancements in the new imaging technologies are projected to propel the breast coil market during the forecast period.
The focus of manufacturers on the production of new breast coil for biopsy procedures will further augment market growth. The early detection and growing awareness regarding breast cancers are likely to fuel the market growth over the forecast.
Segmentation Analysis
The breast coil market is segmented based on product type, end-user, and regions.
Based on product type, the global breast coil market is divided into < 8 channels, 8–16 channels, and others. On the basis of end-user, the market is categorized into hospitals, diagnostic centers, ambulatory surgical centers, and others.
Regional Analysis
North America is expected to dominate the global breast coil market due to the implementation of the latest technologies, well-known healthcare infrastructures, and growing occurrences of cancer. On the other hand, Europe exhibited the highest growth in the breast coil market owing to technological demand for breast imaging coupled with government programs to lower the burden of cancer.
Competitive Players
Some of the key players participating in the global breast coil market include Koninklijke Philips N.V., Siemens Healthineers, GE Healthcare, Toshiba Corporation, Hitachi, Ltd., and others.
By Product Type Segment Analysis
< 8 Channels
8–16 Channels
Others
By End-User Segment Analysis
Hospitals
Diagnostic Centers
Ambulatory Surgical Centers
Others
By Regional Segment Analysis
North America
Europe

UK
France
Germany
Italy
Spain
Rest of Europe

Asia Pacific

China
Japan
India
South Korea
Southeast Asia
Rest of Asia Pacific

Latin America

Brazil
Mexico
Rest of Latin America

Middle East and Africa

GCC Countries
South Africa
Rest of MEA
Covid-19
Breast Coil Market
The pandemic continues to cause unprecedented disruption across industries worldwide.Get detailed insights regarding the impact of COVID-19 on the market. Request Sample
Table of Content