Industry Insights
[229+ Pages Report] According to Facts and Factors, the global Biometric payment market size was worth around USD 32,814.20 million in 2021 and is estimated to grow to about USD 56,564.84 million by 2028, with a compound annual growth rate (CAGR) of approximately 9.50% over the forecast period. The report analyzes the Biometric payment market drivers, restraints/challenges, and the effect they have on the demands during the projection period. In addition, the report explores emerging opportunities in the biometric payment market.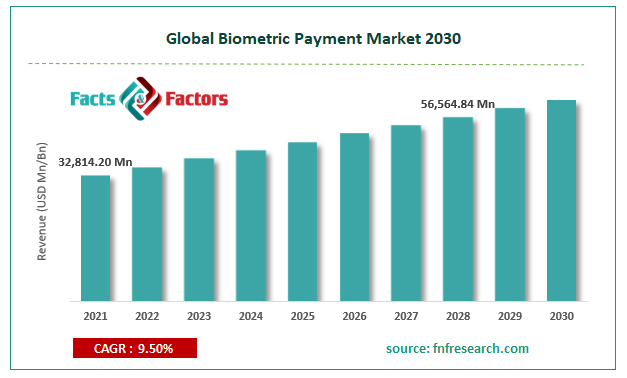 To know more about this report | Request Free Sample Copy
Market Overview
Biometric authentication is used by biometric payment systems, a point-of-sale (POS) technology, to speed up transactions and payments. A type of point-of-sale method known as biometric payment uses biometric authentication to identify the customer or end-user and allow the fund withdrawal from their bank account. Furthermore, the most popular type of biometric payment is a fingerprint. The development of complex biometric authentication technologies like palm recognition, eye recognition, and others has occurred in addition to the fingerprint biometric authentication technique. However, because of the ease of use and relative affordability of fingerprint identification systems, biometric payments made possible by fingerprint authentication technologies are most widely employed in the market. A method that enables identification using many identifying modalities, such as the fingerprint, iris, palm, etc., all from a single biometric payment terminal, has been made possible by technological improvements is the multi-modal biometric payment terminal system.
The biometric payments industry has grown significantly during the previous four years in terms of value. The market for biometric payments is also expected to grow by double digits during the projected period due to its ease of use. The global biometric payment market is rising significantly as a result of growing biometric use case scenarios in the consumer electronics sector, as well as expanding formats of authentication and identification devices, to name a few. Additionally, it is projected that the global biometric payment market will grow over the course of the research period due to an increase in the need for surveillance and security measures as well as an increased risk of external threats like terrorist attacks. Additionally, throughout the forecast period, factors relating to quick, simple, and secure solutions as well as an increased acceptance rate of biometric-based applications and devices, would support the expansion of the global biometric payment market.
COVID-19 Impact:
Due to the rules and regulations prohibiting physical contact from preventing the disease, the contactless payments business boomed during COVID-19. The market for biometric payment cards benefitted from the rising usage of biometric payment methods like voice-based payment to avoid direct contact because it gives contactless payment options in addition to chip-enabled payments. According to IDEMIA, 76.0 percent of customers worldwide in 2021 have a favorable opinion of biometrics, and 81.0 percent are prepared to replace PIN codes with fingerprints. Such market trends create a great potential for the replacement of conventional payment methods with innovative contactless and quicker payment processing choices.
Key Insights
The global market is estimated to witness growth at a CAGR of 9.5% during the forecast period
On a technological basis, in 2021, the single-factor authentication market category is anticipated to have the biggest market share.
On a deployment basis, in 2021, the hardware category is anticipated to have the largest market share.
In 2021, North America dominated the global market.
Growth Drivers
Advancements in smartphone technology
Additionally, the simplicity and convenience of using mobile phones for online transactions have resulted in a huge increase in transactions made through smartphones, which is also expected to support the segment's growth in the global market for biometric payments. Furthermore, the market for mobile payments, which had a value of USD 133.2 billion in 2018, is predicted to rise at the greatest CAGR throughout the course of the projection year.
Restraints
Payment using biometric means is debatable. Historically, law enforcement has been linked to fingerprint scanners. Critics of biometric payment are concerned that law enforcement or governmental organizations may have access to fingerprint sensors. However, biometric payment service providers rapidly clarify that their databases do not contain the customer's actual fingerprint. The point-to-point measurements of the finger are used to generate an encrypted integer that they store.
Instead of using the actual fingerprint, that number is utilized to confirm a customer's identification. The bottom line is that a biometric payment system, like any system that accesses private data, is only as safe as the databases and transactions it is linked to.
Opportunities
Implementing new technologies to improve the customer payment experience
Global providers of biometric payment cards are constantly integrating innovative technologies to enhance the payment experience for customers. For instance, the second-generation T-Shape sensor module from biometric business Fingerprint Cards met Mastercard's stricter security requirements in January 2022. With greater security, this technology made payment processing simple and convenient for both customers and businesses. As a result, these technological developments create several possibilities for the market's future expansion.
Challenges
Lack of technological infrastructure
One of the main factors limiting the growth of the biometric payments market globally is the lack of adequate technological infrastructure in many different countries, along with other technical barriers seen in biometric systems, such as problems with facial and voice recognition and fear of security uncertainties.
Segmentation Analysis
The global biometric payment market can be segmented into technology, type, and deployment model.
Based on technology, the global biometric payment market can be divided into single-factor authentication, fingerprint recognition, iris recognition, palm recognition, face recognition, signature recognition, voice recognition, biometric smart card, and multimodal segments. The single-factor authentication market is predicted to have the most market share at the start of the forecast due to variables like increasing convenience, cost-effective solutions, and quick functional replies, to name a few.
The contact-based, contactless, and hybrid categories make up the global biometric payment market, respectively, according to type. The hybrid segment is predicted to have the largest market share at the start of the projection because of the growing usage of reliable and trustworthy biometric solutions and better safety incentives against spoofing and forgery-related intrusion attempts. The global biometrics payment market can be broken down into hardware and software depending on the deployment model. The software category is predicted to hold the largest market share at the start of the forecast due to factors like the increasing acceptance of cloud-based services and AI-related adoption measures in the field of biometric devices, to name a few.
Report Scope
| | |
| --- | --- |
| Report Attribute | Details |
| Market Size in 2021 | USD 32,814.20 Million |
| Projected Market Size in 2028 | USD 56,564.84 Million |
| CAGR Growth Rate | 9.50% CAGR |
| Base Year | 2021 |
| Forecast Years | 2022-2028 |
| Key Market Players | Hales, Safran, NEC, ASSA ABOLY, Fujitsu, Precise Biometrics, and Others |
| Key Segment | By Technology, Type, Deployment Mode, and Region |
| Major Regions Covered | North America, Europe, Asia Pacific, Latin America, and the Middle East & Africa |
| Purchase Options | Request customized purchase options to meet your research needs. Explore purchase options |
Recent Developments
Zwipe works with Qatar FinTech Hub to develop a biometric payment system
Swedish challenger to introduce biometric payment from Idex and Idemia
Regional Landscape
Rising number of dominating players is likely to help North America dominate the global market
In 2021, North America had the largest share in the biometric payment market due to the abundance of biometric payment solution providers and their extensive use of them in the region. The existence of a sizable number of businesses functioning in the market can be blamed for the expansion of the regional market. More than 70 percent of New York's Visa cards will support biometric payments by April 2021. Such acceptance is being sparked by the New York MTA's introduction of contactless on all subways and buses. Therefore, it is anticipated that the rising usage of biometrics as a form of payment in North America would open up growth potential for the local industry.
The biometric payment markets in the Asia Pacific and Europe are expected to trail North America in terms of revenue by second and third, respectively. However, the China biometric payment market is predicted to grow at the fastest rate during the forecast period due to the nation's rising digitization, internet usage, adoption of smart devices and smart technologies, and changing consumer transactional behavior. Additionally, during the forecast period, the biometric payment market will expand its presence in the region due to rising consumer awareness of the higher security benefits derived from biometric payment solutions and decreased pricing alternatives for these devices. The region's biometric payment market will rise as a result of increased government measures to increase the impact of biometric payment devices, as well as increased deployment of biometric payment devices in airports, banks, ATMs, and other public locations. During the forecast period, a sizable market share will be attained because of the rise of trustworthy vendors in the area and expanded international player penetration.
Competitive Landscape
Key players within the global Biometric Payment market include
Hales
Safran
NEC
ASSA ABOLY
Fujitsu
Precise Biometrics
The Global Biometric Payment Market is segmented as follows:
By Technology Segment Analysis
Single Factor Authentication
Fingerprint Recognition
Iris Recognition
Palm Recognition
Face Recognition
Signature Recognition
Voice Recognition
Biometric Smart Card
Multimodal
By Type Segment Analysis
Contact-Based
Contactless
Hybrid
By Deployment Mode Segment Analysis
By Regional Segment Analysis
North America
Europe

France
The UK
Spain
Germany
Italy
Nordic Countries
Benelux Union

Belgium
The Netherlands
Luxembourg

Rest of Europe

Asia Pacific

China
Japan
India
Australia
South Korea
Southeast Asia

Indonesia
Thailand
Malaysia
Singapore
Rest of Southeast Asia

Rest of Asia Pacific

The Middle East & Africa

Saudi Arabia
UAE
Egypt
South Africa
Rest of the Middle East & Africa

Latin America

Brazil
Argentina
Rest of Latin America