Industry Insights
[238+ Pages Report] According to the report published by Facts & Factors, the global biogas plant construction market size was worth around USD 3.27 billion in 2021 and is predicted to grow to around USD 5.81 billion by 2028 with a compound annual growth rate (CAGR) of roughly 8.54% between 2022 and 2028. The report analyzes the global biogas plant construction market's drivers, restraints/challenges, and the effect they have on the demands during the projection period. In addition, the report explores emerging opportunities in the global biogas plant construction market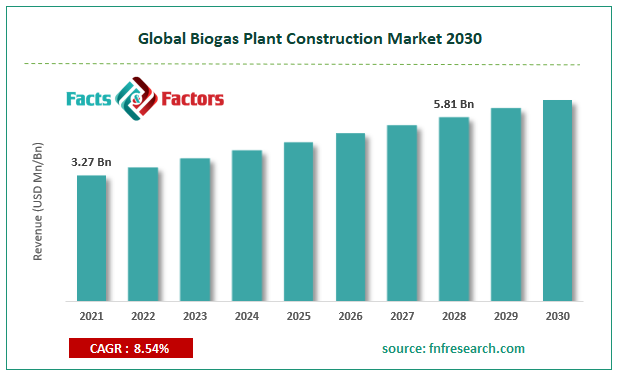 To know more about this report | Request Free Sample Copy
Market Overview
Biogas is produced by fermenting biomass at a biogas plant. The substrate used to produce this methane-containing gas often comprises waste materials like compost or food waste or energy crops like corn. At the end of the procedure, the substrates' dissolving waste can be used as fertilizer. The substrate is broken down by tiny bacteria under anaerobic (oxygen-free) conditions, which results in the production of biogas. The substrate is dragged into the fermenters to accomplish this. In order to prevent the buildup of sinking layers and surface scum, the substrate is systematically downshifted by agitators after being put in anaerobic conditions.
Additionally, it makes it easier for the biogas to ascend. An anaerobic digester of organic matter to treat trash and simultaneously produce biogas fuel is a well-built biogas plant. The biogas is mostly made of methane gas with inert gases like carbon dioxide and nitrogen, whereas the processed waste is a nutrient- and nitrogen-rich fertilizer. Biogas facilities can be used to process human waste and are a preferred substitute for burning dry animal dung as fuel. Other feedstock options include plant matter, non-meat or greasy food wastes, and the majority of animal dung varieties.
Key Insights
As per the analysis shared by our research analyst, the global biogas plant construction market is estimated to grow annually at a CAGR of around 8.54% over the forecast period (2022-2028).
In terms of revenue, the global biogas plant construction market size was valued at around USD 3.27 billion in 2021 and is predicted to grow to around USD 5.81 billion by 2028. Due to a variety of driving factors, the market is predicted to rise at a significant rate.
Based on type segmentation, wet digestion was predicted to show maximum market share in the year 2021
Based on end-user segmentation, agricultural was predicted to show maximum market share in the year 2021
On the basis of region, Europe was the leading revenue generator in 2021
Covid-19 Impact
Numerous travel and work restrictions brought on by the COVID-19 pandemic are anticipated to reduce the amount of oil and gas used by the world's energy system by billions of barrels and trillions of cubic meters in 2020. Globally, there are significant problems with bioenergy projects because of this pandemic. The lack of raw materials, parts, and technical support has had a significant negative influence on project development operations, which has caused delays. For instance, Strabag, a major competitor in the market and one of the top infrastructure providers, has stopped all of its operations as of March 2020. The company's operations and seamless operation have been slowed down by the pandemics, which have forced the postponement or suspension of numerous biomethane and biogas projects. In comparison to other years, the revenue of the number of market companies has decreased. For instance, Strabag's 2020 income has decreased by 4.1%.
Growth Drivers
Increasing adoption of renewables to drive market expansion
One of the key drivers propelling construction globally is the increasing use of renewable energy sources in different nations' overall power mixes. The main goals of governing authorities in nations all over the world have been to both reduce greenhouse gas (GHG) emissions and fulfill rising energy demands. The installation of renewable energy sources is anticipated to increase significantly over the next ten years in order to meet these goals, which will ultimately result in the market's growth. According to the IEA, a sizable fraction of the biogas produced globally is used for co-generation and power production.
For instance, in 2019, of the entire amount of biogas produced, about 65% was used for power and cogeneration, and the remaining 20% was converted to bio-methane or used for building heating. The market size has been positively impacted by new energy targets that have been introduced by various governments to encourage the tendency toward sustainable electricity. For instance, by the end of 2023, Brazil wants to source 42.5% of its main energy from renewable sources. Research by Carbon Brief indicates that the U.K. By 2025, the government hopes to be using half of the renewable sources of energy.
Restraints
High initial investments for establishing plants may hinder market growth
The amount of money needed to determine construction expenses is very significant. A plant's construction costs cover labor, land, materials, engineering, and equipment. The building of these facilities receives financial support from numerous nations across the world. The supply chain is also expensive and time-consuming because it involves gathering, sorting, processing, and distributing feedstock, operating and maintaining plants, and selling and distributing the gas generated.
Opportunity
Expanding utilization of organic waste for energy production to bring up market growth avenues
Over the past few years, population growth, migration from rural to urban regions, and increased waste production have all contributed to a jump in energy demand. According to the UN, around 68% of the world's population will reside in urban areas by 2050. Undoubtedly, this will call for increasing waste treatment capacity, which will spur the global biogas plant construction market expansion. A variety of organic materials, including commercial & household food waste, agricultural waste, municipal & industrial sewage, and livestock manures, can be converted into biogas in biogas plants. In the upcoming years, these capabilities are anticipated to serve as growth accelerators for the industry, along with increased waste creation.
Challenges
Challenges associated with organic agriculture to pose challenge to market
Given that more than 80% of the world's population resides in developing nations, organic agriculture, waste management, renewable energy, and healthcare all face significant global difficulties. Over 90% of agricultural waste is frequently dumped in uncontrolled landfills, burned outdoors, or managed with composting. In fact, using biogas technology to solve waste & energy issues and increase agricultural production by using biogas leftovers as organic fertilizers is a renewable and environmentally friendly technology.
Segmentation Analysis
The global biogas plant construction market is segmented based on product type, end user, and region
On the basis of type, the market has been segmented into wet digestion and dry digestion. Due to the financial incentives offered by the government and commercial organizations to owners of biogas plants as well as the advantageous nature of the rules being set up, wet digestion is predicted to expand at the fastest CAGR.
On the basis of end-user, the market has been segmented into industrial and agricultural. Market share for biogas plants made up the majority of agricultural waste. Organic waste material generated in the agriculture sector is included in agricultural waste. The potential for using energy crops, herbaceous plants raised particularly for the purpose of producing bioenergy, is expanding at the same time.
Recent Developments:
In March 2021, Weltech Biopower will have constructed more than 200 biogas plants across all of Europe. Weltech Biopower is currently working on the largest biogas plant in the world, which will be built in Germany. The plant will have four fermenters, six digestate storage tanks, and one liquid reservoir. It is anticipated to produce 6 million cubic meters of biogas annually.
In March 2021, BTS Biogas, an Italian business that invented next-generation anaerobic digestion facilities, said that it was expanding its operations in North America. America will be Bioenergy Devco's (BDC) official technology provider. These businesses will collaborate to facilitate the engineering, building, and operation of sustainable anaerobic digestion projects across the nation.
In June 2022, EnviTech began building on the expansion of the business's original Lohne, Lower Saxony, facilities. Additionally, an additional 640 square meters will increase the office's total capacity to 3,000 square meters, 750 of which will be used for storage.
Report Scope
| | |
| --- | --- |
| Report Attribute | Details |
| Market Size in 2021 | USD 3.27 Billion |
| Projected Market Size in 2028 | USD 5.81 Billion |
| CAGR Growth Rate | 8.54% CAGR |
| Base Year | 2021 |
| Forecast Years | 2022-2028 |
| Key Market Players | BioConstruct, BTS Biogas, EnviTec Biogas AG, HoSt, IES BIOGAS, IG Biogas, PlanET Biogas Global GmbH, SEBIGAS, and others |
| Key Segment | By Type, End Use, and Region |
| Major Regions Covered | North America, Europe, Asia Pacific, Latin America, and the Middle East &, Africa |
| Purchase Options | Request customized purchase options to meet your research needs. Explore purchase options |
Regional Analysis
Europe to lead the market growth during the projection period '
Europe is dominating the global biogas plant construction market with the maximum volume of biogas production. In 2021, Europe held the largest market share for biogas plants as a result of rising investments in bio-related energy. By the end of 2020, there will be more than 19,000 operating biogas plants in Europe, according to the European Biogas Association. Around 11,500 MW of electric capacity had been installed across all of Europe. The biggest users of bio-based energy sources are Germany, the UK, France, Spain, Italy, and Sweden. With more than 9,500 plants, or more than half of all the installations now operating in the European Union, Germany is the region's largest producer (EU).
Competitive Analysis
BioConstruct
BTS Biogas
EnviTec Biogas AG
HoSt
IES BIOGAS
IG Biogas
PlanET Biogas Global GmbH
SEBIGAS.
The global biogas plant construction market is segmented as follows:
By Type
Wet Digestion
Dry Digestion
By End Use
By Regional Segment Analysis
North America
Europe

France
The UK
Spain
Germany
Italy
Nordic Countries
Benelux Union

Belgium
The Netherlands
Luxembourg

Rest of Europe

Asia Pacific

China
Japan
India
Australia
South Korea
Southeast Asia

Indonesia
Thailand
Malaysia
Singapore
Rest of Southeast Asia

Rest of Asia Pacific

The Middle East & Africa

Saudi Arabia
UAE
Egypt
South Africa
Rest of the Middle East & Africa

Latin America

Brazil
Argentina
Rest of Latin America