Industry Insights
[224+ Pages Report] According to research released by Facts and Factors, the global bioelectric medicine market was valued at about USD 23.31 billion in 2020, and is predicted to create revenue of about USD 36.79 billion by the end of 2026, rising at a CAGR of around 7.9%.
Market Overview
Bioelectric Medicines are medical devices that use electrical impulses to influence changes in bodily functioning. Bioelectric Medicine, unlike other muscle or tissue stimulators, works on the basis of neurostimulation, which is the use of electrical impulses to modulate the neurological system. Current treatment options for a variety of neurological illnesses and other disease states rely on drug-based treatments, which come with a slew of side effects and have failed to deliver on their promises of outcomes. Bioelectric medicine has been used to treat a variety of diseases and ailments, and they are effective in both invasive and non-invasive approaches. In the future, these are expected to be a viable replacement for drug-based treatments.
Industry Growth Factors
The bioelectric medicine market is expected to expand over the projected period, owing to factors such as an increase in the number of chronic diseases, which would lead to the adoption of new and novel therapeutic devices, as well as technological improvements in electroceutical technology. In addition, adoption of inorganic tactics among ecosystem participants, such as collaborations and merger-acquisitions, is providing potential for market expansion throughout the projection period.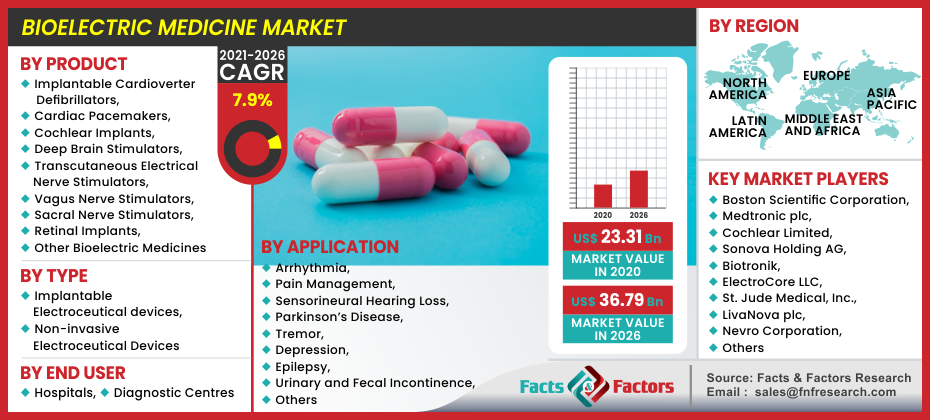 To know more about this report | Request Free Sample Copy
Segmentation Analysis
The global bioelectric medicine market is segregated into the product, type, application, and end-user. The products are categorized into implantable cardioverter defibrillators, cardiac pacemakers, cochlear implants, deep brain stimulators, transcutaneous electrical nerve stimulators, vagus nerve stimulators, sacral nerve stimulators, retinal implants, and other bioelectric medicines. The implanted cardioverter defibrillators segment had dominated the global market owing to the significant use of these products for arrhythmia. In addition, expanding elderly population, increased incidence of abrupt cardiac arrests, and advanced product development is likely to drive market growth.
Because of the rising frequency of Parkinson's disease and lifestyle-related illnesses such as obesity and depression, the deep brain stimulator market is predicted to rise significantly throughout the projected period. In terms of type, the market has been classified into implantable electroceutical devices and non-invasive electroceutical devices. Due to the widespread use of these products to treat arrhythmia, chronic pain, ischemia, depression, tremor, and sensorineural hearing loss, implantable electroceutical devices were the top revenue-generating segment in 2020.
During the study period, the non-invasive electroceutical devices segment is expected to increase the most. This is attributable to technical developments and increasing company expenditure in R&D for the development of novel products. Based on application, the industry has been bifurcated into arrhythmia, pain management, sensorineural hearing loss, Parkinson's disease, tremor, depression, epilepsy, urinary and fecal incontinence, and others. The Arrhythmia segment is anticipated to grow at a stellar owing to the rising prevalence of arrhythmia patient base that involves the use of implantable cardioverter-defibrillators and cardiac pacemakers for the treatment. The tremor application segment has been gaining popularity in the recent past and is estimated to grow at a CAGR of 6.9% over the forecasted period. Another important area is sensorineural hearing loss; the high prevalence of individuals with hearing loss is the market's main development driver. This segment is projected to witness the fastest growth rate during the forecast era.
The end users are the hospitals and diagnostic centers. Because of the increased burden of chronic disorders such as arrhythmia, epilepsy, Alzheimer's, retinitis pigmentosa, chronic pain, and depression, which necessitate frequent or infrequent hospitalization, the hospital segment retained the greatest revenue share. Bioelectric treatments are becoming more popular as the world's population grows and healthcare infrastructure improves. The use of electroceuticals in hospitals is predicted to grow in response to rising disposable income and the availability of modern medical technologies for the treatment of a variety of serious ailments.
Regional Analysis
North America held the largest market share of around 41% in the global bioelectric medicine market in 2020. Following North America, Europe has captured the second-largest market position. Growing demands for novel medical devices for treatment, as well as the existence of large bioelectric medicine producers, primarily in Germany, Switzerland, the United Kingdom, and France, as well as a well-developed healthcare infrastructure, are projected to be important market drivers. Due to the expanding elderly population in Asian countries such as China and India, the Asia Pacific region is expected to have the highest CAGR throughout the projection period.
Report Scope
| | |
| --- | --- |
| Report Attribute | Details |
| Market Size in 2020 | USD 23.31 billion |
| Projected Market Size in 2026 | USD 36.79 billion |
| Growth Rate | CAGR 7.9% |
| Base Year | 2020 |
| Forecast Years | 2021–2026 |
| Key Market Players | Boston Scientific Corporation, Medtronic plc, Cochlear Limited, Sonova Holding AG, Biotronik, ElectroCore LLC, St. Jude Medical, Inc., LivaNova plc, Second Sight Medical Products, Inc., Nevro Corporation, MED-EL, Cefaly Technology, BioElectronics Corporation, Vomaris Innovations, Inc., EnteroMedics Inc., Stimwave LLC, Oticon Medical, and NeuroSigma, Inc. among others. |
| Key Segment | By Type, By Application, By Product, By End User, and By Region |
| Major Regions Covered | North America, Europe, Asia Pacific, Latin America, and the Middle East & Africa |
| Purchase Options | Request customized purchase options to meet your research needs. Explore purchase options |
Competitive Players
Some main participants of the global bioelectric medicine market are :
Boston Scientific Corporation
Medtronic plc
Cochlear Limited
Sonova Holding AG
Biotronik
ElectroCore LLC
St. Jude Medical Inc.
LivaNova plc
Second Sight Medical Products Inc.
Nevro Corporation
MED-EL
Cefaly Technology
BioElectronics Corporation
Vomaris Innovations Inc.
EnteroMedics Inc.
Stimwave LLC
Oticon Medical
NeuroSigma Inc.
Bioelectric Medicine Market: Regional Segment Analysis
North America
Europe

UK
France
Germany
Italy
Spain
Rest of Europe

Asia Pacific

China
Japan
India
South Korea
Southeast Asia
Rest of Asia Pacific

Latin America

Brazil
Mexico
Rest of Latin America

Middle East and Africa

GCC Countries
South Africa
Rest of MEA