Industry Insights
[217+ Pages Report] According to Facts & Factors, the global AIOps market was valued at about USD 11,041.04 Million in 2020 and is anticipated to produce revenue of roughly USD 31,799.1 Million by the end of 2026, expanding at a CAGR of nearly 19.3% between 2021 and 2026.
AIOps Market: Overview
Artificial Intelligence for IT Operations (AIOps) is thought to have originated from IT operations analytics (ITOA), and it refers to systems that use artificial intelligence and machine learning to automate jobs and processes without the need for human interaction. AIOps capture, evaluate, and analyze enormous amounts of IT data in real-time by using a variety of algorithms. AIOps is concerned with real-time data and helps a company recognize problems and automatically resolve them using various algorithms. It allows businesses and IT departments to obtain insight into their operations.
As more programs, systems, and platforms must be kept running at optimal performance, information technology (IT) is being tasked with increasing obstacles. The amount of data generated by both business and IT operations expands exponentially as an organization's complexity grows. AIOps uses artificial intelligence algorithms to analyze data from IT operations. The platform detects the root cause of events in real-time and automates operations to increase responsiveness.
AIOps Market: Growth Factors
Growing demand for AI-based services in IT operations, increasing movement of organization core business to the cloud, and increasing end-to-end business application assurance and uptime are all major growth factors for the market. Furthermore, investments in AIOps technology help to drive market growth.
The lack of experienced personnel and quick changes in IT operations could be major stumbling blocks to the AIOps market's expansion. However, recent activities by leading market players, such as new product launches and acquisitions, are projected to increase the market growth.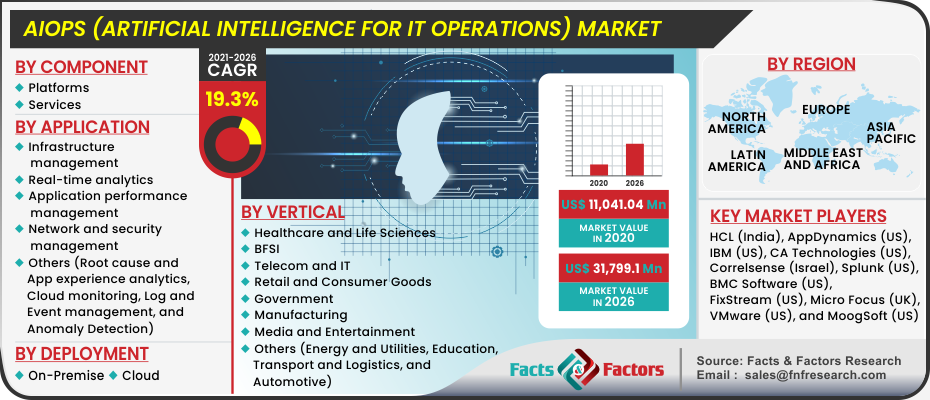 To know more about this report | Request Free Sample Copy
AIOps Market: Segmentation
Based on the Component of AIOps, the AIOps Market can be segmented into platforms and services. The platforms sector is likely to take the biggest share of the market. The AIOps platform combines several AI methodologies, such as data output, aggregation, analytics, algorithms, automation and orchestration, machine learning, and visualization. Multiple data sources, data collection methods, and analytical and display technologies can all be used on these platforms. Multiple IT operations disciplines benefit directly and indirectly from the platform's sophisticated analytical capabilities. On the basis of the application of AIOps, the AIOps Market can be segmented into Infrastructure management, Real-time analytics, Application performance management, Network and security management, and Others. The real-time analytics of the application as a segment is predicted to have the biggest market size since AIOps systems analyze enormous amounts of data from numerous sources in real-time using various types of algorithms to give real-time pattern identification. This platform allows for real-time issue analysis and diagnosis, as well as actionable insights. Organizations may use real-time analytics to detect, prioritize, diagnose, and resolve events using a data-driven strategy. It aids in reducing the meantime to find and correct problems. Organizations may avoid recurring events, alerts, and respond swiftly to production incidents with a shorter mean time to fix.
Based on the Deployment of AIOps, the AIOps Market can be segmented into On-premises and Cloud. In 2019, On-premise accounted for 59.15 percent of the market, and it is expected to increase at a good CAGR over the forecast period. The cloud provides a wide range of services to automate all parts of infrastructure deployment and administration that on-premises services cannot. Cloud was the second-largest market in 2019, and it is expected to grow at a CAGR higher than that of On-premises in the forecast period. On the basis of Vertical of AIOps, the AIOps Market can be segmented into: Healthcare and Life Sciences, BFSI, Telecom and IT, Retail and Consumer Goods, Government, Manufacturing, Media and Entertainment, and Others.
Report Scope
| | |
| --- | --- |
| Report Attribute | Details |
| Market Size in 2020 | USD 11,041.04 Million |
| Projected Market Size in 2026 | USD 31,799.1 Million |
| CAGR Growth Rate | 19.3% CAGR |
| Base Year | 2020 |
| Forecast Years | 2021-2026 |
| Key Market Players | HCL (India), AppDynamics (US), IBM (US), CA Technologies (US), Correlsense (Israel), Splunk (US), BMC Software (US), FixStream (US), Micro Focus (UK), VMware (US), and MoogSoft (US)., and Others |
| Key Segment | By Component, Application, Deployment, Vertical, and Region |
| Major Regions Covered | North America, Europe, Asia Pacific, Latin America, and the Middle East & Africa |
| Purchase Options | Request customized purchase options to meet your research needs.Explore purchase options |
AIOps Market: Regional Analysis
Because of its dominance with developed economies, North America is predicted to have the greatest market size in the Global AIOps Market. This allows them to invest extensively in R&D efforts. The region has seen a growth in IT expenditure as a result of the continuous expansion of digital transformation across industries and the growing convergence of multiple technologies, such as AI, ML, big data, and analytics. In addition, to fulfill the demand for AI-powered solutions, regional IT behemoths such as IBM, BMC Software, CA Technologies, VMware, and Splunk are focusing on supplying AI-powered services to assist their customers in developing intelligent applications.
As a result of dynamic changes in the use of automation in various business processes across verticals, Asia Pacific (APAC) is predicted to expand at the highest CAGR throughout the projection period. Due to the fast creation of massive volumes of data, the need for AI-powered products and services is growing across APAC. AI-powered solutions and services, such as machine learning (ML), promote data analytics innovation and fill gaps left by earlier tools. This gives businesses in the APAC area more confidence in adopting big data solutions. Governments in APAC are spending heavily on AI, but long-term solutions will take longer to implement due to structural issues such as a lack of data for machine learning and a scarcity of AI professionals.
AIOps Market: Competitive Players
Some of the major market players in the AIOps Market are :
HCL (India)
AppDynamics (US)
IBM (US)
CA Technologies (US)
Correlsense (Israel)
Splunk (US)
BMC Software (US)
FixStream (US)
Micro Focus (UK)
VMware (US)
MoogSoft (US).
AIOps Market: By Component Segmentation Analysis:
AIOps Market: By Application Segmentation Analysis:
Infrastructure management
Real-time analytics
Application performance management
Network and security management
Others (Root cause and App experience analytics, Cloud monitoring, Log and Event management, and Anomaly Detection)
AIOps Market: By Deployment Segmentation Analysis:
AIOps Market: By Vertical Segmentation Analysis:
Healthcare and Life Sciences
BFSI
Telecom and IT
Retail and Consumer Goods
Government
Manufacturing
Media and Entertainment
Others (Energy and Utilities, Education, Transport and Logistics, and Automotive)
AIOps Market: Regional Segmentation Analysis
North America
Europe

Germany
The UK
France
Spain
Italy
Rest of Europe

Asia Pacific

China
Japan
India
South Korea
Southeast Asia
Rest of Asia Pacific

Latin America

Brazil
Mexico
Rest of Latin America

Middle East & Africa

GCC Countries
South Africa
Rest of Middle East & Africa