Covid-19
Global Anti-Neoplastic Agents Market Size, Share
The pandemic continues to cause unprecedented disruption across industries worldwide.Get detailed insights regarding the impact of COVID-19 on the market. Request Sample
Industry Insights
[229+ Pages Report] According to Facts and Factors, the global anti-neoplastic agents market is forecasted to reach USD 233 billion by 2028, rising from USD 108 billion in 2021. Over the forecast period, the global anti-neoplastic agents market is expected to grow at a significant CAGR of 7.5%. The report explores various factors and their implications on the anti-neoplastic agents market's growth.
Market Overview
Antineoplastic drugs, often known as cytotoxic drugs, are medications that prevent neoplasms from maturing and multiplying. They enter the human body and eliminate malignant cells. These medications are used to treat a wide range of cancers, as well as in radiotherapies, surgeries, and immunotherapies for several metastatic tumors. With new cases of neoplasms being reported all over the world, the market for anti-neoplastic is expected to grow at a rapid pace. The increasing demand for low-cost medicines to treat neoplasms is projected to boost the anti-neoplastic agents market in the near future.
Gleevec, Oncotrex, Leueran, Neosar, Cytarine, and other anti-neoplastic medicines are commercially marketed for the treatment of many forms of cancer. Several new anti-neoplastic drugs are currently in clinical trials, including Oncofetal Ag (phase 1), Volasertib (phase 2), Panobinostat (phase 2), Bortezomib (phase 4), and others, and are likely to be available in the next 5–10 years.
COVID-19 Impact Analysis:
Over the previous two years, almost every industry in the world has suffered a setback. It is due to major impediments in their supply and manufacturing activities as a result of numerous preventive lockdowns and other restrictions placed by governing authorities around the globe. The same is true for the global market for anti-neoplastic agents. Furthermore, consumer spending has response issues as consumers are often more likely to focus on decreasing non-essential expenditures from their perks and benefits as the overall economic condition of most people has been badly hit by this pandemic. These factors are projected to weigh on the growth trajectory of the worldwide anti-neoplastic agents market throughout the forecast period. However, as individual governmental bodies begin to relax these imposed restrictions, the global anti-neoplastic agents market is likely to rebound. Over the forecast period, the market for neoplastic agents will grow.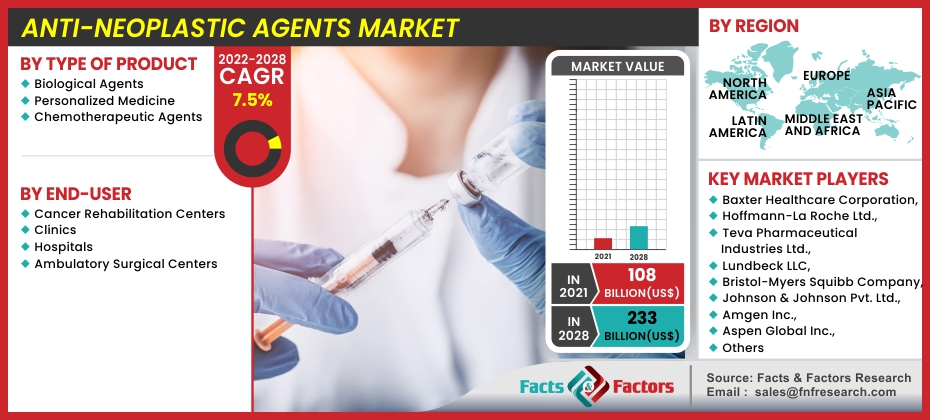 Growth Drivers
Rising prevalence of cancer increases the market value
Anti-neoplastic drugs are commonly used in conjunction with immunology, surgery, hormone therapy, radiation, and targeted therapy to treat a variety of solid tumors, particularly metastatic tumors. Cancer risk increases with age, and it is currently becoming more widespread over the world as people's living standards change. As a result of the expanding demand and requirement for anti-neoplastic agents, several large pharmaceutical industry firms have entered the global anti-neoplastic agents market in order to expand more competent treatments against a variety of cancer conditions.
Furthermore, advanced technologies employed in the anti-neoplastic agents market are one such element propelling its expansion. Private sector investments in the development of cancer and other disease-related medications are also accelerating market expansion. Rising demand for anti-neoplastic pharmaceutical agents has compelled pharmaceutical companies to enter the market in order to develop and manufacture more effective cancer-fighting therapies, propelling market expansion.
Restraints
Expensive therapies and a scarcity of trained workers in the appropriate industry are expected to stifle market growth
One of the primary factors impeding the development of anti-neoplastic therapy is the exorbitant cost of the medicines. Even in poor nations like India, where cancer treatments are relatively inexpensive, cancer therapy can range from USD 3000 to USD 12,000 depending on the stage and type of cancer. Needless to add, the same treatments in North America and Europe can cost an arm or a leg. Furthermore, a scarcity of experienced specialists with in-depth knowledge of the field may stymie the expansion of the anti-neoplastic agents market.
Opportunities
Anti-neoplastic drugs are being developed at a rapid pace
Cancer is regarded as one of the world's most critical public health issues. Early cancer diagnosis must be improved rapidly, as the majority of patients suffering from advanced cancer during their first clinical visit. Anti-neoplastic drugs are regarded as a significant therapy option. Since the first clinical report of chemo for advanced tumors, various anticancer medicines, such as Carmustine, Fludarabine, and Gemcitabine, have been produced and have successfully improved the clinical results of patients with malignant tumors. Gemcitabine is an injectable antineoplastic drug used in the treatment of a variety of advanced cancers, including pancreatic, lung, breast, ovarian, and bladder cancer.
Challenges
The advent of oral antineoplastic drugs has arrived, posing a significant challenge for both patients and healthcare providers for the foreseeable future. Patient adherence is low, indicating the need for improved monitoring and management of patients taking oral antineoplastic drugs. Some of the primary problems that must be addressed are a lack of patient education on a better understanding of the patient's treatment regimen, treatment plans & adverse effects, patient safety, and the implementation of self-care measurement.
Segmentation Analysis
The global anti-neoplastic agents market is segregated on the basis of type of product, end-user, and region.
By type of product, the market is divided into biological agents, personalized medicine, and chemotherapeutic agents. Chemotherapeutic agents account for a major portion of the market revenue. Because of the ease with which pharmaceuticals are available, the chemotherapeutic agents' category is expected to lead the market. The market for immunotherapeutic agents is predicted to expand as biological therapy acceptability grows due to fewer adverse effects.
By end-user, the market is classified into cancer rehabilitation centers, clinics, hospitals, and ambulatory surgical centers. The hospital segment accounted for a sizable portion of market revenue. According to the Healthcare Cost and Utilization Project, there were 36.2 million hospital admissions connected to cancer in the United States in 2019.
Report Scope
| | |
| --- | --- |
| Report Attribute | Details |
| Market Size in 2021 | USD 108 Billion |
| Projected Market Size in 2028 | USD 233 Billion |
| CAGR Growth Rate | 7.5% CAGR |
| Base Year | 2021 |
| Forecast Years | 2022-2028 |
| Key Market Players | Baxter Healthcare Corporation, Hoffmann-La Roche Ltd., Teva Pharmaceutical Industries Ltd., Lundbeck LLC, Bristol-Myers Squibb Company, Johnson & Johnson Pvt. Ltd., Amgen Inc., Aspen Global Inc., Genentech Inc., AbbVie Inc., Accord Healthcare Inc., Boehringer Ingelheim GmbH, Merck & Co. Inc., Bayer AG, Pfizer Inc., and Others |
| Key Segment | By Type of Product, By End-User, and By Region |
| Major Regions Covered | North America, Europe, Asia Pacific, Latin America, and the Middle East & Africa |
| Purchase Options | Request customized purchase options to meet your research needs. Explore purchase options |
Regional Landscape
In 2021, North America owned the greatest share of the global anti-neoplastic agents market, accounting for 34% of the total. Obesity on a vast scale in the US is one of the major causes of this segment's rise, as does the continent's expanding older population, which plays a vital role as risks of cancer increase with age, and reduced immunity due to the high consumption of fast meals. For instance, the senior population currently accounts for 16 percent of the total population and is expected to increase to 22 percent by 2040, or over 85.5 million people.
However, the Asia-Pacific region is anticipated to witness the fastest-growing segment between 2022 and 2028. The expansion in this area is due to factors such as an increase in communicable and cancer cases with a growing population, developing-country GDPs such as China and India, resulting in further investment in state-of-the-art healthcare and research infrastructure.
Recent Developments
November 2021: The FDA has accepted the classification of "orphan drug" for CTC's wholly-owned therapeutically candidate, LYT-200, for treating pancreatic cancer, according to the US-based clinical-stage therapeutic firm, "PureTech." LYT-200 is a fully human IgG4 monoclonal antibody that targets galectin-9, a basic immunosuppressive protein, for the potential treatment of solid tumors such as colorectal cancer, pancreatic ductal adenocarcinoma, and cholangiocarcinoma, which are difficult to treat and have low survival rates.
November 2021: Roswell Park Comprehensive, a cancer clinic in New York, did research and discovered that there is a strong relationship between cancer and stress. According to the study's findings, people who experience greater levels of stress are much more prone to developing cancer cells. It was also discovered that when tumors grow, they become even more susceptible to stress signals from the central nervous system. The researchers revealed that a subset of immune cells called myeloid-derived suppressor cells express more β-AR, a protein that regulates the function of important immune cells.
Competitive Landscape
Some of the main competitors dominating the global anti-neoplastic agents market are Baxter Healthcare Corporation, Hoffmann-La Roche Ltd., Teva Pharmaceutical Industries Ltd., Lundbeck LLC, Bristol-Myers Squibb Company, Johnson & Johnson Pvt. Ltd., Amgen Inc., Aspen Global Inc., Genentech Inc., AbbVie Inc., Accord Healthcare Inc., Boehringer Ingelheim GmbH, Merck & Co. Inc., Bayer AG, and Pfizer Inc.
The global anti-neoplastic agents market is segmented as follows:
By Type of Product Segment Analysis
Biological Agents
Personalized Medicine
Chemotherapeutic Agents
By End-User Segment Analysis
Cancer Rehabilitation Centers
Clinics
Hospitals
Ambulatory Surgical Centers
By Regional Segment Analysis
North America

The U.S.
Canada
Mexico
Rest of North America

Europe

France
The UK
Spain
Germany
Italy
Nordic countries

Denmark
Finland
Iceland
Sweden
Norway

Benelux Reunion

Belgium
The Netherlands
Luxembourg

Rest of Europe

Asia Pacific

China
Japan
India
New Zealand
Australia
South Korea
Southeast Asia

Indonesia
Thailand
Malaysia
Singapore
Rest of Southeast Asia

Rest of Southeast Asia

The Middle East & Africa

Saudi Arabia
UAE
Egypt
Kuwait
South Africa
Rest of Middle East & Africa

Latin America

Brazil
Argentina
Rest of Latin America