Industry Insights
[220+ Pages Report] According to the report published by Facts Factors, the global animal healthcare market size was worth around USD 40.21 billion in 2022 and is predicted to grow to around USD 84.98 billion by 2030 with a compound annual growth rate (CAGR) of roughly 9.81% between 2023 and 2030. The report analyzes the global animal healthcare market drivers, restraints/challenges, and the effect they have on the demands during the projection period. In addition, the report explores emerging opportunities in the animal healthcare market.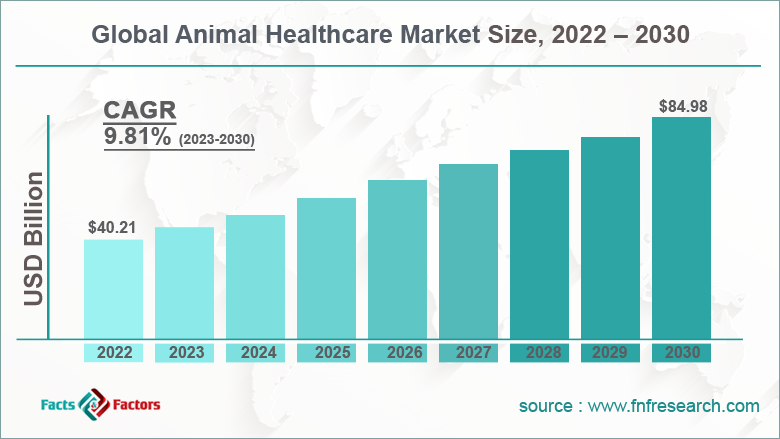 To know more about this report | Request Free Sample Copy
Market Overview
The global industry functions around medical care including services and products that are required for the well-being of animals. It includes measures undertaken and products used to improve animal health and is applicable to all types of animals like livestock, pets, or zoo animals. Vaccines, diagnostic tools, pharmaceuticals, feed, surgical instruments, and other devices form a part of the industry.
Furthermore, clinics, animal welfare centers, veterinary hospitals, and other types of medical caregiving centers are integral to the efficient functioning of the sector. Training, boarding, and grooming are some of the activities that also fall under the larger umbrella called animal healthcare. In recent years, there has been substantial growth in the fraternity due to several factors but during the forecast period, it is anticipated to grow at one of the highest CAGR margins it has ever witnessed in the last couple of years.
Key Insights
As per the analysis shared by our research analyst, the global animal healthcare market is estimated to grow annually at a CAGR of around 9.81% over the forecast period (2022-2030)
In terms of revenue, the global animal healthcare market size was valued at around USD 40.21 billion in 2022 and is projected to reach USD 84.98 billion, by 2030.
The market is projected to grow at a significant rate due to the growing rate of pet ownership
Based on distribution channel segmentation, veterinary hospitals & clinics were predicted to show maximum market share in the year 2022
Based on animal type segmentation, the farm was the leading type in 2022
On the basis of region, North America was the leading revenue generator in 2022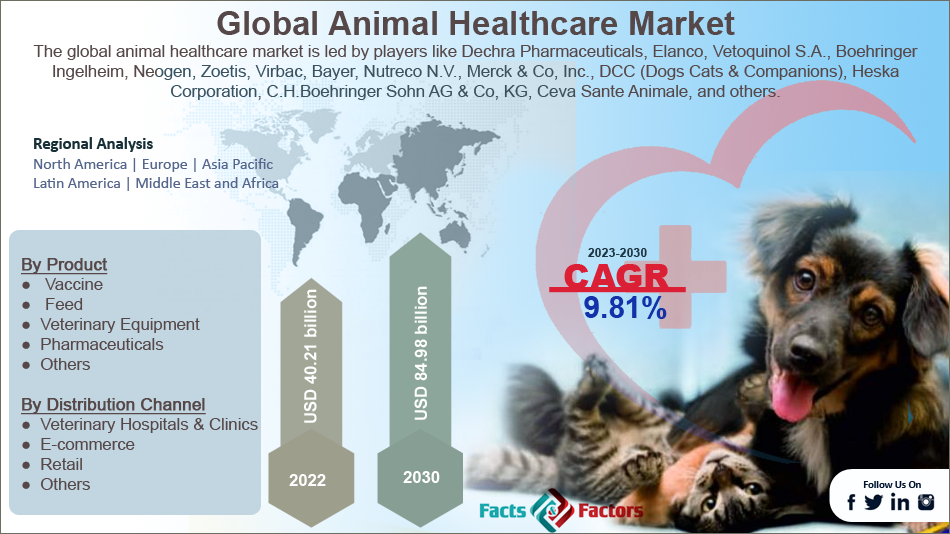 To know more about this report | Request Free Sample Copy
Growth Drivers
Growing rate of pet ownership to act as the main growth trigger
The global animal healthcare market is projected to grow owing to the increasing rate at which the general population is owning pets which includes a wide range of animals and is not only limited to dogs and cats although the market is currently dominated by them. As the world is moving toward rapid urbanization and commercialization, a lot of people are looking for companionship since it is easy to lose a sense of belonging when living in large cities where their lives revolve around corporate well-being.
Humans are social animals and the sense of feeling loved is a common trait amongst humans. Animals have, for a long, been loyal companions to humans either in pet form or as livestock. However, the trend has now reached urban populations as well and people are willing to spend thousands of dollars on the welfare of their pets.
Restraints
High cost of medical care to restrict market expansion
Veterinary medical care can end up costing up to thousands of dollars and this is especially applicable to certain animal types and their medical history. People with limited financial resources may find it difficult to keep up with the ever-rising prices of animal care in terms of medicines or feed.
For instance, the average monthly cost of owning a small dog can be around USD 43 and in case the animals contract cancer, the radiation therapy can cost between USD 2500 to USD 7000 depending on the cancer stage and animal breed.
Opportunities
Veterinary care advancements to promote further growth
With the aid of technology adoption, the global animal healthcare industry is expected to witness higher growth opportunities as the veterinary medicine segment works toward improving the animal care experience. The fraternity is witnessing a surge in investments directed toward investing in new diagnostic tools, drugs, and surgical techniques which could become the answer to many unsolved problems in the animal medical care segment. As the global industry registers high pet ownership and people become more responsible toward proper animal care, the demand for advanced tools and mechanisms is expected to grow.
Challenges
Antibiotic resistance acts as a major challenge for players
One of the growing concerns in the sector is the increasing number of cases showcasing antibiotic resistance in animals. This is mostly due to the overuse of antibiotics that has led to the development of bacteria that resists the impact of many versions of antibiotics. This can greatly limit the growth of the global market as pet owners may lose confidence in veterinary medicine and animal care. Furthermore, companies would be required to invest higher in research & development to ensure the development of a solution for such issues.
Segmentation Analysis
The global animal healthcare market is segmented based on animal type, product, distribution channel, and region
Based on animal type, the global market is divided into companion and farm
In 2022, the farm segment generated the highest revenue
However, it is important to note that both segments are significant contributors to the global industry and have high growth potential during the forecast period
The dominance of the farm segment was generally due to the high number of animals that need medical care or other assistance as compared to companion animals
Furthermore, they require routine treatment and preventive care since farm animals directly influence the ecosystems, and products derived from them are sold in the commercial market
In 2021, New Zealand's milk export market was valued at USD 7.81 billion
Based on product, the global market is segmented into vaccines, feed, veterinary equipment, pharmaceuticals, and others.
Based on distribution channel, the global market segments are veterinary hospitals & clinics, e-commerce, retail, and others
Veterinary hospitals and clinics, followed by e-commerce were the largest contributors to the global fraternity
In developed economies, veterinary clinics are the most trusted distribution channel since they have the bandwidth to cater to the massive demand of the industry
Furthermore, these units are generally always in full stock in terms of animal vaccines, drugs, and other types of supplement
The e-commerce and retail segment is highly popular for animal feed due to the availability of more options
The average cost of first-year vaccinations in dogs can reach up to a minimum value of USD 115
Recent Developments:
In August 2021, Virbac Corporation, a company working in the animal healthcare sector, announced the launch of a tigilanol tailgate injection called STELFONTA. The medicine has received approval from the United States Food and Drugs Administration. STELFONTA can be used as a non-surgical substitute for the treatment of mast cell tumors in canines
In July 2021, US FDA approved Tanovea (rabacfosadine injection). It is supposed to be used for treating lymphoma in dogs. The injection received approval with the aid of the new animal drug approval process
In February 2021, DCC (Dogs Cats & Companions) Animal Hospital announced that it will expand its operations in the Indian market. The company stated that it will launch multi-specialty hospitals in the country for animal care
Report Scope
| | |
| --- | --- |
| Report Attribute | Details |
| Market Size in 2022 | USD 40.21 Billion |
| Projected Market Size in 2030 | USD 84.98 Billion |
| CAGR Growth Rate | 9.81% CAGR |
| Base Year | 2022 |
| Forecast Years | 2023-2030 |
| Key Market Players | Dechra Pharmaceuticals, Elanco, Vetoquinol S.A., Boehringer Ingelheim, Neogen, Zoetis, Virbac, Bayer, Nutreco N.V., Merck & Co. Inc., DCC (Dogs Cats & Companions), Heska Corporation, C.H.Boehringer Sohn AG & Co, KG, Ceva Sante Animale, and others. |
| Key Segment | By Animal Type, Product, Distribution Channel, and Region |
| Major Regions Covered | North America, Europe, Asia Pacific, Latin America, and the Middle East &, Africa |
| Purchase Options | Request customized purchase options to meet your research needs. Explore purchase options |
Regional Analysis
North America to continue with the dominance
The global animal healthcare market is projected to register the highest growth in North America as it has in previous years. The regional growth is a consequence of the already existing high number of pet owners which is growing annually. Furthermore, the high disposable income of the population group allows them to spend extra on animal care as pet care is an important cultural aspect of the region. In addition to this, the growing initiatives by government agencies along with animal welfare agencies to promote medical care for stray animals are an important segment contributing to higher revenue.
The region has one of the world's most organized systems for managing stray animals or lost pets. The well-equipped veterinary care of the US and Canada are equally responsible for high regional revenue. Growth in Europe is anticipated to be driven by similar reasons along with the presence of supportive infrastructure promoting animal care.
Competitive Analysis
Dechra Pharmaceuticals
Elanco
Vetoquinol S.A.
Boehringer Ingelheim
Neogen
Zoetis
Virbac
Bayer
Nutreco N.V.
Merck & Co. Inc.
DCC (Dogs Cats & Companions)
Heska Corporation
C.H.Boehringer Sohn AG & Co. KG
Ceva Sante Animale
The global animal healthcare market is segmented as follows:
By Animal Type Segment Analysis
By Product Segment Analysis
Vaccine
Feed
Veterinary Equipment
Pharmaceuticals
Others
By Distribution Channel Segment Analysis
Veterinary Hospitals Clinics
E-commerce
Retail
Others
By Regional Segment Analysis
North America
Europe

France
The UK
Spain
Germany
Italy
Nordic Countries
Benelux Union

Belgium
The Netherlands
Luxembourg

Rest of Europe

Asia Pacific

China
Japan
India
Australia
South Korea
Southeast Asia

Indonesia
Thailand
Malaysia
Singapore
Rest of Southeast Asia

Rest of Asia Pacific

The Middle East & Africa

Saudi Arabia
UAE
Egypt
South Africa
Rest of the Middle East & Africa

Latin America

Brazil
Argentina
Rest of Latin America