Industry Insights
[220 + Pages Report] According to Facts and Factors, the global air purifying respirators market size was worth around USD 2130.62 million in 2021 and is predicted to grow to around USD 3854.11 million by 2028 with a compound annual growth rate (CAGR) of roughly 8.80% between 2022 and 2028. The report analyzes the global air purifying respirator (APR) market's drivers, restraints/challenges, and the effect they have on the demands during the projection period. In addition, the report explores emerging opportunities in the air purifying respirator (APR) market.
Air purifying respirator (APR) Market: Overview
A type of personal protection equipment (PPE) called an air-purifying respirator is used by employees in environments where the air is contaminated by fumes, dust, odors, hazardous gases, or vapors. Through face masks and hoods, an air purifying respirator offers clean, breathable air that helps to remove air contaminants. Numerous viral health risks are on the rise, and the recent COVID-19 pandemic outbreak is expected to spur market growth. Since the pandemic, these items have become more popular among medical personnel since, in comparison to N95 FFRs and reusable elastomeric half-face piece respirators, they offer the best coronavirus protection. All enterprises began operating normally at the beginning of 2021, which resulted in an increase in demand for air-purifying respirators (APR) from a variety of industries, including the oil & gas, petrochemical, industrial, and other sectors.
The NIOSH Respirator Selection Logic states that powered air-purifying respirators should be used when hazardous particle or gas concentrations exceed the relevant occupational exposure limit. Even so, if the respirator has a properly allocated protection factor, it will be below the immediately dangerous to life or health (IDLH) threshold and the maximum-use concentration suggested by the manufacturer.
Key Insights
As per the analysis shared by our research analyst, the global air purifying respirator (APR) market is estimated to grow annually at a CAGR of around 8.80% over the forecast period (2022-2028).
In terms of revenue, the global air purifying respirator (APR) market size was valued at USD 2130.62 million in 2021 and is predicted to grow to around USD 3854.11 million by 2028. Due to a variety of driving factors, the market is predicted to rise at a significant rate.
Based on product type segmentation, full-face masks were predicted to show maximum market share in the year 2021
Based on application segmentation, healthcare had the leading revenue-generating applications in 2021.
On the basis of region, North America was the leading revenue generator in 2021
Covid-19 Impact
The pandemic of COVID-19 had a beneficial impact on air purifying respirator demand in the healthcare business. Healthcare personnel are at a significant risk of catching respiratory infections during patient examinations and procedures because of the increased COVID-19 instances, which is anticipated to increase demand for these goods in the U.S. In the United States, strict regulatory standards governing worker health and safety in high-risk activities are anticipated to spur market expansion throughout the projection period. The market is anticipated to be driven by an increase in large-scale infrastructure investments, such as hotel and hospital construction projects in New York, Missouri, and Los Angeles. Numerous industries' growing need for floor area growth has increased the number of construction and renovation projects nationwide. So, it is anticipated that the expanding construction sector will boost product demand during COVID.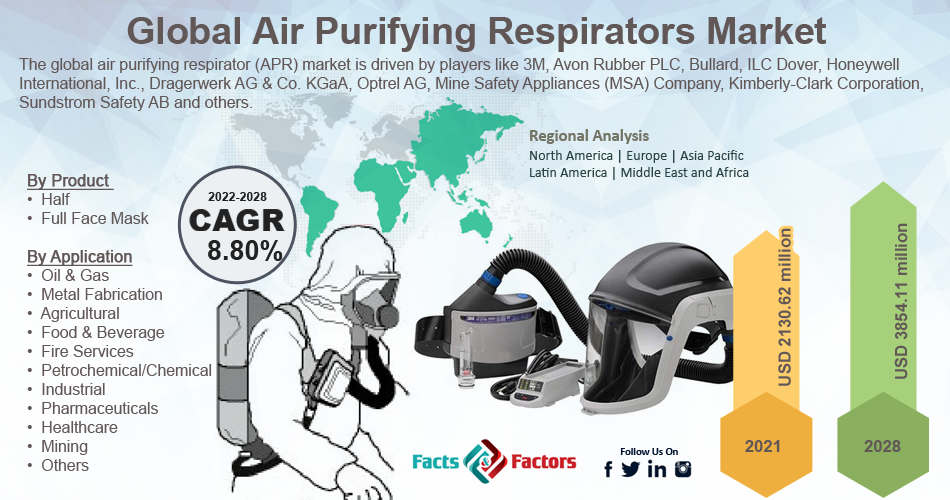 Air purifying respirator (APR) Market: Growth Drivers
Increasing awareness about the importance of worker safety at workplace to drive market growth.
The demand for air purifying respirators is rising in the global market due to a number of factors, including rising pollution and the prevalence of airborne diseases. Over the course of the projected period, there will be an increase in demand for air purifying respirators due to growing awareness of the significance of working worker safety. Workers are protected against chemical, poisonous gas, radiological, and nuclear threats by wearing respirators. Asbestos, silica, mineral oils, and diesel engine exhaust pollutants all contribute to the development of respiratory malignancies, including mesothelioma and lung cancer. Furthermore, a variety of poisonous vapors, gases, dust, and fumes are the root cause of chronic obstructive pulmonary disease and other non-cancerous diseases.
Air purifying respirator (APR) Market: Restraints
High price of air purifying respirators act as major hinder in growth of global air purifying respirator market.
The cost of air purifying respirators is a significant barrier to the expansion of the global market for these devices. The market for air respirators is being constrained by the growing automation of various sectors. Additionally, air purifying respirators have a number of environmental hazards, which is anticipated to be a key inhibitor for the market for air purifying respirators.
Air purifying respirator (APR) Market: Opportunity
Demand for multipurpose respiratory protection equipment
Workers are safeguarded against radiological, nuclear, radioactive, and poisonous gas threats through respiratory protection equipment. Exposure to asbestos, silica, diesel exhaust emissions, and mineral oils is known to increase the risk of developing respiratory cancers, such as lung cancer and mesothelioma. Other non-cancerous diseases including occupational asthma, pneumoconiosis, and chronic obstructive pulmonary disease (COPD) are also brought on by exposure to a variety of hazardous vapors, dust, gases, and fumes. Two-thirds of work-related deaths in the U.K. each year, or 12,000, are attributed to asbestos exposure, according to the National Statistics Health & Safety Executives (HSE).
Air purifying respirator (APR) Market: Challenges
The release of toxic byproducts and rising noise levels are the main obstacles the market for air purifying respirators must overcome.
Air purifying respirator (APR) Market: Segmentation
The global air purifying respirator (APR) market is segmented based on product, application, and region
The market, by product, is divided into half and full face mask. The full-face masks segment dominated the air-purifying respirators market in 2021. To defend against dangers like asbestos removal and disposal, full-face masks are worn. Concerns about worker safety in dangerous conditions are projected to raise demand for full face masks over the forecast period. The respiratory program is more compatible and flexible when helmets, hoods, and visors are matched with additional breathing apparatus. During the forecast period, segment expansion is anticipated to be fueled by the Middle East's expanding construction and oil & gas industries as well as a rise in the use of helmets, hoods, and visors in those sectors.
The market, by application, was segregated into oil & gas, metal fabrication, agricultural, food & beverage, fire services, petrochemical/chemical, industrial, pharmaceuticals, healthcare, mining & others. The healthcare segment dominated the air-purifying respirators market in 2021. Risks to the health and safety of healthcare workers include exposure to biological and blood-borne pathogens, waste anesthetic gas, and potential chemical and medication exposures. Because PAPR guards against these risks, the healthcare sector has a significant need for these products. Firefighters are exposed to a number of hazardous and carcinogenic compounds that are produced as combustion byproducts when a fire occurs. Particularly in North America and Europe, strict safety regulations and an increase in fires and blowouts are forcing businesses to place a higher priority on employee safety. Product sales in the fire brigade service market will increase as a result.
Recent Developments:
July 2020- Aero Parts Australia Ltd. (APA), a distributor of commercial air, life support, and military equipment in Australia and New Zealand, was acquired by Gentex Corporation. The former will be able to better serve its customers in the industries above due to this acquisition.
April 2020- ILC Dover LP has sped up the production of its new Sentinel EZ BioHood PAPR hood, which is explicitly intended for healthcare workers caring for COVID-19-infected patients.
April 2020- Ford Motor Company has begun mass production of a new PAPR design created in partnership with 3M. This new gadget is expected to help front-line healthcare professionals battling the COVID-19 outbreak.
Report Scope
| | |
| --- | --- |
| Report Attribute | Details |
| Market Size in 2021 | USD 2130.62 Million |
| Projected Market Size in 2028 | USD 3854.11 Million |
| CAGR Growth Rate | 8.80% CAGR |
| Base Year | 2021 |
| Forecast Years | 2022-2028 |
| Key Market Players | 3M, Avon Rubber PLC, Bullard, ILC Dover, Honeywell International Inc., Dragerwerk AG & Co. KGaA, Optrel AG, Mine Safety Appliances (MSA) Company, Kimberly-Clark Corporation, Sundstrom Safety AB, and others. |
| Key Segment | By Product, Application, and Region |
| Major Regions Covered | North America, Europe, Asia Pacific, Latin America, and the Middle East &, Africa |
| Purchase Options | Request customized purchase options to meet your research needs. Explore purchase options |
Air purifying respirator (APR) Market: Regional Analysis
North America to lead the market growth during the projection period
North America dominated the global air-purifying respirators market in 2021. Firms in the area are encouraged to implement PAPR to maintain employee safety due to the strict work safety standards set by regulatory agencies like the Occupational Safety and Health Administration (OSHA) and the American National Standard Institution (ANSI). The German market is anticipated to grow during the forecast period as a result of rising investments in the automotive & construction sectors and strict rules governing employee health and safety. In addition, the high costs of not adhering to workplace safety regulations are anticipated to increase product demand across a range of industries.
Air purifying respirator (APR) Market: Competitive Analysis
3M
Avon Rubber PLC
Bullard
ILC Dover
Honeywell International Inc.
Dragerwerk AG & Co. KGaA
Optrel AG
Mine Safety Appliances (MSA) Company
Kimberly-Clark Corporation
Sundstrom Safety AB
The global air purifying respirator (APR) market is segmented as follows:
By Product
By Application
Oil & Gas
Metal Fabrication
Agricultural
Food & Beverage
Fire Services
Petrochemical/Chemical
Industrial
Pharmaceuticals
Healthcare
Mining
Others
By Regional Segment Analysis
North America
Europe

France
The UK
Spain
Germany
Italy
Nordic Countries
Benelux Union

Belgium
The Netherlands
Luxembourg

Rest of Europe

Asia Pacific

China
Japan
India
Australia
South Korea
Southeast Asia

Indonesia
Thailand
Malaysia
Singapore
Rest of Southeast Asia

Rest of Asia Pacific

The Middle East & Africa

Saudi Arabia
UAE
Egypt
South Africa
Rest of the Middle East & Africa

Latin America

Brazil
Argentina
Rest of Latin America