Covid-19
Global AI for Pharmaceutical Market Size, Share
The pandemic continues to cause unprecedented disruption across industries worldwide.Get detailed insights regarding the impact of COVID-19 on the market. Request Sample
Industry Insights
[225+ Pages Report] According to the report published by Facts & Factors, the global AI for Pharmaceutical market was valued at approximately USD 550 Million in 2019, and is expected to generate revenue of around USD 8150 Million by 2026, growing at a CAGR of around 47% between 2020 and 2026.
Market Overview
AI in pharmaceutical applications refers to the system of automated and interconnected technologies that are able to function autonomously and requires a very minute or no human interventions. AI analyses the colossal amount of data by utilizing techniques like deep learning, machine learning, adaptive learning, natural language processing, and computer vision. Both the biopharmaceutical and pharmaceutical companies are leveraging AI for various applications including drug development, drug discovery, and drug commercialization.
Industry Growth Factors
The increasing adoption of artificial intelligence platforms (AIs) to reduce the overall cost of drug discovery and to boost the results is expected to boost pharmaceutical demand for these platforms. Moreover, the ease of obtaining monumental data through preclinical research and molecular screening is propelling the adoption of artificial intelligence in pharma applications. Furthermore, the accessibility of myriad options for gathering information and customization of artificial intelligence platforms is encouraging pharma companies to leverage artificial intelligence. The advancement in artificial intelligence technology enables companies to accurately recognize the molecular binding characteristics of the drug.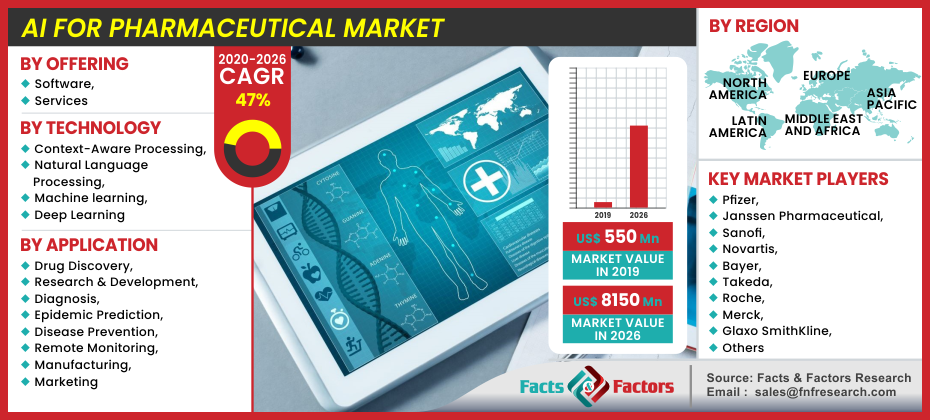 Segmentation Analysis
The AI for Pharmaceutical market has been analyzed into the offering, technology, and application. The offering segment has been classified into software, and services. The software segment dominants the market in 2019 owing to certain advantages such as low cost and accelerate time to market the drug. Moreover, higher demand for the software among the larger pharma, biotech manufacturer, and research institutes are significantly influencing the growth of the segment. On the basis of technology, the market has been analyzed into natural language processing, context-aware processing, deep learning, and machine learning. In terms of application, the industry has been bifurcated into manufacturing, remote monitoring, research & development, drug discovery, epidemic prediction, diagnosis, disease prevention, and marketing.
Regional Analysis
Geographically, North America is dominating the global market for AI for pharmaceutical. The regional market share is mainly driven by U.S. and Canada; massive investments in AI technologies and a large number of cross-industry strategic collaborations majorly fuel the growth of the AI for pharmaceutical market. Additionally, the presence of major market contributors such as Google, IBM, NVIDIA, Microsoft, and Intel, are headquartered in this region which is aiding the market to grow. However, Asia-Pacific is expected to register the highest CAGR growth over the projected period, owing to the rise in adoption of advanced AI technologies and the focus of major players on expanding their market presence in emerging countries of Asia. Thereby, certain factors are responsible for the large share and high growth rate of this market.
Competitive Players
Some main participants of the AI for Pharmaceutical market are Pfizer, Janssen Pharmaceutical, Sanofi, Novartis, Bayer, Takeda, Roche, Merck, Glaxo SmithKline, Eli Lilly, Astra Zeneca, and Allergan among others
AI for Pharmaceutical Market: Regional Segment Analysis
North America
Europe

UK
France
Germany
Italy
Spain
Rest of Europe

Asia Pacific

China
Japan
India
South Korea
Southeast Asia
Rest of Asia Pacific

Latin America

Brazil
Mexico
Rest of Latin America

Middle East and Africa

GCC Countries
South Africa
Rest of MEA