Industry Insights
[235+ Pages Report] According to the report published by Facts and Factors, the global agriculture nets market size was worth around USD 9.3 billion in 2022 and is predicted to grow to around USD 15.15 billion by 2030 with a compound annual growth rate (CAGR) of roughly 6.1% between 2023 and 2030. The report analyzes the global agriculture nets market drivers, restraints/challenges, and the effect they have on the demands during the projection period. In addition, the report explores emerging opportunities in the agriculture nets market.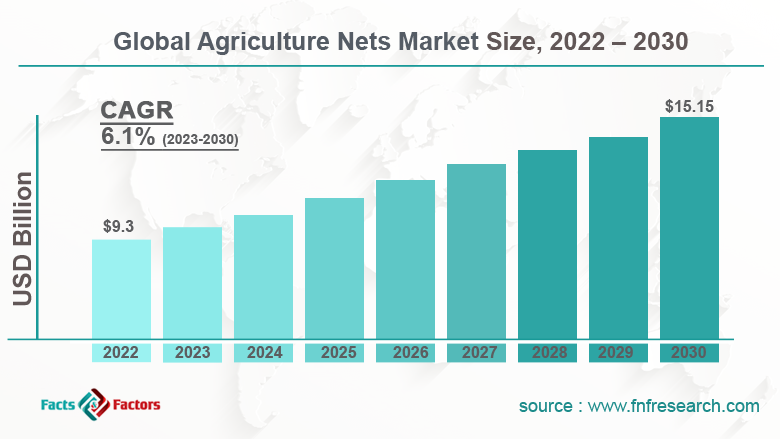 To know more about this report | Request Free Sample Copy
Market Overview
The industry specializes in the production and sale of nets used by people operating in the agriculture sector for the protection of crops or farm products from external harmful agents. Advanced nets offer additional protection including prevention from deterioration due to harmful greenhouse gasses and ultraviolet radiation along with acting as livestock fencing and controlling insect infestation. The market is inclusive of a wide range of products including insect netting, bird netting, livestock fencing, and shade netting.
The products can be used in various types of settings like livestock farms, vineyards, orchards, and crop fields. The industry is registering high demand due to the growing consumption of the products and it is expected to witness tremendous growth in the coming years as the impact of climate change is projected to act as a burden in the agriculture industry, in general.
Key Insights
As per the analysis shared by our research analyst, the global agriculture nets market is estimated to grow annually at a CAGR of around 6.1% over the forecast period (2022-2030)
In terms of revenue, the global agriculture nets market size was valued at around USD 9.3 billion in 2022 and is projected to reach USD 15.15 billion, by 2030.
The market is projected to grow at a significant rate due to the growing demand for pure and non-polluted food products
Based on application segmentation, floriculture was predicted to show maximum market share in the year 2022
Based on material type segmentation, plastic was the leading type in 2022
On the basis of region, North America was the leading revenue generator in 2022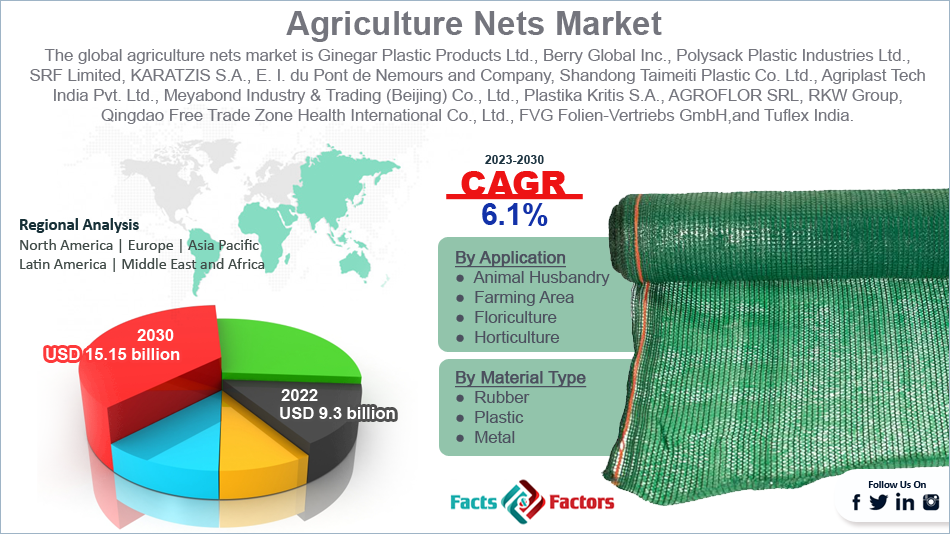 To know more about this report | Request Free Sample Copy
Growth Drivers
Growing demand for pure and non-polluted food products to drive market demand
The global agriculture nets market is projected to grow owing to the rising demand for pure food products that have been cultivated in a safe and protected environment free from external pollutants. With the rapid rise of the population in which 2022 witnessed the population rate cross over 8 billion, the demand for food products has increased simultaneously.
However, consumers have started realizing the importance of consuming pure food products, especially after the impact of Covid-19 which largely impacted people with previous medical conditions or low immunity. This is a major reason why people are now preferring consuming food products that are cultivated in a secure environment where the crops are not in contact with any radiation or greenhouse gasses.
Restraints
The high initial cost of investment to restrict the market growth
One of the key restraints existing in the global industry is the requirement of high initial investment as agricultural nets that meet different requirements can be expensive. This is especially applicable to low-income farmers struggling to make profits in emerging or financially struggling nations. For farmers with larger land areas, the requirements may be huge thus leading to greater expense whereas smaller farmers may struggle with coping with relatively smaller investments.
Opportunities
Growing expansion initiatives to provide growth opportunities
The global industry players may improve their sales volume by tapping into the unexplored potential in new markets. Although the cost of the product may be high, companies can offer customized solutions depending on the needs of the farmers operating in the region since every country has a different soil structure and the concerns of cultivators from one region may be different from the ones in a separate area. This applies to farmers from the same country. Furthermore, the growing investment toward new product development is another reason to expect higher chances of more revenue.
Challenges
Rising competition from alternative solutions acts as a challenge
A key challenge faced by players that largely impacts the industry size is the rising competition from substitute or alternative solutions present in the commercial trading environment. For instance, for many years, pesticides and chemical fertilizers are the go-to options for farmers looking for ways to protect the crop from external damage. They are still the most preferred choice amongst farmers across a range of cultivable land. The popularity of the substitutes is a major roadblock for the industry players to manage.
Segmentation Analysis
The global agricultural nets market is segmented based on application, form, material, and end-use.
Based on application, the global market segments are animal husbandry, farming area, floriculture, and horticulture
The industry witnessed the highest growth in the floriculture and horticulture segment in 2022
In floriculture, the main application of the nets is to provide temperature control, shade, and manage light regulation for ornamental plants and flowers. They also provide necessary protection against insects and birds
When used in horticulture, they protect against weather-related damage while also managing light and temperature conditions
On average, a good-quality 10*50 feet net can cost between USD 20 to USD 100
Based on form, the global market segments are non-woven and woven.
Based on material type, the global market divisions are rubber, plastic, and metal.
Currently, the most commonly used material is plastic in the industry owing to its durability and versatility
Furthermore, plastic-made nets offer better protection against ultraviolet (UV) rays making them highly useful for outdoor applications
The most widely used plastic is high-density polyethylene (HDPE) since it offers high resistance against chemical and water damage
Although the market was metal and rubber nets is substantial, it is not as high as plastic nets
Most typically used plastic nets can handle a UV ray intensity between 280 to 400 nanometers
Based on end-use, the global market segments are sustainable and industrial.
Recent Developments:
In February 2023, the state government of Tamil Nadu, the Indian state, announced a set of new initiatives to promote organic cultivation in the region. This is following the state's organic farming policy and under the initiatives, around 725 clusters would be created covering more than 32 districts
In October 2022, Waycool Foods, an India-based agri-tech platform, announced its collaboration with Bagalkot's University of Horticultural Sciences, Bagalkot (UHS). The joint program aims to promote and implement a Package of Practices (POP) for farmers. The vision will be achieved by bringing together more than 125 POPs under the app
Report Scope
| | |
| --- | --- |
| Report Attribute | Details |
| Market Size in 2022 | USD 9.3 Billion |
| Projected Market Size in 2030 | USD 15.15 Billion |
| CAGR Growth Rate | 6.1% CAGR |
| Base Year | 2022 |
| Forecast Years | 2023-2030 |
| Key Market Players | Ginegar Plastic Products Ltd., Berry Global Inc., Polysack Plastic Industries Ltd., SRF Limited, KARATZIS S.A., E. I. du Pont de Nemours and Company, Shandong Taimeiti Plastic Co. Ltd., Agriplast Tech India Pvt. Ltd., Meyabond Industry & Trading (Beijing) Co. Ltd., Plastika Kritis S.A., AGROFLOR SRL, RKW Group, Qingdao Free Trade Zone Health International Co. Ltd., FVG Folien-Vertriebs GmbH, Netlon Limited, Beaulieu Technical Textiles, Henan Yinfeng Plastic Co. Ltd, Garware Technical Fibres Ltd., Plastofino GmbH, Tuflex India., and others. |
| Key Segment | By Application, Form, Material Type, End-Use, and Region |
| Major Regions Covered | North America, Europe, Asia Pacific, Latin America, and the Middle East &, Africa |
| Purchase Options | Request customized purchase options to meet your research needs. Explore purchase options |
Regional Analysis
North America to generate the highest CAGR
The global agriculture nets market is projected to witness the highest growth in North America due to the presence of an immense number of players offering quality products along with a large pool of consumers in terms of people showing interest in terrace gardens or cultivating small-scale crops at personal yards.
Furthermore, the agricultural states of the US and Canada have better infrastructure as compared to many emerging nations allowing them to spend extra on protective coatings for agricultural products. Furthermore, the rising awareness about the impact of UV rays on crop quality is an additional factor working in favor of regional expansion.
In Latin America, the growth is driven by rising demand for protected cultivation along with surging government measures to ensure the smooth functioning of the agricultural sector. Europe and Asia-Pacific are anticipated to grow at a high CAGR mainly due to demand for high-quality edible items and favorable government policies.
Competitive Analysis
Ginegar Plastic Products Ltd.
Berry Global Inc.
Polysack Plastic Industries Ltd.
SRF Limited
KARATZIS S.A.
E. I. du Pont de Nemours and Company
Shandong Taimeiti Plastic Co. Ltd.
Agriplast Tech India Pvt. Ltd.
Meyabond Industry & Trading (Beijing) Co. Ltd.
Plastika Kritis S.A.
AGROFLOR SRL
RKW Group
Qingdao Free Trade Zone Health International Co. Ltd.
FVG Folien-Vertriebs GmbH
Netlon Limited
Beaulieu Technical Textiles
Henan Yinfeng Plastic Co. Ltd
Garware Technical Fibres Ltd.
Plastofino GmbH
Tuflex India.
The global agricultural nets market is segmented as follows:
By Application Segment Analysis
Animal Husbandry
Farming Area
Floriculture
Horticulture
By Form Segment Analysis
By Material Type Segment Analysis
By End-Use Segment Analysis
By Regional Segment Analysis
North America
Europe

France
The UK
Spain
Germany
Italy
Nordic Countries
Benelux Union

Belgium
The Netherlands
Luxembourg

Rest of Europe

Asia Pacific

China
Japan
India
Australia
South Korea
Southeast Asia

Indonesia
Thailand
Malaysia
Singapore
Rest of Southeast Asia

Rest of Asia Pacific

The Middle East & Africa

Saudi Arabia
UAE
Egypt
South Africa
Rest of the Middle East & Africa

Latin America

Brazil
Argentina
Rest of Latin America