Covid-19
Global Aesthetic Injectables Market Size, Share
The pandemic continues to cause unprecedented disruption across industries worldwide.Get detailed insights regarding the impact of COVID-19 on the market. Request Sample
Industry Insights
[193+ Pages Report] According to Facts & Factors research, the global aesthetic injectables market was predicted to be about USD 12,900 Million in 2020 and is expected to produce revenue of over USD 22,500 Million by the end of 2026, expanding at a CAGR of roughly 9% between 2020 and 2026.

Market Overview
Multiple factors, such as an increase in the number of cosmetic procedures and increased knowledge about aesthetic care, have contributed to the growth of the aesthetic injectables sector. People's growing aesthetic awareness leads to an increase in cosmetic procedures, which accelerates the market's growth. Another factor driving the market demand for cosmetic injectables is the increasing availability of low-cost facial injectables. Aesthetic injectables are gel-like substances that are inserted under the skin to give the appearance of youth. This is accomplished by plumping up lips, increasing the volume of sunken cheeks or temples, reducing lines around the nose and mouth (marionette lines and smile lines), and improving facial contour. Furthermore, good results are accomplished easily with no downtime. The number and variety of injectable fillers available to surgeons are growing as the cosmetic injectables market expands.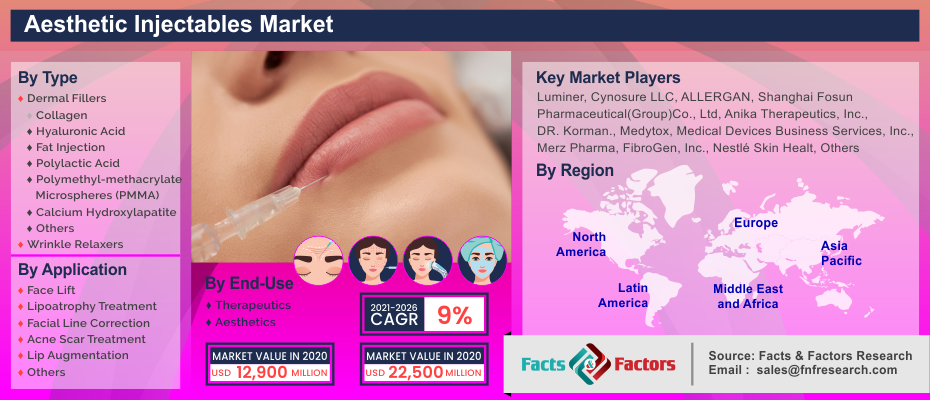 Industry Growth Factors
With increasing age, the elderly population is more vulnerable to physiological changes in the skin, such as wrinkling and sagging. As a result, many women are pursuing anti-aging care, like dermal fillers effectively reduce the symptoms of aging. According to the United Nations, 1.5 billion people will be 65 or older by 2050. In the future, there will be a high demand for facial injectable fillers as a result of this. Government rules and regulations control the clinical development, marketing, and manufacturing of HA-based products in the European Union, the United States, and other foreign markets. These strict guidelines ensure that appropriate goods are used by healthcare facilities, including doctors and other end users. According to a 2018 FDA study, Juvederm can only be marketed and injected under the supervision of a licenced healthcare provider. The FDA has also advised patients and healthcare providers not to use Juvederm Ultra 2, 3, or 4 because they have not been approved in the United States.
Segmentation Analysiss
On the basis of type worldwide aesthetic injectable is bifurcated into categories such as dermal fillers, and wrinkle relaxers. Dermal fillers are estimated to lead the market share of the worldwide aesthetic injectable market. Dermal fillers are gel-like substances inserted under the surface of the skin. Dermal fillers are used to restore facial skin volume and bounce, as well as to smooth lines and soften creases. Based on the application, the market could be further split into facelift, lipoatrophy treatment, facial line correction, acne scar treatment, lip augmentation, and others. On the basis of end-use, therapeutics, and aesthetics. The aesthetics category is estimated to lead the market in the forthcoming period.
Regional Analysis
North America leads the market due to the United States' wide market share in the aesthetic injectables market, which is growing as people become more conscious of aesthetic procedures and the geriatric population grows.
Competitive Players
The major players dominating the global aesthetic injectables market in terms of revenue and development are Luminer, Cynosure LLC, ALLERGAN, Shanghai Fosun Pharmaceutical(Group)Co., Ltd, Anika Therapeutics, Inc., DR. Korman., Medytox, Medical Devices Business Services, Inc., Merz Pharma, FibroGen, Inc., Nestlé Skin Healt, Integra LifeSciences Corporation, Galderma Laboratories, L.P., Ipsen Pharma, Sinclair Pharma, sanofi-aventis U.S. LLC, Suneva Medical, Bausch Health, Teoxane, Cosmetic Surgery, and Advanced Dermatology. Some of the world's most well-known businesses are launching new products that will help the industry expand steadily in the coming years. Allergan plc, for example, added Juvéderm® VOLUX to its portfolio in April 2019 to provide innovative treatments specifically formulated for restoring and volume in the chin and jaw region.
Global Aesthetic Injectables Market: COVID-19 Impact Analysis: The COVID-19 pandemic has an effect on many aspects of life, not just in terms of fatality, but also in terms of social distancing and self-quarantine. Both of these approaches to protection have resulted in a shift in a person's interest in aesthetics in general. As the pandemic spreads, these factors can play a different role in shaping the public's perception of cosmetic procedures in the long run. The Covid-19 crisis has a detrimental effect on a variety of aesthetic procedures, including breast implantation, lipoplasty, and cosmetic dental procedures.
By Type Segmentation Analysis:
Dermal Fillers

Collagen
Hyaluronic Acid
Fat Injection
Polylactic Acid
Polymethyl-methacrylate Microspheres (PMMA)
Calcium Hydroxylapatite
Others

Wrinkle Relaxers
By Application Segmentation Analysis
Face Lift
Lipoatrophy Treatment
Facial Line Correction
Acne Scar Treatment
Lip Augmentation
Others
By End-Use Segmentation Analysis
Regional Segmentation Analysis
North America
Europe

Germany
The UK
France
Spain
Italy
Rest of Europe

Asia Pacific

China
Japan
India
South Korea
Southeast Asia
Rest of Asia Pacific

Latin America

Brazil
Mexico
Rest of Latin America

Middle East & Africa

GCC Countries
South Africa
Rest of Middle East & Africa