Industry Insights
[192+ Pages Report] According to the report published by Facts & Factors, the global adult and pediatric hemoconcentrators market was estimated at approximately USD 12 Million in 2020 and is anticipated to generate revenue of around USD 16 Million by end of 2026, growing at a CAGR of around 4% between 2021 and 2026.
Market Overview
The surgical equipment known as a hemoconcentrator is used to drain extra blood from a patient's vascular system. Hemoconcentrators are used to monitor hemodilution and haematocrit during extracorporeal bypass surgery. Cardiac bypass surgery is the most frequent form of heart surgery used to treat patients with serious heart disease. Hemoconcentrators are increasingly being used during cardiac bypass surgery. Hemoconcentration is the recommended procedure for managing hemodilution during cardiopulmonary surgery by surgeons. This procedure also aids in the maintenance of elevated hematocrit levels and the reduction of the need for blood products before and after bypass surgery.
They have the hemocor HPH hemoconcentrator, which features a no-rinse hemoconcentrator that can be inserted into the extracorporeal circuit at whatever point during operation without rinsing the device. The hemocor HPH hemoconcentrator is a less expensive way to treat hemodiluted blood. For excellent biocompatibility, the hemoconcentrators come with various sized and glycerine-free polysulfone membranes. It also makes insertion easier and helps to sustain a higher hematocrit and fluid level. Hemoconcentrators minimize the need for homologous blood and blood supplies by lowering the risk of post-operative bleeding.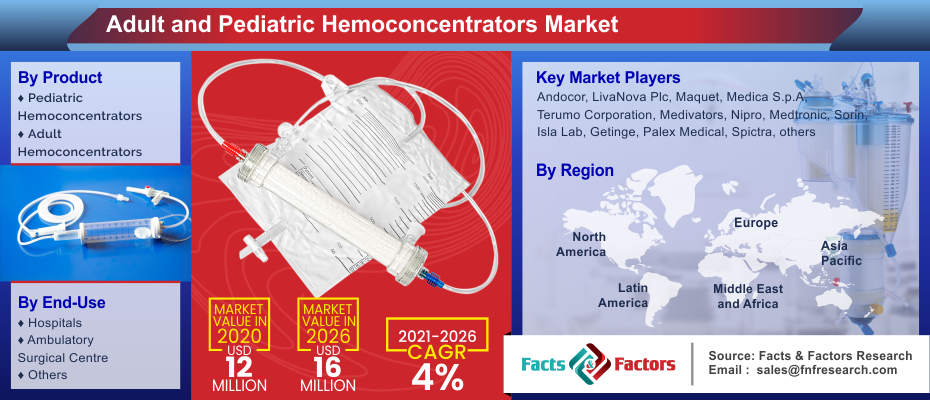 To know more about this report | Request Free Sample Copy
Industry Growth Factors
The demand for adult and pediatric hemoconcentrators will expand as the prevalence of cardiac disorders increases across the world. According to statistics provided by the World Health Organization, the majority of people worldwide suffer from various types of heart disease, which causes the greatest number of deaths. As a result, hemoconcentrators are used to sustain hemodilution during bypassoperation, and doctors favor them for improved patient care. The rise of adult and pediatric hemoconcentrators will be aided by the above factors, as well as the growing geriatric population, which is more likely to develop heart disorders as they age. Furthermore, the increasing market for specialized fluid control solutions will provide opportunities for adult and pediatric hemoconcentrators to expand their businesses. Customized hemoconcentrators for pediatric and adult patients are readily available to offer improved healthcare options. As a result, reliable health analysis is generated, promoting market development. The benefits of hemoconcentrators, which enable direct penetration into the extracorporeal circuit during surgery, are expected to boost market demand. However, the availability of hemoconcentrator replacements, the numerous problems associated with hemoconcentrators, and a lack of expertise are all factors that could slow the global market's development. Nevertheless, the favorable regulatory environment for medical devices in order to improve current healthcare infrastructure and encourage leading market leaders to launch new technologies. Medivators, a major multinational organization that sells a wide variety of pediatric hemoconcentrators such as the HPH Mini and Hemocor HPH Junior, for example, may see an increase in market share.
Segmentation Analysis
The adult and pediatric hemoconcentrators market is bifurcated on the basis of product type and end-use. Based on product type segmentation, the market is split into pediatric hemoconcentrators and adult hemoconcentrators. Because of the rising prevalence of cardiovascular disease among the elderly adult population, the adult hemoconcentrators form group accounted for the largest market share. On the basis of end-use, the market is bifurcated into ambulatory surgical centre, hospitals, and others. Owing to evolving dietary patterns and an ageing patient base vulnerable to a variety of diseases due to a weakened immune system, the hospital segment is expected to rise significantly over the analysis period. Furthermore, advances in hemoconcentrators made of glycerine-free polysulfone membranes with exclusive biocompatibility for a wide range of medical device applications have boosted overall segmental development.
Regional Analysis
By 2026, the adult and pediatric hemoconcentrators market in North America will have a significant sales share. With technical advances, a growing number of R&D activities in North America can drive regional development. Furthermore, since heart failure is the leading cause of death in the United States, hemoconcentrators are available in a variety of sizes to facilitate cardiac bypass surgery, allowing for business expansion. Due to a rise in the prevalence of cardiovascular diseases in the region, Asia Pacific is projected to grow at a high CAGR during the forecast era. Cardiovascular disorders are the leading cause of death in Asia Pacific, according to the Organisation for Economic Co-operation and Development (OECD), despite the fact that they are preventable. Cardiovascular disorders claimed the lives of an estimated 9.3 million people in the country in 2012, accounting for about one-third of all deaths.
Report Scope
| | |
| --- | --- |
| Report Attribute | Details |
| Market Size in 2020 | USD 12 Million |
| Projected Market Size in 2026 | USD 16 Million |
| Growth Rate | CAGR 4% |
| Base Year | 2020 |
| Forecast Years | 2021–2026 |
| Key Market Players | Andocor, LivaNova Plc, Maquet, Medica S.p.A, Terumo Corporation, Medivators, Nipro, Medtronic, Sorin, Isla Lab, Getinge, Palex, Medical, Spictra, AMS |
| Key Segment | By Product, By End-Use, and By Region |
| Major Regions Covered | North America, Europe, Asia Pacific, Latin America, and the Middle East & Africa |
| Purchase Options | Request customized purchase options to meet your research needs. Explore purchase options |
Competitive Players
Some of the key players in the adult and pediatric hemoconcentrators market are:
Andocor
LivaNova Plc
Maquet
Medica S.p.A
Terumo Corporation
Medivators
Nipro
Medtronic
Sorin
Isla Lab
Getinge
Palex Medical
Spictra
AMS
Industry leaders are using a variety of tactics, such as new product enhancement and launch, to stay competitive. In 2017, Medivators, for example, announced the extension of its direct distribution operations in Australia. This approach aided in the firm's commercial platform's strengthening, resulting in a positive effect on industry development. In addition, leading companies tend to engage in competitive merger and acquisition operations in order to improve their business presence and increase market share. For example, Sorin S.p.A, an Italian hemoconcentrator manufacturer, merged with Cyberonics, Inc., a US-based firm, to create LivaNova, Plc. The merged business is expected to boost and extend its global reach as a result of this.
By Product Type Segmentation Analysis:
Pediatric Hemoconcentrators
Adult Hemoconcentrators
By End-Use Segmentation Analysis
Hospitals
Ambulatory Surgical Centre
Others
Regional Segmentation Analysis
North America
Europe

Germany
The UK
France
Spain
Italy
Rest of Europe

Asia Pacific

China
Japan
India
South Korea
Southeast Asia
Rest of Asia Pacific

Latin America

Brazil
Mexico
Rest of Latin America

Middle East & Africa

GCC Countries
South Africa
Rest of Middle East & Africa